We're Bullish on Showtime's Finance Soap 'Billions'
JoJo Whilden/Showtime
JoJo Whilden/Showtime
The first scene in Billions, Showtime's latest prestige drama, is designed to be mentioned in the first sentence of any review: a nearly nude Paul Giamatti, bound and gagged, is approached by a woman in sharp heels who proceeds to put out a cigarette on his furry chest and pee on the wound. That attention-grabber may scare away casual Homeland fans there to see costar Damian Lewis play a hedge-fund guru or anyone frightened by the phrase Fifty Shades of Harvey Pekar. But what does it reveal about the show itself?
Not too much, actually. As revealed by the six episodes I've seen, Billions brushes by its kinky beginning to become a surprisingly straight-laced finance-biz soap opera, albeit one that's decked out in a freshly pressed dress shirt and chinos. The urine-soaked opening isn't there to shock so much as it's there to bring the viewer into the tortured psyche of Giamatti's Chuck Rhoades, a US attorney in New York obsessed with bringing down Lewis' billionaire Bobby "Axe" Axelrod. This isn't a show about illicit behavior, violent retribution, or addiction; it's an examination of power, control, and restraint.
Greed is good...
I'll confess: I have a weakness for stories about shady business people scheming and screwing each other over. Give me douchebags trading business cards and Mamet-like put-downs, and I'll snort it up like cocaine off a mahogany desk. Do the characters make deals in weird places? I will be your angel investor.
Created by movie screenwriting vets Brian Koppelman and David Levien (Rounders, Ocean's Thirteen, and the excellent Solitary Man), along with business journalist Andrew Ross Sorkin (author of the financial crisis tome Too Big to Fail), Billions has a sheen of authenticity to its CNBC-ready jargon and enough macho mind games to keep the tension high. It lacks the gaudy excess of The Wolf of Wall Street or the explainer-y vibe of The Big Short, instead settling on a tone that's more akin to House of Cards, taking us into the boardrooms, bedrooms, and private massage parlors of the money-hungry elite. Everyone is compromised.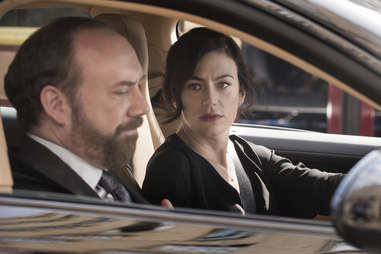 ... but so are the characters!
There's not a lot of pure evil to be found on Billions. Unlike Cards, or sun-spotted channel-mate Ray Donovan, the show doesn't relish the seedy, violent side of life. Sure, it has a lifestyle-porn element to it -- Lewis flies around in his jet the way Tony Soprano rolled around in an Escalade -- but there are no gun battles, corpse disposals, or brutal murders in the episodes provided to critics. Axe's crimes are so far limited to suspicious pharmaceutical trades and illegal tips.
Instead, the show is more interested in how the pursuit of wealth and power can get in the way of happiness. This conflict is most acutely explored in the sharply written scenes between Giamatti and his wife, a shrink working for Axe's company, played with cagey intelligence by Mad Men alum Maggie Siff. "Don't you get enough of moving the pieces around at work?" she asks Giamatti in the pilot episode. As is usually the case on pay cable, even the crusading lawyers and the compassionate therapists have ulterior, and often contradictory, motives.
A little ambiguity goes a long way
Occasionally, the show's love for the ambiguous is pushed too far, especially in the Axe plotlines. Koppelman and Levien go to great lengths to establish Axe as a "man of the people." We meet him hanging out at his childhood pizzeria. He flies his buddies to a Metallica concert. He eats White Castle at his desk. With his steely eyes, Lewis is brilliant at projecting calculating intelligence and he has real chemistry with his similarly tough wife (an effective Malin Åkerman), but his everyman act doesn't fit as well as his leather jacket. It's just hard to picture this dude slamming beers backstage with James Hetfield. And, it's even harder to know exactly what makes Axe, who seems to spend most of his days giving inspirational speeches around the office in tight V-necks, such a worthy target for Chuck's righteous fury.
That reticence extends to the show's portrayal of the financial sector. Axe Capital is presented as a mega-power with a shady origin story, but the show's reluctance to condemn or satirize the excess of the company makes the drama feel a bit toothless at times. "America used to salute the guy in the limousine," says Axe. "Now they throw eggs at it." Personally, I hope Koppelman and Levien have some eggs of their own to throw in the first season's second half. That could be the missing element that could turn this show into appointment viewing.
Show me the Giamatti
Luckily, there's enough teeth-gnashing, S&M-loving, daddy-issue-having Giamatti to keep the show's stock from crashing for now. After a year of watching the beloved Sideways actor play conniving music managers in Love and Mercy and Straight Outta Compton, it's invigorating to see him in a lead role again. His eyes dart. He growls beneath his bushy beard. He shoves noodles into his mouth with glee.
His performance keeps the repetitive cat-and-mouse plotting from falling into tedium. Luckily, he's surrounded by enough compelling supporting actors, including David Costabile (Breaking Bad), Toby Leonard Moore (Daredevil), and Condola Rashād (Smash), to give him worthy collaborators and rivals to feed on.
As the tension builds in the show's sixth episode, which finds him even closer to catching Axe, he draws you in with his unwavering, rabid intensity. Instead of being bound and gagged, Billions needs to let Giamatti unleashed.
Sign up here for our daily Thrillist email, and get your fix of the best in food/drink/fun.
Dan Jackson is a staff writer at Thrillist Entertainment and saw Wall Street: Money Never Sleeps in a movie theater by himself. He's on Twitter: @danielvjackson.