The 'Billions' Season 3 Finale Means the Show Can Run for a Billion Seasons
The prospect of a television market without Billions is bleak. The Showtime series about wealth and power, which debuted in 2016 with a clever but occasionally rudderless first season, has developed into wickedly entertaining and insightful appointment viewing over the last two years. Season 3 again centered on the testosterone-fueled, ego-driven clash between Damian Lewis's hedge fund genius Bobby "Axe" Axelrod and Paul Giamatti's U.S. Attorney brawler Chuck Rhoades, but it also continued to expand its scope, digging deeper into the emotional and psychological terrain of what initially felt like a story with the depth of a Wile E. Coyote and Road Runner cartoon.
The series has always embraced gleeful abundance, unchecked gluttony, and too muchness as an aesthetic. (Characters are constantly doing things like ranking their favorite Rush albums, gifting each other piles of rare pornography, or feasting on endangered birds with napkins draped over their heads.) Now, thanks to a few elegant tweaks its made to its own increasingly sophisticated portfolio of side plots and supporting characters, Billions could (and should) run forever. Instead of "sticking the landing" or "tying up loose ends," this show must do what many of the world's richest men are currently attempting to accomplish: cheat death and become immortal.
In past interviews, co-creators Brian Koppelman and David Levien have implied that they have a vision of how long the show could run. "We'd love to do seven [seasons]," Koppelman told Bill Simmons earlier this year. With all due respect, that's thinking like a lowly trader on comp day; he needs to think like Axe. Seven seasons isn't cool. You know what's cool? A billion seasons.
Last night's finale, "Elmsley Count," which draws its name from a magician's card trick, suggested that it could even be a possibility, theoretically. Since the pilot, Axe and Chuck have been on a collision course, hellbent on destroying each other even if it means damaging themselves and the people they love. With its detours into S&M and disaster capitalism, Billions often suggests the highest form of pleasure for people with unlimited financial resources is inflicting pain on others. As the cast grew bigger and the plotting grew denser in Season 2, there were signs that the primary conflict wasn't the main focus, but the season still ended with Axe and Chuck bickering in a prison cell. This was a prestige TV steel cage match.
The final image of Season 3 suggests a new path: We see Chuck and his wife, Wendy, the in-house performance coach at Axe Capital brilliantly played by Maggie Siff, seated at the dinner table in their brownstone with Axe. Instead of lunging at each other's throats with Wendy assigned the role of special guest referee, the two men are sharing a bottle of wine and talking strategy. The stage had been set for this détente earlier in the season when the three temporarily joined forces to out-maneuver an over-ambitious prosecution team that threatened to bring them all down, but that was an alliance borne out of desperation. The conversation that ends Season 3 looks more like a long-term strategy session.
What brought these two enemies together? Over the course of Season 3, both Chuck and Axe have been defeated by youthful usurpers with tenacity and nerve. In Axe's case, his undoing can be traced back to his manipulation and betrayal of Asia Kate Dillon's Taylor Mason, the non-binary protege who stole Season 2 and has emerged as the show's most compelling character. Ever since Axe torpedoed Taylor's romantic relationship with a California-based tech venture capitalist earlier this season, their rise to power was inevitable -- the heist-like introduction of a new company echoed Mad Men's classic Season 3 finale "Shut the Door. Have a Seat" -- but the language they used to express their disillusionment was startling in its lacerating precision.
In the finale's best scene, Taylor attempted to recruit Wendy to their new company in a parking garage. Wendy, still loyal to Axe, countered by trying to convince Taylor there was more to working at a seemingly soulless hedge fund than numbers and decimal points. She plays to their sentimental side by speaking of the "lasting relationships" and "real trust" that exists between the employees of Axe Capital. "I'm pretty sure there's only money and that can buy all those things," says Taylor. "Or at least the same result. That's what you and Axe taught me." As Axe put it earlier in the episode, the palace coup is complete.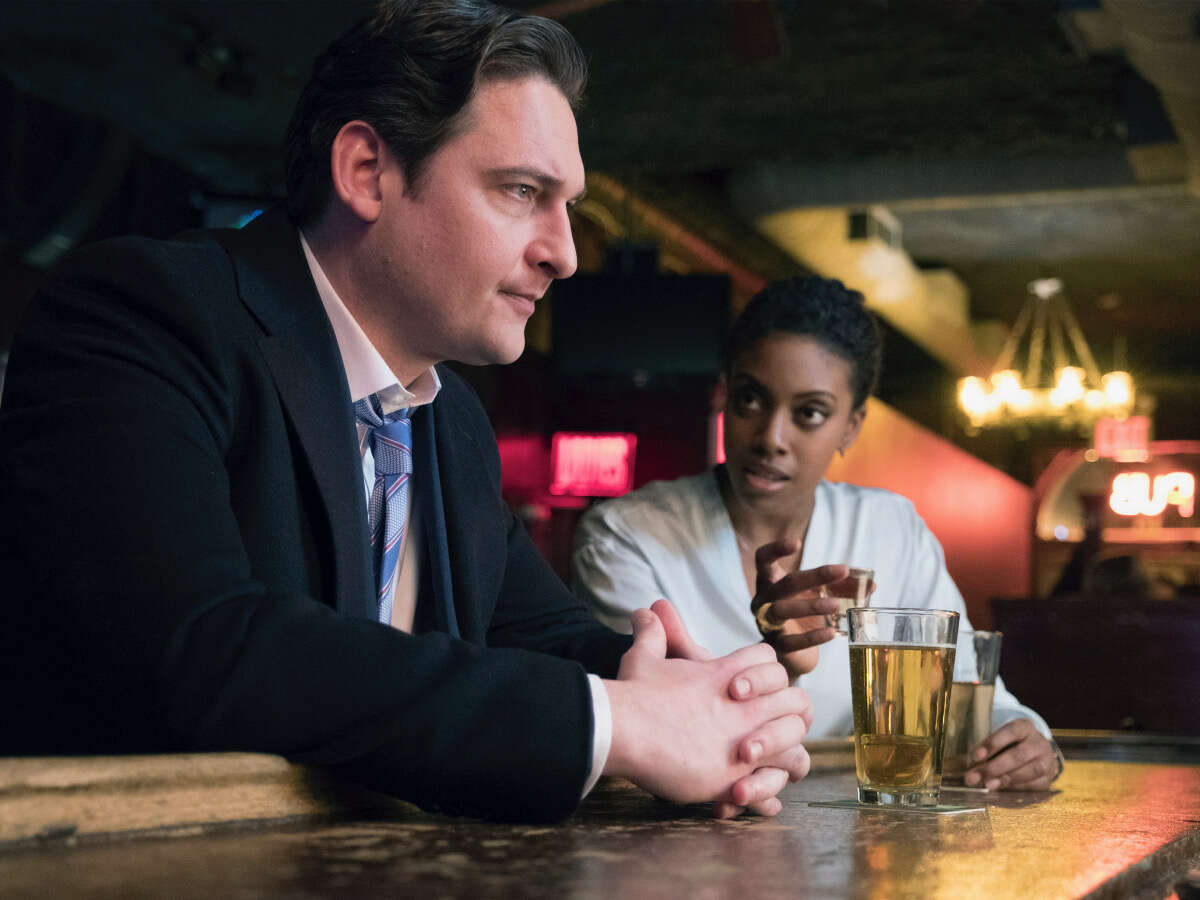 Chuck's undoing comes at the hands of multiple foes. His feud with the rough-hewn vulgarian U.S. Attorney General Waylon 'Jock' Jeffcoat, a clear stand-in for the political changes occurring in the real world, came to a close with his former colleagues Kate Sacker, Bryan Connerty, and Oliver Dake all gathering in his office to give him a ceremonial kick in the ass out the door. "This is not obstruction of justice," says Jock at one point, like he's reading from the President's twitter feed. He even put his cowboy boots on Chuck's desk.
Stripped of his governmental authority and removed from power, Chuck no longer has a reason to obsessively pursue Axe. Jock is his primary target now, and he clearly wouldn't mind taking out his former co-workers as collateral damage, while Axe has shifted his sights to Taylor and their new company, which also includes his former lapdog trader Mafee. It's worth noting that Axe chose not to have John Malkovich's creepy Russian billionaire murder Taylor but he also spent almost a whole episode agonizing over the decision. There's a line that Axe won't cross. For now.
By setting the stage for a Season 4 where Axe and Chuck team up, the show's creators have quietly re-invented the series, turning a familiar story about two old dinosaurs slap-boxing each other through the corridors of power into a slippery narrative of inter-generational struggle. With new villains and new priorities, there are an infinite amount of stories to tell. Taylor boasts about their "young lungs" to Axe and Sacker tells Chuck she's a political animal. But Wendy also issues a warning to Taylor that Billions: The New Class might do their best to heed: "You are very young and there's a lot more to this business than you've learned so far."
Similarly, Billions feels like a young show. It's only getting started. Imagine all the new tricks it will learn over the next billion years.
Sign up here for our daily Thrillist email and subscribe here for our YouTube channel to get your fix of the best in food/drink/fun.