The Explosive 'Billions' Season 5 Premiere Gets the Job Done With Gusto
More deals. More betrayals. More 'Billions.'
Showtime
Showtime
Towards the end of "The New Decas," the season five premiere of Showtime's finance drama Billions, the non-binary money-making innovator Taylor Mason (Asia Kate Dillon) swims laps in a small endless pool located in a New York bike shop. Before Paul Giamatti's scheming prosecutor Chuck Rhodes interrupts them, hoping to iron out the details of a backstabbing maneuver against hedge-fund billionaire Bobby Axelrod (Damien Lewis), the machine makes it look like Taylor is merely treading water, performing the same movements over and over in a never-ending quest for perfect form. No kick-turns, no progress, no end in sight. It's a dangerous metaphor for the challenges facing a show heading into its fifth season.
But when has Billions been afraid of shaking things up? In previous seasons, the show's co-creators Brian Koppelman and David Levien have always found new ways to fine-tune, recalibrate, and, to borrow an overused word from the business world the show celebrates and mocks, disrupt the central rivalry that drives the action. Last season, that meant Chuck going public with his private BDSM preferences in the bedroom, saving his political career and blowing up his marriage to Axe's star employee Wendy (Maggie Siff) in the process. One assumes the new season, which will be split into two parts because of a production stoppage brought on by the coronavirus, will again find the characters navigating choppy waters.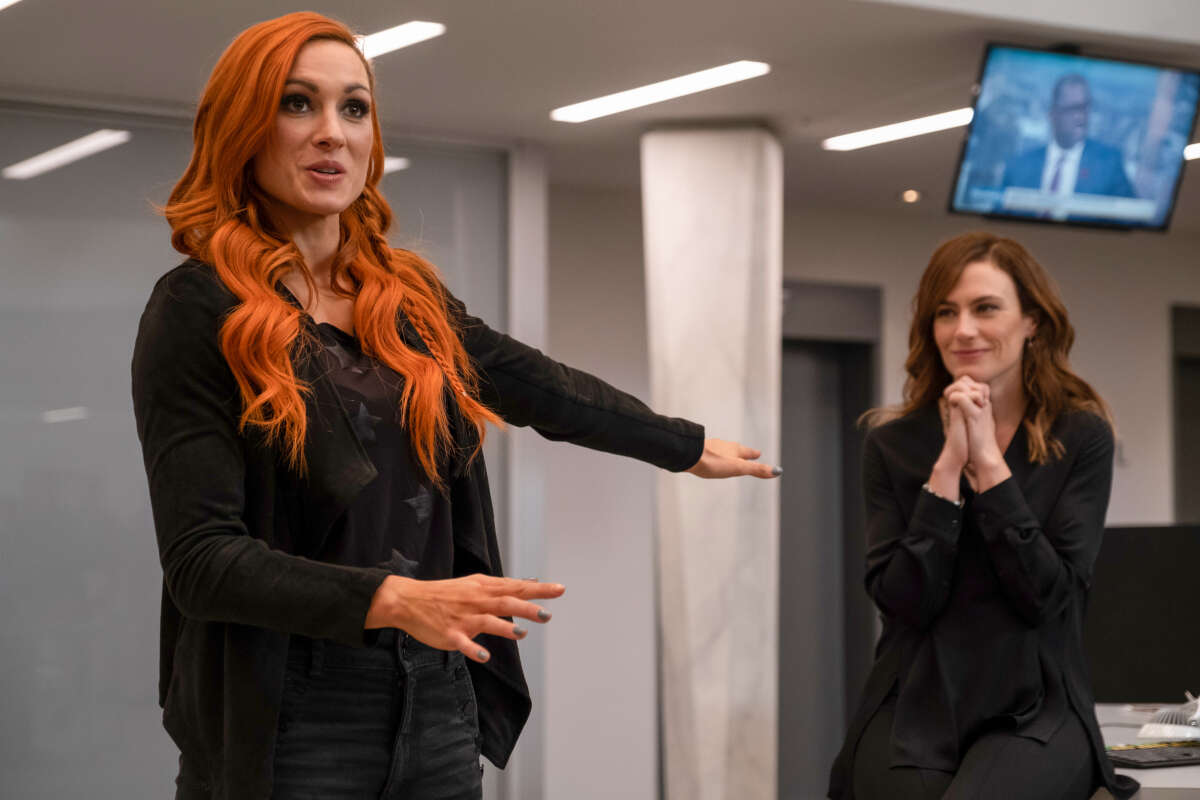 But first some table-resetting is required. That means opening with a tense, awkward wedding, where Chuck and Wendy must watch Chuck's father marry his former mistress as their own relationship continues to crumble, and a funny, sweaty ayahuasca retreat off the Alaska Canada Highway, where Axe and his right-hand man Wags (David Costabile) rediscover their passion for waging war and chopping off heads. (According to Koppelman, the soul-searching motorcycle road-trip was inspired by Ghost Rider, the memoir by late Rush drummer Neil Peart.) Still, these are only momentary diversions, breaks from the more-pressing tasks that need to be taken care of. Maintaining a healthy work-life balance is rarely a priority on Billions.
For Chuck, there's a electricity-stealing, brown-out-causing bitcoin scam to bust, which he hopes will allow him to finally expose further corruption and favor-trading at Axe Capital. That means applying pressure, twisting the knife, and deploying all the legal tricks Chuck has developed over his decades as a prosecutor. For Axe, there's a powerful new rival to befriend, belittle, and destroy, the smarmy billionaire Michael Prince (Corey Stoll). Besides hosting "fireside chats" and looking good in an expensive suit, what's his deal? So far, Prince looks like a kinder, gentler rival than past cut-throat enemies like John Malkovich's Russian billionaire Grigor Andolov or Clancy Brown's Southern ball-buster Waylon "Jock" Jeffcoat, but he'll likely reveal the true extent of his shark-like nature in the coming weeks.
The tension within Axe Capital, which absorbed the financially floundering Mason Capital in last season's finale, looks like it might become an even bigger problem for Axe this season. Though the premiere was heavy on big picture conflicts and personal drama, the scenes at Axe Capital were a reminder that Billions, like Mad Men or The Sopranos before it, is a stellar workplace comedy when it wants to be. Wendy calling in a favor to WWE superstar Becky Lynch and staging a mini-brawl in the open-plan pit of the company's Connecticut headquarters, which ended with a motivational pep-talk from the four-time women's champion, was exactly the type of absurd yet narratively satisfying moment that only Billions could pull off.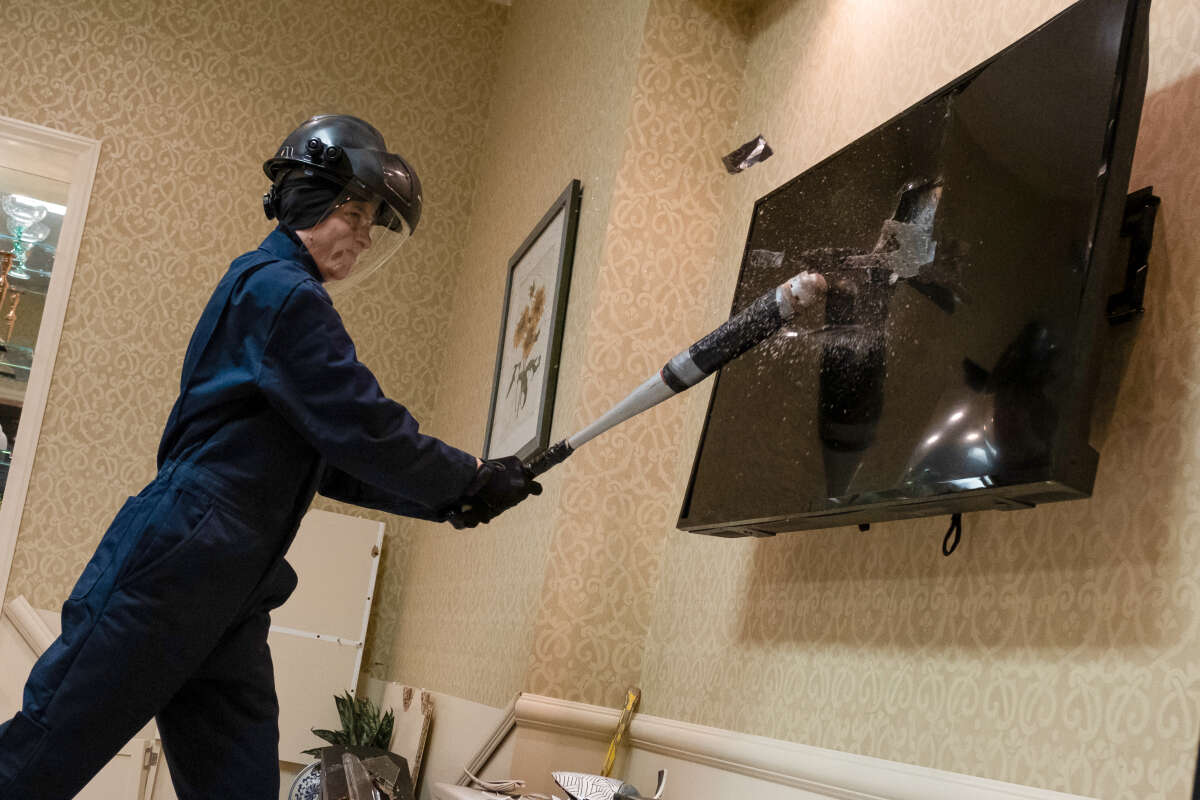 In addition to boosting morale with celebrity drop-ins and encouraging some old-fashioned team-work, Wendy remains the show's moral conscience, the person who can call out everyone on their bullshit. At one point, she accuses her husband Chuck of being a "prisoner to your appetites," a neat descriptor for most of the characters on the show. As much as Chuck swears he wants to "force himself to evolve," letting his co-workers into his strategic machinations and becoming a more attentive parent, he remains stuck in place. Many of the character have reached a previously unthinkable level of professional achievement -- in the case of Axe, that means literally obtaining over $10 billion in wealth -- but they're all at least vaguely aware of a spiritual lack, a void that can't be filled by Vanity Fair cover shoots and discreet trips to a dominatrix.
Even Taylor, a character known for logic and calculation, must eventually seek emotional catharsis by smashing a giant TV in a "rage room" at the episode's end. (As the show often underscores, rich people love destroying expensive stuff for no reason.) As Chuck and Axe continue to circle each other, using all their connections and their power to discover new ways to piss each other off, Taylo must remain focused if they hope to eliminate both swaggering figure-heads in one perfectly executed move. Axe calls Taylor "the person who does," celebrating their ability to take action and exploit weakness. Hopefully, the rage room provided some clarity. They clearly smell blood in the water -- better keep swimming.
Need help finding something to watch? Sign up here for our weekly Streamail newsletter to get streaming recommendations delivered straight to your inbox.