Everything We Know About 'Billions' Season 5
When will Axe and Chuck be back to finish up the season?
Showtime
Showtime
Over the last few years, Showtime's finance drama Billions has become one of the most consistently entertaining shows on television, a reliable source of market-driven intrigue, ornate one-liners, and Godfather references. Each season, Paul Giamatti's powerful attorney Chuck Rhoades and Damien Lewis's hedge fund magnate Bobby Axelrod scheme (and eat) their way across New York City. When the series is really cooking, it's like nothing can stop it.
But the show's most recent season, which kicked off in May 2020, came to an abrupt end when production was shut down because of the coronavirus, with only seven of the planned 12 episodes airing. What will happen to those other Season 5 episodes? And when will the show come back? Like a dutiful employee at Axe Cap, we poured over the available data in search of some answers.
Will there be more episodes of Billions Season 5?
Yes. Back in May 2020, the show's co-creator Brian Koppelman posted on Twitter that the plan was to "shoot the back end of the season (the last five of Season 5) when the world resumes." He also clarified that "those episodes are written and ready to go." So, if you've spent the last few months worried that the season's big conflicts would go totally unresolved, you can sleep easy.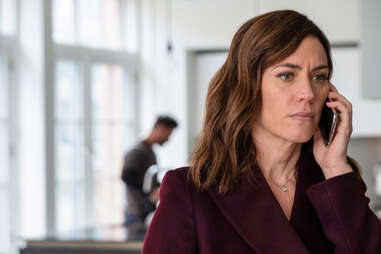 When will the second part of Billions Season 5 premiere?
We finally know when Billions will be back! On June 10th, Showtime revealed that Billions will return for five new episodes of Season 5 on September 5. That will be well over a year since the seventh episode of Season 5 aired on June 14, 2020.
In October 2020, Deadline, in an article announcing the renewal of Billions for a Season 6, noted that Showtime "hopes that the remaining five episodes will air in 2021 with season six to follow."
The signs that Billions was back in production started to pop up in early 2021. In March 2021, actor Kelly AuCoin, who plays fan favorite trader "Dollar" Bill, tweeted a photo of his character's namesake currency taped to a monitor with the caption "Home. #Billions #DollaDollaBillYall," indicating that the show had started up production again. (He confirmed that they were shooting again in the replies.) This tracks with a casting notice for the show posted on Backstage in February, which said filming would take place "March through November in New York City."
Is there a trailer for the second part of Billions Season 5?
Yes! On July 29, Showtime released a trailer for the upcoming episodes. The big reveal here: Paul Giamatti shaved his goatee. Also, lots of people are still trying to take down Bobby Axelrod.
What cast members will be back for the rest of Billions Season 5?
Expect to see more of Chuck, Axe, Wendy Rhoades (Maggie Siff), Taylor Mason (Asia Kate Dillon), Mike "Wags" Wagner (David Costabile), and Kate Sacker (Condola Rashād) when the show returns. Also, Corey Stoll, who played the do-gooder Axe rival Mike Prince introduced in Season 5, will be promoted to a series regular for Season 6, so you can know he'll be sticking around for a while. Will the moody abstract painter played by Frank Grillo return? We can only pray. Whatever happens, you can count on the show's mix of recognizable character actors and celebrity cameos to be as eclectic as ever.
Are there any new cast members in Billions Season 5?
As crowded as the Billions cast can get, there's always room for another cast member to disrupt the status quo. (Of course, athlete and chef and pro wrestler cameos are always welcome.) In May of 2021, Deadlinereported that Janeane Garofalo will recur in Season 5. She'll be playing "Winslow, the hip owner of a legal cannabis corp." That sounds like an Axe or a Taylor plot, right?
What was going on when Billions Season 5 was cut short?
Bouncing between Chuck's legal entanglements and Axe's business pursuits, there's always a healthy amount of conflict in a given season of Billions, and Season 5 was no exception. Pissed off about his struggles to launch his own bank, Axe was revving up for a big fight with Corey Stoll's Mike Prince, who reached a tentative deal with Wendy and Taylor's new impact fund. Chuck was teaching at Yale Law, a welcome break from dealing with his father Chuck Sr., and pursuing a relationship with a sociology professor played by Julianna Margulies. Wags was still Wags.
Will the new episodes of Billions include a GameStop plot?
In the beginning of 2021, the stock market went a little haywire. As countless people on Twitter noticed, the battle between hedge funds and investors on Reddit over the fate of GameStop, the struggling video game retailer, sounded like something you might see on an episode of your favorite finance drama Billions. Lots of people have made this observation and promptly passed along the insight to the show's co-creator Brian Koppelman, who responded with the following tweet:
He continued to quote-tweet suggestions from fans with comments like "Thanks for the tip!" and "Hadn't occurred to us yet." Basically, he's seen the story and the tweets -- no need to send him anymore. He's got it. Don't expect a big GameStop arc when the show finally returns.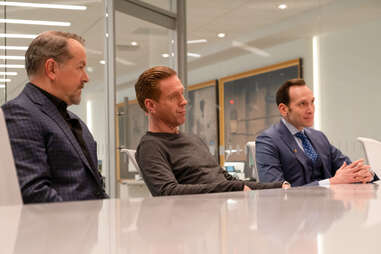 Will there be a Billions Season 6?
Yes. As mentioned above, Showtime renewed the series for a sixth season back in October. An article in Deadline about the announcement noted that it's been suggested that the show could "stay in continuous production for Season 6" when it returns to shoot the rest of Season 5.
Clearly, Showtime wants to be in the Billions business. Back in June 2019, it was announced that Billions co-creators Brian Koppelman and David Levien had signed an overall deal with the network that would include continuing to work as showrunners on Billions while "also developing new projects exclusively for the network."
Later, in October 2019, Koppelman and Levien announced they were developing Mike Isaac's non-fiction book Super Pumped: The Battle for Uber, which chronicles the behind-the-scenes drama at the ride share company, into a limited series. On May 24, 2021, Deadlinereported that Joseph Gordon-Levitt will star as Uber CEO Travis Kalanick and that Super Pumped will now be an anthology series with each season focussing on "a story that rocked the business world to its core and changed culture." A few days later, it was announced that Kyle Chandler will play venture capitalist Bill Gurley in the Uber-centric first season. As long as it doesn't get in the way of more Billions, we're looking forward to it.
Need help finding something to watch? Sign up here for our weekly Streamail newsletter to get streaming recommendations delivered straight to your inbox.