Harley Quinn's Terrible Tattoos Are the Best Part of 'Birds of Prey'
Despite a spirited campaign promoting Birds of Prey, Cathy Yan's Harley Quinn: Birds of Prey (formerly The Fantabulous Emancipation of One Harley Quinn) fell short of its $50 million box office prediction for opening weekend in the United States, clocking in closer to $33 million. (Globally, it's already close to making back its $84 million budget in a weekend.) In spite of that, the movie mostly about Harley Quinn (Margot Robbie) beating the shit out of men who have wronged her and vice versa in the wake of her breakup with Joker was a total blast, mischievous and unself-serious while taking great lengths to make its setpieces as punchy as one of Harley's glitter bombs. (The haters are boring.) Without question, it is superior to its DC parentage, the near-unwatchable 2016 movie Suicide Squad. And flanked by her new gal pals Black Canary (Jurnee Smollett-Bell), Huntress aka the Crossbow Killer (Elizabeth Mary Winstead), Cassandra Cain (Ella Jay Basco), and Renee Montoya (Rosie Perez), Harley stakes her place as the breakout egg-sandwich eating Suicide Squad anti-hero in fashionably circus-y clownwear, inked with a lot of shitty, shitty tattoos.
Personally, I love Harley Quinn's terrible tattoos; as a bad tattoo haver myself, I respect the decision to go through with it, even when you know it's bad, and live with your choices. In Robbie's recent appearance on Hot Ones, host Chris Evans asked the actress struggling with the Scoville levels which of her character's tattoos is her favorite, to which she said the dolphin with the rainbow, on her left hip, but you don't see it in Birds of Prey. (You do not.) But let's call out all the others Harley has in the films, for good measure:
Black heart on her cheek 
"Rotten" on her jawline
"Daddy's Lil Monster" on her left clavicle
"Property of Joker" on her left shoulder blade
"I'm watching you" with eyes tramp stamp
A decorative J on her right arm
A blue and red diamond jester pattern on her right forearm
"Lucky you" in script on her public bone
"PUDDIN" on her upper left thigh
"P+H" in a heart with an arrow through it in the same place
"I'LL WAIT FOREVER," also in the same place
A Joker skull, same place
40 tally marks, same place
I <3 PUDDIN on her right thigh
Harley + Puddin, with Puddin crossed out in Birds of Prey, same spot
Black diamond jester patterns and two black hearts, same spot
"Let me tell you a sekret," same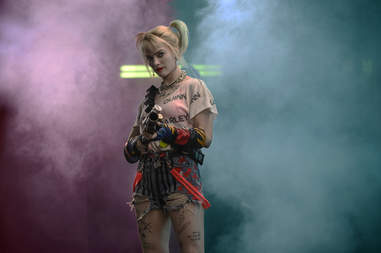 Look! So bad!

| Warner Bros
Wow. That's a lot of tattoos, all of them bad. An impressive bad-to-good ratio, but it's hardly surprising given the presumed sources. All her leg tattoos are upside-down and shaky, sure signs that those were self-given stick and pokes, probably done with a sewing needle and some pen ink, which Robbie confirmed in an interview on the junket for Suicide Squad. "She did these herself in prison," Robbie told Yahoo! Movies UK. "She did them herself out of boredom and desperation." Since people have an obsession with assigning meaning to tattoos, most of these leg tattoos are obviously about Joker, whom she calls Puddin'. Those 40 tally marks are less surefire, though, speculated to be her kill count (unlikely, since she kills a lot of people between two movies and the number remains unchanged) or the number of days she waited for Joker in a prison cell, which seems the likely option based on the "I'LL WAIT FOREVER" and other Puddin' tattoos.
All of the others, clearly done with a tattoo gun at least, we can assume Harley's ex did them. We know from a Birds of Prey flashback that the Crown Prince and Princess of Crime that the two have weaponized a tattoo gun for at least one prank, inking clown makeup all over a tough guy's face. Stuck in a toxic codependent relationship, it seems without question that the Joker and Harley would sadistically (and masochistically) inflict pain on one another with shitty "art" that meant to last forever. Joker stamping his former psychiatrist-turned-partner in crime is like marking his eternal property, even if they've broken up; he still turned her "bad" and scrambled her brain with electroshocks. Plus, like, take one look at his own godawful tattoos and you can see where the inspiration came from. 
Like, what the hell is this?

| Warner Bros.
Arguably the ugliest of Harley's tattoos -- the blue and red diamond jester pattern wraparound on her forearm -- is also maybe her most meaningful as a callback to the character's evolution over time. Famously, Harley Quinn wasn't introduced to the DC universe before Batman the Animated Series in 1992, tattoo-less in a head-to-toe black-and-red harlequin costume, and it'd be another seven years before she'd be written into the comics. She got her first headlining series in 2004 after it was apparent that Harley Quinn had drummed up a fanbase of her own, even as she was sidelined or made to be second fiddle to a bunch of boys. Even then, she often got paired with big-breasted versions of Poison Ivy and Catwoman that could only be read as fanservice-y options for a largely male comic book crowd couched in an attempt to reach more women with a female protagonist. It's not like Birds of Prey had to make a clunky, overzealous effort to be a feminist text (it doesn't, and it's better for it) when the story writes itself, including Harley being a Bernie Sanders supporter.
The Suicide Squad Harley Quinn was the first overtly tattooed Harley Quinn, maybe a nod to our culture simply becoming more tolerant of visible tattoos on women, but also suggesting that tattoos are for delinquents. (Notice how the vast majority of superheroes are ink-free while their antagonists have been tattooed a hundred times over?) We're not changing society's stance on tattoos in a blog post, but I'll leave you with this Suicide Squad anecdote: Famous for being a set where A Lot was happening, including routine face punching as scene warm-up, Robbie brought a tattoo gun onto set one day. She and her castmates tattooed "SKWAD" on each other (minus Will Smith: "I'm a grown-ass man," and Jared Leto because he was busy being too twisted on set constantly in-character as Joker). Although that's one Robbie, or geez, even Harley, might finally actually regret.
Need help finding something to watch? Sign up here for our weekly Streamail newsletter to get streaming recommendations delivered straight to your inbox.