Miley Cyrus's 'Black Mirror' Episode Has a Lot of Ideas About Pop Music, but Nothing to Say
Dig around the Miley Cyrus-led third episode of Black Mirror's latest season and you'll find plenty of allegorical reference points. Its story of a pop star trapped and forced to produce music by a scheming relative has echoes of the tragic current saga of Britney Spears' conservatorship or Amy Winehouse's grim relationship with her father. And then there are the parallels to Cyrus' own career. Her smiling songstress, Ashley O, has the duality of Hannah Montana and the soul of Cyrus herself, who eventually eschewed the squeaky clean Disney polish and replaced it with twerking and psychedelic collaborations with The Flaming Lips' Wayne Coyne. The way pop functions in society has always been rich for analysis, but "Rachel, Jack and Ashley Too" is just trying to do too much to have any sort of point.
Written by Black Mirror creator Charlie Brooker and directed by Anne Sewitsky, the episode largely has two aligned plot arcs. In one, there's Ashley O, a star who preaches girl power in her upbeat songs, but longs to produce music that reflects the darkness in her soul and lives under the watchful eye of her manager/aunt Catherine (Susan Pourfar). In a different part of Los Angeles, there's a lonely teenager named Rachel (Angourie Rice), whose only solace is watching Ashley videos. Rachel's punk Pixies-loving sister, Jack (Madison Davenport), is suspicious of Ashley's influence, and only grows moreso when the younger girl gets an "Ashley Too," a desktop robot with pink hair, for her birthday.
Here's where the Black Mirror shit kicks in: Ashley Too is an Ashley AI that engages Rachel in the conversation she is sorely lacking in her school life. As the advanced doll encourages the young girl to pursue her dreams and dance at a talent show, the situation with the real Ashley and her aunt is getting dire. Catherine drugs Ashley's food, putting her in a coma, but hooks her up to a machine that can extract notes from her brain to "write songs," ensuring that the singer can continue to be a cash cow.
Eventually, with some help from Rachel and Jack, the Ashley Too gains sentience, alerts the sisters to the situation with the real Ashley and enlists them in a heist. It's here the episode transforms from the familiar cautionary tale of modern life gone bad into slapstick comedy, introducing a mix of tones that never successfully gel. The depiction of the tech involved in the Ashley Too is frustratingly imprecise -- almost laughably so -- and the bigger picture aims never make up for that carelessness.
The danger of poptimism -- the notion that pop music, just like rock or jazz, has critical value -- seems to be a favorite topic of filmmakers recently. It was debatably the root of the conflict between the lovers in Bradley Cooper's A Star Is Born remake; in Vox Lux, starring Natalie Portman, director Brady Corbet uses a pop career to make a point about American vapidity. Here, Ashley's aunt's pernicious use of technology prevents Ashley from existing as her authentic self. The subtext: The "empowering" version of Ashley is a fake one, a product, meant to hoodwink girls like Rachel. Case in point: When Ashley's in pop-star mode, she sings a hilariously edited version of Nine Inch Nails' "Head Like A Hole," in which the chorus goes: "Hey, yeah whoa-ho, I'm on a roll, riding so high, achieving my goals" (except that first line suspiciously sounds like "hey, I'm a ho"). After Ashley breaks free from the drug-induced coma, she gets to thrash to the real version of the song, which she explains is a tune she wrote about her "shitty aunt."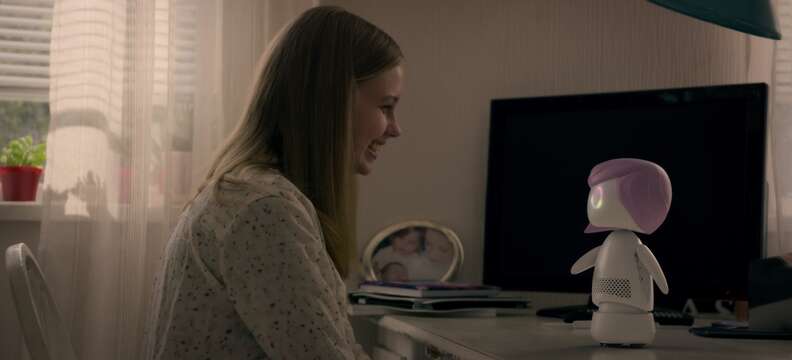 That point-of-view is both boring and only half-articulated. The finale, in which Ashley and Jack perform industrial rock at a club, does a disservice to Rachel and her peers who did find value in Ashley and Ashley Too's encouraging messaging, which, despite being couched in a dumb cover, isn't evil at all. Listening to Ashley's music does help build Rachel's confidence. The messages may be simple and uncool to someone with a nose ring like Jack, but they aren't necessarily bad.
This isn't to say that the way feminism is packaged and sold to young women shouldn't be scrutinized, but Brooker isn't really interested in any analysis beyond "pop is lame, rock is good, and people should be allowed to express themselves, unless the way they do so sort of sucks." It doesn't work much better as commentary on how people with proximity to fame overstep their bounds, either. Read about "Free Britney" and Spears' conservatorship if you want a better sense of the way our idols' lives can be grossly manipulated, or just, like, go see the Roy Orbison hologram on tour.
If you think at all about "Rachel, Jack and Ashley Too," it completely falls apart; but in a vacuum, it's enjoyable watching Cyrus riff on the role that made her a star. Meanwhile, Rice gives a better performance as the desperately shy Rachel than the script warrants, making the audience invested in her even when the episode isn't. It's a breezy hour of material that moves briskly, but it's just dumb fun: Exactly the type of thing the episode aims to criticize.
Sign up here for our daily Thrillist email and subscribe here for our YouTube channel to get your fix of the best in food/drink/fun.