Everything We Know About 'Black Mirror' Season 5
Netflix
Netflix
The brilliant, terrifying, speculative anthology sci-fi series Black Mirror originated in 2011 on the United Kingdom's Channel 4 and became a cult phenomenon in the U.S., thanks to two well-received seasons of three episodes each (Season 2 aired in 2013), Netflix's decision to add the show to its library in 2014, and a Christmas special starring Jon Hamm. The following year, Netflix acquired the show and gave creator Charlie Brooker two new seasons for its Original Series banner.
Since that 2015 acquisition, the series expanded in breathless ways. The episode count went up to six per season, the production values soared to cinematic standards, and the show's popularity multiplied. The Season 3 episode "San Junipero," released in 2016, went on to snag a pair of major Emmy Awards, and Black Mirror's fourth season, released in 2017, racked up eight nominations, including seven for its twisted, feature-length Star Trek homage "USS Callister." So, what about Season 5?
Luckily for fans, Black Mirror did return in 2018 -- but as a one-off interactive movie, not a full season, although Netflix later confirmed that Season 5 is still on the way. As always, filming is extraordinarily secretive. In the past, the show has attracted stars like Hamm, Bryce Dallas Howard, Daniel Kaluuya, and Kelly Macdonald, among many other notable actors, and episodes have been helmed by the likes of Jodie Foster, David Slade, and Joe Wright, so expect another high-caliber season. But until those details leak, let's try to piece together everything we do (and don't) know about Season 5 of Black Mirror.
What is Black Mirror Season 5's release date?
The fifth installment of the series returns on Wednesday, June 5. This comes just about six months after the release of their stand alone, choose-your-own-adventure movie, Bandersnatch, that arrived in December 2018 -- but it's been a minute since Season 4 dropped in late 2017. For a while, Netflix and showrunner Charlie Brooker said the series would return sometime in 2019, and not even the twisty-turny parallel realities of their movie could give fans any clue of when it would be back, but finally, finally we know to reserve time for bingeing in June.
Is there a trailer?
In mid-May 2019, Netflix shared a highly anticipated look into the forthcoming season by dropping the Season 5 trailer. The equally creepy and seductive clip teases storylines that seem to deal with criminal activity and a stand-off with the police, a marriage falling apart, self-conscious teens, and pop stardom -- and, of course, there's some eerie new technologies, like a little talking robot and perhaps a virtual reality microchip, in play. In cryptic Black Mirror fashion, the preview also teases how the show is going to continue to change how you view "love, privacy, connection, family, sex, work, and afterlife," so get ready to tune in and have your mind altered!
How many episodes will there be?
According to the trailer, you can expect "three new stories," two of which look like they're titled "Striking Vipers" and "Smithereens." The runtimes have yet to be announced, so it's unclear whether or not they'll be longer than episodes from past seasons.
Bandersnatch was so complicated it delayed production on Season 5
In an interview with The Hollywood Reporter, Brooker revealed that the intense two-year journey to make Bandersnatch caused the rest of production on the new season to slow down. "We knew going into it that it would be difficult and challenging and more complicated than a normal film that we would do. Even then, we underestimated," Brooker said. "As the story expanded, I like to say that the story got longer and it got wider. So the whole thing started expanding a bit like an inflatable life raft in a small room."
The choose-your-own-adventure format of Bandersnatch, which allows the viewer to control the actions of main character Stefan (Dunkirk's Fionn Whitehead), gave the entire film a whopping 312-minute runtime -- though depending on which paths you choose, a full permutation of the story can last anywhere from 90 minutes to two and a half hours.
Who is cast in Black Mirror Season 5?
As the show tends to keep any new information on lockdown as long as possible, little casting information was revealed throughout production -- aside from pop star and actress Miley Cyrus confirming in December 2018 that she appears in one episode. The release of the trailer offered a bit more insight into the big names set to appear, showing glimpses of stars like Anthony Mackie (The Hurt Locker, Captain America), Topher Grace (BlacKkKlansman, That '70s Show), and Andrew Scott (Fleabag, Sherlock). Other names appearing include Nicole Beharie, Madison Davenport, Damson Idris, Pom Klementieff, Ludi Lin, Yahya Abdul-Mateen II, and Angourie Rice.
Other than what you can surmise from the trailer, little to no details are known about who exactly the cast will be playing. Although, when Cyrus announced she would appear, she said her scenes were shot in South Africa and divulged a little bit about what to expect from her role. She told Howard Stern on his SiriusXM show, "All I can say is I have a lot of dynamic and I got to play a lot of different -- I play one character, but there's a lot of different sides of that character and there's a lot of dimension to it."
Expect more optimistic episodes
In early 2019, Brooker said that the upcoming episodes will feature "a mix" of tones, meaning there will definitely be a new crop of the show's classic, disturbing storylines, as well as a couple lighter concepts. He also told The New York Times upon the release of Bandersnatch that he and executive producer Annabel Jones are making a concerted effort to write more positive stories. "We're doing more optimistic episodes and stories, rather than just dystopian and negative ones," Brooker said. "We want to keep the show interesting for us." What that means for a show about deeply rooted anxieties and fears in the digital age, TBD.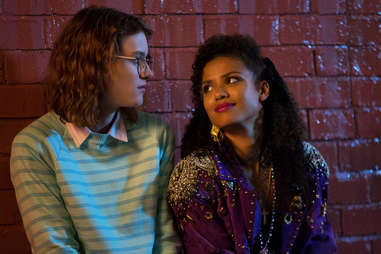 There could still be some sequel episodes
While Brooker has flatly denied there will be sequels to "San Junipero" and "White Bear," Jimmi Simpson, who starred in Season 4's Emmy-winning "U.S.S. Callister," admitted he's heard "buzzes" that Brooker is cooking up a sequel to that Star Trek homage episode. In an interview with The Hollywood Reporter, the episode's director, Toby Haynes, also hinted that Brooker was thinking about revisiting it, although Haynes says he'd rather turn it into a full-blown spinoff series.
Now that Bandersnatch has dropped, full of Easter eggs to other Black Mirror episodes like the anxiety-inducing "Nosedive" and Slade's other episode "Metalhead," there are a coterie of fans with a loose theory that it's actually a prequel to Season 2 episode "White Bear" -- mostly because Bandersnatch repeatedly uses the exact same symbol. Could there be a real connection here, or is it just another fun Easter egg? Considering how infrequently, if at all, Netflix confirms anything related to the tangled web of references that make up all of Black Mirror, we'll probably never know. It's a fun theory, though!
Brooker even said in his newest THR interview that he'd love to see Bandersnatch's trans-dimensional ace programmer Colin Ritman, played by Will Poulter, in other Black Mirror episodes. "I like the idea that he could show up anywhere," Brooker said. "I could see him popping up in 'San Junipero' or running around in 'White Bear.'"
As for future choose-your-own-adventure formats, more of these kinds of interactive episodes may be planned down the road, as this is part of the streaming giant's early roll-out of a number of choose-your-own-adventure projects. Prior to Bandersnatch, Netflix's animated children's program Puss in Boots was the only one of its releases to feature interactive storytelling. And with its success, there may be more opportunities in Black Mirror (or even Netflix's other adult programming) to introduce similar projects so you can decide what disturbing ending plagues the futuristic characters in the sci-fi series... and then watch it again to arrive at an equally upsetting alternative ending!