Killmonger Challenges 'Black Panther' and Everything We Think About Movie Villains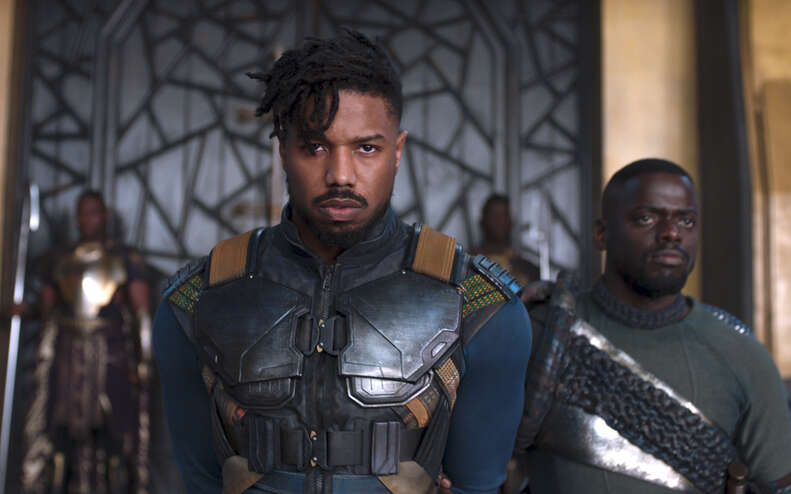 Marvel Studios
Marvel Studios
The trippiest scene in Black Panther is set not in Wakanda but Oakland. Erik "Killmonger" Stevens has defeated T'Challa in ritual battle and becomes king, earning the chance to visit the ancestral plane and glean wisdom from his elders. Instead of the African savanna, it's his childhood apartment, where he finds himself back in front of his slain father. In this scene, he's neither Erik Stevens or Killmonger; he's N'Jadaka.
During the father-son convo, he denies crying over the death of his dad, N'Jobu (played by Sterling K. Brown). You get the feeling he wants to be acknowledged for what he's been able to accomplish through his strength, or possibly denial of emotional connection to anything, so he defends his coldness with the dismissive reason that people die around him all the time, as his on-screen character alternates between childhood and adult incarnations. His father tells him he may be "lost." And as the scene ends, tears roll down both men's faces. It's one of the few times in the film we encounter the human being underneath the Killmonger shell, blurring any preconceived notions of who he is, and it's the first strike at the movie's questioning of how we define justice.
Killmonger could be reduced to "Black Panther's version of Magneto." Like the X-Men villain, he lost his family at a young age and turned his vengeance into a violent campaign for equality. But Erik Killmonger is something much more real, something much easier to find in cities all across the non-Marvel universe: a young black man who grew up with nothing to lose, and everything to gain. And could he have been saved?
Let's be clear: Killmonger is no gentleman. From the girlfriend he murders early on, to the elder Wakandan lady he choke-lifts into the air later, the movie leaves no confusion on his ethics: the ends justify the means. He's confrontational, violent, but also intelligent. He's no stone-throwing, hand-hiding pretty boy; he goes right for power, and he gains it. Never forget he whoops Black Panther's ass in a fair ritual battle.
Black Panther's villain earns the right to wage world war, using Wakandan technological power we're told is equal or superior to every superpower on Earth. And he wastes no time seeking revenge on those who have caused global suffering to his people while simultaneously attempting to establish a new black world order. He's the royal family's young Vincent Corleone, with more power, more venom, more charisma, and fewer fucks to give.
Killmonger is many things, in the moral tapestry of Black Panther, he's a killer first and Wakandan second. Proud of both, he is willing to do what he considers necessary evil to turn the rest of the world, by any means, into the homeland he was denied as a kid. From the moment he walks into the room where T'Challa and his royal court receive him for the first time, he introduces himself not as Killmonger, but as N'Jadaka, the son of the former king's brother. If nothing else, we become aware that he'll not be denied his birthright nor his pride, and that he's willing to put his life up as collateral for what's honestly his.
I took a day to process the movie after watching it. It left me with a lot to unpack, and one of the biggest questions I kept coming back to was what would Killmonger have become if he'd been allowed to be his true self? I could recognize him; he's a troubled kid who grew up angry when his father, the man who was supposed to be his hero, was taken from him. What happens to a child whose innocence is stolen? He's a bad guy with whom many young men will empathize.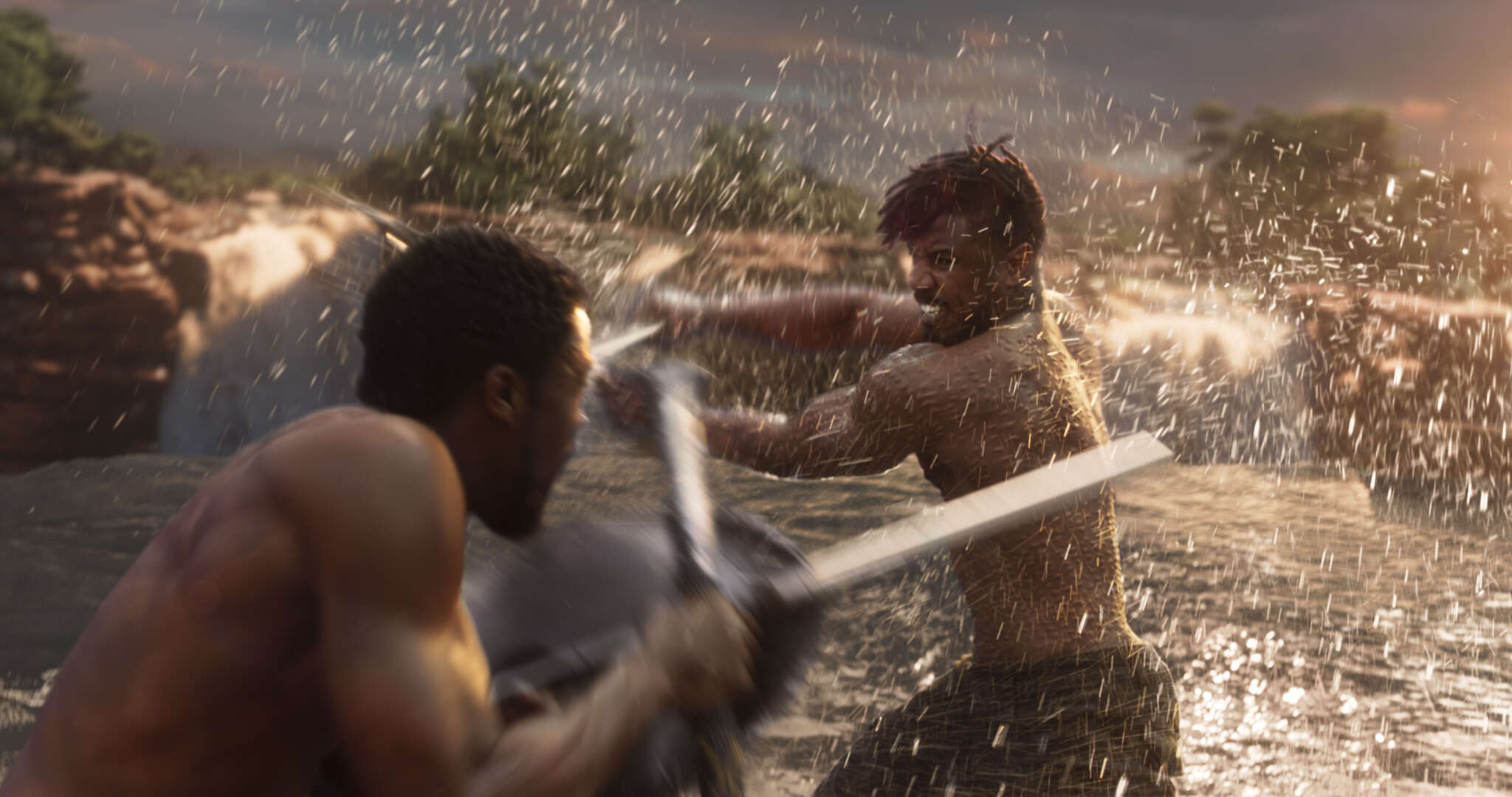 Killmonger's haunting final words reminds us just how different his experience was, as a black child growing up in America, from his cousin, who was groomed from birth to be a black king, leading a nation of truly free, brilliant, and beautiful black people. As he chooses to die -- invoking the spirit of the 1803 Igbo Landing Mass Suicide, in which enslaved Africans committed suicide off the coast of Georgia rather than be taken alive into bondage -- you realize this is heritage his cousin T'Challa does not share and could only attempt to understand. It's certainly one of the movie's most loaded moments.
I probably don't have to tell you that black people are survivors. Hopefully, I also don't have to explain my reasoning for saying black folks -- if I can speak for black folks just once -- aren't having as good a time in America as we were, say, eight years ago. Not to say it's as bad as it was in the 19th century, but of course that's a remarkably low bar for measuring how people should be treated. Progress has been made, sure. But right here in the non-Marvel universe, in a world and country where we are always the bad guys -- whether we have unfortunate names like Killmonger and grew up in the streets or not -- African-Americans are still fighting for humanity.
That's where Michael B. Jordan's Erik Killmonger connects. It's no coincidence that this is the same actor who portrayed Oscar Grant, as well as Adonis, the son born out of wedlock to Apollo Creed, the guy who was beaten to death by a white man. With your eyes properly focused, you can even see traces of the tragic character Wallace from The Wire, resurrected, and now ready, willing and able to retaliate. You know you shouldn't root for him, but you might have actually seen the movie Roots, so maybe you could be forgiven for having a moment where even if you don't like Killmonger, you feel him.
Now, imagine seeing this film in a city like Oakland, or Washington, DC, or St. Louis, or Chicago, or Harlem, or Atlanta, where I live. If there's such a thing as an American Wakanda (which itself is kind of an oxymoron), it's ATL, with its majority African-American population, of which the majority -- including the new mayor -- are women. These women have sons, nephews, students, brothers, fathers, boyfriends, and husbands who at some point may have resembled N'Jadaka. They know the experience, and they know it ain't fair.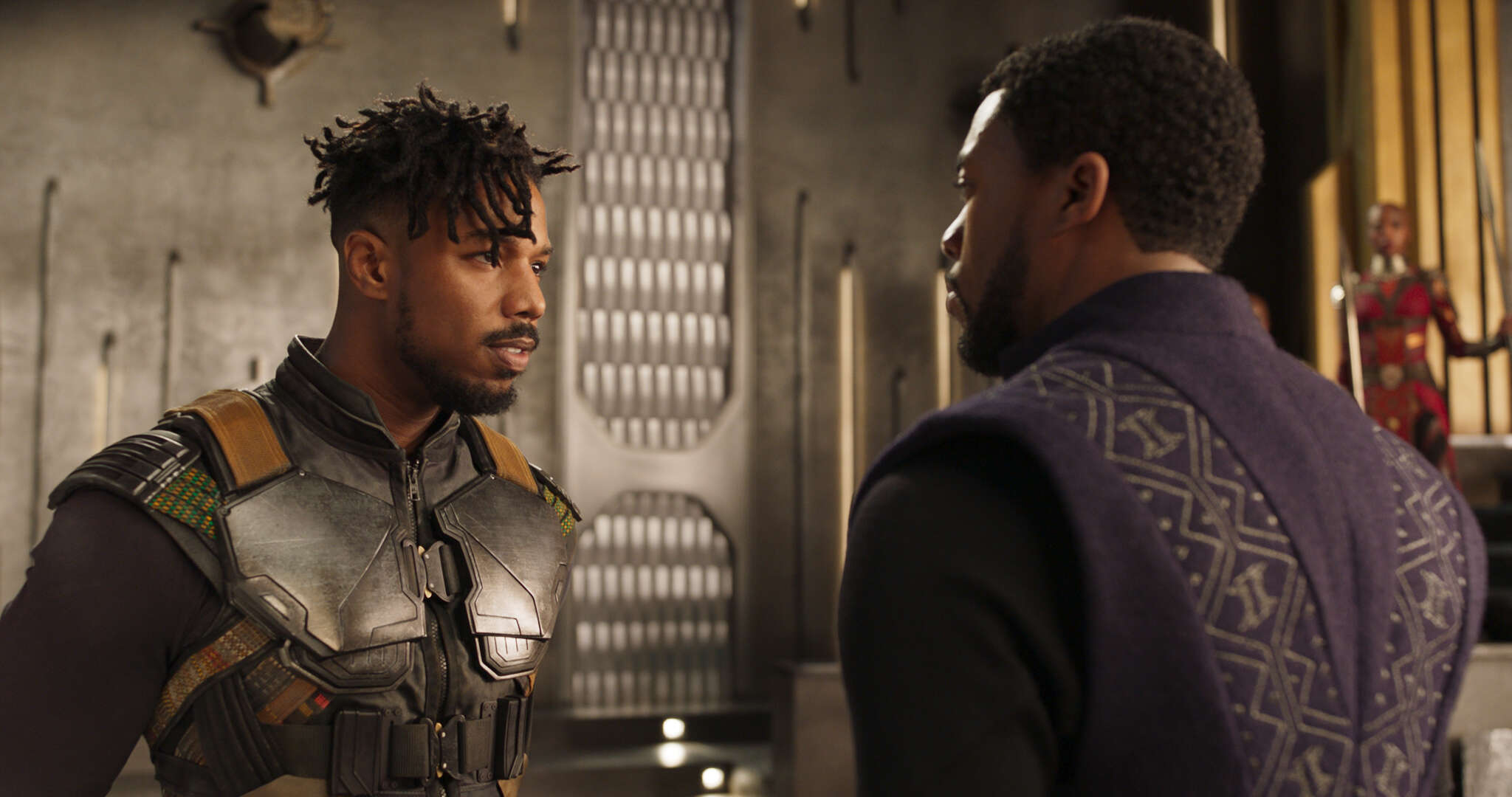 Ultimately, the movie stands up to the overwhelming excitement and pride surrounding it. Parents, couples, cousins, homies, partners, buddies, and lots of children will see the movie and love it. That the post-theater conversation is less about Black Panther's best action scenes, funniest lines or perceived flaws; it's over whether or not Killmonger was as bad as we should believe he is. By challenging ourselves to ask questions like that, we might be able to look deeper at the consequences of the institutionalized indignities suffered by young men of color. And it might make sense why so many people are so proud to witness the arrival of a movie that treats black people like superheroes, even if we know we're talking about a fictional comic book movie.
Just my own opinion: Every black person currently surviving the often exhausting reality of life in 2018 America deserves to feel like a superhero sometimes. But the absence of opportunity, amplified by the constant association with villainy without context, creates a lane where a Killmonger isn't as wrong to some as he is to others. The characterization forces viewers to ask or at least wonder if it's wrong to go on the offensive, and if it's really even "offense" when innocent people are suffering at the hands of oppressors. Is it Up From Slavery, or the leadership of the Talented Tenth? Is it segregation and solitude, or integration and assimilation? Is it forgiveness as a means of moving forward, or strategic offense, employed as a defense that might secure a peaceful future, even if it must be gained by bloody means? And in that case, is it wickedness or weakness?
Killmonger made his decision, and Black Panther sides with its noble hero. But it's not a stretch, as the success of the movie and the resulting character analysis and conversation around him suggests, to assume much of Black America might see things from his side. These aren't peaceful times, and at some point, one has to consider that the sense of righteous anger could boil up and make the world dangerous in real life, simply because certain voices and personalities become lightning rods for real feelings and experiences too real to properly put in a Marvel movie. Clearly, we've got some work to do around the world before can pretend to be anything like Wakanda.
Sign up here for our daily Thrillist email and subscribe here for our YouTube channel to get your fix of the best in food/drink/fun.
True story: Mike Jordan, Thrillist ATL's founding editor, gets tagged in tweets all the time because he is @michaelbjordan. He is calling himself "TrillMonger" until further notice.