The Music of 'Black Panther' Is the Movie's Secret Weapon
Marvel Studios
Marvel Studios
Early in Black Panther, we hear Bay Area hero Too $hort's "In the Trunk" playing in the background of a scene set at an apartment complex in Oakland. The year is 1992 and there are guns on the table as N'Jobu, a young black leader with ties to the mysterious African nation of Wakanda, makes plans for revolutionary action. He wants to change the neighborhood around him. He's tired of waiting for justice. In the background, a Public Enemy poster hangs on the wall, connecting the West Coast characters to the East Coast rappers known for ground-breaking records like It Takes a Nation of Millions to Hold Us Back and Fear of a Black Planet.
Arriving after a more fantastical and exposition-heavy prologue, this sequence comes loaded with historical weight and packed with provocative signifiers. It's an announcement: This will be different than Iron Man, Doctor Strange, Thor: Ragnarok, or any of the Marvel movies that have come before. Director Ryan Coogler, who introduced Philly street-rapper Meek Mill to the Rocky cinematic universe with Creed, makes that clear with musical touchstones that immediately evoke a sense of time and place. He wants to put you in the room. An effective soundtrack is the quickest way to do that.
The same curatorial savvy that's evident throughout the movie Black Panther carries over to the film's soundtrack, Black Panther: The Album, a 14-track collection of tracks overseen by rapper Kendrick Lamar and his label Top Dawg Entertainment. While the movie's drum-filled score was composed by Coogler's frequent collaborator Ludwig Göransson, a writer and producer closely associated with Black Panther script-note-giver Donald Glover, the album is a more eclectic, busy affair. Most of the songs don't actually appear in the movie. In the grand tradition of '90s soundtracks you might purchase at Tower Records and toss in a CD binder, this music was mostly "inspired" by the film.
It's an ambitious move that speaks to the cultural potency of Black Panther as a brand. This type of big-budget, collaboration-heavy soundtrack is not common to the modern superhero era, which is more associated with bombastic orchestral swells than contemporary pop hits. If you take a look at the dire tracklist for 2012's Avengers Assemble (Music from and Inspired by the Motion Picture), you'll find songs from artists seemingly chosen at random by a music supervisor tasked with sourcing bands from the barren hellscape of alternative rock radio. Soundgarden, Shinedown, Papa Roach, Bush, and Five Finger Death Punch all make appearances. It's a far cry from glory days of Prince's "Batdance."
Black Panther: The Album isn't an exercise in auteur-driven control like Prince's brilliantly odd Batman soundtrack, but it's not purely a cynical cash-in either. The overall approach of the record, which features multiple Lamar verses and wall-to-wall beats from his in-house producer Sounwave, is a throwback to soundtracks of the past that promised team-ups between different artists. (See: 1997's Spawn soundtrack, a reference I did not expect to make in 2018.) If you're looking for a straight-forward follow-up to Lamar's 2017 record Damn or another loose ends collection like 2016's Untitled Unmastered, you'll come away disappointed. Kendrick is the star but this is a big galaxy.
Do all collaborations work? In true '90s fashion, they do not. After a strong start with a handful of Lamar-centric songs, including the SZA-powered single "All the Stars," we get "The Ways," a R&B track from pop crooner Khalid and Rae Sremmurd's Swae Lee that's so laid back it's almost comatose. Similarly, the track from The Weeknd and Lamar, "Pray for Me," which plays right before a big action scene in the movie and ends the album, is a sleepy dud that sounds like a re-heated left-over from the Canadian singer's Starboy record. It's as by-the-numbers as major label pop gets.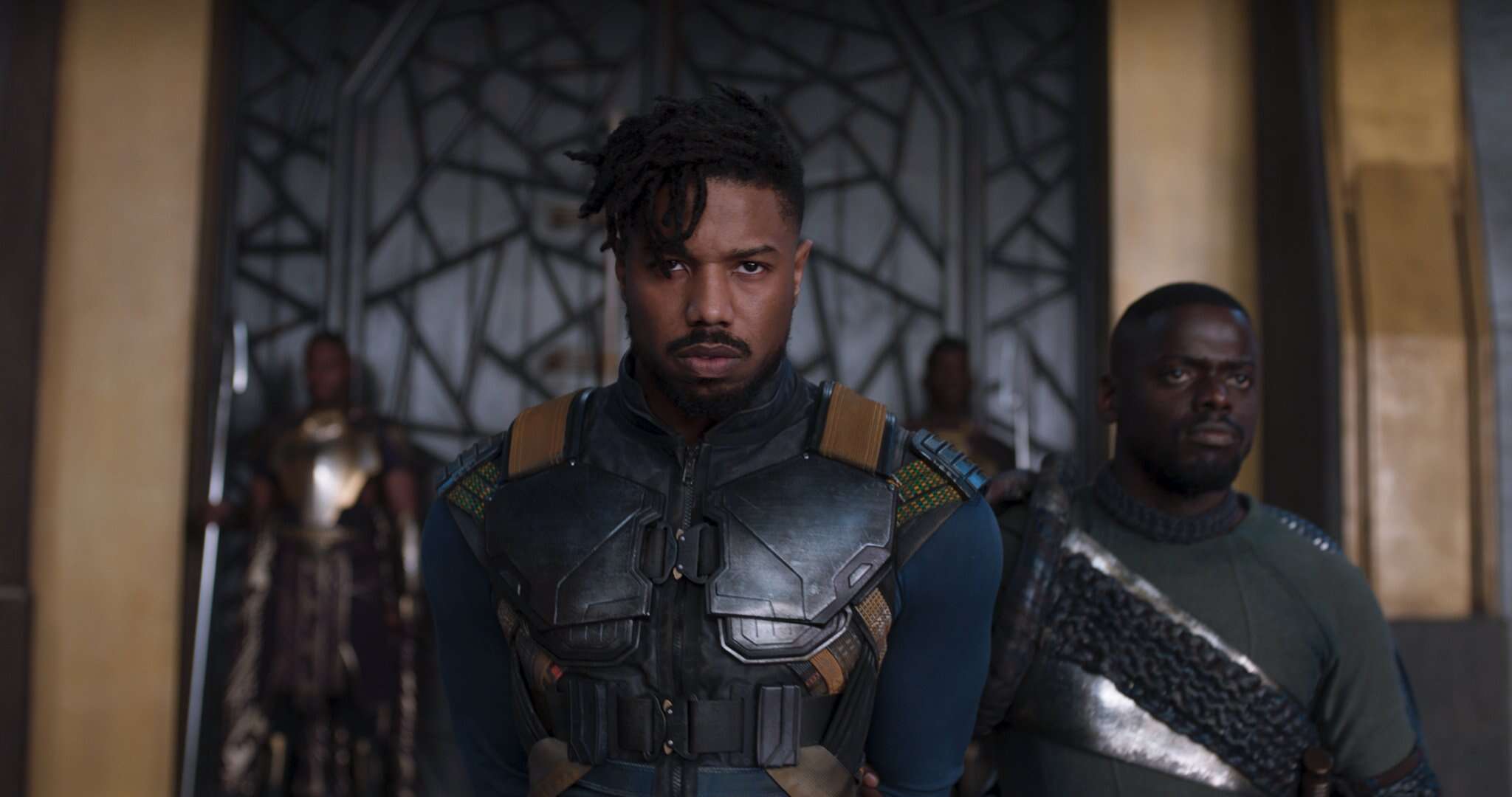 But there are other moments that reflect the nerve driving the project. "Opps" is a sleek, house-indebted piece of electro-rap from Vince Staples and Johannesburg artist Yugen Blakrok, who steals the song with a verse packed with wordplay and tenacity. (She even dares to namecheck Gotham's Riddler, which hilariously earns her the rare bleep on this otherwise uncensored album.) As you'd expect from a TDE project, the rap-heavy moments tend to hit the hardest: "Paramedic!," a banger from Vallejo collective SOB x RBE, is an explosion of energy on a record that often chooses sub-duded contemplation over kinetic intensity. Does it need multiple James Blake contributions? Probably not.
Like the movie itself, Black Panther The Album is at its most compelling when it embraces the charismatic radicalism of Killmonger, the scene-stealing villain played Michael B. Jordan, daring to explore political ideas, emotional tones, and stylistic registers typically kept outside the Marvel universe. "King's Dead," a careening posse cut featuring Lamar, his Black Hippy co-hort Jay Rock, and Atlanta innovator Future, could give a Disney executive a heart attack. But here it is on an album that Spotify invites you to listen to when you open up the app. You can hear Future say "Slob on me knob" on a record that's tied to a movie that will probably gross a billion dollars.
At the same time, Black Panther: The Album is perhaps too rooted in the aesthetic comfort zone carved out by TDE over the last decade. As Lawrence Burney argues in a review of the record for Noisey, the album could be seen a missed opportunity to shine a light on an even wider range of innovative black musicians across the globe. "For a film that is set in a fictional East African nation, Black Panther's soundtrack does a poor job of depicting what the African diaspora has to offer," writes Burney. "There are 11 black American artists out of 23 total on the album, mostly comprised of West Coast natives."
Unsurprisingly, there are limits to the album and the film's audacity. After all, Black Panther does not end with Killmonger emerging victorious. Ryan Coogler appears to have guided the lumbering Marvel movie machine in a way that will please critics, fans, and Disney shareholders, but there will likely be some who see the Public Enemy poster on the wall and view it as an empty gesture. Coogler is a thoughtful populist with a mischievous side. Black Panther: The Album might be a widely distributed, chart-topping project from Interscope, but the movie it's inspired by has a joke about putting your mixtape on SoundCloud. It's almost as if Coogler knows the revolution will not be televised -- or streamed, either.
Sign up here for our daily Thrillist email and subscribe here for our YouTube channel to get your fix of the best in food/drink/fun.