Everything We Know About Marvel's Black Widow Movie
It's about time!!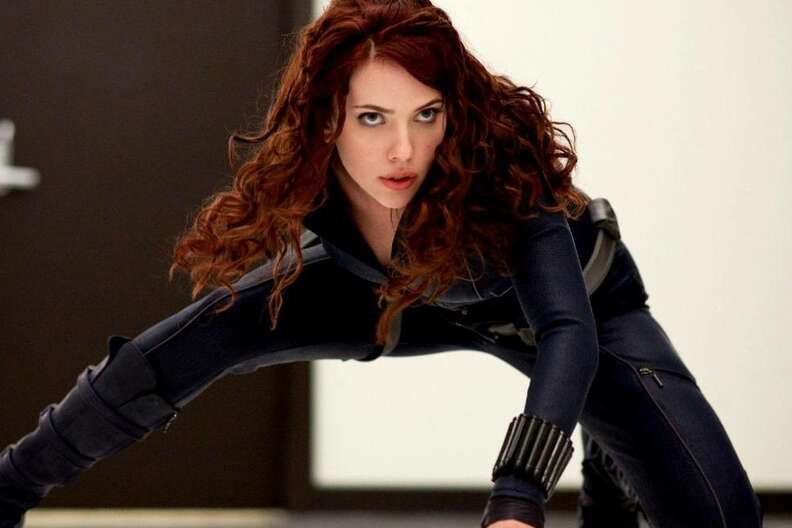 It took more than 10 years for the Marvel Cinematic Universe to center a project on a female superhero. The result? Captain Marvel had the sixth-biggest worldwide opening ever. (It now ranks seventh.) While the Brie Larson character got to be the first female Marvel character with her own movie, Black Widow, played by Scarlett Johansson, will always be the first female Avenger in the MCU. And now, finally, there's going to be a movie focused entirely on her.
Black Widow first appeared in Iron Man 2 in 2010, working undercover at Stark Industries, and she's since appeared in seven different MCU movies. A standalone Black Widow movie has been long discussed and finally got the go-ahead in early 2018. Here's what we know about it so far.
When will Black Widow be released?
Black Widow will be the first film of Phase Four of the Marvel Cinematic Universe. It was originally supposed to come out in May 2020, but the COVID-19 pandemic delayed its release to November 6, 2020, before it was again delayed to May 7, 2021, and then again until July 9, 2021, at which point it will be released simultaneously in theaters and on Disney+. To view it at home, will cost you though, even if you already subscribe to the streaming service. Like Raya and the Last Dragon, it will be a Premier Access release with a fee of $30.
Is there a trailer for Black Widow?
Marvel Studios released the first teaser trailer for Black Widow in early December, and a full-length one, above, in March. We've seen plenty of Johansson's Natasha woven throughout the MCU, but this time, she's focusing on herself and her own past. Violently reuniting with her "sister" Yelena (Florence Pugh), Natasha sets out to tie up loose ends and returns to what looks like the Red Room, the Soviet spy training facility. The trailer also features glimpses of Rachel Weisz's Melina Vostokoff and David Harbour's Red Guardian—"family, back together again."
What will Black Widow be about?
Black Widow takes place between the events of Captain America: Civil War and Avengers: Infinity War. "Where we find Natasha in her life at this point is very specific," Johansson told Entertainment Weekly. "She really is in a dark place where she's got no one to call and nowhere to go. She's really grappling with her own self. When something huge explodes and all the pieces are landing, you have that moment of stillness where you don't know what to do next—that's the moment that she's in. In that moment, you actually have to face yourself."
Also, per concept art revealed at D23 in August 2019, she gets a new white suit.
The film introduces fellow spy Yelena (Florence Pugh), Red Guardian (David Harbour), and Melina Vostokoff (Rachel Weisz), who is also known as villain Iron Maiden in the comics. There are other baddies in the mix including long-standing Avengers enemy Taskmaster, a villain who can perfectly master any physical skill that he observes.
Despite only having been in the early stages of filming, Marvel brought a short teaser trailer to San Diego Comic-Con 2019. The clip featured what seems to have been a playful, albeit violent spat between Natasha and Yelena that ends in the pair taking vodka shots and catching up. The sequence takes place in what appears to be Budapest, long a source of fan inquiry thanks to Hawkeye's cryptic quip to Black Widow in the first Avengers movie: "You and I remember Budapest very differently!"
There aren't many plot details past that. However, the film promises to flesh out Natasha's backstory within the MCU, something sorely needed given that she's arguably the primary Avenger we know the least about.
At Marvel Studios' 2019 Comic-Con panel, Johansson said, "I get to play Natasha as a fully realized woman, in all of her many facets. I'm excited for fans to see what she perceives to be the flawed side of her, and I'm looking to wipe out some of that red in my ledger."
Who's in the cast?
Black Widow has already become an achievement in pay equity, with Scarlett Johansson reportedly making $15 million for the movie, matching the paydays Chris Evans and Chris Hemsworth received for the most recent Captain America and Thor films.
As mentioned above, Rachel Weisz (The Favourite) will play Melina Vostokoff, a five-time Black Widow Red Room graduate involved in a mysterious scientific experiment. David Harbour (Stranger Things) is Alexei Shostakov, AKA Red Guardian, who the actor described to Variety as the Soviet foil to Captain America. Florence Pugh (Midsommar) stars as Yelena, a fellow spy and sister figure to Natasha. Additionally, O.T. Fagbenle (The Handmaid's Tale) plays a character named Mason who is a contact from Black Widow's past. William Hurt will reprise his Incredible Hulk villain role General Thaddeus Ross (last seen in Endgame, resurrected from the Snap). British actor Ray Winstone will play a character named Dreykov, whose name may be familiar to you if you remember Loki's speech to Natasha in the first Avengers, when he tries to throw her off balance by listing all of her sins. Sounds like ghosts from Natasha's past are coming back to bite.
Some fans have speculated, thanks to an unconfirmed side note in a Deadline article from September 2019, that Robert Downey, Jr. could return as Tony Stark (as this takes place before the whole Infinity War arc, that's entirely possible). They think Black Widow may use an unreleased deleted scene from Captain America: Civil War, in which Tony tells Natasha to make a run for it—which would clue viewers in to where Black Widow fits into the timeline.
A poster released at D23, Disney's annual expo, gave a first glimpse of Johansson as Black Widow, as well as Pugh, Weisz, and Harbour's characters—plus, a peek at the masked Taskmaster. There's currently no confirmed casting for Taskmaster, the film's main villain, although there have been rumors that the role may have gone to André Holland (High Flying Bird and Castle Rock Season 1).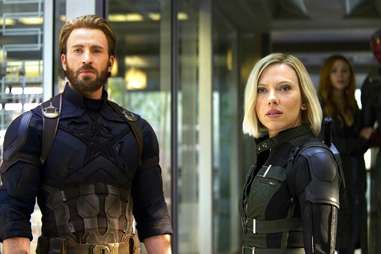 Who else is involved in making it?
To find Black Widow's director, Marvel reportedly went through 70 different candidates, focusing on female directors, before landing on Berlin Syndrome director Cate Shortland.
While Novitiate director Maggie Betts and Belle director Amma Asante reportedly came the closest to getting the coveted directing job, Lucrecia Martel (Zama) and Lynn Shelton (Laggies) shared insight into the audition process. Shelton left conversations with Marvel on good terms, telling Variety, "They're smart about character and story, they want people who are good with actors." Meanwhile, Martel told The Pioneer she was put off by Marvel's distrust in her shooting some of the film's scenes. "'Don't worry about the action scenes,'" Martel says Marvel told her. "'We will take care of that.'"
Shortland will be the second female director to helm an MCU film, and the first to do so on her own (no disrespect to Captain Marvel co-director Anna Boden).
The first draft of the script was written in 2018 by Jac Schaeffer, who also wrote WandaVision. Collider reported in early 2019 that The Disappearance of Eleanor Rigby writer-director Ned Benson was doing a rewrite.
What's next for Black Widow and the MCU?
In an interview with Empire in July 2020, Black Widow director Cate Shortland confirmed what fans have been whispering about for months: this movie will be the final appearance of Scarlett Johansson's Natasha Romanov in the MCU (given that this is technically set before Avengers: Endgame, in which her character dies). But because there will always be a Black Widow in the Avengers, this movie is basically Natasha "handing the baton" to Florence Pugh's character Yelena, who will assumedly portray Black Widow in the forthcoming Avengers films. This means that of the original team present in the 2012 Avengers movie, only Thor, Hawkeye, and the Hulk remain.
Though the pandemic scrambled some plans, the MCU is now moving into Phase 4 thanks to the debuts of WandaVision and The Falcon and the Winter Soldier on Disney+. Loki will follow shortly behind. There's another batch of theatrical releases on the way as well: Shang-Chi and the Legend of the Ten Rings, Eternals, a Spider-Man sequel, Thor: Love and Thunder, and Doctor Strange in the Multiverse of Madness.