What Happened to 'Bloodline' Season 4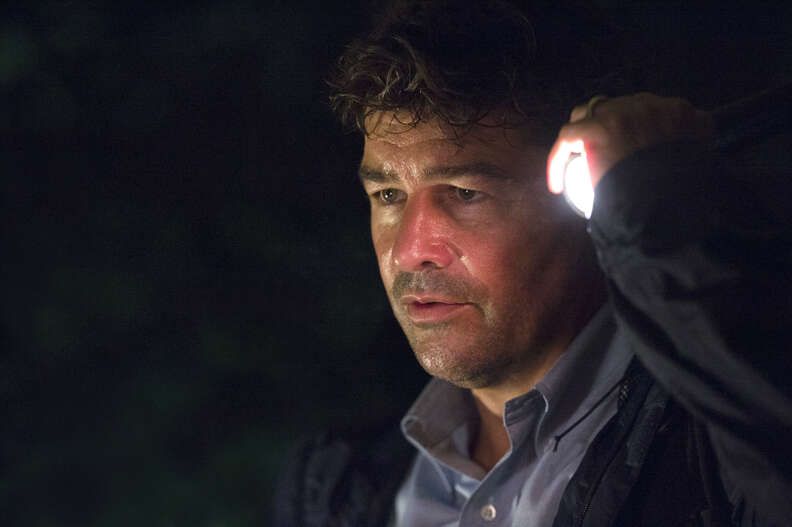 "We're not bad people, but we did a bad thing."
Secretive, intriguing, a touch over-dramatic -- the Rayburns were always a special, but ultimately doomed, bunch. When Netflix introduced us to the fucked-up Florida family in 2015, we met a group whose pride and loyalty would become so toxic it would ruin them. With Bloodline, Todd A. Kessler, Daniel Zelman, and Glenn Kessler had created a gripping tale of betrayal that was positioned as a promising rival to House of Cards and Orange Is the New Black, the OG titles that started the streaming revolution only a couple years earlier. But, in 2016, the series trailed off with Season 3. Bloodline Season 4 was officially dead. What happened?
Why Netflix canceled Bloodline
Only a couple months after the series got its Season 3 renewal, its creators learned Season 3 would be the end. The Hollywood Reporter broke the news in a 2016 cover story about Netflix, hinting at financial issues and later noting that the future of the Florida-set show was questioned after the state "cut its entertainment tax incentives program, therefore making the series much more costly to produce." (Sources told Vulture that Netflix was having to pay "between $7 million and $8.5 million per hour.") Since Bloodline's future was shaky from relatively early stages, the split played out amicably in the press, with the creators saying they would adjust course and Netflix telling the trades it was "looking forward to the exciting climax" that would come May 2017. Spin aside, the cancelation was a rare move for the streaming service, whose only other nixed original programs, at the time, were Hemlock Grove and Lilyhammer.
Was there supposed to be a Bloodline Season 4?
Yes, ahead of the show's debut, Zelman toldVariety that the creative team had plans for a run that would've been twice as long: "Even when we pitched the show, we had ideas for what five, six seasons of the show could be because that was very important to us to think about, 'How does this evolve season by season?'" Instead, the creators would have to wrap the Rayburn saga in a shortened third season (10 episodes instead of what was initially 13), which... given how miserable everyone was in the series finale, was maybe a blessing in disguise. Six seasons would have definitely put Bloodline -- a show that became about fruitless atonement with nary a hint of redemption -- in the running for Most Depressing Show Ever.
How did Bloodline adjust for Season 3?
Following Bloodline's cancelation, the creators began reassessing their story arcs and streamlining the ideas they had for the back-half of the series. "It just meant looking at our notes for what we had planned for seasons four and five and six, and figuring out what we could pull and combine in order to make the most entertaining and emotionally satisfying and fulfilling story that we could," Todd Kessler explained to Variety. Essentially, that translated to holding the Rayburns accountable for their actions -- namely, the central protagonist, John (Kyle Chandler), whose guilt would tear him apart until the show's final minutes -- and wrapping certain character arcs (like Linda Cardellini's Meg) in quicker fashion.
How did it go?
Season 3 was widely considered the least successful of Bloodline's runs. Some critics took issue with the underutilization of two of the series' leading talents, Linda Cardellini and Ben Mendelsohn. Others weren't happy with the plotlines. For even though the key Season 3 actors (Kyle Chandler, Norbert Leo Butz, and Sissy Spacek) turned in stellar performances, as they had in previous ones, the familiar scenarios they were dealt -- more murders, more cover-ups, more lies -- proved tiresome. So the consensus said that a show that began as a tale of gripping betrayal became too deceptive, directionless, and, ultimately, expensive for its own good. (If that sounds a little unfair, it is. The writers had the unenviable task of condensing three seasons of story into one, and they deserve credit for delivering something that still carried emotional punch.)
Was the finale satisfying?
Yes and no. It ended the show, but it lacked real resolution. As a brief refresher: The series closes with John, after several agonizing moments, approaching his nephew, Nolan (Owen Teague), to tell the kid the truth about his dad's (Ben Mendelsohn) death. Before any words are exchanged, however, the screen cuts to black, in a manner that's not totally unlike the Sopranos series finale. It was abrupt in a way that prompted mixed reactions. ("Bloodline didn't earn an unfair ending," wrote IndieWire. "The final two episodes of the series felt like someone was sweeping up in the writers' room and decided to conclude the show with scraps of ideas from the floor," said Collider. "What does he say?" Vulture asked in its positive recap. "That's for you to decide.") But that was, of course, by design, as Todd Kessler told THR: "The intention of that ending is to really have the audience pick up where that leaves off. It's not meant to be coy. But we're not answering it."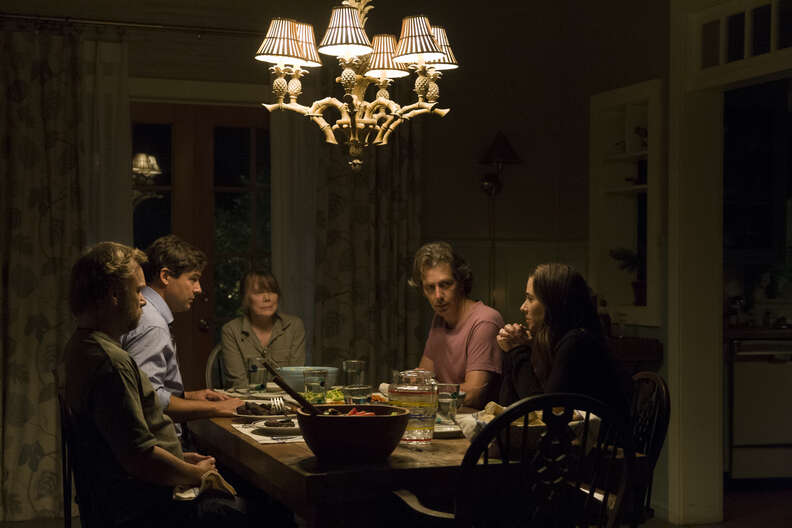 Where are the Rayburns now?
John wasn't the only character whose fate was left in the balance. Last we saw the others: Meg had escaped to LA, presumably living a very-not-guilt-free life under a new identity; Diana and the kids left John to move into the "new place"; Sally was... very drunk, but also trying to figure out what to do with the Inn before the sea claimed it; and Kevin and Belle got busted by the feds before they could flee the country. Their stories all got "ends," sure, but also not really. As the creators told THR after the finale aired, everyone's search for meaning and identity "continues."
So... does that mean Bloodline is really gone for good?
With the characters' stories still playing in fans' heads, it's fun to imagine a world where there could be a revival. (The weird thing that is Roseanne 2.0 has also proved that anything's possible in today's TV hellscape.) But Bloodline is, at the moment, very much done. "We're really happy with the end," Todd Kessler told reporters last year, shutting down hopes of salvation on an alternate streaming service or network. "Overall it really feels like a complete piece, and I think that's the goal of storytelling."
Sign up here for our daily Thrillist email and subscribe here for our YouTube channel to get your fix of the best in food/drink/fun.

Sean Fitz-Gerald is a staff writer at Thrillist Entertainment. Find him on Twitter: @srkfitzgerald.