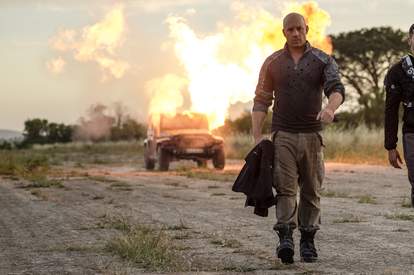 Vin Diesel's 'Bloodshot' Bombs During Historically Awful Box Office Weekend
In the Vin Diesel action spectacular Bloodshot, the bald-headed Fast and Furious star plays a gun-toting commando who gets a state-of-the-art upgrade from a shady biotech firm, the type of powerful company that's made boundary-pushing advancements in "neural networks" and "nanite technology" that allows human tissue to regenerate. Bullets rip through Diesel's skin, explosions throttle his bones, and glass rains down on him from giant towers. Nothing can defeat this fictional hero, torn from the pages of a Valiant comics title; he's indestructible. The same can't be said for the movie he stars in. 
Over the weekend, Bloodshot, which Sony Pictures reportedly spent a semi-modest $45 million on, failed to light up the box office in a historically bleak way. Despite Diesel's perceived star power and the potentially intriguing comic book source material, the film only made $9.3 million in the U.S. and $15.1 million in other territories. Ultimately, Bloodshot was no match for the fallout of the coronavirus, which continues to spread and have an effect on the global box office. 
The lackluster debut came the same week that Universal announced it was pushing the release date for F9, the next chapter in Diesel's far more successful Fast and Furious series, to 2021. Arriving at a time when many theaters were closing or significantly limiting attendance, and other potential tentpole releases were being moved on the release calendar because of the virus, Bloodshot had the odds stacked against it. Though he's found success with the Fast series, the Xander Cage XXX movies, and the Riddick sequels, Diesel has often struggled when attempting to launch new characters -- let us know if you remember The Last Witch Hunter -- and Bloodshot was no exception.
Betty Gilpin in 'The Hunt'

| Universal Pictures
Beyond Bloodshot, the box office results were not super encouraging on any front. Pixar's Onward grossed an estimated $10.5 million over the weekend, taking a steady drop from its opening weekend total of $39 million. Hoping to ride a wave of controversy after being "canceled" last, Universal's satirical thriller The Hunt failed to find a large audience for its troll-like political provocations, finishing in the fifth place slot with around $5 million. Today, Universal announced that it will be one of a handful of films that they make widely available on VOD at a $20 price point, an unprecedented move that could establish a model for other major studios looking to weather the current moment. 
All combined, the top 10 releases grossed $50.35 million, which, as Polygon pointed out, is the lowest cumulative top 10 gross since since the period of March 17-19, 1995. What was the biggest movie of that weekend? Outbreak, the Dustin Hoffman and Rene Russo starring medical disaster drama that's currently sitting on your Netflix queue waiting to be explored. The movie had the misfortune of launching when an Ebola outbreak in Zaire was making headlines around the world. Along with Steven Soderbergh's ultra-tense Contagion, it's been rediscovered by new audiences seeking out stories of disease and containment. 
Will audiences rediscover Bloodshot in the years to come? While the movie has a handful of fun, loopy science fiction ideas, including an intriguing example of memory-wiping technology, it's mostly plays as an awkward mashup of parts scrapped from better, more original movies. Think Limitless meets Memento meets Groundhog Day meets The Matrix meets Deadpool -- you get the idea. For fans of Diesel and ridiculous action movies, it'd be worth seeking out if Sony decides to follow Universal's footsteps and release the film early on VOD. (Trust me: It's a more entertaining, less irritating movie than The Hunt.) Otherwise, Bloodshot feels like another curious footnote in Diesel's filmography, a speed-bump between the world-conquering Fast movies that have come to define his long, strange career.
Need help finding something to watch? Sign up here for our weekly Streamail newsletter to get streaming recommendations delivered straight to your inbox.