The summer, a time for loud car radio, staycation binge-watching, and movie theater air conditioning is nearly over. Luckily for you, we're not ready to say goodbye. Check out our hub of the best of summer movies, TV shows, and music for recommendations on how to keep the good times rolling.
Remember 2007? We thought we did, but then one of our favorite shows of the year set a whole episode nine years in the past. Turns out, we're nostalgic for T-Pain Auto-Tune.
"The BoJack Horseman Show," the second episode of Bojack Horseman Season 3, brought us back to the time of flash mobs and fedoras in order to explore its characters' origin stories. The result was a 26-minute-long descent into depression, pop-culture homogeneity, and background gag bliss -- television that creator Raphael Bob-Waksberg could only get away with on Netflix in 2016. How stuffed was this perfect episode? We documented the most 2007 references in this 2007-reference-heavy escapade: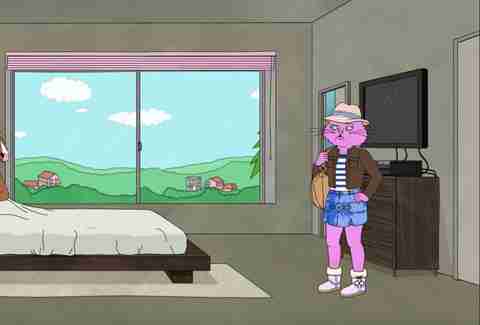 UGGs, Shrek, and DVDs
"I gotta get my UGGs on and go to work!" Princess Carolyn (voiced by Amy Sedaris) exclaims as she races towards the door.
Note that she stands in front of an ultra high-tech HD DVD player, which BoJack (Will Arnett) wants to use to "get wrecked and get Shrek'd," a reference to the animated franchise's third installment that hit theaters, you guessed it, in '07.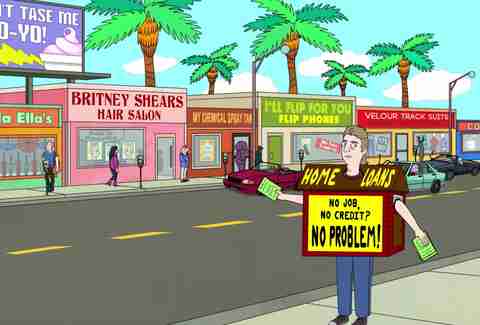 Don't tase me, fro-yo!
In this one-second shot, BoJack's writers and animators, led by production designer Lisa Hanawalt, pack more jokes into one frame than other shows pepper in over 30 minutes. How could we possibly have forgotten about proto-meme "Don't tase me, bro!" or the frozen-yogurt craze, My Chemical Romance, Britney's head-shaving meltdown, tracksuits with screen-printed backsides, and Rihanna's duet with Jay Z (that is, the artist formerly known as "Jay-Z")? Also, note the man handing out home loans on the side of the road, likely doing research for The Big Short.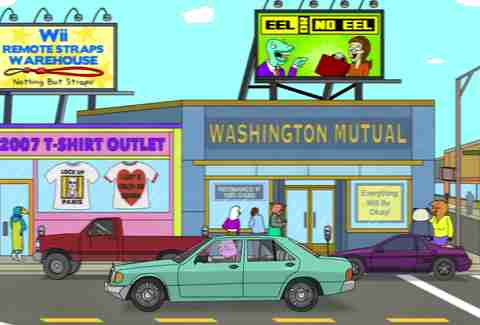 Nothing But Straps
Man, Wii really could have used more controller straps -- where was this idea in 2007? Here we have more financial-crisis foreshadowing: WaMu went under way back in '08. Perhaps it'd have outlasted the financial crisis if it had backed the briefcase-swapping smash game show Deal or No Deal, here given the classic BoJack animal-pun treatment. Bonus gag: jailbird Paris Hilton tees.
"That's ridonkulous!"
Above, Razr-wielders Todd (Aaron Paul) and Emily (Abbi Jacobson) discuss the finer points of texting -- in front of a restaurant referencing the craziest Carl's Jr. ad you forgot got made. "Colon [plus] bracket is a smiley face," Emily schools her crush on the particulars of flip-phone texting. When Todd tells her he's crushing on the most popular girl in school, Emily draws an apt comparison: "That's like saying you like Fergie!" Before we can revisit the finer points of the Black Eyed Peas, Todd declares wistfully, "Man, I love flash mobs."
Von Dutch! Ed Hardy! Jessica Biel!
Wait, which of those was a real person again? Note that BoJack punnified the first two, giving Mr. Peanutbutter (Paul F. Tompkins) a "Swan Dutch" trucker cap and a T-shirt emblazoned with "Sit, Fetch, Stay." 
While Peanutbutter waits in line for Starbucks, he discusses career opportunities: "My flip phone is blowing up with opportunities... Michael Vick made me a very strange offer." We're guessing the pup passed on that one.
Mr. Peanutbutter's second ("and final!") wife was Jessica Biel -- voiced by the very game Biel herself. Or as she puts it: "The girl from 7th Heaven who took all her clothes off for that magazine."
Oh, and be sure to read that drink board. In an interview with Vulture, Hanawalt cited it as one of her favorite BoJack sight gags, ever.
Did you watch John from Cincinnati?
Don't worry, we didn't either -- but hey, it's streaming on HBO GO now. Take that, HD DVDs! (And hey, BoJack animators: you might want to spell-check that title.)
Later we overhear super-agent Marv (also Tompkins) on the phone: "So she kissed a girl, and she liked it? Now, this, I gotta see." He also passes on two films that turn out to be smash hits: titles he hears as No Country for Old Men Is About a Hunter Who and There Will NOT Be Blood! In actuality, we drank that milkshake right up -- oh, the irony.
Four Four Lokos
Surprise: these delicacies still exist, though they're not nearly as destructive as they were in '07.
When Princess Carolyn asks BoJack to don a fedora for a meeting, he's incredulous, and asks, "What am I, Jason Mr... zaz?" It's no "I'm Yours," but she tells BoJack she'll do "that French thing all over YouTube" if he complies... and BoJack thinks she means parkour.
I Can Haz Coffee?
Meanwhile, you might have recognized Starbucks' sullen barista Diane (Alison Brie) as the woman who becomes BoJack's sullen biographer nine years later. She's jazzed about her big break: getting hip e-zine McSweeney's to publish her "Open Letter to Open Letters." Her mom is less than thrilled about the online byline: "Website? What, do we gotta print it out on our own paper with our own ink? I don't think so, not this week!"
Speaking of not this week: "The iPhone is coming out soon, and I need to prepare for that" is an excuse BoJack uses to shirk a commitment. And later, when reflecting on a great partnership: "We were like Heidi and Spencer up in there!" 
Eat, Stay, Love
Princess Carolyn's pun-tastic book collection is nothing short of purr-fect.
"I practice [kissing] all the time with a picture of Adam Brody."
Same, Emily. Seth Cohen or bust.
While we get why she'd recruit Todd for a game of Seven Minutes in Heaven, we've gotta point out that we're glad he left that scene haircut in the past.
"Un-Jessica Biel-ievable!"
In an epic, marriage-dissolving fight, Jessica tells her ex, who can't remember whether his wife starred in The Illusionist or The Prestige (not even nine years can help solve that mystery), "I'm about to be in what I've been told is a very important gay rights movie called I Now Pronounce You Chuck and Larry." Meanwhile, Mr. Peanutbutter is gearing up for a Blockbuster Original Series and Jessica is spending an awful lot of time with that one *NSYNC'er. "As Justin would say, 'cry me a river'" concludes their epic fight.
Koalafornication
At the catered reception following BoJack's table read, spot a poster that's both an animal pun and a jab at critics who compare the premise of this show to that of 2007 Showtime hit Californication. BoJack also perfectly describes another kindred spirit, then the star of Rescue Me: "I want this character to be really edgy, like the kind of character that Denis Leary would be offered and say, 'No way, this character is too edgy for me." 
Edwards '08
Oh, and Mr. Peanutbutter is the featured speaker at a John Edwards fund-raiser, a candidate who went the way of Joe Biden. About the guest of honor, Mr. Peanutbutter makes an unexpectedly ironic comment about a campaign volunteer: "She was just gushing about how John Edwards touched her." Yikes.
In the back of the ballroom, Diane's friends on the catering staff ask, "What's a Twitter page?"
"Tony marries Dr. Melfi?!"
Early in the episode, Emily tells Todd that her dad works for The Sopranos, which ended its run in '07. Todd finds the only copy of the reel of the series' final episode and severs it from the spool -- which would certainly be one explanation for its infamous cut-to-black conclusion. 
"So the island's really purgatory, right?"
BoJack asks a guest at his party, voiced by Lost's Jorge Garcia. If only Princess Carolyn hadn't cut that convo off, we might have an answer.
Seriously, was our hair this bad back then?
Diane had Todd's horrible scene haircut, too. To adequately convey our shock at her '07 look, one last speed round of the episode's best, most-dated outbursts:
"Totes magotes!"
"Hey there, Delilah!"
"Add me on Myspace!"
"This shit is bananas. B-A-N-A-N-A-S!"
"'Glad I'm not that show!' says creator of Cavemen"
We get another brief '07 vignette in the late-season episode "Best Thing That Ever Happened." It features the sick critical burn above, jabbing a show that should have remained a Geico commercial. 
Thank Garmin BoJack leaves it at all that. Maybe next season they'll take us to '02. We'd really like to look back at Eminem's career.
Sign up here for our daily Thrillist email, and get your fix of the best in food/drink/fun.