'BoJack Horseman's New Season Is More Absurd, and More Real, Than Anything Else on TV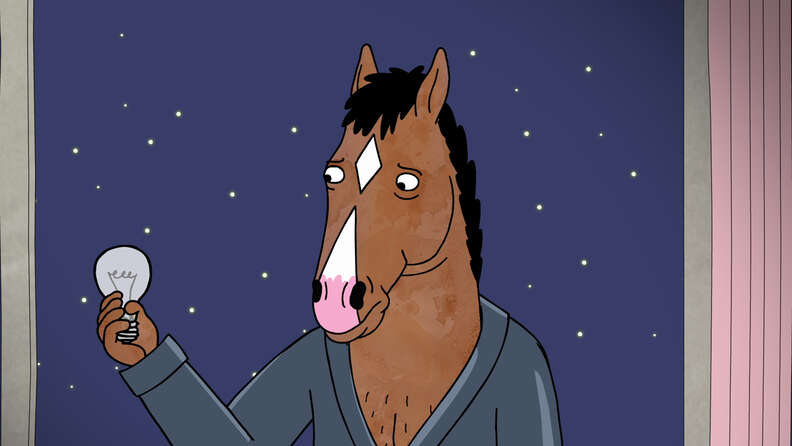 Netflix
Netflix
No one is ever truly happy on BoJack Horseman, but the show's legions of fans wouldn't expect otherwise from characters whose five seasons of self-destructive behavior are as troubling as they are easy to empathize with. In a mid-season episode called "Free Churro," the show's titular character touches on why. "You can't have happy endings in sitcoms, not really, because if everyone's happy the show would be over," BoJack Horseman (Will Arnett) tells the audience at a funeral parlor, as he eulogizes his unloving and now-dead mother. "You never get a happy ending because there's always more show. I guess until there isn't." This episode shines, as the show always does, in its quiet meditations on the meaningless rhythms that make up a life.
And yet, "Free Churro" -- made up almost entirely of BoJack's 20-minute long, uninterrupted, sweeping monologue about Beatrice Horseman's last words to him, Horsin' Around anecdotes, and, yeah, getting free sympathy churros -- is unlike any other episode in the series, nor most other sitcoms, both live-action and animated. There are no flashbacks, no requisite cuts to reveal the audience's reaction. Holding as much tension in its subject matter as it does in its experimental format, BoJack's rambling, ambivalent tribute to the mother he could never seem to satisfy provides all of the episode's narrative rise and fall. I won't spoil the rimshot ending, but in the show's trademark style, it had me laughing just as soon as I was ready to cry.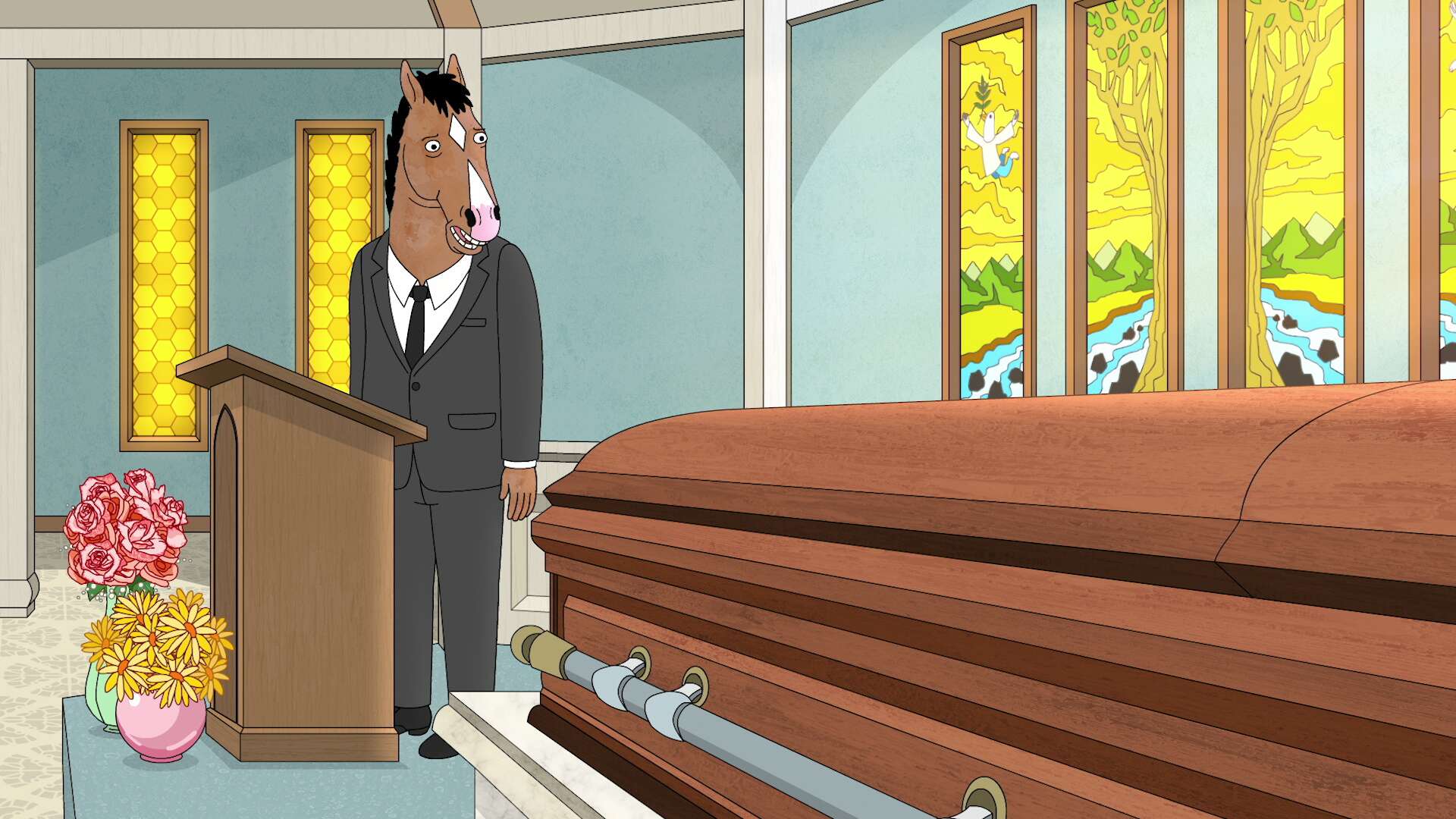 No other show on television today grips me emotionally quite like BoJack Horseman does. With each season, it maintains its hold on wacky visual gags, language games, and smirking satire while picking and probing at each main character's personal vulnerabilities and failings. In Season 5, which dropped on Netflix this past weekend, BoJack is at work on a new television show called Philbert on which he plays the lead role, a morally compromised detective. During this time, BoJack copes with the death of his mother and his own, ever-present self-loathing, increasingly relying on alcohol and, later, prescription painkillers. Meanwhile, Diane Nguyen (Allison Brie), coping with the fallout of her divorce from Mr. Peanutbutter (Paul F. Tompkins), catches wind of BoJack's Season 2 near-sexual abuse of his friend Charlotte's teenage daughter, and wrestles with how to confront him about it. It would all make for an oppressively dark season of television if not for the show's requisite embrace of the absurd. In Season 5, this means leaning even more heavily into the kinds of experimental storytelling the show has attempted before.
Indeed, narrative risk is inevitable with a show like BoJack Horseman. A world full of anthropomorphic animals leading human lives alongside human beings can get dicey quickly, but the show pokes fun at the ethical rifts that emerge, like inter-species sex and the distinction between "human" animals and food animals (like Season 2's chicken dilemma). The show gets even more daring when it eschews narrative conventions to test how much it can push our emotional investment. In the eighth episode, for example, we learn about the annual Halloween party that Mr. Peanutbutter has thrown at BoJack's mansion for the past 25 years. The show often plays with fragmented timelines and flashbacks, and in "Mr. Peanutbutter's Boos" it takes that playfulness into overdrive, cutting and collaging four years of house parties into a elegant examination of Mr. Peanutbutter's relationship patterns. We all have our own methods of shirking emotional development and growth, masking our own feelings of inadequacy and insecurity. And as we see from the contrasting scenes of Mr. Peanutbutter at the annual party with his ex-wives and new girlfriend, Pickles the pug, his method is repeatedly pursuing young, emotionally immature women. "I don't know why this keeps happening," he tells Diane in a rare moment of disappointment in himself. "I take these amazing women… and I ruin them." On the other hand, for BoJack, as we've seen time and again, that coping method means falling into a routine of partying and risky alcohol use.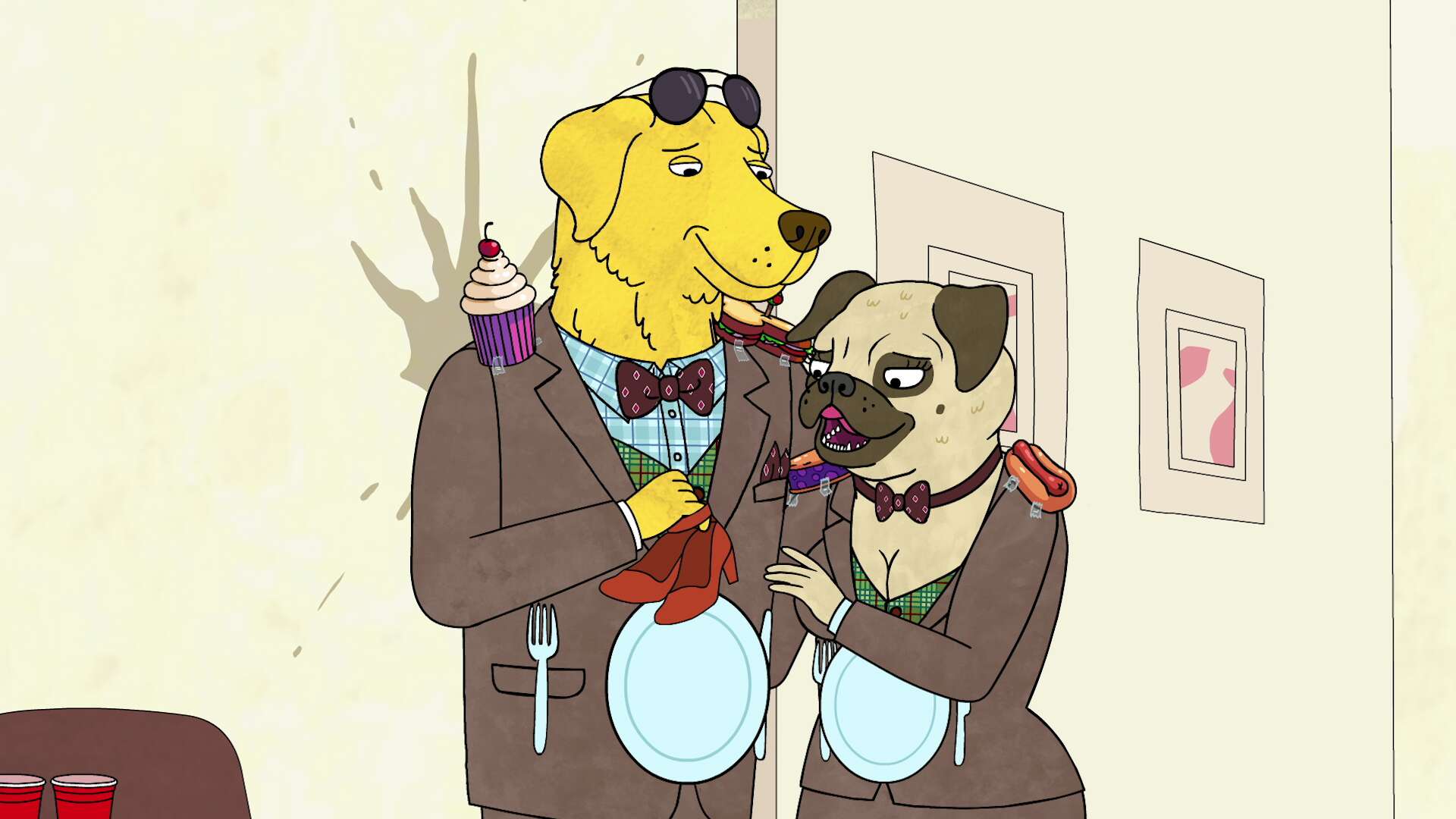 The season's creative episode framing doesn't end there. In the second episode "Dog Days Are Over," Diane's post-divorce journey of self-discovery to Vietnam is framed as a piece of content for Girl Croosh, the Millennial-focused culture website for which she writes. Presented as a listicle -- "10 Reasons To Go To Vietnam" -- the episode is an obvious modern twist and hat tip to the format that Sex and the City made iconic. The payoff comes at the episode's end, when Diane comes face to face with the lack of meaningful resolution in her divorce from Mr. Peanutbutter.
Meanwhile, in Episode 7, "INT. SUB" the story is framed as a dinner conversation between Diane's therapist and her wife. In an attempt to maintain the confidentiality of her patient, Dr. Indira (Issa Rae) assigns thinly veiled code names to each character, which informs their in-episode analogues -- BoJack is BoBo the Angsty Zebra, Diane is Princess Diana, Todd is a giant hand on a human body named Emperor Fingerface, and Princess Caroline is A Tangled Fog of Pulsating Yearning -- complete with a new, matching title sequence. By the episode's end, the alternative characters disappear and we are back in the normal world of BoJack Horseman. The entire animated exercise is an extended visual joke, and yet the gag is never at the expense of narrative momentum and character development. Still roommates, Princess Caroline (Amy Sedaris) and Todd (Aaron Paul) resolve a domestic quibble. Diane has grabbed the writing reins on Philbert, after being hired as the token woman in the writer's room, to confront BoJack about his previous abuse he refuses to talk about with her.
Each departure from the traditional sitcom narrative formula is as intriguing as it is destabilizing, and their greatest payoffs come once the show returns to its strength: portraying the painfully relatable fallibility of its characters. We saw it last season in the episode "Stupid Piece of Shit," which explored BoJack's self-hatred and substance use through his repetitive negative self-talk and crude animations illustrating that internal turmoil. These experimental abstractions make way for the characters to arrive at essential, if unsatisfying, truths.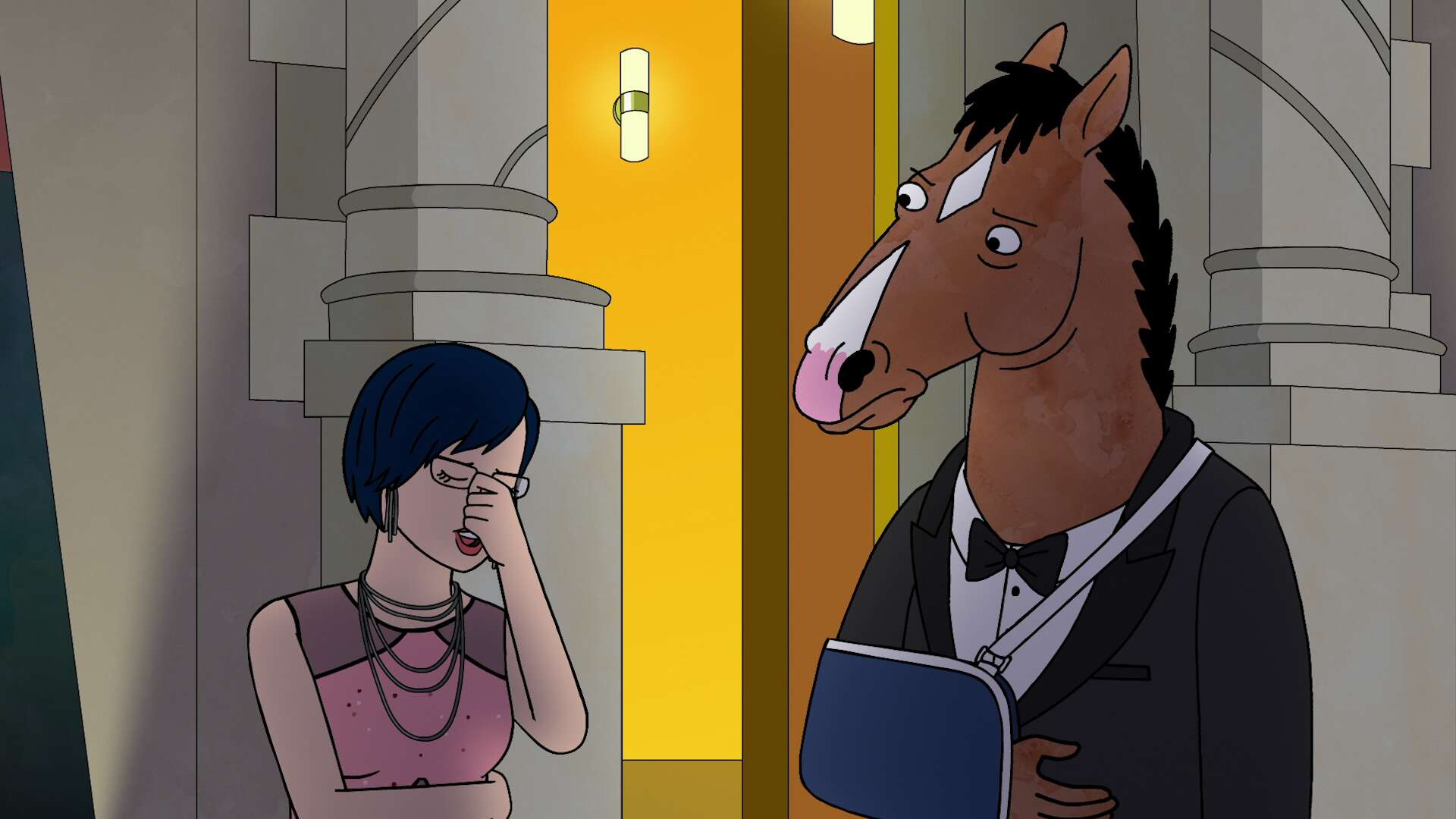 "My mother, she knew what it's like to feel your entire life like you're drowning, with the exception of these moments, these very rare brief instances in which you suddenly remember you can swim," BoJack says in "Free Churro" before pausing for a brief reminiscence we can only see shadows of. "But then again, mostly not. Mostly you're drowning. She recognized that, too… There was an understanding that we were all drowning together."
In BoJack Horseman, stories of addiction, loss, and heartbreak find odd resonance in the various visual analogues it presents, but these narrative risks would never work if the core conflicts each character has with themselves weren't so compelling. It's refreshing not to be babied with easy resolutions or conventional framing, to watch a show that asks us to do more as we watch cartoon humans, cats, dogs, and horses wrestle with our most deep-seated insecurities and fears. Ultimately, not every risk is a rousing success -- the framing of "Dog Days Are Over" is fun, but at times feels forced -- but even the attempt is more entertaining than not.
The season ends with each character just as emotionally precarious as when it began. Diane drops BoJack off at rehab after he nearly kills his Philbert costar in an on-set fit of rage. (The moment, filmed by cast and crew with available cell phones, goes viral.) "You're here and I hate you," Diane tells him outside the facility. "But you're my best friend and you need me." It's not resolution as much as it is slow, rickety, movement forward. There's much in BoJack Horseman that looks nothing like our world, and its experimental storytelling often serves to underscore that. When it comes to each character's personal failings and seeming inability to get it together, though, there's nothing more realistic than that.
Sign up here for our daily Thrillist email and subscribe here for our YouTube channel to get your fix of the best in food/drink/fun.