All 7 Bong Joon Ho Movies, Ranked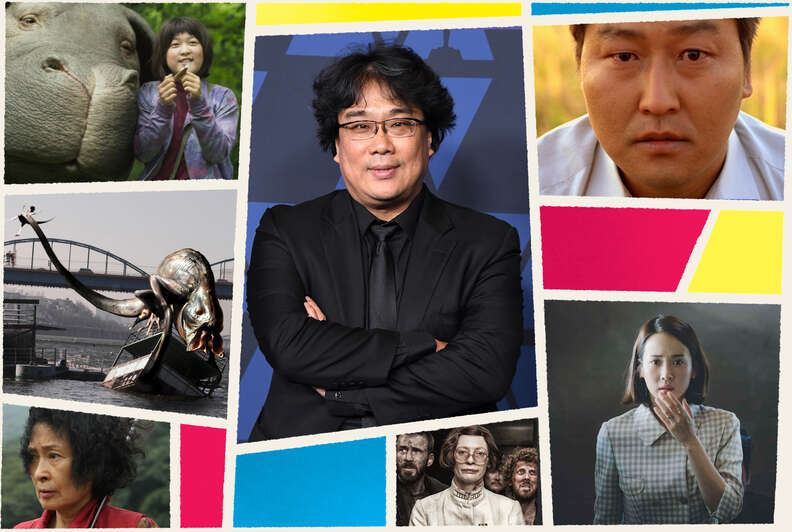 No one has dominated the conversation surrounding the 2020 awards season more than South Korean director Bong Joon Ho. It's not just that people love his movie Parasite -- and, rightfully, they do, as it was nominated for six Academy Awards, including Best Picture, at this year's Oscars, ultimately winning four awards, including the big prize. It's that people love Bong himself, magazine cover star, internet sensation, and, now, Best Director winner.
Parasite is but a high point in a uniquely impressive 20-year career that started in 2000 with Barking Dogs Never Bite. You've no doubt heard about or seen some of Bong's other feature films -- in particular, The Host,Snowpiercer, and Okja, which offer condemnations of the capitalistic structures that ravage the world, garnered significant attention upon release. But while all seven Bong movies are various shades of from good to masterful, can any of them top Parasite? Let's take a closer look.
7. Barking Dogs Never Bite (2000)
Every Bong movie is fantastic in its own way, but this is a ranking, so one of them has to be the unlucky film to occupy the lowest slot on this list. We're reluctantly picking Bong's first feature, a small, surprising character-driven comedic thriller about a stressed-out graduate student (Lee Sung Jae) who gets so annoyed by the incessant yapping of a neighbor's dog that he does something rash that causes significant, unexpected mayhem for him and others affected by his decision, including the simple, altruistic bookkeeper (Bae Doona) who helps him. Anyone disturbed by even the suggestion of dogs being imperiled on screen will want to be prepared with the "la la la, I can't hear you!" trick a few times during the movie, but Barking Dogs Never Bite is the Bong film that's most similar to Parasite, so if you're coming into his work via that movie and looking for the next thing to watch, start here. The good news is that by ranking it seventh, it immediately becomes Bong's most underrated movie.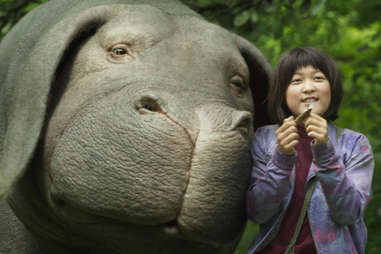 6. Okja (2017)
Bong's Netflix movie is a wild ride: part action heist, part Miyazaki-like travelogue, and part scathing satire. It's fueled by fairy-tale whimsy -- but the Grimm kind, where there are smiles and spilled blood. Ahn Seo-hyun plays Mija, a young South Korean girl living in the mountains who has raised an adorable "super-pig," a breed, unbeknownst to Mija, developed by a food manufacturer to be the next step in human-consumption evolution. When the corporate overlords come for her roly-poly pal, Mija hightails it from the farm to the big city to break him out, crossing environmental terrorists (including ones played by Paul Dano and Steven Yeun), a zany Steve Irwin-esque type (Jake Gyllenhaal), and the icy psychos at the top of the food chain (including Swinton's childlike CEO) along the way. Okja doesn't pluck your heartstrings like, say, E.T., but there's grandeur in its frenzy, and the film's cross-species friendship will strike up every other emotion with its empathetic, eco-friendly, and eccentric observations.
5. Mother (2009)
No, not Mother! starring Jennifer Lawrence. This Mother, while also a tense thriller, is a critically acclaimed hit that has its titular mother on an obsessive quest to prove that her mentally disabled son is innocent of a murder he's being accused of having committed. Its unpredictable twists and turns cast Kim Hye-ja, seen as the maternal archetype in Korea for her other roles in more family-centric titles, as a vengeful protectorate. There aren't any supernatural scares in Bong's fourth movie; just the grotesque horrors that humans can capably wreak on one another.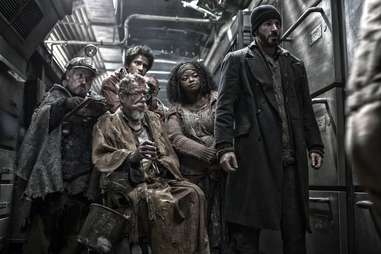 4. Snowpiercer (2014)
Did people go overboard in praising Snowpiercer when it came out? Maybe. But it's important to remember that the movie, Bong's first English-language picture, arrived in the sweaty dog days of summer, hitting critics and sci-fi lovers like a welcome blast of icy water from a hose, after a considerable waiting period following a record-breaking run in South Korea and subsequent meddling by Harvey Weinstein ahead of its U.S. release. The film's simple, almost video game-like plot -- get to the front of the train, or die trying -- allowed the visionary director to fill the screen with excitement, absurdity, and radical politics. Chris Evans never looked more alive, Tilda Swinton never stole more scenes, and mainstream blockbuster filmmaking never felt so tepid in comparison. Come on, ride the train!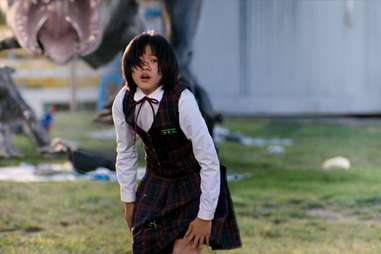 3. The Host (2006)
A massive success in South Korea, this monster movie arrived in U.S. theaters with considerable hype, and it's easy to see why: thrilling action scenes, incredible effects, and slapstick humor make it the perfect antidote to Hollywood's self-serious blockbusters. Switching tones, moods, and even genres between scenes, The Host -- which stars many Bong regulars, including Song Kang Ho (Memories of Murder, Snowpiercer, Parasite) and Barking Dogs Never Bite's Bae Donna -- that defies easy categorization, and flits adeptly between the sentimental, the political, and the horrific. You'll never believe that a movie about a mutated killer fish can make you feel so many complicated emotions.
2. Memories of Murder (2003)
Before he wowed American audiences with the dystopian train thriller Snowpiercer and the animal-rights fable Okja, Bong directed his most grounded movie to date with Memories of Murder, his ripped-from-the-headlines crime drama about the hunt for one of the first serial killers in Korean history. The film follows two detectives (played by Song Kang Ho and Kim Sang Kyung) with very different temperaments and methods as they attempt to make sense of murders across months and years. Like David Fincher's Zodiac, this is a procedural that focuses on the granular aspects of police work while still examining profound questions about truth, memory, and the search for meaning.
1. Parasite (2019)
Another collision of whiz-bang genre pyrotechnics and nudge-nudge class critiques, Parasite finds Bong working in a similar mode as his previous two features, the dystopian train thriller Snowpiercer and environmental love story Okja. There's an allegorical threading of ideas going on, an exploration of the small and large humiliations inherent to contemporary global inequality, but he still keeps ratcheting up the suspense and sharpening the comedy with each movie. Somehow, they keep getting even more precise in their execution. (His camera often pushes forward, prodding the viewer to the next shocking discovery.) Parasite, which follows a poor family that infiltrates the blemish-free modernist home of a wealthy family, threatens to become too schematic at points, particularly once you sense the various pieces of the plot locking into place, but the filmmaking, especially in the bursts of violent physical comedy, displays a winning verve and a disarming mischievousness that keeps it from devolving into Christopher Nolan-like brick-building. Despite the insect-referencing title, the movie doesn't treat its characters like bugs scurrying beneath the director's punishing magnifying glass. Both families have their moments of humanity; at the same time, judgment is still doled out. By the end, Bong achieves a yearning ache that's unlike anything you've seen at the movies in recent years.
Need help finding something to watch? Sign up here for our weekly Streamail newsletter to get streaming recommendations delivered straight to your inbox.