10 Mystery Thrillers to Read if You Like 'The Girl on the Train'
This weekend, the Hollywood adaptation of Paula Hawkins' hit novel The Girl on the Train pulled into the top spot at the American box office with $24 million. If you were a fan of the best-selling book, or just like movies where Emily Blunt looks out windows, you probably saw it. You may still be talking about that crazy ending. But, also, you're probably hungering for a new page-turning mystery to tear through.
If you read The Girl on the Train, we're guessing you already checked out Gone Girl and The Girl with the Dragon Tattoo, but you shouldn't stop there. We're living in an era of tightly plotted, delightfully twisted crime and mystery novels. What else can you read that hasn't already gotten the big-screen treatment? We've got you covered with these 10 novels that will fill that Emily Blunt-shaped hole in your heart.
Big Little Lies by Liane Moriarty
If you ever thought that your neighborhood soccer moms had a murderous streak in them, this is your kind of mystery novel. Big Little Lies intertwines the lives of three young moms after a kindergarten trivia fund-raiser results in murder. Revealing more lies and secrets with each chapter, Moriarty weaves a gripping narrative that reveals the nuances of issues like domestic abuse and sexual assault, and keeps you guessing what's up until the big reveal HBO just finished filming a limited-series version of Big Little Lies starring Reese Witherspoon, Nicole Kidman, and Shailene Woodley, so make sure you read it before it hits the small screen later in 2017. -- Ciera Velarde
Luckiest Girl Alive by Jessica Knoll
Through shifts between past and present, Knoll's debut novel follows a career-oriented magazine editor forced to unearth her teenage memory of a horrifically traumatic assault, which Knoll revealed was inspired by her own life. The uncertain timeline and gradual creep of clarity prove how many mysteries lurk within our own psyches, and publishing-world exploits add some much-needed levity to the big reveal.Girl has also been optioned for a film by notorious thrill-seeker Reese Witherspoon, who clearly has the best book club in Hollywood. -- Lauren Leibowitz
Sunset City by Melissa Ginsburg
This slim, sweat-soaked crime novel drops you at the outskirts of Houston, a land of cheap porn, dark bars, and pickup trucks. In telling the story of a troubled young woman trying to solve her even more troubled friend's murder, poet-turned-novelist Melissa Ginsburg turns a simple mystery plot into a simmering mood piece constructed out of perfectly chosen details. Sunset City presents a vision of Houston that's gritty and unsentimental, but it also leaves room for moments of quiet beauty amid all the lies, bad behavior, and desperation. It will chill you like a cool drink on a hot summer day. -- Dan Jackson
You Will Know Me by Megan Abbott
The best crime novels often reveal a secret underbelly to subcultures you never knew existed. After tackling the world of competitive high-school cheerleading with 2012's Dare Me, teen noir specialist Megan Abbott takes on the cutthroat, leotard-filled universe of elite women's gymnastics. When a tragic car accident takes a young man's life, a tight-knit community of parents, coaches, and children is thrown into crisis. The best part about this book? Like a well-trained gymnast, Abbott knows how to stick the landing. -- Dan Jackson
What the Dead Know by Laura Lippman
After a hit-and-run car accident near Baltimore, a woman is taken in by police and claims to be the victim of a famous missing person's case from decades ago. It's the type of evocative setup that should feel familiar to mystery lovers -- the cold case getting reopened years later -- but Lippman's inventive approach of shifting between characters and moving elegantly across time periods examines larger truths about human nature, while still providing the thrills and twists of a well-executed police procedural. -- Dan Jackson
In the Woods by Tana French
Across her six Dublin Murder Squad novels, Irish writer Tana French has created her own fog-covered land of overworked police officers, shifty suspects, and tragic victims. In the Woods, the first book in the series, unfolds like a finely produced crime miniseries you'd find on HBO or Netflix. As detectives Cassie Maddox and Rob Ryan investigate the murder of a 12-year-old girl, the case becomes more complex and personal to them with each artfully rendered clue. By the end, French's command of plot, tone, and mood will leave you reeling. -- Dan Jackson
The Paying Guests by Sarah Waters
Sarah Waters writes historical novels that crackle with all the intensity, passion, and wit of any modern-day thriller. This intricately plotted melodrama follows a mother and daughter who must take in a mysterious husband and wife as boarders to offset their rising debts after World War I. When the daughter begins a secret affair with the female houseguest, her carefully maintained world begins to unravel. While many mystery novels rely on narrative tricks and violence to keep your interest, The Paying Guests keeps you glued to the page by making subtle glances and small gestures feel like gunshots. -- Dan Jackson
Pretty Girls by Karin Slaughter
Karin Slaughter writes grisly, disturbing novels that live up to her perfectly pulpy name. Though she's perhaps best known for her Grant County series and her novels about detective Will Trent, Pretty Girls is a more recent stand-alone novel about two sisters teaming up to solve a murder that may be connected to an unsolved crime in their pasts. It's the type of shocking, envelope-pushing book that should appeal to anyone who enjoys Gillian Flynn's delicately constructed violent tales. -- Wes Rendar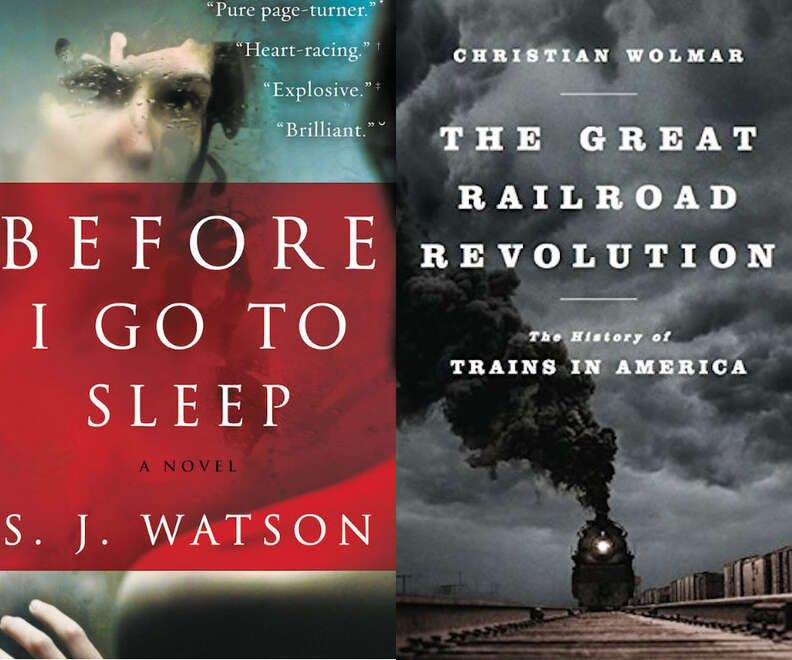 Before I Go to Sleep by SJ Watson
While this best-seller was adapted into a film starring Nicole Kidman, the movie failed to generate the same type of box-office power as blockbusters like Gone Girl and The Girl on the Train. Don't hold that against the source material. Like Christopher Nolan's mind-bending Memento, this novel is about an amnesiac who cannot create new short-term memories, instead waking up every day to discover a life she can never fully understand. Instead of using memory loss as a narrative crutch, like we're used to seeing it deployed on soap operas and cheesy TV dramas, Watson delves deep into some unsettling questions about selfhood, truth, and identity. -- Wes Rendar
The Great Railroad Revolution by Christian Wolmar
So, let's say you loved The Girl on the Train, but you finished it and were like, "Decent book, but the girl-to-train ratio was off. That book needed more sweet, sweet train action!" Well, then this is your book, my choo-choo-loving friend. So much train information here! Climb aboard! -- Wes Rendar
Sign up here for our daily Thrillist email, and get your fix of the best in food/drink/fun.
Follow the Thrillist Entertainment editors on Twitter: @ThrillistEnt.