What It's Like Playing Mortal Enemies in 'Booksmart' for Three Real-Life Best Friends
In the new high school comedy Booksmart, Beanie Feldstein's character, Molly, an ambitiously studious teen, doesn't like her classmates played by Noah Galvin and Molly Gordon. But when the three actors arrive at Thrillist's New York headquarters one unseasonably cold day in April in coordinated black turtlenecks, it's clear that the antagonism displayed on screen doesn't bleed into their real life relationships.
"My character's two biggest enemies in the film are Triple A, played by Molly, and George, played by Noah," Feldstein explains. "You can go deeper with your dear friends."
Hanging with this group for just over an hour feels a little bit like being temporarily inducted into their very welcoming, incredibly successful theater-kid clique. They'll turn your questions back on you and invite you to share in the bag of gluten-free pretzels they snagged from the office's snack supply. (They were tickled by the amount of free food at their disposal.) There was no stylist on hand for our photoshoot, but they planned their own outfits with frenzied texts and selfies.
For as much as they bring you into their world, this trio's accomplishments make them a kind of intimidating force. They are all triple threats with showbiz roots. Feldstein performed in Broadway's Hello, Dolly! revival alongside Bette Midler the same year she broke out in Greta Gerwig's Lady Bird as the titular character's best friend; Galvin, currently on stage in Waitress, gained attention as the lead in ABC's short-lived but groundbreaking sitcom The Real O'Neals; Gordon has been a series regular on TNT's Animal Kingdom, was Melissa McCarthy's daughter in last year's Life of the Party, and also stars in the upcoming comedy Good Boys, produced by Seth Rogen and Evan Goldberg's Point Grey Pictures. She and Galvin just finished up a run in the Off-Broadway musical Alice by Heart, in which she was Alice, of Wonderland fame. And even with all that under their belts, Booksmart, which also marks actor Olivia Wilde's directorial debut, is poised raise their profiles to another level.
Feldstein plays Molly, who, along with her best friend Amy (Kaitlyn Dever), vowed to never party in high school with the idea that student government, debate, and a heavy course load would be the ticket to her dream college, Yale. When the movie opens, she's headed to New Haven in the fall and smug about her life choices, that is until she overhears Gordon's cool girl Triple A in a bathroom, dissing her as a "but-her personality." Molly emerges from the stall to brag, but Triple A has a counter: She's also going to Yale. Sure, she got her nickname because she gave "roadside assistance" to some guys and is amazing at hand jobs, but she also got a 1560 on the SATs. Upon learning that the party kids from her class also got into great schools, Molly spirals and decides that she and Amy must go on a mission to have at least one night of reckless fun before graduation. Their plans instantly go awry as they land in increasingly ludicrous situations, including an overly intense murder mystery party hosted by Galvin's aggressively dramatic theater geek George.
When Booksmart premiered at SXSW, it was rapturously received. Not long after they got back from that trip to Texas, Feldstein, Galvin, and Gordon stopped by for this goofy and emotional conversation filled with effusive praise for one another and a pretty serious discussion of Hogwarts houses.
Thrillist: You're all real-life friends. Tell me a little bit about how you all connected.
Beanie Feldstein: I feel like Molly should take it because Molly was the…
Noah Galvin: The unifying factor.
Feldstein: In the Venn diagram, she's at the center.
Molly Gordon: When I was 13…
Feldstein: I think you were 12.
Gordon: [Tony Award winner for Dear Evan Hansen] Ben Platt introduced Beanie and I.
Noah Galvin: He is the normal white gay male that usually fills this position.
Gordon: He's the other gay man that is part of this thruple. He introduced me to Beanie, and I fell just madly in love with her, and always wanted to be closer to her but we weren't in the same grade and we didn't go to the same school. So we were really close friends but we just didn't see each other that much. When I moved to New York, and Beanie was finishing her last years at school. We got to spend so much time together and we became such best friends at that time. She's just my favorite person in the world.
Then, through doing this musical [Alice By Heart], we did a workshop a couple of years ago and I met Noah. They flew us to Aspen, which was very fancy. I saw Noah on a plane like kind of give me the side-eye, and I was like Who is this sassy man, this small gay man? and fell in love with him. He was my first real new best friend that I made in New York, and kind of showed me New York and opened up this beautiful new world to me.
Feldstein: Then Molly introduced us to Noah and we were like [sings a high note] this boy is heaven.
In terms of Booksmart, Beanie, were you cast first? Did you have influence over who else would join you? Or was it totally coincidental?
Feldstein: I was attached first, and then I knew Molly and Noah were going in. Molly and Olivia [Wilde] have worked together in the past, and she knew that we were best friends, so she was like, "Molly's coming in, nudge nudge, wink wink. I'm so excited, nudge nudge." I was like, "And also my friend Noah is coming in and you should look out for him." And Noah blew them away so much that they actually changed the part completely to fit him. It was written completely differently and then they were like, "Actually it's going to be Noah Galvin, and it's going to be everything to make him shine in every possible way."
What was the part originally?
Feldstein: A woman. It was a girl and a guy leading the theater department, and now it's Noah and Austin Crute, who is amazing.
Gordon: Every scene that Noah was in, he was so genius in it that it became a totally different thing, and they added things for him in every moment.
Feldstein: Kaitlyn and I did the scene at the top of the hill where we decide to party the first day, and then the second and the third day were the theater party. And I remember watching Olivia and Katie Silberman, our genius wonderful writer, literally jaws on the floor watching Noah improv. And then they wrote him into the end party. Literally, they were like, "Noah needs to be in every frame."
Galvin: They just kept calling me back like, "Do you want to be in the karaoke scene?" Yes, love karaoke. It was a little heavenly.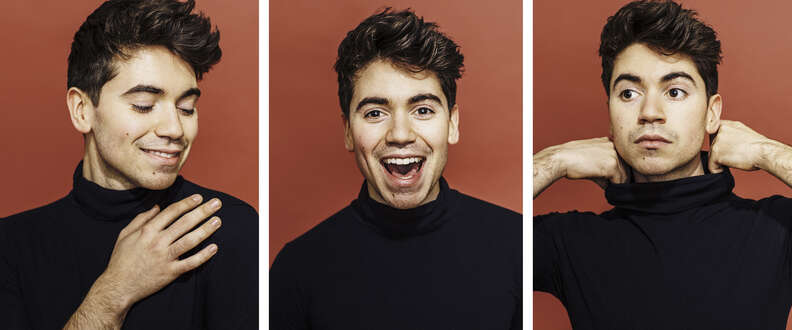 Sets are professional; party scenes aren't like real parties, of course. But what is it like making a movie, especially this movie, with people who are your actual friends?
Feldstein: It was amazing, especially because we were shooting mostly at night.
Gordon: We were all odd versions of ourselves. We all felt drunk.
Galvin: We were all punchy and a little delirious.
Feldstein: It ended up like the three of us in a nap puddle on the floor.
Galvin: But the whole cast, too. Beanie and Kaitlyn lived with each other because they wanted to get as close as possible. You're playing best friends, you know?
Feldstein: So we lived together, and I think it was so important. It was actually advice from my brother, [Jonah Hill]. Olivia and Kaitlyn and I had thought about it, and then were like, we should do it. I told my brother about it and he was like, "That's the best idea you could do." He was like, "Michael Cera and I, when we were doing Superbad, spent every minute together for two months leading up to it." Kaitlyn and I had already decided to it, so we were so excited. It was so wonderful. As we got to meet everyone, it was -- first of all, heaven because these two were there -- it was really easy. It was so nice because we were there all night for weeks. It was genuinely a group of people, which I think you can feel in the film, that love each other. The energy feeds off of one another between every pairing, between every group that you encounter in the film.
Galvin: Our little warm bubble of a threesome sort of emanated.
Gordon: Totally, because it's nervewracking to have to create relationships so fast in this job because sometimes you meet people and they are like, "You're dating." And already having people that I feel the safest with, and just getting to see my best friends work, and see other people fall in love with them... that was such a magical part of it too.
Beanie, you mentioned Superbad. This truly feels like a raunchy female-focused heir to that without being the same movie. How do you feel about that?
Feldstein: First of all, what a compliment because that film was so brilliant. That film is so ingrained in our mind, our cultural consciousness, so the fact that we are being compared to it is such an honor. But also, I personally think, as great as the jokes are in Superbad, the reason that film is so special is because of that "boop" moment. They are showing the love between those two boys and that makes the jokes even funnier -- because you have this genuine love at the center. If anything, that's what our movie is trying to live up to and expand upon because I think a female friendship is totally different. If there's anything that we owe to Superbad it's the celebration of the love between Amy and Molly within a comedy. And I guess the Feldsteins, we love friends. We love our friends, so the fact that we both did films about friendship and love doing that I think just speaks to... My brother has his own group of really tight knit best friends that he loves. It makes sense that we would love those type of movies and want to be a part of them.
You've all done a bunch of coming-of-age stories, but what touchstones were you looking at and what were you looking for that this movie fulfilled?
Feldstein: Olivia screened Fast Times at Ridgemont High for us.
Gordon: What I received and was so excited by was that Noah and I specifically are playing very kooky characters, but they have such a grounded realism in them and they aren't put in this box. So many movies about high school are like, "this is the smart girl, and this is the popular girl, and this is the slutty girl, and this is the theater kid," but this movie lets everyone be so many different things. That's what I was so excited by. That's what I was looking for and wanted to see more [of] when I was growing up.
Galvin: It allows space for these archetypes to live and breathe and be real people.
Feldstein: Noah plays a theater geek, that could be considered a stereotype. Molly plays the mean girl, the hot girl, and then I play the smart nerdy girl, but each one of us has a pair. Kaitlyn is also smart and nerdy, so the fact that you have two of those people of the same type completely breaks that concept wide open. Austin is Noah's pair and then Diana Silvers, who plays Hope, is also the mean hot girl. I think the fact that there's two of everyone just shows you that that category ceases to exist. Me and Kaitlyn are nothing alike, you and Austin are nothing alike, and you and Diana are nothing alike, so that is completely kind of turned on its head, which I think is the brilliance of the movie.
Gordon: And Beanie's character specifically -- having a girl who is so fucking smart and so intense, but also masturbates. Normally that character would be like, "But I've never touched myself." She is a real fucking woman, but she also is smart. Both you and Kaitlyn's characters, having leads that are so real was so exciting to me.
There's a very specific feminist ideal that Beanie's character Molly lives by. She has pictures of Ruth Bader Ginsburg and Michelle Obama in her room. She listens to affirmations--
Galvin: Maya Rudolph affirmations.
Feldstein: It's Maya Rudolph.
I was going to ask if that was her voice.
Feldstein: Hormone Monster, baby! My dream.
But in a scene with Triple A near the end of the movie, you see Molly realize how judgmental she's been. What did that mean to you?
Feldstein: It's so confusing because Molly Gordon and my character Molly.
Gordon: I love it.
Feldstein: What I think is so exceptional about the film is that even though she's the smartest in the room, she's not the voice of reason in the film. Triple A is the voice of reason in the film. Basically, my whole journey for my character is discovering how much she judged people. There are moments when her feminism is inclusive and positive, and then there are moments when it's not. There's that beautiful moment in the car between our two characters where Triple A is basically saying, "all the girls were slut shaming me," including my character. In that moment, Molly realizes she's really wronged Triple A, it wasn't the other way around and I think that's so special. It's so interesting to see a smart person really not be wise in some ways.
Gordon: Always so articulate!
Feldstein: I think that's really a core moment for her to discover that she's not as wise as she is bright.
Galvin: Booksmart.
Feldstein: It's such a beautiful moment where Triple A lays it out for Molly very specifically, but also is very vulnerable and also so funny. And that's the genius of Molly Gordon is that she can give all of those things to you in one sentence in the car. It breaks my heart every time. [Opens the very crunch pretzels. "I couldn't help it. I'm so sorry, Esther."]
What was high school like for you guys?
Gordon: I think Noah should take this first because he had the craziest high school experience compared to Beanie and I.
Feldstein: Time for me to have another pretzel.
Galvin: I grew up acting in theater. When I was 10, I went on the tour of Les Miz. So I was sort of in and out of school. I grew up in Westchester[, New York] and then moved to New York [City] for my sophomore year of high school, so for my last two years of high school I was at a school called the Professional Performing Arts School in midtown. It has a really, really strong focus on the arts and no focus at all on education. So I worked a lot in high school. Great time in my career. I spent most of my time working and not a lot of time in my classes, but I will say, my arts classes, my teachers in high school were the best arts teachers I had ever had. It's the best acting training I've ever had, too.
As someone who grew up in Los Angeles, the movie feels very familiar. Beanie and Molly, you both grew up in the city, what was it like re-entering that world? Did you have strange flashbacks?
Feldstein: Every time I got to interact with Noah and Austin in the film, I would just pee my pants inside because I was them. The fact that I was like, they are disgusting, was so fun to play out this weird sadistic evil twin of mine that hates theater. But I loved high school. Our group of friends is basically my high school group of friends, and they are still my best friends in the world outside of the people in this world. We went to a very hard school, as you know [ed. note: Beanie and Esther went to the same high school some years apart], and I think academically, I didn't find myself in high school. I found myself in college. So it was really fun to go back and combine those two things to be in high school and to get to be this academic version of myself that I never got to be. It was really fun to go back and be the smartest person in the room.
Gordon: I failed the SATs and was terrible at any job. I'm bad at everything that I am good at in this movie. I think I went to a high school that suited my way of learning because I am not booksmart. I do wish -- thinking about this movie and thinking about putting pressure on ourselves and judging each other -- I didn't put so much pressure on myself academically because I didn't think in the way that you're supposed to think to be called smart on a test or something like that. I'm just a little kookier. I wish that I hadn't put so much stress on that. I wish I would have owned what I'm good at or the way that I learn. I like that this movie isn't saying it's good to be booksmart or it's good to be streetsmart or whatever, it's just own your own shit and just don't judge each other and communicate.
On a completely separate note: I loved the moment where Molly's crush guesses she's half-Slytherin half-Ravenclaw and it's the highest compliment.
Feldstein: She feels so seen.
For you guys, what would--
Galvin: YOU WANT TO TALK ABOUT HOUSES, BRO!
OK, let's do houses!
Feldstein: Can I just say that Katie Silberman wrote that in for me. When it got a huge laugh at SXSW, we couldn't see each other from where we were sitting but we were beaming energy towards each other. She fully wrote it in because we both are so obsessed with Harry Potter. There's a sneaky snitch in Molly's room, if you look hard enough, it's there. So, thank you for bringing that up because it means a lot to me, but let's talk houses.
Galvin: Full Slytherin.
Feldstein: [To Gordon] Huffles? Gryffindor?
Gordon: It's a conversation I've had a couple of times. I don't think Gryffindor. I'm a Hufflepuff. I think I would like to be like a pinch of Gryffindor.
Feldstein: The hat would have had some trouble with you.
Gordon: The hat would have been a little confused for a second and then settled.
Feldstein: I'm full Ravenclaw.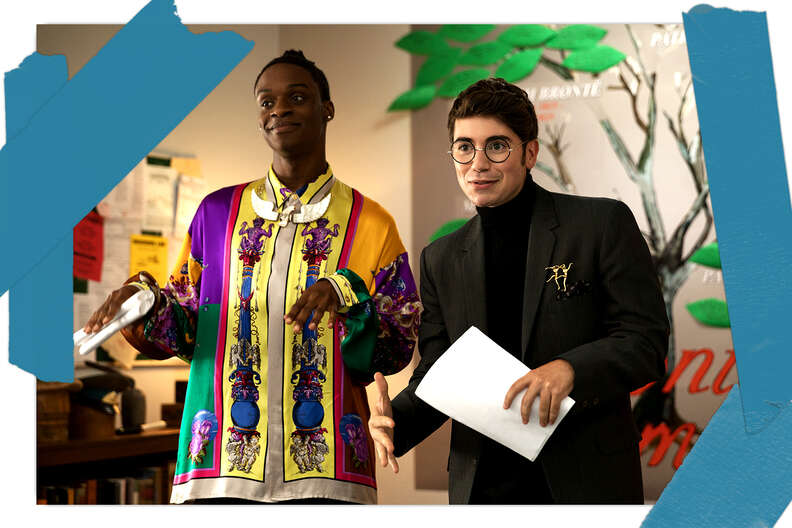 Was there a particular scene that was incredibly fun to do?
Galvin: Graduation was really fun because we were all together at once. I think karaoke was the most fun for me.
Gordon: Noah, sucking on the mic…
Galvin: They like threw it at us. In the morning they were like, "All right, you and Kaitlyn have to learn 'You Oughta Know,' go off and learn it." Me and Kaitlyn went off and studied lyrics together.
Was that always the choice for the song?
Galvin: Yes, but it was still in flux how they were going to shoot it, who was going to actually be in the scene, if I was going to be singing it at all. They were like, "Just learn the whole thing." There are videos of me and Kaitlyn where we are just belting it out in the hills of California somewhere. [To Gordon] Your favorite scene?
Gordon: I just had the best time on this movie. I think any time we were all together. At the party, getting to do a scene alone with Beanie in a car was an absurd situation. It was like, I just feel so incredibly lucky that Olivia gave me that opportunity. The graduation, again a scene that has nothing to do with Noah's character, and literally just watching him slay it. Watching my friends just kill it is such an amazing thing. [To Feldstein] What about you?
Feldstein: Well the first thing that came to mind was that scene in the car because were just like plotzing that we had a scene together in a movie that was just the two of us, a movie that's so special and represents who we are. I think that's what's so special. Not only are the three of us in a film together, but we're in a film that represents who we are as people. We're funny and warm and cozy and smart--
Galvin: Love theater.
Feldstein: Love theater. But I think, uh, okay: [Doing scenes with] Lisa Kudrow [who plays Amy's mom]. Let's just talk about that for a second. I have a sticker of her on my computer. Maybe I shouldn't have said that on record. I have a sticker of her as Valerie Cherish on my computer, so when she walked in, I don't think I took a breath for two days. Also the dance: I don't want to give too much away, but Mason Gooding [who plays Molly's crush] and I do an incredibly nuanced, difficult dance and Mason had never danced before, so watching him really fly. I was so proud of him. He's such a sweet, sweet, sweet boy. We were rehearsing on our day off. Our camera operator shot Birdman and that entire dance is done in one shot. When we got it, we could feel the whole crew [does a sigh of relief]. That moment, I'll always remember.
Gordon: When you're dreaming of being with a guy or a girl or anyone, a movie usually goes to the sexy thing. Like no, it's romantic.
Feldstein: It's also funny because she's been dissing on musicals.
Galvin: Yes, yes. A very La La Land-esque number if you will.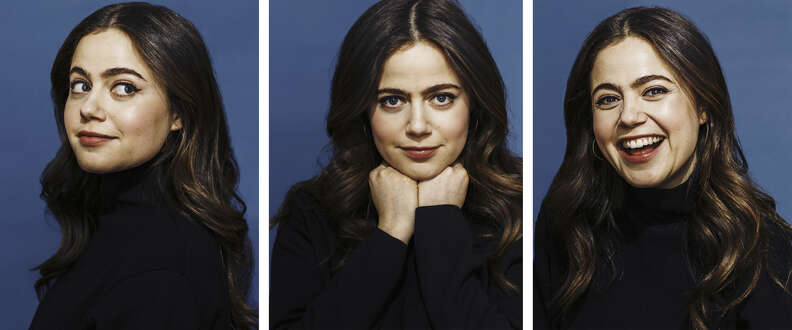 You have this friend group and you're all successful. What is like having a friendship that is both very meaningful and also in the public eye thanks to social media?
Galvin: The only time I experience the weirdness of that was going to Evan Hansen when Ben was still in it. And people would come up to our friend Max and be like, "Max! Let us take a picture!" And they only knew these people through his social media. But more than anything, it's a special and beautiful thing that we all get to be in the same business, we all get to be doing the same thing, but we are also champions of each other, we are supportive of each other and lift each other up. I wouldn't have it any other way.
Feldstein: They are my favorite people in the world, so when anyone is like, "What's it like to be their friend?" I'm like, "LET'S TALK ABOUT THEM THIS IS A DREAM. THANK YOU FOR OPENING THE DOOR." Genuinely how lucky are we to have the best friends and also the most talented friends. It's so special that the world is embracing all of us at the same time. I think we all feel very grateful.
Does it help with the weirdness of the job?
Feldstein: Molly brings an incredible snack to the table at all times. When we were shooting we would be like, "Bean," and she would slip me a vegan cookie, and I would be like, "That's a best friend, right there, who brings you a vegan cookie at 4 in the morning." I look at Molly and I look at Noah and I feel like I'm at home. So no matter what situation we're in, you have someone that feels like family.
Galvin: These experiences are what you make of it absolutely, and if we come in feeling all stuffy and gross about it, it's going to be stuffy and gross. But if you come in wearing MATCHING TURTLENECKS, you're going to have a good time.
What was the text conversation like planning the matching turtlenecks?
Gordon: It's me texting 50 times. I haven't slept. I'm saying, "I'm eating a Justin's Peanut Butter Cup. It's 11am." They say they are wearing turtlenecks, and I check in two hours later: "Are we wearing turtlenecks?"
Galvin: Pictures are sent. A lot of selfies.
Gordon: The fact that Annapurna brought all of us to South By to get to all be together. That was one of the things where I was like, this is so crazy that I get to go on an adventure with these people. That is the dreamiest part of it. And this career is so amazing but there are such hills and valleys to it, so at the end of the day, none of that matters. All that matters is having good people around you. [They hold hands.]
Feldstein: We've never sat this far apart I don't think ever in our lives, it feels so strange. I was going to say I've been thinking so much about this that films are a time capsule, so when we're like 80, we'll have this film that all of us are in. Isn't that crazy amazing?
Galvin: I never thought of that. [Crying noise]
Feldstein: It's just like, "Oh my god, us in high school." Mid-twenties! The fact that we'll get to show our kids, who will hopefully be best friends, that we were all in this together is just the most special ever.
Since we talked so much about theater, let's do a lightning round: dream musical theater role?
Galvin: Emcee in Cabaret.
Feldstein: Oh, you'd be SO good.
Gordon: I don't have one. You go. You have a million.
Feldstein: Winnifred in Once Upon a Mattress.
Galvin: Perfect.
Feldstein: Or the Baker's Wife in Into The Woods.
Gordon: Amazing. Oh god, I don't know. I have to think about it.
Galvin: Let's workshop it. Give a part that you would want to play even if you're not right for it.
Gordon: Oh, lord, I want to be George in Sunday in the Park with George. Because I was Dot in high school.
Feldstein: And still won't let me see the video.
Gordon: Because I was not ready for the role.
Feldstein: Who is ready for that role at 17? No one!
Booksmart opens in theaters May 24. You can get tickets for early screenings on May 17 via Instagram.
Sign up here for our daily Thrillist email and subscribe here for our YouTube channel to get your fix of the best in food/drink/fun.