Box-office numbers can be fun to compare, but they have nothing to do with whether or not a movie is any good. Besides, everyone knows that certain movies that have racked up the big bucks are objectively terrible -- cough, Transformers, cough. But what about the opposite? What about movies that flop big time but are actually sorta great?
We're not here to convince you that every flop is secretly a masterpiece, so look elsewhere if you're hoping to find a paean to Pluto Nash or Cutthroat Island. The 13 movies below are all worth checking out, their shaky financial reputations be damned.
Jupiter Ascending (2015)
Budget: $176 million
Domestic box office: $47,387,723
It's hard out there for ambitious, expensive sci-fi blockbusters that aren't based on pre-existing properties. The Wachowskis' bee-loving, rocket-boot-sporting, Channing Tatum-starring space opera was dismissed upon its release for being hokey, but it's also vividly imagined, playful, and action-packed. How serious are we about this movie? We picked it as one of our best movies of the year. See it!
John Carter (2012)
Budget: $263.7 million
Domestic box office: $73,078,100
Taylor Kitsch may never be the global megastar that Friday Night Lights fans hoped he would be -- sorry, Tim Riggins -- but at the very least he'll always live on in my imagination as the lost Civil War soldier in director Andrew Stanton's surprisingly personal paperback pulp throwback. With beautiful effects, cool costumes, and a real sense of adventure, the movie offered something increasingly rare these days: old-fashioned wonder. Like Mars itself, this is a movie waiting to be explored.
How Do You Know (2010)
Budget: $120 million
Domestic box office: $30,212,620
The new millennium hasn't been especially kind to legendary Broadcast News writer-director James L. Brooks. His last two movies, Spanglish and How Do You Know, tanked at the box office and earned brutal, dismissive reviews. While Spanglish remains a pretty grating film, How Do You Know is a legitimately clever and moving comedy about commitment and fidelity, with delicate, lived-in performances from Paul Rudd, Owen Wilson, and the reliably excellent Reese Witherspoon -- plus, it contains Jack Nicholson's possibly final role. But here's what I would love to know: where's the question mark in the title?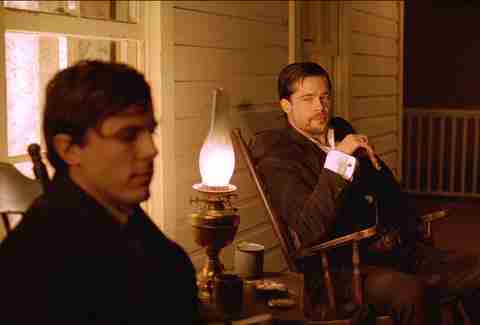 The Assassination of Jesse James by the Coward Robert Ford (2007)
Budget: $30 million
Domestic box office: $3,909,149
It's got such a great hook: legendary hunk actor Brad Pitt plays legendary hunk outlaw Jesse James. But director Andrew Dominik's meditative, painterly Western isn't particularly interested in sex, violence, or Pitt's incredible cheekbones. Instead, it's a study in jealousy and fame that mostly focuses on the conflicted, tortured Robert Ford, played with understated grace by Casey Affleck. It's not surprising that audiences found the bait-and-switch a little off-putting, but if you can embrace the movie's Terrence Malick-like rhythms, you'll quickly find yourself under its haunting spell.
The Fountain (2006)
Budget: $35 million
Domestic box office: $10,144,010
For his follow-up to the 2000 drug odyssey Requiem for a Dream, director Darren Aronofsky concocted this cancer drama that's also a Buddhist vision quest and a conquistador adventure film. With emotionally wrenching performances from Hugh Jackman and Rachel Weisz, along with the best effects $35 million can buy, the movie has a raw, wonky power to it. Audiences probably stayed away because they couldn't figure out what the movie was about. But for all its non-linear storytelling, the film has a startling simplicity to it: it's a love story. About a magic tree. And neuroscience. And... well, just watch it.
Southland Tales (2006)
Budget: $17 million
Domestic box office: $275,380
A gleeful mind-fuck of Bush-era paranoia, celebrity worship, and apocalyptic musings, director Richard Kelly's follow-up to his teen sci-fi classic Donnie Darko is a cult masterpiece in search of devoted followers. Like the work of Terry Gilliam, which it draws bountiful inspiration from, the movie walks a fine line between broad comedy and finger-waving moral righteousness. It's not shocking that the movie failed at the box office; what's shocking is that it ever got made in the first place. And, oh yeah, did I mention that it stars the Rock? And includes a scene in which Justin Timberlake's Iraq War veteran character sings a whole Killers song? Well, it does.
Event Horizon (1997)
Budget: $60 million
Domestic box office: $26,673,242
Horror movies are typically fast, lean, and cheap. Event Horizon, the gruesome and unsettling haunted spaceship movie from Paul W. S. Anderson, clocks in at a meager 95 minutes but it feels like a larger, more ambitious movie -- and it certainly wasn't cheap. With killer turns from Laurence Fishburne and Sam Neill, the film creates a moody sense of creeping dread then unleashes the terror in its second half as it slowly becomes a Fangoria-friendly version of Tarkovsky's Solaris. For horror fans, it's bliss. For everyone else, it's torture.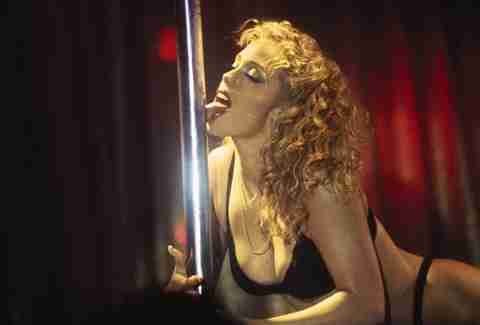 Showgirls (1995)
Budget: $45 million
Domestic box office: $20,350,754
The only film on this list to inspire a whole book on why it doesn't suck, Showgirls has been kicked around for too long. Spirited defenses have been made in bars, strip clubs, and seedy chatrooms across America. What's left to say? Yes, the lines are ridiculous. Of course, the costumes are strange. No, the pool sex scene isn't "realistic." But director Paul Verhoeven, expletive-loving screenwriter Joe Eszterhas, and Saved by the Bell's Elizabeth Berkley made a movie that has gripped the public imagination for 20-odd years now -- and they deserve some respect. Bow down.
The Hudsucker Proxy (1994)
Budget: $25 million
Domestic box office: $2,816,518
After the brilliant one-two punch of Barton Fink and Miller's Crossing, the Coen brothers assembled their most impressive cast yet (Tim Robbins! Paul Newman! Jennifer Jason Leigh!), stepped up their production design, and pulled out all the visual stops for this Preston Sturges-inspired screwball comedy (co-written with Sam Raimi) about... hula hoops. Maybe that was the film's undoing at the box office? It's hard to convince anyone to watch a movie about hula hoops. Either way, the movie itself is, like most things Coen, a darkly funny delight filled with quotable lines, charming performances, and style to spare.
The King of Comedy (1982)
Budget: $19 million
Domestic box office: $2,536,242
Long before he was Dirty Grandpa, Robert De Niro was Rupert Pupkin, the king of comedy (in his own mind at least). Starring alongside a game Jerry Lewis as a self-absorbed talk-show host, De Niro explored new depths of antisocial behavior in Martin Scorsese's damning portrait of a broken man attempting to make sense of an equally broken, fame-obsessed culture. Unsurprisingly, crowds weren't particularly eager to stare into the abyss. Looking back, it's easy to see that the movie was way ahead of its time, exploring the boundaries of queasy cringe-comedy way before "anti-comedy" was a thing the aspiring Rupert Pupkins of the world talked about on message boards.
Blow Out (1981)
Budget: $18 million
Domestic box office: $12 million
Brian De Palma has been the guiding hand behind quite a few box-office flops -- The Bonfire of the Vanities and The Black Dahlia come to mind -- that are actually pretty terrible. But, early in his career, the Hitchcock-loving auteur uncorked one of his most stylish, imaginative thrillers, and audiences failed to turn out for it. What'd they miss? Probably the director's best film, along with a classic Travolta performance. Luckily, the nice people at the Criterion Collection released this one a few years back, so it's never too late to get a closer look.
Universal Pictures/Youtube
Sorcerer (1977)
Budget: $21 million
Worldwide box office: $6 million
Like many films on this list, Sorcerer was a non-starter at the box office but has gone on to earn a reputation as a cult classic. But, like the dangerous 200-mile on-screen road trip Roy Scheider takes with a box of dynamite, it was a perilous journey. Opening a month after a little unknown movie called Star Wars probably had something to do with the movie's financial struggles, but the film is worth seeking out for its gripping portrayal of men in peril, director William Friedkin's taut direction, and one of Scheider's best performances.
It's a Wonderful Life (1946)
Budget: $3.18 million
Domestic box office: $3.3 million
Believe it or not, this Christmas classic wasn't always playing on a constant loop to rapturous fans ringing bells and gifting angels' wings. It was actually a big hunk of coal for RKO Pictures, who lost $525,000 on the film. In many ways, the film's humble origins make it even more of the perfect all-American story. If George Bailey can come back from financial ruin, so can Jupiter Ascending! Never give up hope!
Sign up here for our daily Thrillist email, and get your fix of the best in food/drink/fun.
Dan Jackson is a staff writer at Thrillist Entertainment and, yes, he really likes Jupiter Ascending. He's on Twitter: @danielvjackson.