Weird: You (Yes, You!) Can Win the Middle 'Brady Bunch' Brother's Lawn Chair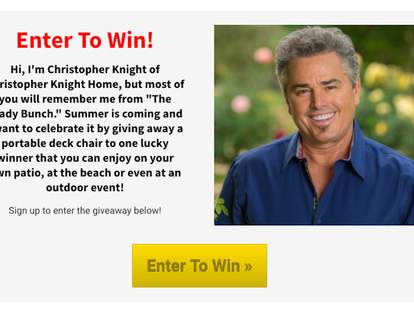 Christopher Knight, who played Peter on The Brady Bunch, lives a life no one could have predicted -- even on the crazed path of post-sitcom child stardom. 
After the original series ended in 1974, Knight stepped away from the acting world to make a name for himself in computers and eventually founding a pioneering 3-D graphics company. Knight went back in front of cameras to wrestle Partridge Family star Danny Bonaduce at a 1994 WCW event. Following a Brady Bunch reunion episode of The Weakest Link, the actor turned entrepreneur landed a spot on the fourth season of VH1's The Surreal Life, where he became "the hot Brady." Fellow housemate Adrianne Curry, winner of America's Next Top Model's 22nd cycle, fell hard for the actor, prompting their romantic spinoff, My Fair Brady. The two wed in 2006 and divorced six years later.
Now Knight's in the furniture business. Obviously.
And not only that -- Knight wants you to win a piece from his collection. Yes, the "Christopher Knight Home Sonora Wood Folding Lounger," which has nothing to do with The Brady Bunch and everything to do with butt comfort, retails for $199.99. But Knight's giving away one chair to a lucky person who, like we did, fell down the Christopher Knight well at this precise moment. If you're not sold on entering the raffle, consider these reviews for the sleek Acacia folding chair, left on Overstock.com:
"These are beautiful chairs! I get a lot of compliments on them!"
"Bought them for reading on the patio. Love them!"
"Could you use this product in the water?"
"FANTASTIC CHAIRS THAT LOOK STUNNING AND FOLD INTO PORTABLE CARRY CHAIRS"
Knight knows quality. There's a reason he didn't bother appearing on The Brady Brides. Trust these reviews.
To enter the raffle, proceed to the Christopher Knight Home Collection's official page. To see Knight connect with the dead, watch his episode of Hollywood Medium from January. What can't he do?
Sign up here for our daily Thrillist email, and get your fix of the best in food/drink/fun.
Matt Patches is Thrillist's Entertainment Editor. He previously wrote for Grantland, Esquire.com, Vulture, The Hollywood Reporter, and The Guardian. Find him on Twitter @misterpatches.