Brendan Dassey of 'Making a Murderer' Will Not Be Released From Prison, After All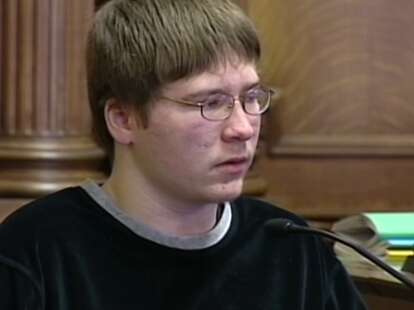 Update 11/17/16: On Wednesday, Wisconsin Attorney General Brad Schimel has filed an emergency motion to keep Brendan Dassey in prison. Today, the U.S. Court of Appeals for the Seventh Circuit ruled against a lower court's order that Dassey be released, at least until the prosecution has a chance to determine whether it will file an appeal. As documented on Netflix's insanely popular Making a Murderer series, Dassey was sentenced to life in prison in the mysterious 2006 death of Teresa Halbach; the 27-year-old had been due to be set free on Friday night.
Update 11/14/16: The federal judge who overturned Brendan Dassey's conviction in the Making a Murderer case ordered today that he be released from prison, nine years after being sentenced to life for the 2005 murder of Teresa Halbach. It is not immediately clear whether he will be released in short order or whether a release could be delayed pending an appeal by the State of Wisconsin. Per the judge's order, upon release, Dassey would be supervised by the U.S. Probation Office.
Here is our original report from August:
Netflix's true crime docu-series Making a Murderer debuted on December 18, 2015 and became an instant phenomenon. The murder trial(s) of Steven Avery and his nephew Brendan Dassey were riddled by corruption, and the series not-so-subtly asserted their potential innocence. In the weeks to follow, Reddit threads started side investigations, lawyers Jerry Buting and Dean Strang became justice system stars, and Netflix greenlit a second season -- the examination of Avery and Dassey's sentences was not over yet.
Eight months later, scrutiny over the case may actually pay off: On Friday, according to multiple reports, a federal judge in Milwaukee has overturned the conviction of Brendan Dassey.
The 26-year-old is currently serving a 41-year prison sentence for first-degree intentional homicide, second-degree sexual assault, and mutilation of a corpse, all connected to the murder of Teresa Halbach. In the wake of Making a Murderer, Dassey's post-conviction attorneys filed a federal appeal, based on evidence that the then-teenager's confession was coerced.
"The moment I watched that tape, I wanted to jump into that TV screen and get between that child and the officers who were interrogating him," Dassey's lawyer Laura Nirider said in March. "What you have here are police officers who are using psychological interrogation tactics that were designed for seasoned adult criminals on a 16-year-old with intellectual limitations."
The 91-page court order issued by Judge William E. Duffin echoes Nirider's observations. "The investigators repeatedly claimed to already know what happened on October 31 and assured Dassey that he had nothing to worry about," Duffin wrote (viaThe New York Times). "These repeated false promises, when considered in conjunction with all relevant factors, most especially Dassey's age, intellectual deficits, and the absence of a supportive adult, rendered Dassey's confession involuntary under the Fifth and Fourteenth Amendments."
Released court records suggest that Dassey could go free in 90 days if the state does not refile for a new trial.
Making a Murderer Season 2 is currently filming, as Avery's lawyers prepare to file their own appeal. "I'm going to be free," Avery recently toldIn Touch in an interview at the Waupun Correctional Institution. "I'm 1,000% confident that I'll be free."
For more on Dassey and Steven Avery, read about everything that's happened since Making a Murderer Season 1.
Sign up here for our daily Thrillist email, and get your fix of the best in food/drink/fun.
Matt Patches is Thrillist's Entertainment Editor. He previously wrote for Grantland, Esquire.com, Vulture, The Hollywood Reporter, and The Guardian. Find him on Twitter @misterpatches.