Brian K. Vaughan Teases the Future of 'Saga,' and Reflects on 50 Issues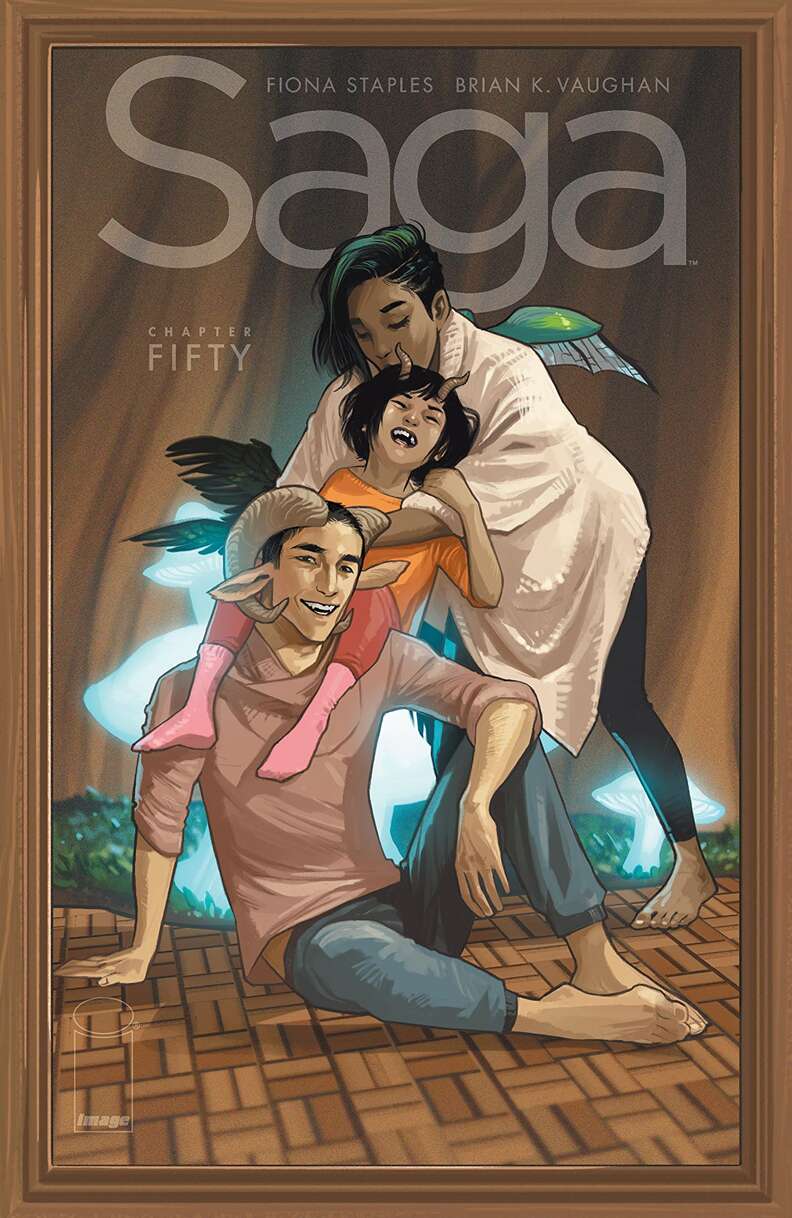 For the uninitiated, Saga is batshit crazy. The space opera centers on two star-crossed alien lovers who give birth to a little, hybrid baby, and its highly stylized approach -- think Star Wars meet Baz Luhrmann's Romeo + Juliet -- sets it apart from everything else in the sci-fi canon. There are bounty hunters, treehouse rocketships, bipedal seals with sweaters, and giant space fetuses known as "Timesucks." They're all part of a bigger picture that tackles love, sex, family, racism, politics, and addiction. It's heavy stuff and one that continues to induce Tumblr theses on "How Saga Made Me Feel And Threw Me Out Of A Fucking Window." For writer Brian K. Vaughan and illustrator Fiona Staples, it's just the beginning of a much larger story they need to tell.
The series' 50th consecutive issue arrives March 28 (via Image Comics), and to commemorate, Thrillist exchanged words with Vaughan, discussing the series' progression, the duo's fondness for "taking hard turns" from genre to genre, and how the Saga universe is just getting started.
Thrillist: In 2012, you told Wired that Saga was "a disease of mine" and not something you would necessarily share with anyone. In the early stages of development, did you and Fiona would tell the story for this long?
Brian K. Vaughan: I'm neurotic enough to always think that anything I write will be immediately canceled. But once I saw Fiona's first few breathtaking pages for our debut issue, I felt pretty confident that we'd have enough support to tell our entire saga.
Early on, were there any plans to take the series in a different direction?
Vaughan: Not really. I had a contingency plan to end the series -- quickly and poorly -- if our sales were abysmal, but thankfully we've been able to stick to my original roadmap fairly faithfully. Though we've taken a few slight detours and picked up a couple of unexpected hitchhikers along the way, and almost always because of something brilliant Fiona suggested.
Did characters such as Alana and Marko -- and even others like The Will and Prince Robot IV -- change from conception to execution?
Vaughan: When we started working together, I described those characters to Fiona in the most general terms -- Alana has wings, Marko has horns, Prince Robot has a television for a head -- and she turned around and made them fully formed, three-dimensional people. For example, my original concept of The Will was a fairly boilerplate bounty hunter. But as soon as I saw Fiona's first image of that cape-wearing goof with his hairless sidekick, he immediately became more complex as you couldn't help but see the frightened, damaged child hiding behind that tough-guy facade.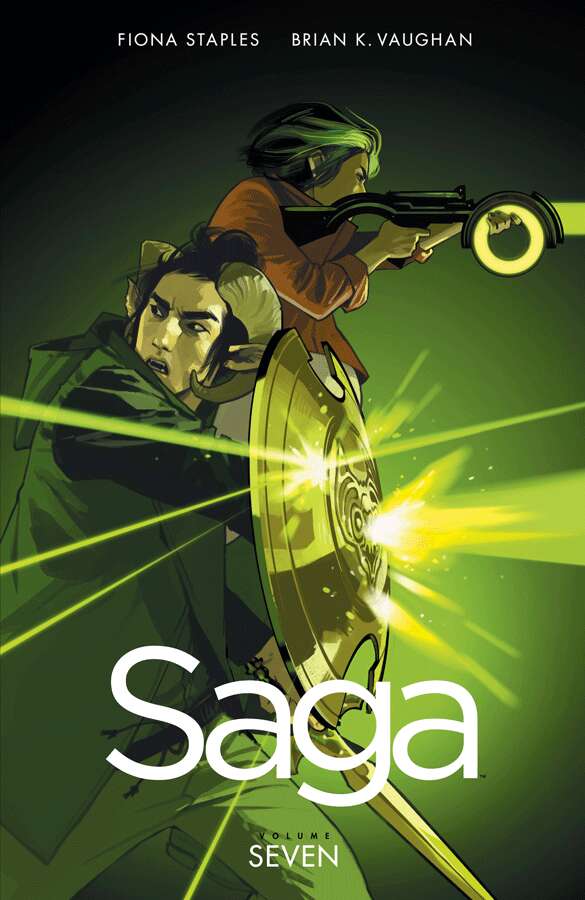 Are there any characters or storylines you wish you had done more with?
Vaughan: Sure. But thankfully, we're not even at the halfway mark of our story yet so there's still plenty of time to revisit characters and places we've only seen briefly so far.
Saga has always been an exemplary lesson in immersion thanks to the way it balances themes of love, heartache, family, politics, and race. Has it ever been difficult to make sure you're not leaning too far in one direction?
Vaughan: I would have a hard time describing any part of making Saga as "difficult". I get to say whatever the hell I want in my scripts and hand them over to one of the greatest comic book artists of all-time, who makes everything I write a billion times better. And Fiona and I try not to worry too much about creating the kind of boringly consistent "tone" that television and films often impose on creators. We like taking hard turns from humor to horror or from a mundane reality to sci-fi insanity. Much like real life.
One of the most fascinating aspects of Volume 8 (#43 to #48) is the way you in which you approach a relatively upbeat arc and share ideologies and fragments of the universe that we never knew existed (i.e. Abortion Town vs. the Badlands). What's the process like in building those alien planets and establishing their beliefs, environments, and where they fall under Landfall and Wreath jurisdiction?
Vaughan: I always knew that we'd eventually be visiting a planet to deal with the aftermath of Alana's tragic miscarriage, but it was Fiona's suggestion to set that story in a kind of Spaghetti Western world. The universe of Saga is huge, so we can tell stories inspired by any kind of genre as long as it feels appropriate to the themes of that arc.
Did you and Fiona talk to women before writing about topics such as breastfeeding and abortion? A few longtime fans have noted that seeing a lead character openly nursing her child on the cover of a trade is one of the coolest things to see as both a woman and a mother because it's so uncommon.
Vaughan: Fiona and I don't really consult anyone beyond our own experiences and/or imaginations. But it has been very heartening to hear from so many parents who recognize some part of themselves in our batshit story.
Is there a character, setting or theme that you're still dying to put into the series?
Vaughan: Of course, but my primary focus is always Hazel who's been growing up at the same rate as my daughter. She has even had some experiences this past year that will greatly influence Saga moving forward, but I don't want to spoil any of that just yet.
Then how would you describe the next chapter (Issues #49-#54) in one sentence?
Vaughan: This new storyline is about fake news and genuine terror, and it contains some of the most important moments of our story so far. As always, Fiona and I are more influenced by our own real lives than we are by other creators and their fiction, but this arc definitely has the most "horror film" vibe of the series.
With Seth Rogen and Evan Goldberg's plans to adapt Invincible and a few reports of you writing a Silver Surfer movie, has anyone come to you recently and asked about doing an adaptation of Saga?
Vaughan: Pretty much every day for the last six years, yeah.
If you had to pick a medium, which makes the most sense to you: a big budget film, a television adaptation or a mature animated series in the vein of Netflix's Castlevania?
Vaughan: I know this is a buzzkill of an answer, but I'm grateful that Fiona and I don't have to pick any of those. Our goal was always to make a great comic -- not a stepping stone to help us reach some other medium -- and I like to think our story is so immersive, not in spite of the fact that it's just static words and pictures, but because of it. Our readers are our collaborators, and they're the ones who work hard to make this story come alive in their imaginations. I guess Fiona and I are both open to the possibility of someone eventually persuading us why making a Saga show or movie or cartoon would make the story better, but it hasn't happened yet.
Did you ever think Alana and Marko would become Funko Pop figures?
Vaughan: Yeah, while we're annoyingly stubborn about Saga being adapted, that hasn't really stopped us from completely selling out with some of the coolest merch ever. I never imagined that our characters would get their own toys, but the designers and sculptors at Funko did a phenomenal job with these Pops -- which were clearly made with a ton of affection for Fiona's art. I love them, and getting a big crate of freebies sent to me was maybe the first time that my children were ever proud of me, and they're not even allowed to read the comic that inspired these figures.
Are there any characters you would personally like to see become Funko Pops?
Vaughan: A writer [Jessie Earl] at The Advocatejust wrote an excellent piece about how disappointed she was that there isn't yet a Funko Pop of a trans character like Petrichor, and I wanted to let her know that this will hopefully be changing very soon. So stay tuned!
Do you think we'll ever see a real-life trade of D. Oswald Heist's A Night Time Smoke?
Vaughan: [laughs] If Fiona ever needs a breather, maybe we'll do an entire issue of just my bad prose. But I'm pretty sure a Staples-less issue would destroy our sales on impact.
Because it's the one novel that helped bring Marko and Alana together, A Night Time Smoke will always be an important part of this series. But as we'll see in this new Saga storyline, it's not the last book that will have a profound meaning for our heroes.
Lastly, what do you hope fans will take away from the next 50 issues of the series?
Vaughan: I'm enormously proud of those first few issues of Saga, but looking back at them now, you can see how much Fiona and I have grown since then. We're always pushing ourselves and each other to continue improving, so I hope readers feel like our next 50 issues blew the first 50 out of the fucking water.
Sign up here for our daily Thrillist email and subscribe here for our YouTube channel to get your fix of the best in food/drink/fun.
Joshua Khan is a Toronto-based writer (and a total nerd) who would definitely wear a fireproof cape if he could. Find him on Twitter over at @blaremag