Everything We Know About 'Bridgerton' Season 2
Get ready for a spring 2022 filled with intrigue!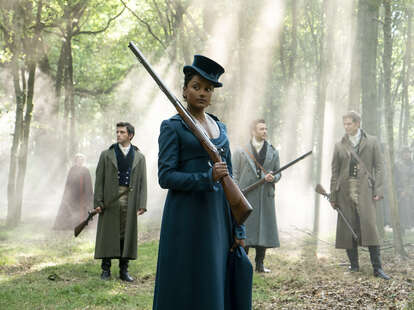 After Netflix viewers blazed through the first, all-too-short season of the streaming service's Regency era romance series Bridgerton from Shonda Rhimes in December 2020, the only thing on their minds—apart from all those steamy sex scenes and that shocking last-minute reveal in the finale—was: When will we get more? When will we find out what happens next with Daphne and Simon's relationship? Benedict's art career? Poor Marina Thompson's love life? Lady Whistledown's schemes? Thankfully, Lady Whistledown herself announced the show had been renewed for not just Season 2, but up through Season 4, in 2021. At the time, she teased that Lord Anthony Bridgerton, Daphne Bridgerton's brother, will "dominate the social season" in the upcoming installment. A great deal of scandal is sure to be revealed when the new episodes finally hit Netflix, but as we gear up for Season 2, we're breaking down everything we know about it already below.
When will Bridgerton Season 2 be released?
Netflix finally confirmed a release date for Bridgerton Season 2 in December 2021. We're in for one romantic, scandalous spring, as new episodes are dropping on Netflix on Friday, March 25.
Is there a trailer for Bridgerton Season 2?
At last, Netflix has released a king-sized three-minute-long trailer for Bridgerton Season 2, narrated ominously by Lady Whistledown herself, who introduces the new plot and characters we'll be following this time around: capital-R Rake Anthony Bridgerton, who is searching for the perfect bride, and the Sharma sisters, Kate and Edwina, new to the ton and in search of a husband. Horse races! Hot guys in bathtubs! Women fanning themselves! Swordfights! Yes, please!
Who is in the Bridgerton Season 2 cast?
Many from the previous season will return (minus the casualties). That includes Phoebe Dynevor as Daphne Hastings (née Bridgerton), Jonathan Bailey as Anthony Bridgerton, Ruth Gemmell as Violet Bridgerton, Golda Rosheuvel as Queen Charlotte, Nicola Coughlan as Penelope Featherington, and Polly Walker as Portia Featherington. It's likely that Julie Andrews will return to voice Lady Whistledown, even though we know Whistledown's voice is a much different one.
We do know for sure that one major character from Season 1 will not be coming back, and it's a shocker: Regé-Jean Page, who played love interest Simon Bassett, Duke of Hastings, will not return for Season 2, since the next season really has nothing to do with him. The news was announced via Lady Whistledown herself, who explained, "Daphne will remain a devoted wife and sister, helping her brother navigate the upcoming social season and what it has to offer—more intrigue and romance than my readers may be able to bear." Simon's story on the show was apparently always meant to be a one-season arc.
Sex Education's Simone Ashley will play Kate Sharma (changed up a bit from the book character Kate Sheffield), Anthony's love interest and "spirited schemer," the "most meddlesome woman to ever grace a London ballroom." Oh boy. Sounds like Anthony's met his match.
In a bit of a temporal twist, The Man in the High Castle's Rupert Evans has been cast as the late Bridgerton patriarch Edmund Bridgerton, who died at a young age due to a bee sting (hence all the bee imagery in the show's opening credits—now you know!!). As the second book in the series focuses on Anthony Bridgerton's romantic life and his relationship with his dead father, expect plenty of emotional flashbacks.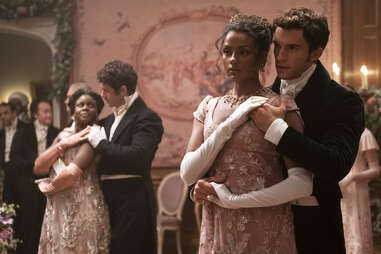 What is Bridgerton Season 2 about?
Now that we (and only we, sorry Eloise, keep trying) know exactly who Lady Whistledown is, it gives more of an air of intrigue to the proceedings—and calls into question the behavior of the revealed one. How are we supposed to read her behavior from now on? Will more people find out? How will they react? Will it be Queen Charlotte who finally unmasks the secret scribe? What happens then?
We also know, thanks to a flash-forward, that Daphne and Simon are for sure having a child, but whether the show picks up from that moment remains to be seen. It's likely that they'll have to go through a few more rounds of reconciliation before they can be a perfectly happy family. And there's no telling what madness Marina Thompson and her dead fiancé's brother, who is now her new fiancé, will get up to in the meantime.
Most pressing, perhaps, is the Featheringtons' estate ownership crisis in the wake of their patriarch's untimely death. We don't know who the newly arrived heir will turn out to be, but Lady Featherington didn't seem too overjoyed when she read that letter. Does this spell even more trouble for her daughters' prospects, and for Penelope's unrequited love for utterly clueless Colin Bridgerton? Bro… leave now for Greece before it's too late.
We do know for sure that Season 2 will take another cue from the books, which tend to focus on a different character per installment. Season 2 will be Anthony's season, based on Quinn's second book in the series, The Viscount Who Loved Me, in which he will, hopefully, get wifed up posthaste.
Emma Stefansky is a staff entertainment writer at Thrillist. Follow her on Twitter @stefabsky.