New Thriller Imagines Texas' Hostile Invasion of Brooklyn
Political diehards from across the spectrum seem to agree: our country is divided. But could our differences ever ignite a second civil war? Endlessblogposts ponder the subject, and thanks to blazing special effects, a new movie illustrates the horrors of home turf conflict.
At one of the 2017 Sundance Film Festival's coveted midnight movie slots, filmmakers Jonathan Milott and Cary Murnion (Cooties) unveiled Bushwick, a thriller design to pop the coastal bubbles. Brittany Snow (Pitch Perfect) and ex-wrestler Dave Bautista (Guardians of the Galaxy) star as a pair of Brooklynites fleeing for their lives when a fleet of paramilitary descend upon their neighborhood. After capturing one of the armored soldiers, the pair identify the invading forces as a "Southern alliance" battalion, formed in the wake of Texas seceding from the country. Their captor is a kid from Indiana. HIs mission: stir up shit by rampaging through a community diverse enough that, in theory, the residents wouldn't rally together to fight back. The Southern alliance knows nothing about Brooklyn, clearly.
Milott and Murnion take an action-first approach to Bushwick, which played well to a bleary 12:01AM Sundance audience. After watching an aerial attack scorch her boyfriend into a crispy husk, Snow's character Lucy outruns the soldiers the only way a born-and-raised New Yorker knows how: walking hastily with her head down and dodging cars when necessary. Bautista's Stupe -- only in Brooklyn! -- provides her with a weapon and enough muscle to bumrush to the Williamsburg Bridge. Stupe's family's in Hoboken, making him the only Bushwick resident to intentionally venture to New Jersey.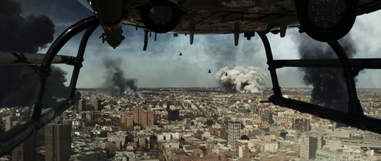 XYZ Films
The main issue with Bushwick, and why the only people who may enjoy it are those who'd squeal at an appearance of Owl Juice Pub on Wyckoff, is a wavering tone. The situation inciting the action is grave, partisan views driving declarations of war, Americans killing Americans thanks to a right to bear arms. Milott and Murnion play into paranoia: like Lucy, few of us would be ready to survive war, let alone counterattack with provided weaponry.
Bushwick also strives to be a kick-ass midnight movie, with John Wickian bursts of violence that make you stand up and cheer. In one scene, a group of Hasidic Jews chuck Molotov cocktails at a wave of soldiers stuck in an alley. Later, Stupe and Lucy lead a mass of locals to take over McCarren Park in Greenpoint. Spurts of over-the-top, rah-rah retaliation are a blast, but Bushwick whiplashes back to the all-too-real all too often. Nothing kills the mood like a monologue about 9/11.
Maybe it'd go down easier if a new civil war didn't feel so... plausible. In their post-screening Q&A, Milott and Murnion mentioned that Rick Perry's 2009 comments about an actual Texas secession inspired their film. In response to chants of "secede! secede!" Perry replied, "If Washington continues to thumb their nose at the American people, you know, who knows what might come out of that."
As a run-and-gun actioner, Bushwick's a letdown. As a tour of Brooklyn sites, it's a fleeting high. But as a work of speculative fiction at a sensitive political moment, the movie's frickin' terrifying. 
Sign up here for our daily Thrillist email, and get your fix of the best in food/drink/fun.
Matt Patches is a Senior Editor at Thrillist. He previously wrote for Grantland, Esquire.com, and Vulture. Find him on Twitter @misterpatches.