Netflix's New Mystery Thriller 'Cam' Is a Smart, Creepy Look at Life as a Cam Girl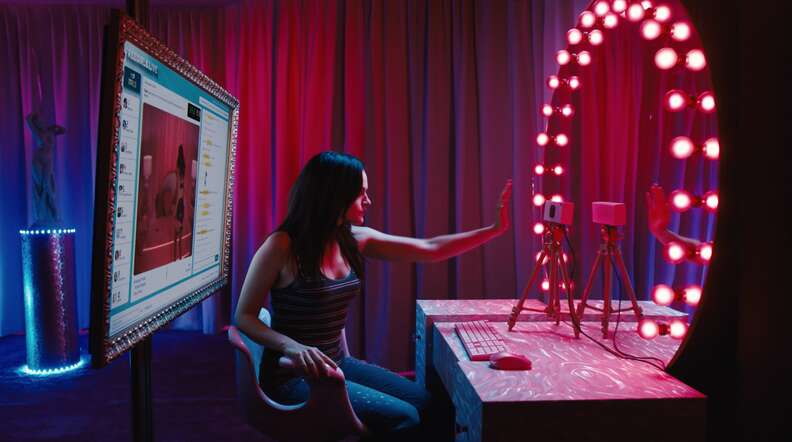 Alice, the protagonist of Netflix's new twist-filled sex work thriller Cam, has the voice down. The first time you hear actress Madeline Brewer (The Handmaid's Tale) say the words "Hey guys!" to her 246 viewers on FGL, the web-chat platform that hosts her videos (and takes half of her income, which she makes in "tokens" from her followers), your skin crawls. The specific tone of her voice -- cheery and inviting, direct but not confrontational -- isn't specific to the world of camming, where patrons exchange gifts for specific acts performed live on screen. It's the faux-familiar voice of web video writ large.
That type of accuracy is important to a movie like Cam, the debut feature of both director Daniel Goldhaber and screenwriter Isa Mazzei. Small details can make or break any genre film, where glaring mistakes can pierce through the spell of the story, but the stakes are especially high in a case like this where most viewers will be streaming the movie on their computers or watching on their couches with a phone inches away. Anyone curious about the "real" subject of the movie is examining could find themselves immersed in the research with a few clicks and a cursory Google search. It's like going to see a heist movie in a bank during a robbery.
At the same time, Cam is not a moralizing documentary and it's not purely a sociological look at a risky corner of the internet. From its opening scene, which finds Alex performing for her followers and breaking into the "top 50" on FGL by staging a fake throat-slitting, the film has a mischievous and intense tone. Almost 30 minutes pass before the mystery angle to the story is introduced, but Goldhaber and Mazzei do an effective job of immersing the viewer in the minutia of Alice's life: We see her blocking annoying users, holding private (and awkward) video chats with top tier patrons, and hiding her job from her mother (Melora Walters) and her younger brother (Devin Druid). As any piece of reporting on an influencer will tell you, logging off is a serious financial danger.
The movie's shift from economic horror to a more De Palma-like dissection of identity is elegant and doesn't rob the story of any momentum. After a particularly eventful night at a "cam house," where she performed with another girl and improved her site ranking, Alice wakes up and discovers she's been locked out of her account. First, she thinks the app is malfunctioning by playing an old video she made, but something more sinister is afoot: A woman who looks just like her has taken control of her feed, stealing her tokens, and she's breaking all of Alice's rules. (She doesn't tell her guys she loves them, she doesn't do public shows, and she never tells a customer where she lives.) As a twist, it's creepy, but as a metaphor for feeling alienated from your own online persona, it's even more potent.
Unlike workers in other more traditional and protected fields, Alice is especially vulnerable, and Brewer plays that vulnerability without undermining the character's intelligence. (She's also playing Alice's online persona "Lola" and the evil version of "Lola" as well.) The droning customer service reps at FGL, a perfect embodiment of technocratic hell, are no help to her; her friends in the camming community, who are all engaged in not-so-friendly competition with her, mostly shrug their shoulders; and the cops, the figures of the state who could help regulate these situations, are openly hostile to her. What's she supposed to do? The sense of dread and uncertainty that drives Cam is rooted in the drab terror of the gig economy, where the "freedom" of freelancing and becoming your own boss can become a prison. Or, as it begins to look like for Alice, a death sentence.
It's not incredibly difficult to make the internet feel scary or at least unnerving. Given the subject matter, it might make sense to group this movie with some of this year's other cyber-thrillers, like the video-chat horror freak-out Unfriended: The Dark Web or the kidnapping mystery Searching, but Goldhaber and Mazzei take a less straightforward approach in their story. Though they clearly paid a lot of attention to making the camming look accurate and likely spent a lot of time in post-production finessing the details, Cam is not locked in the frame of a computer screen. It has the same pluck and formal dexterity as Steven Soderbergh's pharmacological mental health thriller Unsane or Henry Joost and Ariel Schulman's online gaming parable Nerve. Netflix already has your monthly tokens, but if the movie stopped playing halfway through and demanded more money, you'd pay up.
Sign up here for our daily Thrillist email and subscribe here for our YouTube channel to get your fix of the best in food/drink/fun.