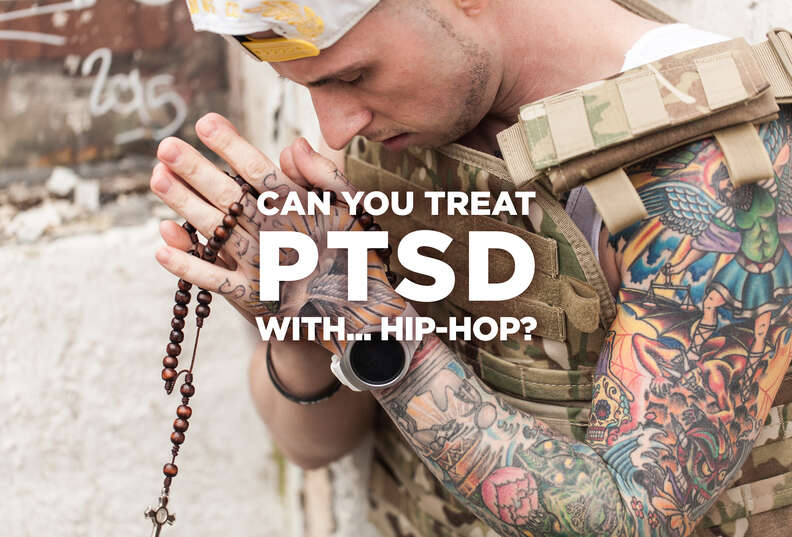 Can You Treat PTSD With... Hip-Hop?
Sgt. Anthony Bunch is a 29-year-old from North Carolina with a laconic manner and a Southern sense of politeness. Almost a decade ago, he was charged as an accomplice in a drive-by shooting, and wound up in front of a judge. The guy, a former Marine, gave Bunch a choice: "Go to war or go to jail."
Bunch chose war. He joined the Army in 2007 as a truck driver in the Army 82nd Airborne. In late 2008, he was shipped to Iraq, where he worked as lead gunner for a convoy. He'd be out in front of a dozen vehicles, manning a spotlight at night, looking out for explosives and other hazards placed in their way. "It was up to me for the whole convoy," he says. "If there's something forward that you don't see, the whole rest of the convoy eats it."
The job was grueling, physically and mentally. Bunch sustained a serious head injury. He was seconds away from being killed by a mortar, and it shook him up so bad that he got married a month later because he was convinced he wasn't going to survive his tour. "There was a lot of stress on me," he says. "I can't begin to describe it."
Bunch had rapped when he was younger, and had come to rely on hip-hop during difficult stretches. "Every time I would get myself in a situation where I'm like, damn, what am I doing? I would always pen something about it," he says. "It was therapeutic." So when things got bad in Iraq, Bunch and a friend set up a Conex shipping container with a computer and some microphones they bought online. "When we came off of the patrols, we would hit the Conex and record, or just write, or freestyle," Bunch says. Their ranks swelled. "The Conex would turn from three to four people into six or eight. You had people who didn't even rap, and they're like, Alright, I'm gonna do it. We had a shared moment there."
Their superior officers even got into the act, insisting the rapping soldiers practice their skills by freestyling new cadences during runs and marches, even if the rhymes weren't exactly what the brass wanted to hear. "Our whole Conex rap sounded like something from [revolutionary-minded rappers] Immortal Technique or dead prez or Ras Kass," Bunch says. "We weren't rapping about, I'm gonna take your bitch and I got eight bitches." They rapped about their kids, about the war. "We're just like: send me home. Get me out of this. Fuck this shit."
After serving in Iraq for 13 months, Bunch was sent to a hospital in Germany. "My main injury was PTSD," he says. "But another injury I sustained was a TBI, which is a traumatic brain injury." He was in a vehicle responding to an IED blast when it happened. "My turret hit the top of a parking garage, and I got knocked unconscious," he says. "I jumped up and got back in my turret and we rolled on out. But I started having memory problems later. My depression got worse."
It was in Germany that Bunch wrote a song, "What It's Like," which attempted to deal with what he had seen. "Those lyrics were my suicidal thoughts; they were me trying to rationalize my deployment, what I did over there, what it was like for me," he says. "It was a relief, man. I was literally shedding tears."
After Bunch finished the song, he played it for a few people. They played it for a few people, and pretty soon the whole base had it. When Bunch returned to the US -- to Fort Stewart in Georgia -- an opportunity presented itself. His social worker told him about an organization called I WAS THERE, which provides free filmmaking workshops to veterans with PTSD. Bunch joined, and wound up making a video for "What It's Like." It combined black-and-white footage of Bunch in a cramped bedroom surrounded by prescription bottles, and color photographs of his time in the service and footage from Iraq.
The video was screened, along with other I WAS THERE films, on the base. "A lot of people came up afterwards to me and said, 'I would never have expected that from you, but I think it's dope and don't stop.'" Bunch started getting phone calls from other people in the battalion. He put the video up on Facebook. It garnered 3,000 views in three days. This made Bunch realize something: his mission as an artist was "bigger than just me." He's not the first rapper to have that epiphany.
Since the early days, when MCs juiced block-party sound systems with power stolen off of light poles, the act of creating beats and rhymes has been put to many uses, from showing that you have the slickest lyrics, to moving the crowd, to selling cars via talking hamster. But increasingly it's being used in a new way, as a treatment for PTSD.
PTSD is, as the Mayo Clinic puts it, "a mental health condition that's triggered by a terrifying event -- either experiencing it or witnessing it." What sets it apart from the normal difficulties people tend to experience after traumatic events is that the symptoms last, and in fact often get worse over time.
The condition is often associated with veterans, and for good reason. A full quarter of service members deployed over the past 15 years have returned with trauma-related issues. The symptoms are many and varied, often get in the way of the person's ability to function normally or have lasting relationships, and at worst lead to homelessness (which was the case for Bunch for a year after he got home) or suicide. While conventional therapies can be effective, they don't work for everyone. So many medical and psychiatric professionals have begun to talk about the importance of creating a narrative around traumatic events, and it only makes sense that in a culture dominated by hip-hop, more and more people are doing that through rhyme.
The rapper Murs didn't serve in Iraq, but he did grow up in South Central Los Angeles, and he didn't understand until leaving the city just how deeply it had affected him. "I realized [that he had PTSD] when I moved from Los Angeles to Oakland," he says. He was walking down the street with one of his best friends, and the two were unnerved by the feeling of relative safety. "I was like, wow, we're from a fucked-up place because it almost feels fucked up that we don't have to watch out for police and rival gang members."
That realization was cemented when Murs met a friend of his wife's, a veteran who had just gotten back from the Middle East. "He couldn't get a job," Murs says. "His wife was telling us that he sat around and drank and played Call of Duty all day. And I said that's what my homies do. This is a right-wing, conservative, upper-class man who served in the Army, and my friends are Crips with felonies, but they were exhibiting some of the same extreme symptoms."
Inspired by these revelations, Murs recorded a song called "PTSD" to let people know, "especially in the urban communities, that it's OK to maybe start seeking help."
Lost more homies than a Iraq vet
Niggas skipping on groceries to buy that Tec
Lost a few friends to a rival set
And I'm still tryna process them side effects
Pharoahe Monch has also struggled with trauma. In the late '90s, the Queens-based rap veteran became suicidal due to severe side effects of a cocktail of asthma medications. "It really spiraled me to this heavy, heavy, heavy depression," he says. Monch lost the ability to deal with simple day-to-day things. "It was mind-boggling, the amount of heaviness and how slow time moved," he says today.
The experience informed his latest record, PTSD, which leads off with the slow-tempo "Time²."
Panic: I'm a manic-depressive mechanic that manages to frantically do damage
To his brain with Xanax, and it's like the word "anxiety" is branded panoramic
To the back of my eyelids in a variety of fonts
Ariel, Bold, Gothic
Lost it in Times Square and going home is not an option
"When you're severely depressed, there is no thinking about tomorrow, or the good thing that's coming up next," Monch explains. "I wanted to make the beginning of the album sound the way it did: to give people a feeling of what PTSD is really like."
Digging into his past was hard, but Monch found that the results were cathartic for his fans. "This artist just wrote me on Instagram, and he was suicidal and depressed," he says. "He was like, 'Pharoahe, you have no idea. This album has got me through so many mornings, so many nights and taught me to strive to be a better artist, a better person.'"
The rapper MF Grimm has also rhymed about traumatic events (he has had no shortage of them in his life). In 1994, he was on his way to sign a record contract when a gunman opened fire on him and his brother. The shooting left his brother dead, and Grimm paralyzed. Shortly after the incident, he rhymed about it on "Scars and Memories."
I got love for you God, but could you explain to me
Why you took my legs and Jay and dished out so much pain to me?
The track takes the form of a post-gunshot conversation between Grimm and Jay, and, as with Monch, it wasn't the act of writing about his experiences that ended up doing the most good for Grimm. It was the reaction from listeners. "I radiated it out, but it yielded like a hundred times more than what I had to put into it," he says. Grimm learned a critical lesson: "Once you express yourself in an artistic form, it's no longer a part of you -- it's its own thing. It helps others, no matter what."
Dr. Martha Bragin, an associate professor and chair at CUNY Graduate Center's Silberman School of Social Work at Hunter College, has spent her career studying the effect of trauma on people around the world, from Afghanistan, to Sudan, to New York City. She has also seen first-hand how hip-hop can be helpful to people in difficult situations during her time working with teenagers in the Brooklyn branch of NYC's family court, because it engages the mind and body, and encourages would-be rappers to tell their stories to others.
"We know that neurobiology is interpersonal -- that our experiences with other people is what helps our brains to create neural pathways and make sense of things," she says. "What we really have to do with this fragmented memory is to create coherent narrative. Well, you can't create a coherent narrative without another person to bounce your story off of."
That sort of exchange is at the center of an Oakland-based organization called Beats Rhymes and Life, Inc., which uses "rap therapy" to help young people cope with violence in their communities. It started at Berkeley High School. Tomas Alvarez was working there as he pursued his master's in social work, and he noticed that students who were completely unresponsive to him would leave their sessions and gather up into a cypher at lunch and start freestyling. They would light up and everything would come pouring out. It was like they had undergone a transformation.
Alvarez and his friend Rob Jackson, a teaching artist and fellow hip-hop fan, decided to try to build on this discovery. They created a program designed to help kids write lyrics about their experiences, perform their songs, and record CDs. The program blew up, and it has been growing ever since. Alvarez and Jackson currently run 16-week programs where kids have discussions, write and critique each other's lyrics, and perform and record original songs. Jackson is full of stories of kids who showed up to programs barely speaking to anyone, but by the end were rapping on stage. Some participants went on to lead workshops themselves, and now speak and perform all over at conferences, trainings, and workshops.
"From its very inception, hip-hop has represented the voice of the oppressed," Jackson says. "It derived from conditions of extreme poverty, desolation, and hopelessness. From that came a sense of fortitude, resilience, and a creative force that has driven the culture and created a global phenomenon. So it's natural that the youth that we work with tap into the essence of what hip-hop is as a means of addressing their pain and telling their stories. The ability to process their emotions through their lyrics is powerful."
These days, Anthony Bunch is fully invested in rapping. He's working on a solo album under the name "Ashes" that he hopes to have out this spring. He's collaborating with Atlanta producer LT Moe, who has helmed tracks for artists like Ludacris and Tony Yayo, and Fade Majah, who has collaborated with Rihanna. He's also forming a label that will not only release music, but also do community outreach to veterans who are homeless.
"I know it's not just me," he says. "There are a lot of other veterans who are experiencing the same thing, but maybe don't want to talk about it." And a lot of people who weren't veterans, but who are going through the same trials. "If I could be a spokesperson for that cause, then that'd be a blessing," he says. "All the stuff that I went through -- music is my light."
Sign up here for our daily Thrillist email, and get your fix of the best in food/drink/fun.
Shawn Setaro, the former editor-in-chief of Rap Genius, is the host of The Cipher, the world's greatest hip-hop podcast. He has also written for The Atlantic, The Source, Vibe, Esquire, GQ, and others. Follow him: @SameOldShawn.