The Best Movies From the 2017 Cannes Film Festival
The Meyerowitz Stories

| Netflix
The Meyerowitz Stories

| Netflix
Each May, a port city dating back to the second century BC is overrun by an invading horde. No swords, though. Just selfie sticks. The incursion is the glamorous Cannes Film Festival, the premiere, highfalutin congress of snooty-pants film buffs and artistes. Just how snobbish are these filmgoers, you ask? Well, this year there is a special screening of Michael Bay's Bad Boys on the beach. That's right, they are so freaking hardcore that their love for prestige directors goes all the way around award-winning cinema back into schlock.
I have attended Cannes three times before this, and I'll keep coming back as long as they'll have me. The programming here is better than at any other festival, but it is also enormous. Between the official competition and its numerous sidebars, nearly 90 movies debut here each year. That's my way of saying that one person can't see everything, but of the stuff I did see, these are (adjusts bowtie) the Best Movies of Cannes 2017.
20. You Were Never Really Here
Cast: Joaquin Phoenix, Alessandro Nivola, Ekaterina Samsonov, Alex Manette
Director: Lynne Ramsay (We Need To Talk About Kevin)
Why it's great: Okay, great may be pushing it, but this stylish drama (backed by Amazon Studios) is certainly fascinating. Joaquin Phoenix mumbles his way through a tortured performance as a contract killer with deep psychological trauma. On the surface, this is another "save the underage prostitute" story, but as with Robert De Niro in Taxi Driver there's a lot more going on. Lynne Ramsay, the Scottish director of We Need To Talk About Kevin, wants to get us inside the head of her antihero, even that person's head is about to implode. As such, character traits and even plot details only come to us in flashes, making this 85-minute movie more of a tormented, impressionistic painting than any sort of epic crime tale. One probably could rewatch this and look for clues, but I don't think that's the point. Disturbing and unsettling, this is not exactly light entertainment, but for terse (and not very verbose) plunges into violent, design-heavy films, I'll take this over Drive or Only God Forgives any day.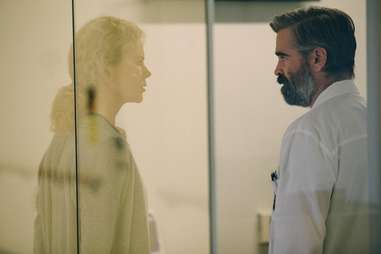 19. The Killing of a Sacred Deer
Cast: Nicole Kidman, Colin Farrell, Barry Keoghan
Director: Yorgos Lanthimos (The Lobster)
Why it's great: Few directors have nailed dark surrealism like Yorgos Lanthimos. The Killing of a Sacred Deer is another nightmare-within-a-nightmare, as a squeaky clean, wealthy Cincinnati family is faced with absurdity and horror. Hyper-stylized (and riddled with eerie sound design) things begin as "normal" as possible for Colin Farrell's successful cardiologist, his ophthalmologist wife (Kidman) and their two children. They don't speak to one another like real people ("I got my first period today," says the 13-year-old daughter with the flatness of a 1950s newsreader) but things get stranger when a young boy that Farrell hangs around with (Keoghan) explains that a blood sacrifice is needed. If Farrell doesn't kill a member of his family, all will die. Why this is (and Farrell's relationship to this kid) will eventually be explained... to a degree. More of interest to Lanthimos is reveling in creeping dread. To be honest, I didn't much like this movie when I first saw it, but over time it has grown on me. It's possible I was just reacting to its disturbing tone, and if that was the case, we can consider it quite a success.
18. Promised Land
Cast: Ethan Hawke, Ashton Kutcher, Chuck D., Emmylou Harris
Director: Eugene Jarecki (Why We Fight)
Why it's great: Do you want to see a documentary about Elvis' car? No, of course not. Do you want to meditate on what has happened to the American Dream (if it ever existed) using the symbolism of The King as its lens? Well, you may not realize it, but you do. This enormous film-essay about The Way We Live Now makes a surprisingly cogent case for explaining how people frequently vote against their interest and intentionally accept falsehoods. America has done nothing better than sell its own image, but maybe now, after the 2016 election, the con has caught up with us? Sit with this two-hour movie and you may understand how our nation went from the pelvis-shaking rebel to the bloated jumpsuit pill-popper, ready to keel over on the toilet.
17. Wonderstruck
Cast: Julianne Moore, Oakes Fegley, Millicent Simmonds, Tom Noonan
Director: Todd Haynes (Far From Heaven)
Why it's great: After topping every critics list with his sophisticated 2015 film, Carol, director Todd Haynes has returned with a YA adaptation that's more Hugo than Harry Potter. Wonderstruck cuts between the lives of two deaf children, one set in 1927 (that's shot in black and white) and the other is in 1977. In the past is Rose, whose mother is a silent film star (aha!) and whose life is presented to us in the form of a silent movie. (Composer Carter Burwell could be called her main scene partner.) In the more recent, colorful past, young Ben, who lost his hearing while making a phone call in an electrical storm, leaves his home in Minnesota home to search of his father in New York. The trail brings him to the American Museum of Natural History, a place that Rose also explored. Wonderstruck features the most energetic editing since Cloud Atlas as these two mirror stories finally smash into one another. Haynes' craft is abundant in every frame, and there is a lot of emotion in this movie, even if the story crumbles apart the moment the auditorium lights come on. Best to take it as a fable, and a masterclass in style.
16. After the War (Dopo La Guerra)
Cast: Giuseppe Battiston, Barbora Bobulova, Charlotte Cetaire
Director: Annarita Zambrano
Why it's great: This is a rich, meaty look at the intersection of radical politics and their personal consequences, with a wide cast of characters and a truly gripping finale. Quite frankly I am shocked to see it isn't based on an 800-page book. (Moreover, it is Zambrano's first film, and quite an accomplishment.) Set in 2002, during Italy's Years of Lead, a time when France would no longer harbor the many Italian armed dissidents that took refuge there in the 1980s, a judge is assassinated, the culprits claim to part of a dormant group, and seemingly decent intellectual Marco (Battiston) must once again escape to distant shores. But this time he's got a 16-year-old daughter (Cetaire) with him. Growing up in France is tough enough, but now she's gotta sneak away to Nicaragua while recognizing her Dad may have killed someone. Using a clear, documentary-style look, this is the type of film that continues to reveal more about the backstory with each scene -- imagine Heat without machine guns. In a great twist, Zambrano doesn't just stick with the father-daughter story. She cuts between France and Italy, where Marco's mother, sister, and brother-in-law are dealing with his name in the news again. By the end, you side with everyone, and recognize this can only end in doom.
15. I Am Not a Witch
Cast: Maggie Mulubwa, Henry B.J. Phiri
Director: Rungano Nyoni
Why it's great: Zambia-born Welsh director Nyoni's first feature is a little hard to get a read on at first. Is this punching-down at an indigenous population that believes in things like witchcraft? Is it punching-up, and satirizing political corruption? Or is it just a portrait of a young, poor girl caught in the undertow of stronger social forces? It's a little of everything, and it's also a gorgeous, eye-opening look at customs from far-flung parts of the world. Young Shula (Mulubwa) is accused of being a witch when a woman trips in her presence. But before she is sent to the local Witch Camp, where mostly older women smile for tourists and wear long ribbons to keep them from flying away, an older official realizes he can maybe make good use of a little girl witch. (They go on a talk show, for starters.) Despite the title, Shula doesn't make a fuss about the accusation, and does what she's told. A strange and somewhat sad film to say the least, I Am Not a Witch is exactly the type of thing one comes to film festivals to discover.
14. The Square
Cast: Claes Bang, Elisabeth Moss, Terry Notary
Director: Ruben Östlund (Force Majeure)
Why it's great:The Square is an absurdist, scattered, and messy look at the way we rationalize our existence in modern culture. Why do we ignore one panhandler but stop to help another? When does a man pretending to be a gorilla cease to be performance art and become an assault? When is defending "free speech" just protecting the rights of dumbass marketers to make money? There is a lot of philosophy in this movie set in and around a modern art museum, but if you look at the piece from a certain angle, it's really just a collection of gorgeously shot sketches. Some work better than others (Elisabeth Moss' character just kinda disappears when it's getting good) but for the droll, hyper-educated set, The Square's sharp approach fits quite nicely.
13. Le Redoutable
Cast: Louis Garrel, Stacy Martin
Director: Michel Hazanavicius (The Artist)
Why it's great: What Hazanavicius did for silent movies with the Oscar-winning The Artist he's done for France's New Wave movement in Le Redoubtable. Some film historians are already crying foul that this look at legendary sourpuss prankster director Jean-Luc Godard is an unfair portrait. They may have a point. But if you take it "as a movie, not a history" it is an extremely amusing and watchable look at a filmmaker figuring out how to adapt his work to his political aspirations. (Le Redoubtable argues that not only did he fail, he became an asshole in the process.) Reminiscent of some of Woody Allen's greatest hits (to the point of lifting jokes outright) this works mostly because of the performances and the fealty to the design and editing styles of Godard's 1960s films. True, one could just watch early Godard films for that, but waving this away as mere parody is, I feel, selling it a bit short.
12. Let the Sunshine In
Cast: Juliette Binoche, Xavier Beauvois, Gerard Depardieu
Director: Claire Denis (Beau Travail)
Why it's great: This is how one of cinema's finest auteurs does a rom-com. Juliette Binoche stars as a 50-something painter of modest renown who takes a Spider-Man approach to relationships; she grabs onto the next one just as she's letting go of the old one. Each of her suitors are horribly wrong for her, or at least she makes sure she's convinced herself of that. There is little in the way of traditional plot here, just a parade of tiny moments. But each scene is an excellent display of tremendous acting and listening, and when you get on the right wavelength the world-weary tone is "droll AF." (Not sure about the French translation of that.) One to watch with a glass of wine and an ample supply of sighs.
11. Happy End
Cast: Isabelle Huppert, Mathieu Kassovitz, Toby Jones
Director: Michael Haneke (Funny Games)
Why it's great: Haneke's clear and detached look at a family poisoned by wealth and viciousness is not too dissimilar from a typical horror film, but totally original in tone. The closest thing to a main character is 12 year-old Ève (Fantine Harduin), a daughter from Thomas' (Kassovitz) previous marriage, who moves to the family compound in Calais when her mother goes into a coma. Slowly, we'll learn about the depravities of the grand, multigenerational cast of characters. Sometimes it's a subtle and missable stray line, other times it's an extended look at some quite enthusiastic sexting. One can also argue that this is a sidequel to Cannes Palme D'Or and Academy Award-winner Amour, suggesting the start of a Haneke Cinematic Universe.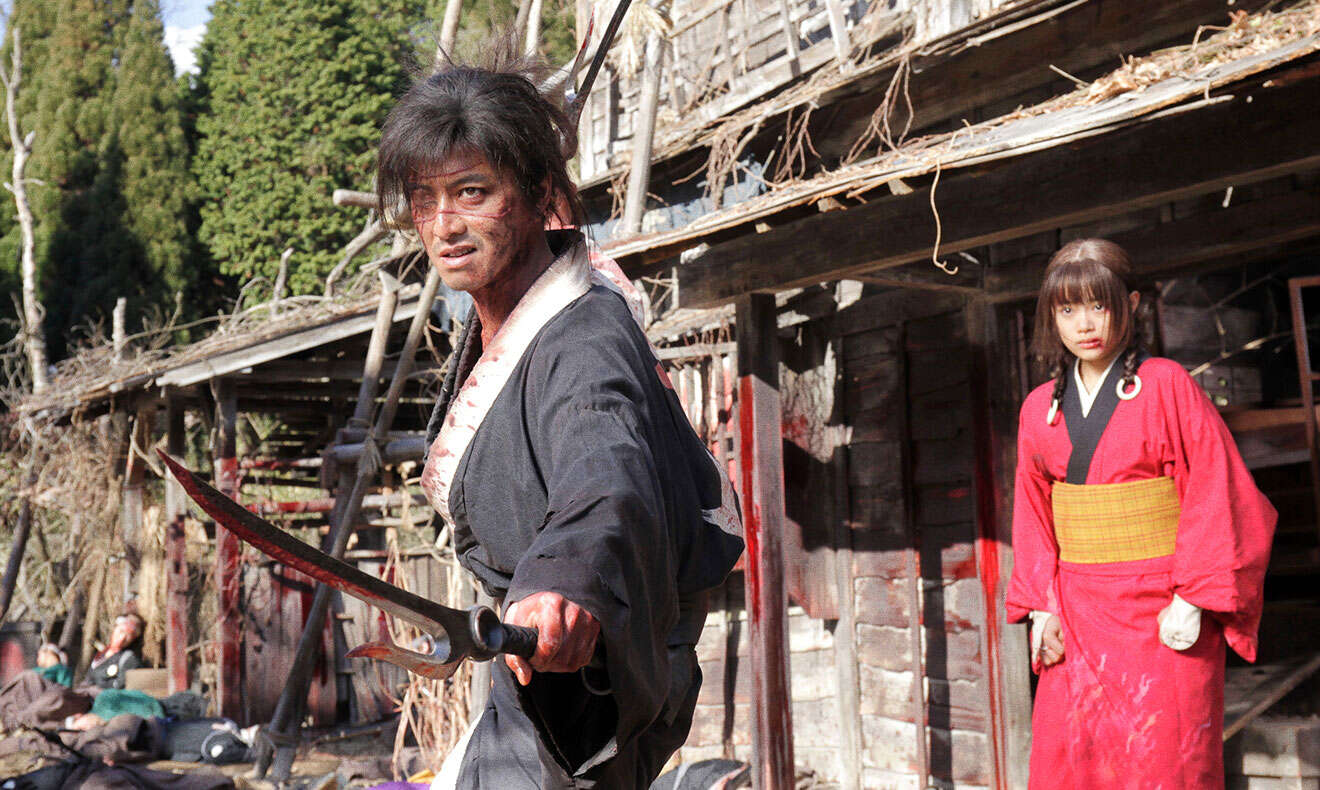 10. Blade of the Immortal
Cast: Takuya Kimura, Hana Sugisaki, Sota Fukushi
Director: Takashi Miike (13 Assassins)
Why it's great: If you are going to stage a samurai bloodbath, stage it right. This is Takashi Miike's 100th film and very much the work of someone doing exactly what he wants. Set back in the Shogunate days, a badass swordsman is given the gift (curse?) of everlasting life by a spooky old woman in flowing robes. Sacred bloodworms give him Wolverine's healing factor, but it's far grosser and more painful than anything Hugh Jackman had to put up with. Much like Logan, our Manji finds himself traveling with a young girl (though she is played by a 19-year-old woman, so this is just a minefield of creepiness) and their story is driven by vengeance. The plot is fairly straightforward: Many villains with different powers, weapons, and costumes must be destroyed, in often comical ways. This is one to watch at midnight at a theater that encourages cheering.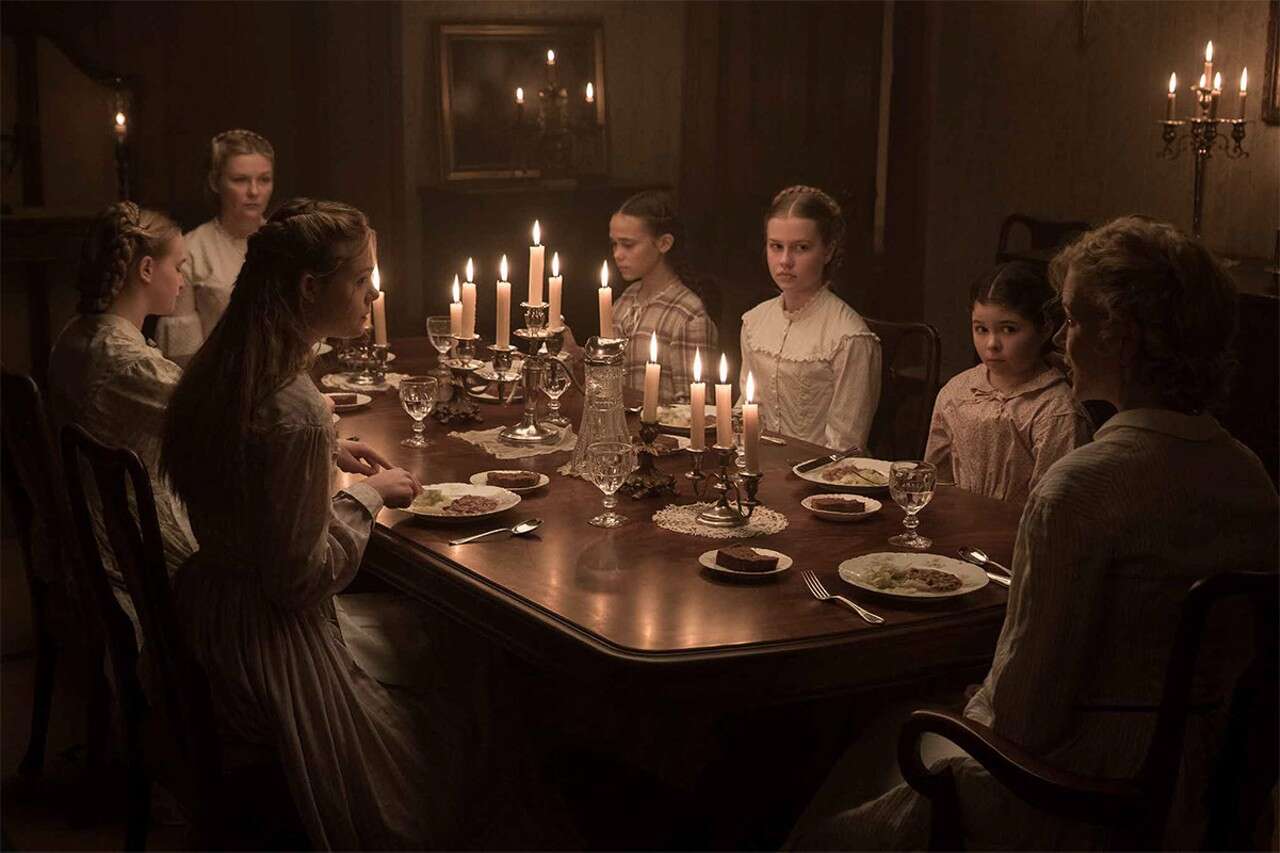 9. The Beguiled
Cast: Colin Farrell, Nicole Kidman, Kirsten Dunst, Elle Fanning
Director: Sofia Coppola (Lost in Translation)
Why it's great: Call this Sexual Politics: The Movie. Set in Virginia during the thick of the American Civil War, a young girl out collecting mushrooms discovers a wounded Yankee soldier (Farrell). She helps him back to the mostly abandoned girls' school where she lives, where more trouble awaits in the form of the headmistress (Kidman), the teacher (Dunst) and one older girl (Fanning), all in billowy period dresses. The school's whole ecosystem is turned on its head with the introduction of a man -- and a handsome man at that! The longer he sticks around, the more the postured veneer cracks to let in genre tropes and even a little camp. "Do you like apple pie?" Elle Fanning asks, a dam of repressed lust about to burst. Nicole Kidman later shouts "Edwina, get the anatomy book!" and it's a GIF you'll be seeing for years. (I've no doubt Coppola had Faye Dunaway's "Tina, bring me the axe!" from Mommie Dearest in mind.) Still, The Beguiled is a compact and subtle film. Those expecting fireworks (or any anachronistic needle-drops as in Coppola's Marie Antoinette) should keep their expectations in check. As fine as the performances are, the gorgeous sunlit interiors and hanging Spanish moss feel almost as important to the story.
8. Jeune Femme (Montparnasse Bienvenue)
Cast: Laetitia Dosch, Souleymane Seye Ndiaye, Lilas-Rose Gilberti-Poisot
Director: Léonor Serraille
Why it's great: There have been a hundred movies about destitute people wandering around cities trying to get their act together. Jeune Femme does not reinvent the genre, but it is remarkable in its ability to avoid cliché. Paula (Dosch) is a lovable, somewhat self-destructive woman on the outs with her boyfriend. She doesn't have a dime, but she does have his cat (who delivers one of the finest feline performances in the history of cinema), so the pair roam Paris ready to figure out their next move. When someone mistakes her for an old elementary school friend she ends up working as a nanny. She also gets a gig selling underwear. She befriends an immigrant security guard, and eventually bonds with the girl she's looking after. Maybe she's found something of a groove? Not quite. The movie is fascinating in that it remains light while still tackling serious issues. Imagine if Frances Ha were somehow dropped into the middle of a heavy, social drama. Serraille is more interested in letting her actors dig into a scene than driving the plot, and for a first film she is quite assured. Google Translate tells me "one to watch" is "un à regarder" in French and we should be doing just that.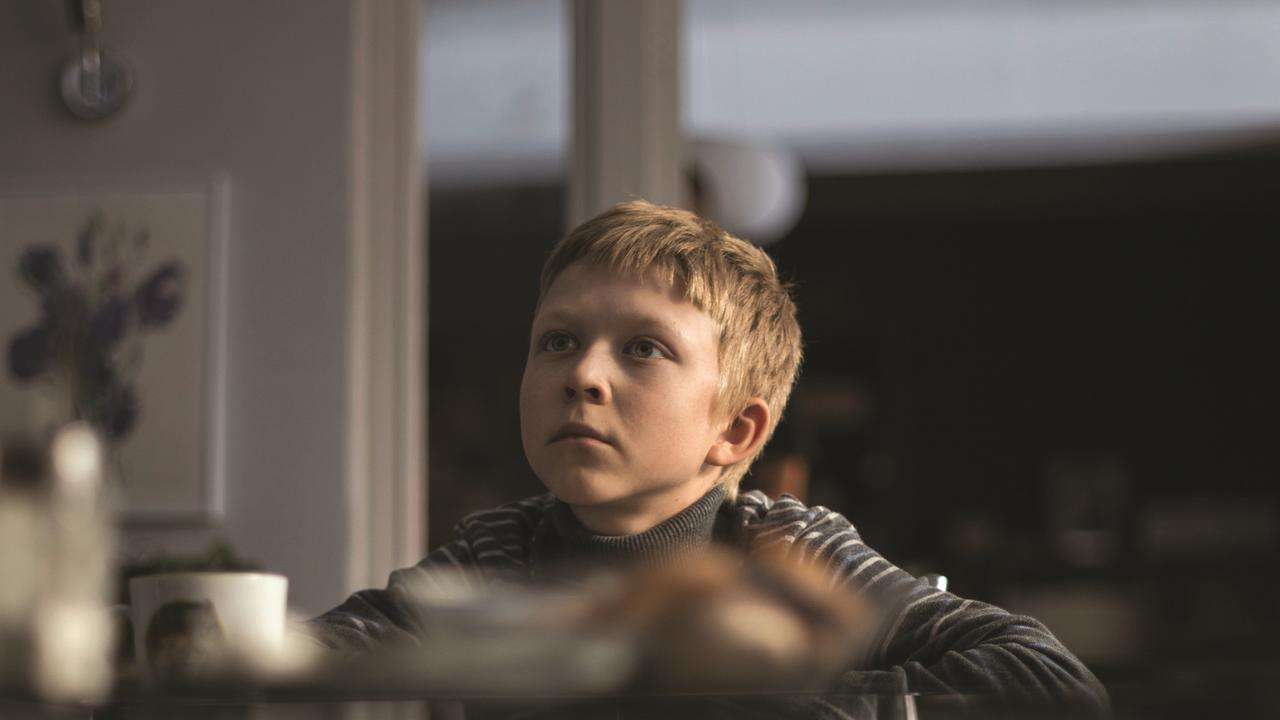 7. Loveless
Cast: Maryana Spivak, Alexey Rozin, Matvey Novikov
Director: Andrey Zvyagintsev (Leviathan)
Why it's great: Russia's premiere current filmmaker probably isn't much beloved by the Tourism Bureau. Each of his films (Leviathan, Elena, The Return) portray the country as a cold, brutal, and distant land mired in bureaucracy and foundering under the weight of new wealth. Loveless is the worst one yet in this regard, but the movie is absolutely spectacular. After nearly an hour of plotlessness setting up the main characters -- a miserable married couple planning a divorce, each with new partners that similarly lack spark -- something finally happens. Or, doesn't happen. Their son, to which neither of them is too nice, is gone. Did he run away? Was he kidnapped? Either way, the authorities do little to help. This is not exactly a fun time at the movies, but Zvyagintsev's precise and detailed filmmaking style is spectacular. What for other movies requires a block of dialogue Loveless can sum up in a glance. Also: between this and Raw, we only need one more arthouse movie to make the "Brazilian wax scene" a trend.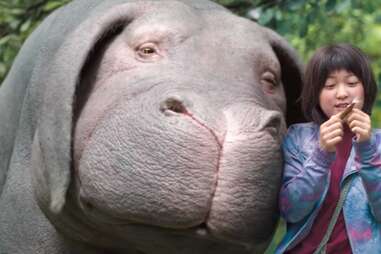 6. Okja
Cast: Tilda Swinton, An Seo Hyun, Paul Dano
Director: Bong Joon-ho (Snowpiercer)
Why it's great: Okja is a genetically mutated (and really smart!) giant pig who splashes and rolls and farts her way right to your heart. She's one of the greatest CG characters ever created, and those evil bastards at Tilda Swinton's gross American corporation want to take her away from her rightful owner, an 11-year-old girl in the mountains of South Korea. What follows is an outstanding adventure with at least one sequence that'll make Steven Spielberg jealous, but also high emotional stakes that may send some younger viewers into an existential panic. Luckily, this is a Netflix release, so you can always hit pause.
5. A Gentle Creature
Cast: Vasilina Makovtseva, Valeriu Andriuta, Sergei Kolesov
Director: Sergei Loznitsa (Maidan)
Why it's great: Anyone who gets twitchy on hold with customer service can never watch A Gentle Creature. This portrait of Russia's brutal bureaucracy (and overall toxic society) starts off grim and only descends further into hell with each uncomfortably lengthy scene. Our lead character (I don't think we ever learn her name) tries to send a package to her husband in prison, and has it returned. Actually, the package isn't returned – she just gets a notice from the post office, which takes 20 agonizing minutes. She decides to deliver it in person and is met with one dehumanizing roadblock after another. The prison town (and then the whole film) slides into a metaphor about all of man's inhumanity to man. This is not, I repeat not a comedy! But there are moments so grim you just have to laugh (until it gets so repulsive you may have to leave the theater, as some did). Loznitsa, a former mathematician and AI expert, loves long takes and perfectly crafted frames -- and he also likes actors who go all-in on their depravity. I can't say I enjoyed this lengthy movie, but I am in awe of it.
4. Faces, Places (Visages, Villages)
Cast: Agnès Varda and JR
Directors: Agnès Varda (Vagabond) and JR
Why it's great: This documentary by and about 88-year-old film director Agnès Varda and 33-year-old installation artist JR is a cross-generational celebration of imagination, exuberance, and the joy of bringing something unexpected to strangers. While it resists anything resembling a plot (it's basically two people in a van that looks like a camera roaming around France pasting enormous pictures on walls), it proves that you don't have to be a tortured jerk to make marvelous art. Anyone with a creative streak will likely feel rejuvenated after seeing this movie.
3. The Meyerowitz Stories (New and Selected)
Cast: Dustin Hoffman, Adam Sandler, Ben Stiller, Emma Thompson
Director: Noah Baumbach (The Squid and the Whale)
Why it's great: Failure and dysfunction were never so much fun! Noah Baumbach's epic-yet-intimate portrayal of a great, under-appreciated artist and the trail of emotional destruction left in his wake is, surprisingly, a very funny, fast-paced film. It's debuting on Netflix, so we'll never have this conversation had the movie gone the traditional route: an Oscar nomination for Adam Sandler? Believe it or not he is brilliant as the limping, jobless, lovable older half-brother to Ben Stiller's successful financial planner. Everyone in this movie (which includes a slew of great smaller roles, including Elizabeth Marvel as a scene-stealing neglected sister) gets our sympathy, but that doesn't mean they aren't without faults. This is a great entry into the canon of big movies about the family, but its style (including some of the best jokes-by-omission editing gags) elevate this far beyond sitcom fare.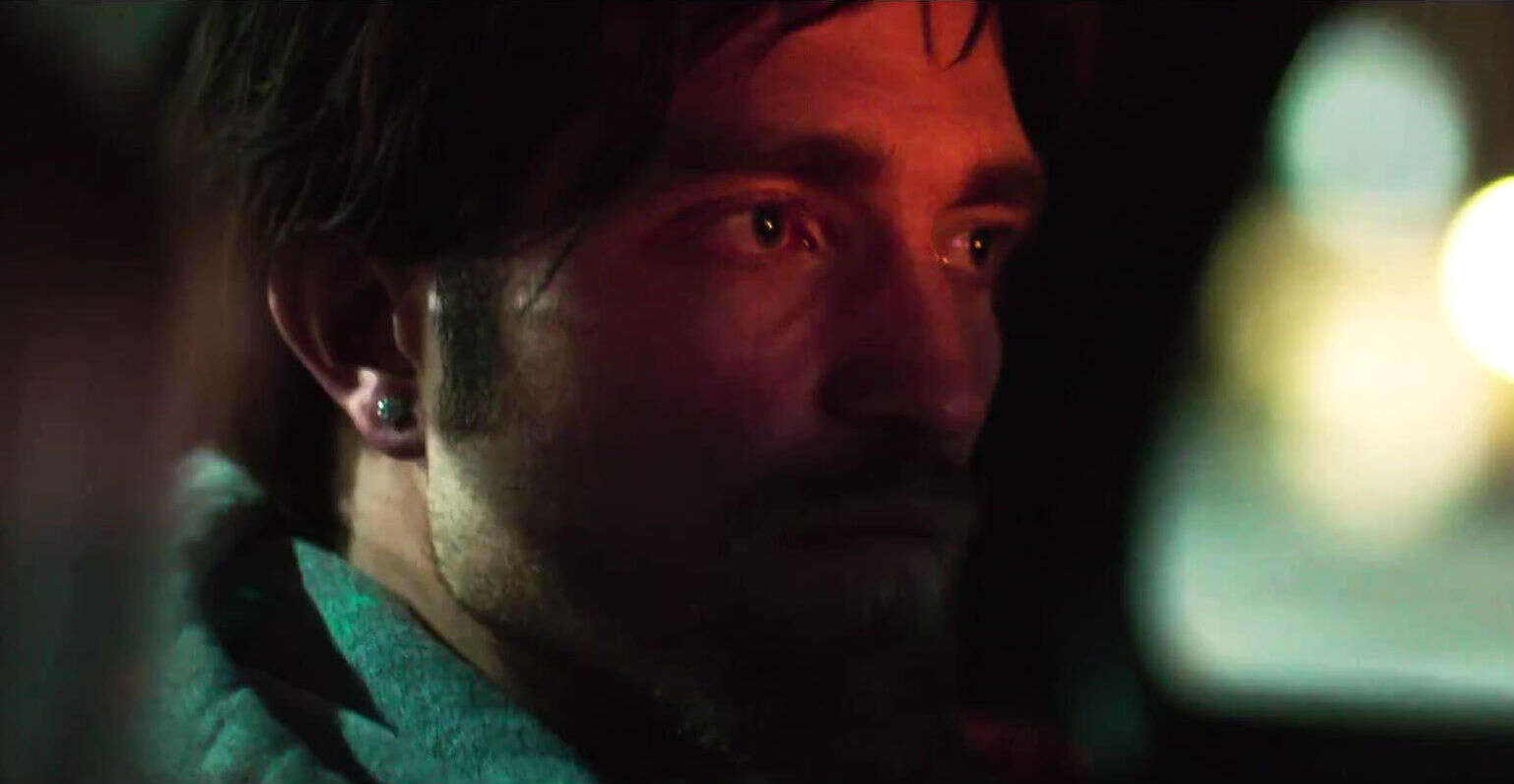 2. Good Time
Cast: Robert Pattinson, Jennfer Jason Leigh, Brakhad Abdi
Director: Josh and Benny Safdie (Heaven Knows What)
Why it's great: Connie (Robert Pattinson) and his mentally challenged brother Nick (Benny Safdie) knock over a Queens, NY bank in a, shall we say, less-than-professional manner. After a shot-out-of-a-cannon prologue, the Safdie Brothers maintain unbelievable intensity during one night's descent into hell as Connie tries to break Nick out of a hospital. Each victory is met with a new obstacle, and shot in a propulsive, energetic way thanks to a grainy, color-saturated look, an electronica score by Oneohtrix Point Never and a swing-for-the-fences performance by Pattinson. Connie is not exactly a good person, but you do feel sympathy for him as the hand of doom grips tighter around his throat. It's Pattinson's best role by far (he makes a good scumbag!) and ought to surprise many who might have written him off. This is one of the most original New York City lowlife independent films in years.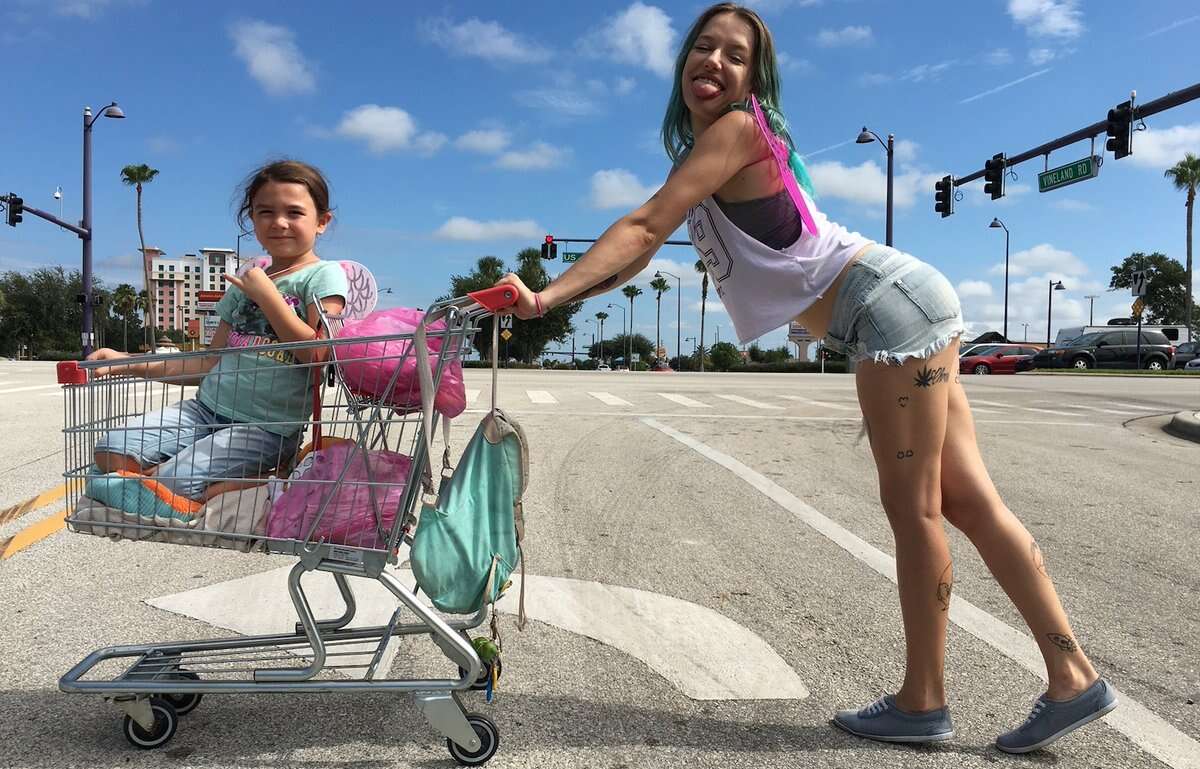 1. The Florida Project
Cast: Willem Dafoe, Brooklynn Prince, Bria Vinaite
Director: Sean Baker (Tangerine)
Why it's great: With all the splash and exuberance of his last film Tangerine, The Florida Project focuses on a precocious six year-old girl living with her mother in an Orlando motel. Young Brooklynn Prince gives one of the best kid performances ever as Moonee, a wild loud-mouth whose love for noise and chaos keeps her from recognizing the dire conditions in which she is growing up. The film begins with the pace and attitude of a Looney Tunes short, but over time this fades, and the dark storm of tragedy presents itself. Willem Dafoe is at the top of his game as the strong and wise motel manager, and Bria Vinaite, discovered off of Instagram, makes an extraordinary debut as Moonee's mom. There isn't much of a plot, just a long, thorough look at the plight of America's working poor. With its great humor and sympathy (and gorgeous 35mm film imagery) this is one of the most effective social dramas to come around in years.
Sign up here for our daily Thrillist email, and get your fix of the best in food/drink/fun.
Jordan Hoffman is a film critic and writer whose work appears in The Guardian, Vanity Fair, and Mashable. Follow him on Twitter @jhoffman.