The 30 Best Movies We Saw at the 2018 Cannes Film Festival
Under the Silver Lake

| A24
Under the Silver Lake

| A24
Can't make it to the French Riviera? Be sure to check out our running list of the best movies of 2018 so far.
The most famous film festival in the world is also the most ridiculous. Only at Cannes will road traffic come to a stand-still as women in evening gowns walk alongside film critics in cargo shorts (like yours truly) as they climb a red-carpeted staircase in the blazing sun, only to nod off during an impenetrable post-Maoist diatribe by an 87-year-old Jean-Luc Godard.
Along with the usual prestige, this year's festival is notable for including two competition films with directors under house arrest (Leto's Kirill Serebrennikov and Three Faces' Jafar Panahi). Panahi is a political prisoner in Iran whose films are technically against the law. Serebrennikov might be a political prisoner, too, or maybe charges of embezzlement are true. When it comes to Russia, any outsider's guess is as good as another's.
Between the official competition and all the sidebars, there are upwards of 90 feature films screening at Cannes, and while I do my best to see all the important ones, some always fall through the cracks. Here's the lowdown on everything I saw, in the order of their greatness.
30. The House That Jack Built
Cast: Matt Dillon, Uma Thurman, Riley Keough
Director: Lars Von Trier (Breaking the Waves)
Why it's worth seeing: I am, unfortunately, making Lars Von Trier very happy by ranking this obnoxious serial killer film last. To that end, I've fed the trolls. But while some of the cinematography in this ode to the "art" of mass murder is beautiful (and the philosophical jibber-jabber between Matt Dillon's butcher/creator and Bruno Ganz as Virgil can be cheekily entertaining), this is a boring, gross, pseudo-intellectual flash grenade of pure wankery. And it won't mean much to people who aren't familiar with Von Trier's earlier resume. With each gruesome kill you can picture the director rubbing his hands, asking, "Have I shocked you? Please criticize me!" In that sense, he succeeded: The film inspired numerous walkouts during its premiere, which you can read more about here.
29. Girls of the Sun
Cast: Golshifteh Farahani, Emmanuelle Bercot
Director: Eva Husson (Bang Gang (A Modern Love Story))
Why it's worth seeing: Wow, do I feel guilty placing this movie so low. But don't misinterpret my shrugs for a lack of rage about the Kurdish women who are kidnapped and held as sex prisoners by ISIS. This film follows a French journalist who embeds herself with a battalion of freed women who take up arms to fight their former oppressors. And when you have a villain as plainly evil as the ones in this story, it affords your film the leeway to be earnest to the point of feeling cringeworthy. One could, I suppose, call the film's style a "classical" approach, but when a movie in 2018 has all the subtlety of a 1940s propaganda war flick, it just doesn't connect.
28. Rafiki
Cast: Samantha Muatsia, Sheila Munyiva
Director: Wanuri Kahiu (From a Whisper)
Why it's worth seeing: One of a handful of very news-y entries at this year's Cannes, Rafiki (which means "friend" in Swahili) played to big audiences in France but has been banned in its native Kenya for its LBGT theme. The story is simple: Two young women, who happen to be daughters of opposing political figures, exchange glances and quickly fall in love. Living in "the slopes," a low-income area in the shadow of Nairobi, being gay encourages more than just scorn -- it can get you killed. (The implication is that while it isn't exactly legal to beat the snot out of someone of the same gender, the police aren't going to go out of their way to stop it.) The setting and design (especially the costumes) are top notch in Rafiki, but the performances and plotting feel more like a student film mimicking grand dramas than a grassroots indie.
27. The Man Who Killed Don Quixote
Cast: Adam Driver, Jonathan Pryce, Olga Kurylenko
Director: Terry Gilliam (The Fisher King)
Why it's worth seeing: Terry Gilliam, the brilliant, lynchpin animator from Monty Python and genius behind such masterpieces as Time Bandits, Brazil, and 12 Monkeys has been trying to make this movie for 25 years. (Check out the documentary Lost in La Mancha from 2003 to see his earlier, doomed attempt.) Even getting it to Cannes for the closing night was a struggle. There was a legal injunction, and Gilliam suffered a minor stroke. So imagine my disappointment about 30 minutes in when I realized, Oh no, this actually isn't any good. It's a loud, repetitive, and not-very-insightful story about art vs. commerce, and if it were anyone other than Adam Driver playing the unlikable commercial director stuck in Spain making a silly ad that rips off the Don Quixote legend, it would be insufferable. Driver goes down a rabbit hole of his own memory, finds the old man who played Quixote in his student film, and then they run around for a while being noisy. This so clearly means something important to Gilliam, but most people will be put off by its length, repetitiveness, and garishness. Big salute to Mr. Gilliam for conquering the burden of his dreams, but The Man Who Killed Don Quixote mostly inspires a nap.
26. Everybody Knows
Cast: Javier Bardem, Penelope Cruz
Director: Asghar Farhadi
Why it's worth seeing: The Persian director who won the foreign language Oscar for both A Separation and The Salesman returns to Cannes with Everybody Knows, which is basically the classiest episode of The Young and the Restless you ever saw. While its Spanish wine country setting affords it some visual splendor, this extended family-in-crisis melodrama leans too heavily on a series of sneaky twists. By the time you learn who's behind the botched kidnapping/ransom scheme, the audience reaction is the same in English as it is in Spanish or the director's native Farsi: Who cares? Still, Javier Bardem is mesmerizing as a local grape grower/town fixer who rushes to the aid of his lost love, played by Penelope Cruz.
25. The Image Book
Cast: The entirety of visual language
Director: Jean-Luc Godard (Breathless, The Little Soldier, etc)
Why it's worth seeing: Jean-Luc Godard is a living legend at 87 years old, and one of the most important French artists of the last century (even though he also holds Swiss citizenship, but let's not get into that right now). As such, the dude has earned the right to do whatever he wants, even if whatever he wants is to serve up a supercut of washed-out VHS found footage while croaking inscrutable blocks of critical theory on the soundtrack. Old Hollywood clips are cross cut with ISIS vids while symphonic chords interject at unpredictable intervals. Some critics have looked at the regent's latest duds and found some meaning, and that's totally fine, but from where I'm sitting this is more of an art installation than a movie. I had a whole conversation with someone about what the shifting aspect ratios meant, man, and while we had a hilarious time doing it, the chances of me sitting through this thing again are right around zero. Godard's films from the 1960s, however, remain great.
24. Climax
Cast: Sofia Boutella, Romain Guillermic
Director: Gaspar Noé (Enter the Void)
Why it's worth seeing: One of French cinema's great enfant terribles, Gaspar Noé has made one bona fide masterpiece (the Tibetan Book of the Dead riff Enter the Void) and one bona fide conversation piece (the grotesque rape-revenge tale told backward, Irreversible). His last release, Love, was a 3D romantic saga with unsimulated sex scenes that many dismissed (not I, it's a good movie). Climax can be considered a response to Love. It's nonstop action, entirely visceral and extremely electrifying. It is also rock solid stupid. The story, if you want to say there even is one, consists of a dance troupe who gets their punch spiked with LSD at a party. Then they all freak out and writhe around on the floor, yelling. The choreography is remarkable at first, but then it just becomes obnoxious as all hell. It's a movie for people who are too cool for movies, and while individual moments work, being a brat can only get you so far. You kind of have to see it, but you don't necessarily have to like it.
23. Samouni Road
Cast: The Samouni Family
Director: Stefano Savona (Tahrir: Liberation Square)
Why it's worth seeing:Samouni Road mixes lo-fi, fly-on-the-wall footage with elaborate animation to give a sense of a family before and after an indescribable tragedy. The setting is the Zeitoun neighborhood of Gaza City where, in 2009, the Israeli Defense Forces killed 48 people and left a path of destruction in their wake. You can go down the rabbit hole to find out exactly why what happened happened, but the film wisely leaves politics, military strategy, and larger nationalist causes out of it. The primary subject is a pre-teen girl, and all she knows is half her family was killed one day. After the horror of the incident, there's the added indignity of multiple political factions attempting to exploit the dead for their cause. As a film, the see-saw between the dreamy black-and-white animation (with voice actors) and the mundane reality of the rubble-strewn environment is striking and heartbreaking.
22. Leto (Summer)
Cast: Teo Yoo, Irina Starshenbaum, Roman Bilyk
Director: Kirill Serebrennikov (The Student)
Why it's worth seeing: Filmed in gorgeous, high-contrast black and white with immersive Steadicam shots, I can now safely say I understand the rock scene of 1980s Leningrad in a way I never did before. Leto puts an interesting spin on what seems, at first, to be a typical rebel's story. Our main character is likable and warm, but his willingness to do what the government tells him to do in order to keep performing is not exactly in the spirit of his Western heroes. (He is also, in the parlance of current Twitter-speak, literally a cuck.) His protégé, based on Viktor Tsoi, has clearly got the goods, but needs help in finding his footing. The movie is long and a bit formless (and gets weird with some music video sequences), but this is a picture that will appeal both to kids in bands and anyone interested in late-Soviet culture. If you fall into the overlapping section of the Venn diagram, look out!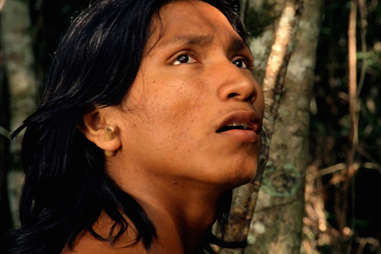 21. The Dead and the Others
Cast: Henrique Ihjac Kraho, Raene Koto Kraho
Directors: Joao Salaviza and Renee Nader Messora
Why it's worth seeing: While hardly action packed, directors Joao Salaviza and Renee Nader Messora offer up a good-old-fashioned ethnographic film, the likes of which don't tend to reach mainstream audiences. Set among Brazil's indigenous Kraho culture in the central Tocantins region, the first hour is a deliberately paced, observational movie about a clan and its customs. Ihjac (playing himself) is called by the spirit of his late father to end his period of mourning and have the ceremonial feast that will release his soul and memory from the village. But Ihjac isn't quite ready, and begins succumbing to malaise. The second half travels to "the city" (still a small backwater those accustomed to modern urban life) to see if he can get cured. The mix of traditionalism and modernity is the stuff of a million small movies, but it lives or dies on its specificity. Despite its extremely slow pace, The Dead and the Others is never not fascinating.
20. Yomeddine
Cast: Rady Gamal, Ahmed Abdelhafiz, Hardy the Donkey
Director: A.B. Shawkey
Why it's worth seeing: A first feature from Egyptian director Shawkey, this is something of a straight-down-the-middle vision of what people who don't watch foreign films think a foreign film is like. In the style of the mid-20th century neorealist movement, Yomeddine stars two non-actors: A 40-something leper and a little boy. They go on a Straight Story-like quest, encountering hardships and meeting kind souls along the way. It's heartbreaking, it's uplifting, it jerks some tears and maybe overdoes it a little with the triumphant music. Still, you haven't seen anything quite like these characters, as this is the type of movie that lives or dies by its specificity. (Now you know what Egyptian leper colonies are like!) Lead actor Rady Gamal has a natural buoyancy, and his good nature prevents the movie from getting maudlin. If marketed right this could be an import that makes an impact in in the U.S.
19. Capernaum
Cast: Zain Alafreea, Yordanos Shifera
Director: Nadine Labaki (Where Do We Go From Here?)
Why it's worth seeing: Capernaum is the name of the town on the Sea of Galilee that Jesus called home base during his early days. It's also a French expression that means "a total mess." You can use both interpretations in Lebanese filmmaker Nadine Labaki's gripping, humanist tale of poverty and suffering in urban sections of the developing world. A precocious, streetwise boy rebels against his family for selling his older sister (who is 11) into marriage. He runs away and ends up befriending an Ethiopian migrant. When she vanishes, he's left taking care of her baby. It's all very stressful, and the scenes of our young hero scraping by to find enough food are quite effective. The film is bookended with a not-very-believable legal scenario, but the bulk of the story and the detailed empathy Labaki has for her characters are extraordinary. You can expect to hear much more about this movie as we head toward Oscar season.
18. Gräns (Border)
Cast: Eva Melander, Eero Milinoff
Director: Ali Abbassi (Shelley)
Why it's worth seeing: I've been all around this great big world and I've seen all kinds of strange sex scenes in movies, but Gräns has one I'll never forget. I don't want to spoil too much, but our two lead characters are outcasts. Not meaning they "don't fit in," but that they're not-quite-human. They eat bugs, their sense of smell is so good they can detect a lie, and they have, um, unusual reproductive organs. Gräns is like a Guillermo Del Toro film that goes for dark drama instead of lovey-dovey wonderment. The stranger who sat to my right was repulsed during most of the running time. Shrug.
17. Diamantino
Cast: Carloto Cotta, Cleo Tavares, Anabela Moreira
Director: Gabriel Abrantes and Daniel Schmidt
Why it's worth seeing: A Portuguese soccer player/national hero misses the penalty kick at the World Cup, sending his life into a spiral of espionage, fascist propaganda, cloning, and the migration crisis. Not that he'd know any of that, as this chiseled piece of beefcake is far more interested in kittens and "trying to do good" than staying on top of what's happening around him. Diamantino is probably the weirdest movie at this year's Cannes, a mix of early John Waters and post-Brexit EU paranoia, and if this thing ever gets released, its scenes with giant fluffy puppies tending goal will delight the people that are able to get on its wavelength.
16. Solo: A Star Wars Story
Cast: Alden Ehrenreich, Emilia Clarke, Donald Glover, Chewbacca
Director: Ron Howard (Apollo 13)
Why it's worth seeing: Han Solo! Love that guy! Great to see him again, even if it's not really him, just a miniaturized version. In this film we'll see how he first got the Millennium Falcon, where he met Chewbacca, and what exactly he means by making the Kessel Run in under 14 parsecs when, for 40 years, every know-it-all has been whining that a parsec is a unit of distance, not time. Is this movie necessary? No. Are there any stakes? Also no. Is it enjoyable? Yes, it really zooms and the creature effects are better here than in almost any other Star Wars film. (That could just be because Han hangs out in so many cantinas.) Ignore it at your risk, because the implication is that sequels are a-comin'.
15. Sorry Angel
Cast: Vincent Lacoste, Pierre Deladonchamps, Denis Podalydès
Director: Christophe Honoré (Love Songs)
Why it's worth seeing: The year is 1993, and one young man is about to enter the world of adult relationships just as another is going to exit. Set to period music from artists like Ride, the Cocteau Twins and the Sundays, Sorry Angel features Pierre Deladonchamps as a French writer of some renown (but not a superstar) who meets a college kid while off in the north on one of those soul-searching trips writers seem obligated to take occasionally. The plot of this film is minimal; the at-its-own-pace story is all about the people in the orbit of this affair, and the result is a rare film with no villains, just sorrow. (It is 1993, so AIDS is very present throughout.) Unlike recent films BPM and Call Me By Your Name, both of which tell stories set against a European culture not yet comfortable discussing LBGT issues, this isn't a film with a propulsive sense of urgency. It's much more about the time spent soaking in a tub or taking a flirty phone call. But after two hours and 12 minutes, you may find yourself surprised just how deeply these characters have gotten under your skin.
14. Long Day's Journey Into Night
Cast: Tang Wei, Huang Jue, Sylvia Chang
Director: Bi Gan (Kaili Blues)
Why it's worth seeing: This is the big story from Cannes for tech enthusiasts. The first half of this elliptical lost-love story features numerous sweeping, dreamily lush settings (put characters in the "Hotel Jade" and we're halfway there, right?), but at the 70-minute mark something unprecedented happens. Our lead character, killing time at a movie theater, puts on his 3D glasses. We in the audience do the same. The opening title card finally appears and the remainder of the picture is one insanely choreographed long take, weaving in and out of tunnels, up staircases, through and around a city square (on karaoke night!), across obstacles on a drone and, eventually, back to a sense of closure. It's mind-blowing, as it isn't just blasted-out video -- it's an elegantly lit sequence. The emotional thrust of the film takes its lead from the shooting style, but it isn't just a gimmick. I will confess, though, that seeing this on day 9 of a festival on very little sleep compounded with the hazy, floating camera may cause you to question what's happening in the movie and what is a dream. Not necessarily a bad thing.
13. Dogman
Cast: Marcello Fonte, Edoardo Pesce
Director: Matteo Garrone (Gomorrah)
Why it's worth seeing: "It's an allegory!" I shouted as I exited the theater. Then I learned it was loosely based on an actual event. Marcello Fonte plays Marcello the dog groomer, a subservient, likable runt of a man trapped in the orbit of Eodardo Pesce's Simoncino, set in the scuzziest Italian seaside town ever filmed. (Oh, the tourist board will not like this one.) Forever eager to please, Marcello accepts Simoncino's physical and mental abuse, and when you think he's finally going to put his foot down, there's another round of indignity coming. (Simoncino wears a jacket that says "Uncle Sam," if you're looking for symbols.) The inevitable climax comes in a crash of conflicting emotions and intense violence. For a movie that has such brutality, there's also a parade of adorable pooches. This one made me reevaluate some of the relationships from my youth, and got under my skin in ways I can't quite explain.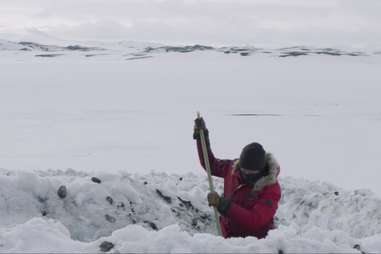 12. Arctic
Cast: Mads Mikkelsen, A Wounded Woman
Director: Joe Penna
Why it's worth seeing: Bring mittens! Many quickly dubbed this All Is Frost, and if you saw the Robert Redford film that inspired the pun, it really does work well. We meet Mads Mikkelsen, a delivery pilot beside a downed aircraft, a few days into survival mode somewhere on a giant ice cube. He eats raw fish and waits. When a helicopter does come, there's a small snag. It crashes. He decides to hoof it to another ridge, and this time drag the only survivor along with him. (There's a language barrier, but she's too weak to say much, so there isn't much to chat about.) It's two-steps-forward and one-step-back the whole way, and it involves a lot of grunting, straining, and cursing. Though this is a very what-you-see-is-what-you-get movie, things take a turn toward the end when our boy Mads realizes that his only chance for survival is to ditch the nearly dead woman he's carrying. It's heavy stuff (literally and figuratively), and a stressful, but very good, movie.
11. Three Faces
Cast: Behnaz Jafari, Jafar Panahi
Director: Jafar Panahi (The White Balloon)
Why it's worth watching: This is the fourth film Jafar Panahi has made since the Iranian government told him he can't make movies anymore. (His first was actually smuggled to Cannes on a thumb drive baked in a cake!) As such, he is limited in what he can do, and Three Faces is mostly shot in and around his car as he drives to a remote area near Turkey. Actress Behnaz Jafari and he play exaggerated versions of themselves as they respond to an email sent to Jafari by a troubled fan. It looks as if she's killed herself, and it's because none of her previous messages got a response. The visit to her village plays out like a mystery, but Panahi's hard, slow realism offers plenty of dead ends and dismaying obstacles. This is ultimately a film about self-actualization versus censorship, but its surface remains an unpredictable trip to an unusual setting. I found it riveting, especially because so many of the scenes appear, at first, to be about nothing at all.
10. Under the Silver Lake
Cast: Andrew Garfield, Riley Keough, Topher Grace
Director: David Robert Mitchell (It Follows)
Why it's worth seeing: Ten minutes into Under The Silver Lake, I knew I was seeing a cult classic that people (probably mostly dudes) would force friends to watch after it tanks at the box office, to everyone's great annoyance. It's too long, seems completely aimless, is funny one minute and paranoid the next, and probably isn't meant to be taken seriously. It's a stoned shuffle through hipster Los Angeles, where no one seems to have a job but everyone is "working" on something. Andrew Garfield, gravel-voiced and bed-headed, starts connecting the dots of a major post-capitalist conspiracy that involves cereal boxes, Nintendo games, dog killing (offscreen), and Vanna White. It's like an afterparty hookup of the classic Humphrey Bogart film In a Lonely Place and Southland Tales, but where both films forget to exchange numbers after. I can't wait to see this again, though I know trying to "figure it out" is well beside the point.
9. Shoplifters
Cast: Lily Franky, Sakura Ando
Director: Kore-eda Hirokazu (Like Father, Like Son)
Why it's worth seeing: Japanese director Kore-eda Hirokuza is back with another great humanist film. A multigenerational clan living on the fringes of society absorbs a young person into their home, an adorable little kid from an abusive family. It takes a good long while to realize just how everyone is related in this messy, caring home (spoiler: they aren't, at least not by blood), but despite the questionable ethics, it's clearly meant to evoke warm feelings. Nothing good can last, naturally, and when the young boy comes of age and realizes just how weird his living arrangement is, you get the sense that paradise will soon be lost. This movie is so fundamentally nice that even shopkeepers who have to shoo away kids with grabby hands will love it.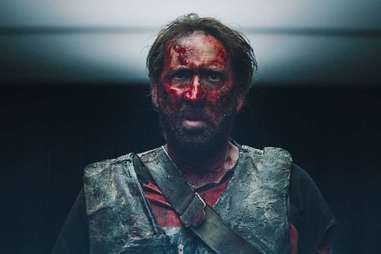 8. Mandy
Cast: Nicolas Cage, Andrea Riseborough
Director: Panos Cosmatos (Beyond the Black Rainbow)
Why it's worth seeing: Technically not a Cannes debut (it showed at Sundance), but this is where I saw it. More importantly, I'm not going to be the one to tell Nicolas Cage and his newly smelted demon-slaying blade that it isn't going to make this list. Director Panos Cosmatos released the psychedelic sci-fi cult fave Beyond the Black Rainbow in 2010, and this has a similar synthesizer-and-color-saturation vibe, but with horror-fantasy. Basically, a pack of hellions brutally kill Cage's wife, and Cage descends into total bugnuts Cage-mode to enact vengeance. There are images and sequences in this film that I simply can't believe are in a real movie -- starting from when King Crimson's "Starless" plays in the opening credits. Put bluntly, this is the most Dungeons & Dragons-looking spectacle I've seen in a very long time, and metalhead freaks are going to want to watch this one when the mood is hazy and slow. A major work for a certain subset.
7. Donbass
Cast: A cavalcade of faces representing the Ukrainian people.
Director: Sergei Loznitsa (My Joy)
Why it's worth seeing: Last year Sergei Loznitsa throttled the Cannes crowd with his dark ode to bureaucracy, A Gentle Creature. Now he's back with a tone poem on war, suffering, inefficient government and the propagation of "fake news." It's… kind of a comedy? A dozen or so loosely connected sketches show the buckling society of an exaggerated Ukraine. The vignettes are disturbing, uncomfortable, brutal, and just plain odd. Granted, this would probably mean a lot more to me if I followed news from the region a little more closely, but taking in this enormous film as simply a tableaux of absurd modernity, it works more than fine. The movie starts with a bucket of shit poured over a politician's head, and just gets stranger from there.
6. Ash is Purest White
Cast: Zhao Tao, Fan Lio
Director: Jia Zhang-ke (Mountains May Depart)
Why it's worth seeing: The director of Mountains May Depart is back with another lengthy, three-part saga set over a long stretch of time analyzing the recent changes in Chinese society. It also has an action sequence befitting Jia's other work, A Touch of Sin. The storyline flows between crime drama and doomed love affair, with moments of humor interspersed with tremendous melancholy. It's certainly a peculiar film, but strangely riveting, even if the characters are somewhat inert. Zhao Tao (who is also director Jia's wife) is terrific as the put-upon mobster's girlfriend you think is preparing for an epic act of vengeance, but has something considerably less predictable up her sleeve. Ash is Purest White wins one of my highest compliments: As soon as it was over, I immediately wanted to experience it again.
5. BlackKklansman
Cast: John David Washington, Adam Driver, Laura Harrier
Director: Spike Lee (Do The Right Thing)
Why it's worth seeing: Based on a true and unbelievable story, Spike Lee's latest is his most incendiary film this century and perhaps his most commercial ever. (I loved Chi-Raq but recognize that iambic pentameter is not for everyone.) John David Washington (Denzel's son) is quite good as the first black police officer in Colorado Springs. His eagerness to please is at odds with his increasing sense of black nationalism, but he finds a sweet spot when, almost too easily, he makes contact with the local chapter of the Ku Klux Klan. With fellow cop Adam Driver as his "face" he stumbles upon a violent plot, but he also awakens something in Driver, a non-observant Jew unaware of just how race hatred surrounds him. The film is extremely political, drawing direct lines between the KKK's resurgence a century ago, the 1970s (when the film is set) and now, specifically the events of Charlottesville. The conclusion left me in a pool of sweat, and when the screen went dark you could hear a pin drop. You can expect this movie to be a major conversation piece when it's released later this summer.
4. Birds of Passage
Cast: Carmiña Martínez, José Acosta
Director: Ciro Guerra and Cristina Gallego
Why it's worth seeing: Following up on Embrace of the Serpent, the Colombian best foreign language Oscar nominee about Amazonian exploration from the indigenous tribes' point of view, Ciro Guerra (co-directing with his producer Cristina Gallego) have found a new spin on a typical mafia story. Spanning the late 1960s through the early 1980s, Birds of Passage is set in the desert area home to the Wayuu people. The genre conventions in the story are familiar (it's a little Scarface here, a little Godfather II there) but what makes the movie remarkable is its deep soak in this little-known culture. Drug deals and double-crosses are one thing, but learning about ritualistic dances, talismans, and intra-clan communications (one must never kill a word messenger!) is far more interesting.
3. The Wild Pear Tree
Cast: Aydın Doğu Demirkol, Murat Cemcir
Director: Nuri Bilge Ceylan (Once Upon A Time In Anatolia)
Why it's worth seeing: The meditative Turkish master has returned to Cannes with 190 minutes worth of rich material in The Wild Pear Tree. Set in the port where the ancient city of Troy once stood (yes, the Trojan Horse makes an appearance) young Sinan (Demirkol) has just graduated from college and doesn't quite know how to kickstart his career as a writer. His father (Cemcir) is an impoverished schoolteacher with a gambling problem, and his mother and sister spend most of their time watching TV. Sinan thinks about his life and gets into lengthy conversations with bureaucrats, a published author, two imams, his grandparents, and, ultimately, the father whose approbation means everything. It's the least angry "angry young man" film you'll ever see, and the rural setting's calm pacing is absolutely gorgeous. Transplant the vibe from Richard Linklater's "Before" Trilogy away to Turkey and you'll start to get the idea. I love this movie to pieces, and the ending just about destroyed me. Warning to fruit fans: There are no pears in the film. Though three men do chomp on apples for about 15 minutes while talking about God.
2. Burning
Cast: Ah-in Yoo, Jong-seo Jun, Steven Yeun
Director: Lee Chang-Dong (Poetry)
Why it's worth seeing: An hour or more into Burning, and I still had absolutely know clue what was going on. This is usually a red flag, but for this film you should totally put your trust in the director. (Other clues: The fluid, elegantly framed cinematography, gorgeous original music, and perfectly selected needle-drops like one by Miles Davis.) A young man with writerly aspirations (Ah-in Yoo) reconnects with a girl from his old neighborhood (Jong-seo Jun). A relationship seems around the corner, but she's about to take a trip. She asks him to look after her cat (which always seems to be in hiding) but when she returns she's apparently taken up with another guy (Steven Yeun), who's wealthy and mysterious. Our lead somehow knows not to shrug the whole thing off, and that's when things start to take a film noir turn. Every scene in Burning is fascinating, because you find yourself thinking you can predict the next turn of events, as if this were a normal movie. But it isn't a normal movie, though it's not overly surreal, or fantastical. It has that rare quality: Originality. Critics were doing cartwheels on the Croisette after this one, declaring that Lee Chang-Dong, who at one time served as South Korea's Minister of Culture, Sports and Tourism, is now one the great international filmmakers of our time.
1. Cold War (Zimna Wojna)
Cast: Tomasz Kot, Joanna Kulig,
Director: Paweł Pawlikowski
Why it's worth seeing: Crisp black-and-white cinematography, Academy ratio, smoky jazz, a blonde girl woozily dancing until she falls in her lover's arms. These are the things that inspire me to get up in the morning, and Pawlikowski, who won the Best Foreign Language Oscar with Ida, is back with a movie that's just as good, if not better. A doomed love story (the best kind!) spanning two decades, Cold War moves from a state-run Polish music academy to the artsy ex-pat scene in Paris. There's the grand sweep of a weighty narrative, but it's told in a collection of perfect snapshots. At a brisk 84 minutes not a frame is wasted; every image worthy of hanging in a gallery. Joanna Kulig's evolution from peasant singer to chanteuse to, well, sorry, no spoilers, is a workout for the actress, who carries the picture well. It is not belittling to say her hairstyles do a great deal of work, too. Everything element on screen is part of the perfectly crafted visual storytelling. Film snobs, start your engines. This is a movie you'll be talking about for a long time to come.
Sign up here for our daily Thrillist email and subscribe here for our YouTube channel to get your fix of the best in food/drink/fun.
Jordan Hoffman is a film critic and writer whose work appears in
The Guardian
,
Vanity Fair
, and
Mashable
. Follow him on Twitter @jhoffman.