How the Tom Hardy Biopic 'Capone' Remixes the Gangster's Bloody Mythology
So, where can we find that buried money?
Josh Trank's impressionistic mob drama Capone, which arrived on VOD earlier this week, takes great pains to distinguish itself as a non-conventional biopic. There's no origin story for the legendary gangster, played by a make-up slathered Tom Hardy, and he's never shown at the peak of his violent powers, smuggling booze in the streets of Chicago during the Prohibition era or acting as the leader of the local crime syndicate. The St. Valentine's Day Massacre, the event most commonly associated with the Capone mythos, is only referenced obliquely in dreams and the radio. The movie largely takes place in the shadow of Capone's life and in the swamp of his memories.
Given the approach, it makes sense that Trank's script swipes liberally from history while also inventing certain scenarios for dramatic, metaphoric, and comedic purposes. Yes, Capone contracted neurosyphilis, which led to his mental deterioration, and after being released from prison in 1939, he eventually ended up living with his family at his mansion in Palm Island, Florida, where he died at the age of 48 in 1947. This is the era Trank uses as a jumping off point to tell a story of paranoia, mania, and loss.
How far does Trank jump? If you watched the movie all the way to its finale, which finds Capone firing off rounds from a golden tommy gun while stumbling around the sprawling estate grounds in a bathrobe and a diaper, then you understand how out there it gets. Following up his headline-generating superhero flop Fantastic Four, Trank was drawn to the story because, as he explained to Variety in a recent interview, he identified with being "a public figure and having stories spun about you in a fashion that was sort of out of your control." Unsurprisingly, Trank did some spinning of his own in inventing his version of aging mob boss. Let's separate the fact and fiction below.
Did Al Capone leave money buried on his Florida estate?
While Trank's Capone has a meditative touch, letting Hardy stare out into the distance for long stretches and burrowing deep into the character's addled headspace, it does have one central mystery that the plot circles back to again and again. Where's the money, Fonzo? In the film, the FBI, Capone's criminal associates, and his family members are convinced that Capone has buried millions of dollars in his estate somewhere, and they all want the old guy to dig it up before he croaks and leaves it rotting in the ground.
The idea of Capone's lost fortune is a tantalizing one, as anyone who remembers Geraldo Rivera's 1986 syndicated news special The Mystery of Al Capone's Vaults can confirm. The highly-watched program, which ended with Rivera opening a vault in Chicago's Lexington Hotel and finding no money or treasure, has since become a pop-culture punchline. But rumors and stories of Capone's hidden stash persist: In a 2019 interview with the UK tabloid The Sun, Capone's great-niece Deirdre Capone said she believes Capone stashed "more than $100 million" in different safety deposit boxes in Cuba and other locations.
In an interview with USA Today, journalist Jonanthan Eig, the author of Get Capone: The Secret Plot That Captured America's Most Wanted Gangster, dismissed the speculation about Capone's missing riches. "He spent his money like crazy," says Eig. "I think that's the answer, he never accumulated much."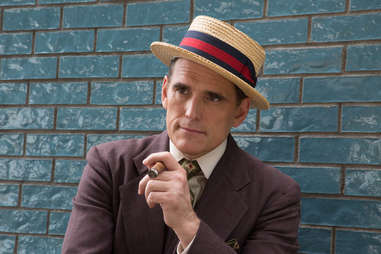 Who was Matt Dillon's character, Johnny, based on?
Besides Mae, Capone's incredibly patient wife played by Linda Cardellini, most of the other supporting characters in Capone fade into the background. After all, the movie is unquestionably the Tom Hardy show, an opportunity for the actor to do a wild bullfrog voice and simulate shitting his pants at particularly tense moments. But Matt Dillon's Johnny, another Chicago gangster who arrives in Florida to take Fonzo on a fishing trip, makes an impression before meeting a violent end in a flashback and revealing himself to be a ghost from Capone's past.
If Dillon's character were based on a real person, it would likely be Johnny Torrio, the mobster who served as a mentor to Capone. (Torrio appears in other Capone dramas like 1932's Scarface, the original television version of The Untouchables, and in HBO's period crime drama Boardwalk Empire.) But Dillion's character is more likely a composite character, inspired by various pieces of mafia lore. His bloody death in the film doesn't square with Torrio's actual demise, which occurred when he had a heart attack in a Brooklyn barber shop in 1957.
What happened to Al Capone's family?
The final title card of Capone provides a bit of closure: "Most of his family changed their names and relocated in the following years. No money was ever recovered." According to a New York Postarticle about Capone's final years, his wife Mae kept possession of the Florida mansion until 1952, when she was forced to sell it because of worsening financial circumstances. Besides filing a lawsuit against the producers of The Untouchables in the '60s, she lived a largely private life until her death in 1986, burning many of her diaries and love letters from her husband.
His son Albert Jr., played in the film by Noel Fisher, did, according to this article in The Ledger, change his name to Albert Francis and lived a quiet life in Northern California, where he died in 2004. In addition to helping run a Miami restaurant with his mother, he worked as a tire distributor and a used car salesman. He left behind four daughters and multiple grandchildren.
What about the other son hinted at in Capone? You know, the one who keeps calling at different times from Cleveland and not speaking on the phone? While Capone was not exactly known as the world's most faithful husband, and there have been rumors and people claiming to be his illegitimate offspring over the years, nothing has been confirmed and the plot appears to be creative liberty on Trank's part.
Did Al Capone really own a golden tommy gun and shoot it in his bathrobe?
While it's difficult to do an inventory of Capone's prized possessions at his Florida estate, we're going to go ahead and guess that the aging gangster did not actually have a golden tommy gun that he carried around with him and eventually fired at his staff in a fit of rage. To be fair, this sequence is presented as a hallucination in the context of the movie. So, in a sense, it's possible that Capone did have a wild dream like this at some point, imagining himself wielding a cool-looking weapon and chomping down on a carrot like Bugs Bunny gone rogue. But, it's safer to assume this was another bit of myth-making by Trank, pure gold-plated poetic license.
Need help finding something to watch? Sign up here for our weekly Streamail newsletter to get streaming recommendations delivered straight to your inbox.