The trailer for Captain America: Civil War looks like every other Marvel superhero movie -- but you can't fault it for a lack of momentum.
In Civil War, the semi-sequel to this summer's billion-dollar Avengers: Age of Ultron, Captain America (Chris Evans) and Iron Man (Robert Downey Jr.) are at odds. Cap wants to help his friend Bucky (Sebastian Stan), a fallen WWII soldier who, in Captain America: Winter Soldier, returned to American soil in with Manchurian vengeance (and a metallic arm). Iron Man doesn't just want to squash the rewired terrorist. He hopes to put all superheroic types on government leashes. Angry stares are shot. Mumbo jumbo is delivered. Feuding ensues.
But we know you have questions. So we read your mind to get to the bottom of this comic book soap opera:
Recommended Video
These Tacos Are Made for Dunking
1. How did Bucky get a job at an auto body shop?
You would think this 91-year-old heartthrob, kidnapped, brainwashed, awoken from cryo-sleep to assassinate world leaders, and on the run from crimes he didn't mean to commit, would have difficulty finding a job. Where do you even start on that W-4?! But no, when Cap and his number two, Sam (Anthony Mackie), find ol' Bucky, he's hanging from an industrial-grade bench vice like James Dean. We can imagine the job interview. "Sir, you're not qualified and you just blew up half of Washington D.C." "But I'm cool." "OK, you're hired."
2. Is this really the most effective way to stop a shotgun-toting enemy?
No. But it is an effective way for Captain America to make us feel guilty for not going to the gym this week. Happy Thanksgiving! 
3. Don't I remember this guy from something?
You do. That's four-time Oscar-nominated actor William Hurt, beloved for roles in films like Kiss of the Spider Woman and Broadcast News. Little did he realize his brief appearance in 2008's The Incredible Hulk would one day require him to return to his "Marvel Cinematic Universe" role as General Thaddeus 'Thunderbolt' Ross, mustachioed hardass. The magic of sequel contracts.
4. The Sokovia Accords?
Remember that Eastern European city Ultron lifted out of the ground at the end of Avengers 2? Sokovia. Remember how the only reason James Spader's terror-mongering robot was around to lift said city was because the Avengers dicked around with alien warfare? In Civil War, the suits slap Captain America with the worst punishment: 500 pages of dry, partisan investigation.
5. Where'd Iron Man get the shiner?
This is why Tony Stark's mom told him to always go flying with a helmet on. Iron Man's encounter with the Hulk left him mangled. Maybe a friendly punch from Cap leaves a boo-boo?
6. Does War Machine spend his off-hours riddled by the existential feeling that he's only complete when by Iron Man's side?
Yes.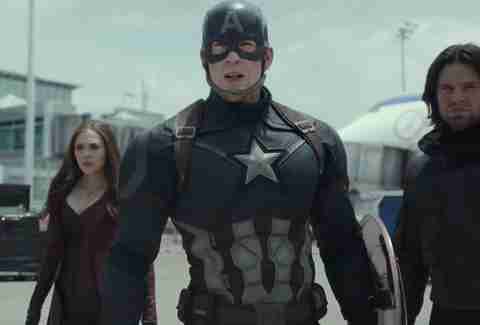 7. Why can't these heroes just hug it out?!
Imagine if James Bond and Mission: Impossible's Ethan Hunt formed a super spy team. There wouldn't even be rules to throw out the window. They'd stop at nothing to get the job done. That's the stance #TeamCap takes in Civil War. They want freedom for the world on their own terms -- even if it means blowing up their own pals. They're so serious about it, they've formed a tableau.
8. Who is that?
That's Black Panther a.k.a. T'Challa, king of the fictitious African kingdom Wakanda. Played by Get on Up star Chadwick Boseman, Panther fights alongside Iron Man to (1) give his squad a bit more muscle and (2) set up for his 2018 spin-off movie. He wore his Halloween costume to this fight.
9. What's the quickest may to a man's palladium-powered heart?
Ripping it out of his metallic chest.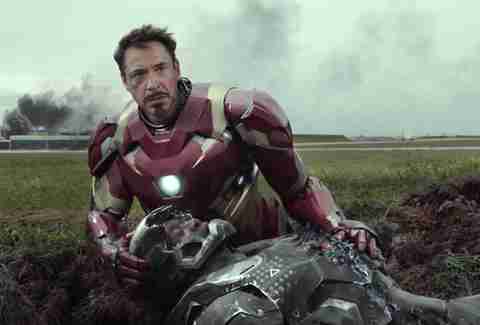 10. Wait, Don Cheadle dies!?!??! Just right there in the trailer?!?!
Does anyone ever die in comic books? Breathe, Don Cheadle superfan. Yes, the Avengers' "civil war" will be tense and brutal, packed with punches that resonate with Inception-like BRAAMs. But it's hard to imagine anyone taking a fatal blow. There's a two-part Avengers threequel set for 2018 and 2019, after all.
Sign up here for our daily Thrillist e-mail, and get your fix of the best in food/drink/fun.
Matt Patches is Thrillist's Entertainment Editor. He previously wrote for Grantland, Esquire.com, Vulture, The Hollywood Reporter, and The Guardian. He strongly believes Captain America is the best Avenger. Find him on Twitter @misterpatches.