Cara Delevingne Loves Seeing Queer Representation in 'Drag Race' and King Princess
The model/actress, who joins Season 2 of 'Only Murders in the Building,' talks about her queer journey.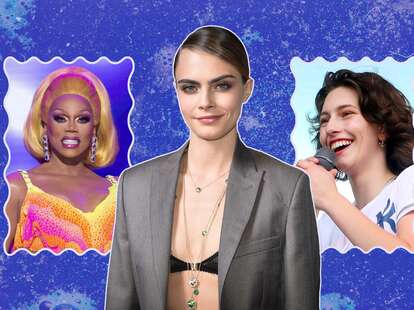 Design by Mallory Rosten for Thrillist / Photo by Stephane Cardinale - Corbis/Corbis via Getty Images
Design by Mallory Rosten for Thrillist / Photo by Stephane Cardinale - Corbis/Corbis via Getty Images
Model and actress Cara Delevingne is one of the most famous queer celebrities across the globe, and extremely proud of it. In addition to starring in blockbusters like The Suicide Squad and countless Burberry campaigns, the star has collaborated on charitable Pride collections with Puma, plays a pansexual fairy on Amazon Prime's Carnival Row, and has been vocal about her own pansexual identity (not to mention has been in several very public relationships).
Delevingne's coming out journey wasn't always that way, though. The 29-year-old actress struggled with her own identity and feeling beholden to a gender binary when she was growing up so much so that it affected her mental health. But it's because of her complicated journey that she's all the more proud today, ever since coming out in 2018, and feels compelled to be someone that so many young LGBTQ+ people can look up to.
Now, on Season 2 of Hulu's hit caper comedy Only Murders in the Building, she's playing one of her first, openly queer characters. On the series, she plays Alice, a young artist who comes into Selena Gomez's character Mabel's life, and her eventual love interest. "I was so grateful to be able to play a queer role in such a huge, huge TV show, and in such a beautiful way, as well. I loved how [her queerness] is not the main story or spoken about so much—it's just normalized," she says. "I'm so proud to be able to play a part that's part of the community because I haven't really been able to do that. I'm really grateful."
We spoke to Delevingne about her favorite queer pop culture, what young, young talent and representation inspires her, and what it's like being a queer icon for so many.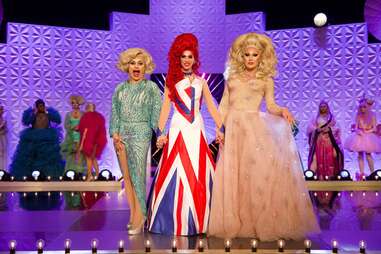 Drag Race and her other favorite queer shows and movies
I didn't see [much queer representation in pop culture] when I was very young because I think there was a very deep embedded homophobia that I had, and I think it was just because I was so fearful of being something that, in my mind, was frowned upon or wasn't deemed as normal or right. I was very terrified of being that, so I probably shied away from seeing a lot of it, which is really sad in so many ways.
Definitely as I got older, I got more comfortable with that, and now there's so many shows and movies that I love. Boys Don't Cry is one of my favorite movies—I mean forever. There are so many [LGBTQ+ shows and movies] that I love. I'm obsessed with Queer Eye. It's one of my favorite shows of all time. I love those guys so much.
I'm the biggest fan of Drag Race in the whole world. I love the new season. I'm so impressed with how those incredible queens are able to do what they do, and it's so much harder than they make it seem. They literally make it seem like the easiest thing in the world, but their talent and their dedication is just incredible, and they're so, so multi-talented.
I'm obsessed with all of the All Stars at the moment. They're unbelievable. I'm obsessed with The Vivienne, who's obviously representing the UK at the moment, which is amazing. Willow Pill, who won, is absolutely incredible, so are Lady Camden, Shea Couleé, Gottmik, and Violet Chachki. And, obviously, Ru! There are so many that I love and and they're all so so different and so incredible.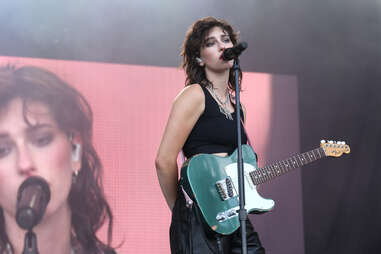 Queer Gen Z artists who inspire her
I've always been so inspired by [LGBTQ+ icons]. I think what was funny is, especially music, there were a lot more like male artists who came out, like George Michael and Elton John, [that I was aware of growing up] and I was always so, so inspired by.
Now, though, there's a lot of artists who are queer and don't really speak about it as much, so I I really appreciate that. Like, King Princess I absolutely love and Lil Nas X. I'm obsessed with Lil Nas. Like, I want to have a baby with Lil Nas—I want a gayby.
I also love how much more trans and non-binary representation is being shown. It's really incredible now what's happening, because it's just taken such a long time for that to happen. You know, I adore Hunter Schafer so much. I just want to see more and more and more all the time.
On being an LGBTQ+ icon herself and supporting her fans
It's the weirdest thing in the entire world because it's something that I really, genuinely was so ashamed of [at one time] because I thought it was so wrong. So, to be celebrated for something that I really was—that I thought was something that I had to hide—is just such an amazing thing. I just hope that I can show anyone in the world that they are special in every way, shape, or form, and that they should love every single part of themselves—that's more than I could ever dreamed of, to be honest.
There are so many people still who suffer in silence and who don't get the support they need from the people around them, and I think that's the hardest thing. Allies are the most important thing that we all need because, no matter what, we're all part of a community. The community doesn't have to just be the LGBTQ+, the allies are just as much as part of the community.