Carrie Fisher Was Princess Leia in 'Star Wars,' and So Much More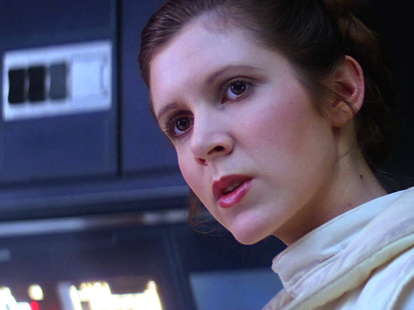 20th Century Fox
20th Century Fox
This week, as fans flocked to multiplexes around the world for a new Star Wars story, Rogue One, another chapter of the galaxy came to a close. After suffering a heart attack over the Christmas holiday, actress Carrie Fisher, who rose to fame after playing Princess Leia in George Lucas' original saga, passed away at the age of 60.
"It is with a very deep sadness that Billie Lourd confirms that her beloved mother Carrie Fisher passed away at 8:55 this morning," family spokesperson Simon Halls told The Hollywood Reporter on Tuesday morning. She was loved by the world and she will be missed profoundly."
If you saw Star Wars in theaters in 1977, caught up in time for Return of the Jedi in 1983, discovered the trilogy on VHS in the '90s, or had a parent who demanded you watch the sacred fantasy films before even side-eyeing the prequels, you knew Carrie Fisher. You loved Carrie Fisher. Her "Princess" Leia was anything but, a commanding officer of the Rebel Alliance who could go toe-to-toe with the nefarious Darth Vader, or more threatening, the dim hunkiness of Han Solo. The best worst thing that could have ever happened to her Leia was Jabba's slave bikini outfit, a pinup image that weaponized Fisher for decades to come. She was striking, no doubt, but for a woman with voice and opinions and determination, it was also bullshit. Fisher let Lucas have it, while embracing Star Wars for everything it became to fans. She was the perfect franchise parent.
If that's where your knowledge of Fisher ends, may her passing be an awakening of an incredible force. Fisher was something of Hollywood royalty when she was born in 1956, the daughter of singer Eddie Fisher and actress Debbie Reynolds, but she saw herself as more of a Dorothy Parker than a Marilyn Monroe. Her mid- and post-Star Wars acting career would put an earned ingenue persona to the test, with roles in Woody Allen's Hannah and Her Sisters, The Man with One Red Shoe, The 'Burbs (opposite Tom Hanks), When Harry Met Sally..., and The Blues Brothers, where she played Jim Belushi's flamethrower-wielding girlfriend.
Fisher fell into Hollywood crowds and fell into hard addictions. She suffered from bipolar disorder and substance abuse ailed her. This was no secret -- Fisher published a thinly veiled autobiographical account of her drug habits, and the difficult relationship she had with her mother, as 1987's Postcards from the Edge. The book was a best seller, turning Fisher into an important social voice and an in-demand writing talent. She would later adapt the book into a movie starring Meryl Streep and Shirley MacLaine for director Mike Nichols.
While Fisher would occasionally appear in film and television roles after Return of the Jedi, it was that Dorothy Parker admiration, and the success of Postcards, that would drive her. She'd publish four more novels, three memoirs, and a one-woman show based on her stories (Wishful Drinking) before the end of her life. Her sneakier career was a screenplay "doctor," punching up scripts in dire need of voice. On the set of Star Wars, Empire Strikes Back, and Return of the Jedi, Fisher would constantly tweak George Lucas' notoriously rigid dialogue (see above). The skill saw her hired for uncredited work on movies you know: Steven Spielberg's Hook, Sister Act, Lethal Weapon 3, The Wedding Singer, and, reportedly, all three Star Wars prequel movies earned the Carrie Fisher pass.
Fisher had voice, which beamed out in interviews, stage monologues, red-carpet events with her dog Gary, and even on Twitter. She told it like it was -- her recent memoir The Princess Diarist was a gossip fiend's dream come true -- and if you got it, swell. If you didn't, fine. Her nearly indecipherable tweets bottled up the energy in 140 characters.
At the end of Rogue One -- and Fisher would shake her head at the idea of a "spoiler," but there's your warning -- computer graphic artists re-create the image of Princess Leia we know from the original 1977 Star Wars. Flowing white robe, twin hot bun hairpiece, an angelic figure leading the troops. Leia was back, not as we'd seen her in The Force Awakens, 30 years older, but in a preserved form. Fisher's passing makes the special-effects magic bittersweet; the image is jaw-dropping, but this isn't Fisher. Not the one who worked tirelessly to inject Hollywood with female bite, or even the one who captured our attention decades ago. So to those who did flock to the multiplexes, remember the Renaissance woman not as who she was, Princess Leia, but who she left this world as: Carrie Fisher, a creative whose loss you'll really feel when you look beyond Star Wars.
Sign up here for our daily Thrillist email, and get your fix of the best in food/drink/fun.
Matt Patches is Thrillist's Entertainment editor. He previously wrote for Grantland, Esquire.com, and Vulture. Find him on Twitter @misterpatches.