A Ridiculously Obsessive Appreciation of 'Casino Royale'
Sony Pictures/MGM
Sony Pictures/MGM
Diamonds are forever, and so are the best James Bond movies. This week, Casino Royale celebrates its 10th anniversary, and seeing the 007 reboot for the first time back in 2006 is an experience I'm confident I'll never forget (the Ziegfeld Theater in New York City, a packed house, my best friends, and an unforgettable evening of blockbuster entertainment).
In the decade that followed James Bond's 21st mission, the action movies that came and went only cemented this Daniel Craig instant classic in the annals of the genre's history. To remind myself and everyone else why the movie is such a gem, I embarked on a very thorough (and very long -- enjoy!) scene-by-scene breakdown.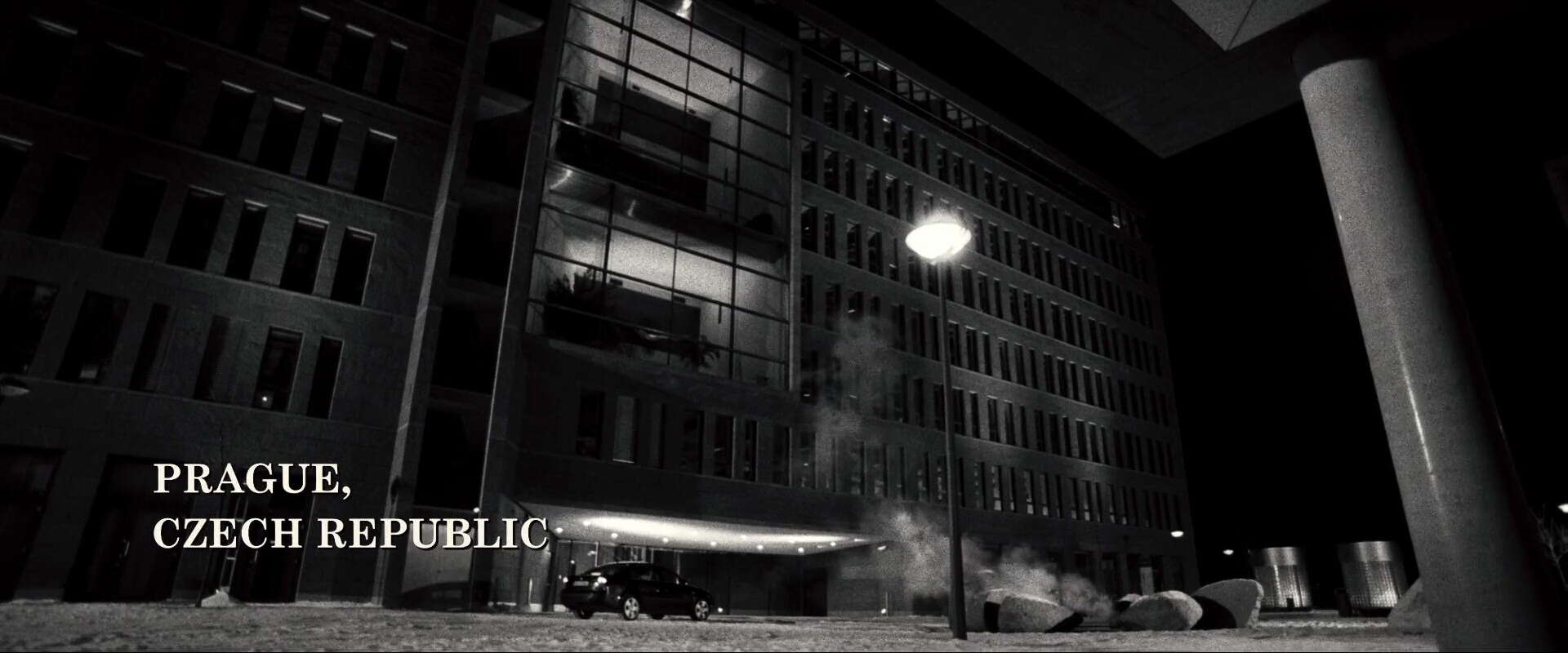 Casino Royale scared audiences in 2006 shitless with an opening shot that bypassed the traditional gun-barrel opening. What the hell was going on? "I DID NOT JUST PAY $35 FOR TWO TICKETS, A POPCORN, AND JUNIOR MINTS TO WATCH SOME ARTSY CZECH MOVIE ABOUT PARLIAMENTARY GOVERNMENT OR WHATEVER," they screamed. Despite being a 50-year-old franchise, a Bond movie had yet to draw back the color palette to crisp black and white.
Casino Royale director Martin Campbell previously helmed 1995's GoldenEye, a franchise revision for audiences weaned on James Cameron action and Harrison Ford thrillers that resisted totally reinventing the wheel. His second Bond movie, on the other hand, takes an Elon Musk approach to the upgrade. There's no Casino Royale without Christopher Nolan's Batman Begins or Paul Greengrass' The Bourne Supremacy, en vogue blockbusters of the moment, but there's also no Casino Royale without Orson Welles' classic noir The Third Man or Steven Spielberg's Raiders of the Lost Ark or Bernardo Bertolucci romances or Michael Mann's Heat or Alfred Hitchcock's eye or the entire history of James Bond on film. Casino Royale dares to be everything -- and from the very first second.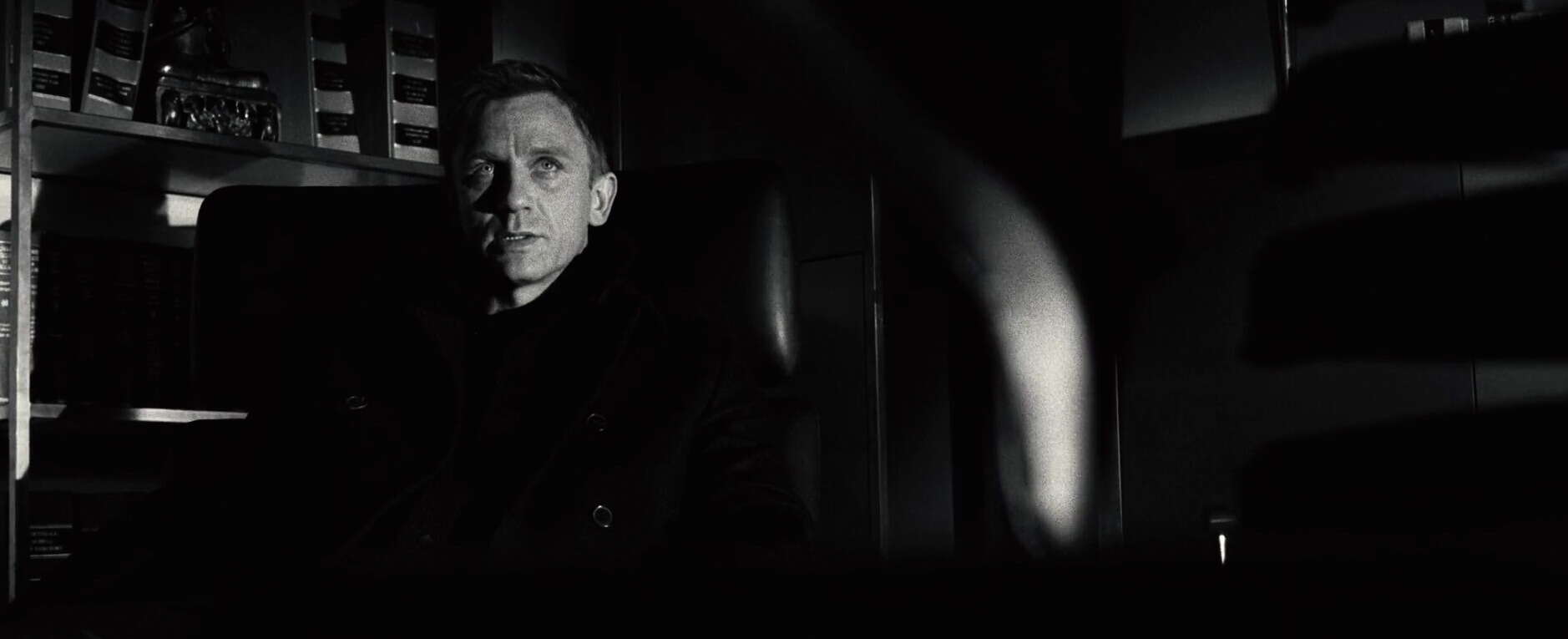 James Bond's shadowy introduction in Casino Royale is more than a Humphrey Bogart-ish, cool-as-ice noir introduction. He is a monster. He is a being of a dark dimension. He is death. A sinister chiaroscuro emphasizes that this is not your grandpappy's 007. Daniel Craig's mannered inquisition of Dryden, the MI6 turncoat, could easily be a slow-torture tactic of a Auric Goldfinger-type. His Bond lives right on the edge of good and evil, or better, keeps a foot planted on each side of the line.
Campbell's first act of brutality is the close-quarters bathroom blown out with contrast. As Bond smashes his assailant's head into ceramic sinks and glass mirrors, the blacks and whites blur into a kind of charcoal illustration of Bond's past, like a violent riff on a-Ha's "Take on Me" video. The whole sequence boils down to: You don't do this in a big Hollywood movie, and that's exactly why we're doing it.
Every math geek remembers this move from middle school.
Sean Connery was suave. George Lazenby was a deep romantic. Roger Moore was the handsome dad. Timothy Dalton was a diligent soldier. Craig, building off each reputation, turns Bond into a bitter, arrogant, cocky bastard. This look, a snap of the arm delivered in an icy glance, the death stare that signals to any evil-doer that 007's already in his head, defines his work on the character. Craig is not a "funny" Bond, but his reaction shots slay.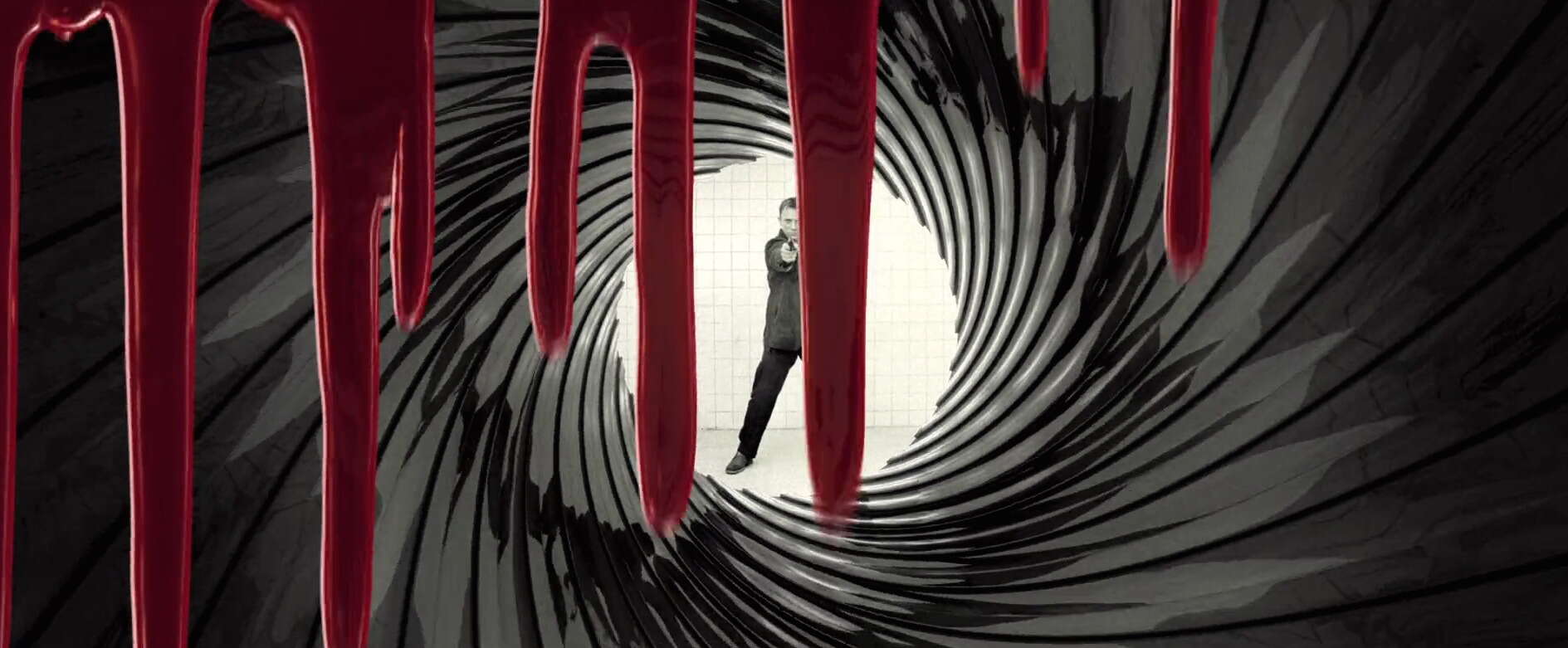 Ten years later, I'm still undecided on Chris Cornell's Bond anthem contribution. "You Know My Name" is... bro, and while it's not "Skyfall," it's also not Jack White and Alicia Keys' loopy, syncopated oddity "Another Way to Die" from Quantum of Solace, either. The Soundgarden frontman gave Bond a bellowing male voice, and while it might work better in an Andrew Lloyd Webber James Bond musical, it positions our super-spy in a position of brooding, mildly chauvinistic self-confidence, i.e., exactly where he needs to be.
The Casino Royale opening, a game of 52 pick-up set inside a TI-83 calculator's graph function that may be ripping directly from the 2004 iPod "silhouette dancing" commercials, reminds us that playing cards are the pinnacle of graphic design. There's nothing cooler than a man being killed with a red diamond. Nothing.
You don't remember the post-credit sequence scene from Casino Royale because it is filled with exposition required to stage the action and intrigue to follow that you'd buy anyway because it's a James Bond movie and you know there'll be action and intrigue to follow. Here, Mr. White introduces a Ugandan warlord to Le Chiffre (Mads Mikkelsen), who wants to use the warlord's money to short-sell stocks in an aerospace company (so that's why they try to blow up the plane!). This also contextualizes Le Chiffre's compulsive gambling problem -- of course! It's easy to miss the dialogue in this scene if you're obsessed with the warlord's pinball machine (a 1968 Fun Land machine, per the Internet Pinball Database).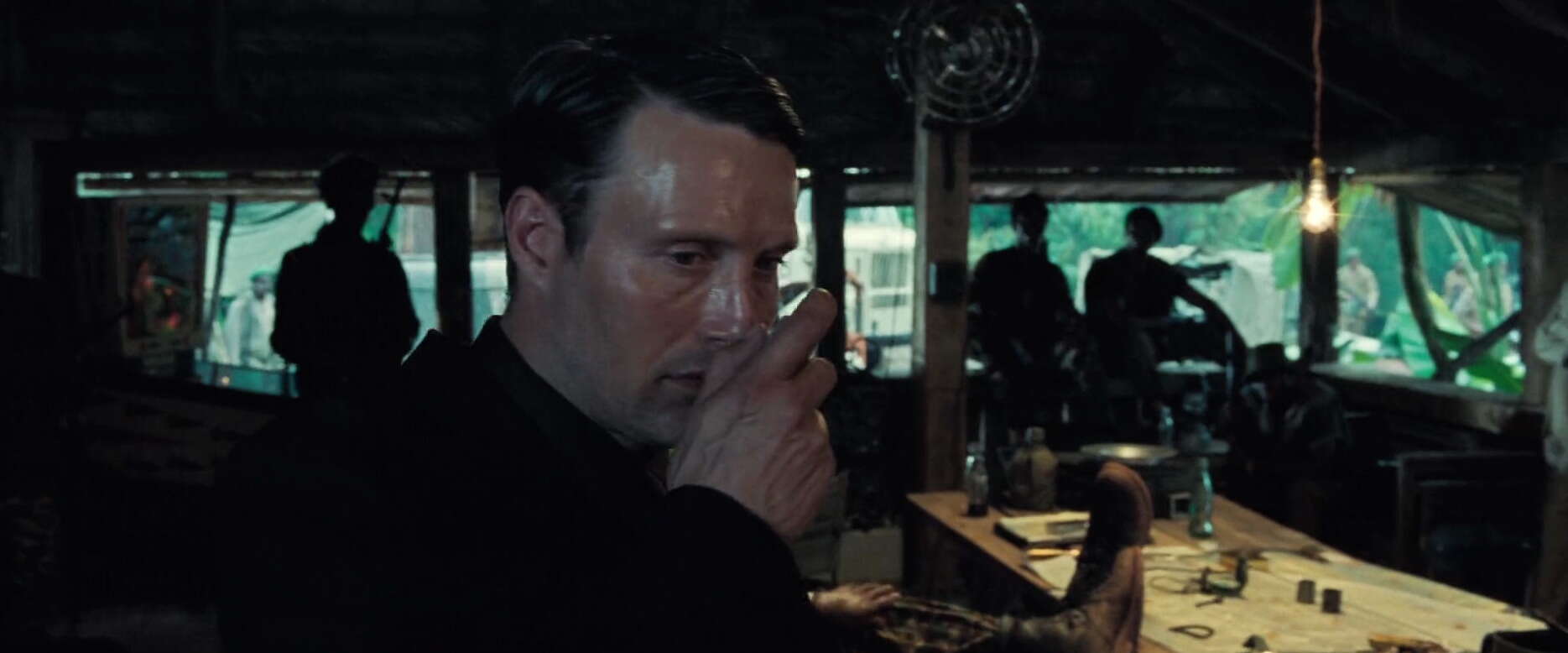 Le Chiffre requiring a Salbutamol inhaler solidifies the villain as a poker-loving dork of the mid-2000s. He's only missing sports-wrap sunglasses and a fedora.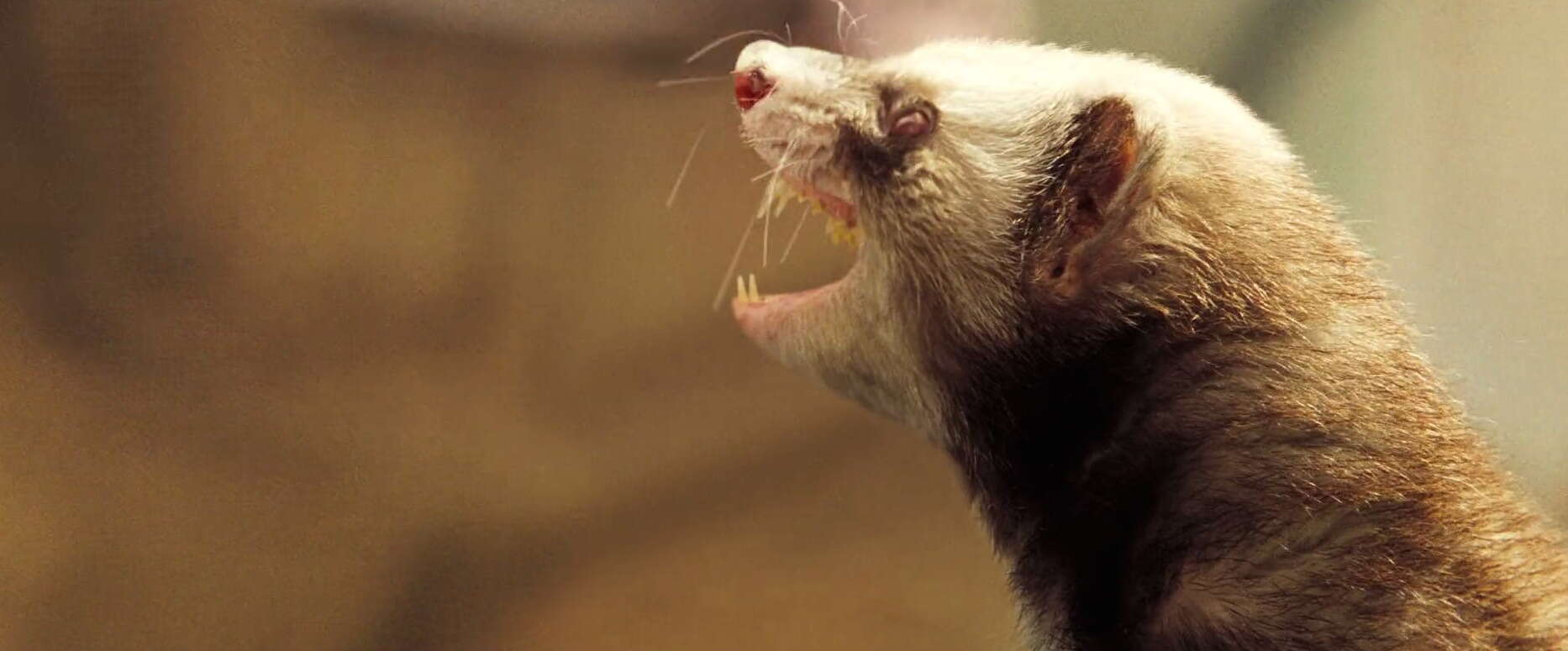 Bond is more of a cobra than a mongoose.
Eight months after Casino Royale, Apple debuted the first-generation iPhone, an all-purpose communication device that would radically change what and how information could be delivered in movies. Thanks to corporate ownership, every device in Campbell's Bond movie is a Sony Ericsson variation, a quaint touch 10 years later. Remember when we could only receive code-word commands like "Ellipsis" by text? And our phones looked like the wireless triggers for bombs? Life was so simple then.
Casino Royale is rich with detail. Here's a nice touch: When Mollaka, the parkouring bombmaker, pulls out his phone, we notice that he's burned on one side of his face. He's lived a life. We're only going to get a few minutes of this guy, but he's already more complicated than every Marvel movie villain of the past decade.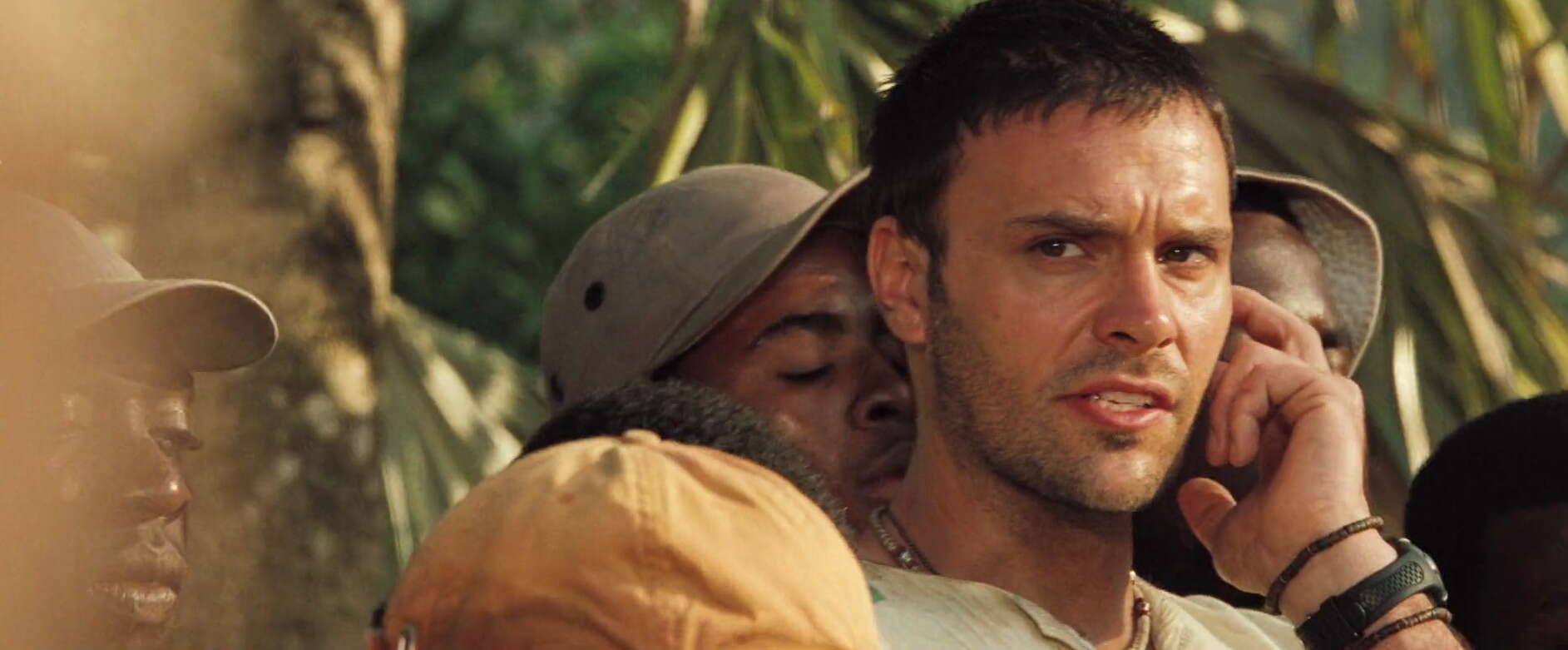 This is Carter. He is total amateur hour. Since he left his "I'm a spy" T-shirt at home, and firing a gun in the air would cost him precious ammo, Carter decides to royally screw up Bond's Madagascar mission by holding his earpiece and staring directly at the target. Go back to 24, Carter, you colossal fuck-up.
Sit back and study this masterclass in geometric, dramatic, constructive action filmmaking. Campbell understands our body's need for ups and downs like a SoulCycle instructor. He plays with height, perspective, and motion while never cutting completely loose -- even while learning from Bourne's lessons in reality, Casino Royale never compromises choreography with "shaky cam." A shot of pipes crashing from an unbuilt skyscraper into the dusty earth deserves as much composition as Craig's hero shots. Which he gets -- Bond goes full Hulk in this scene, bursting through a wall and not giving a damn.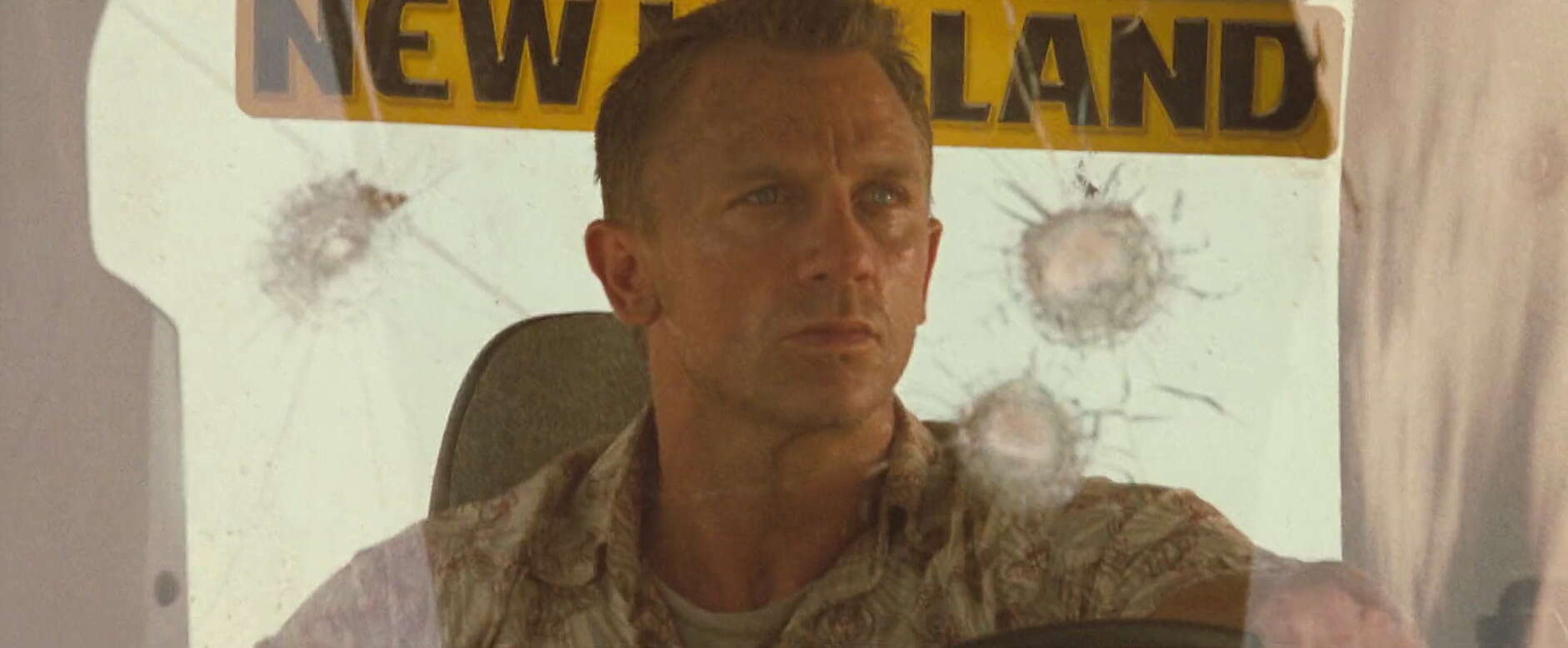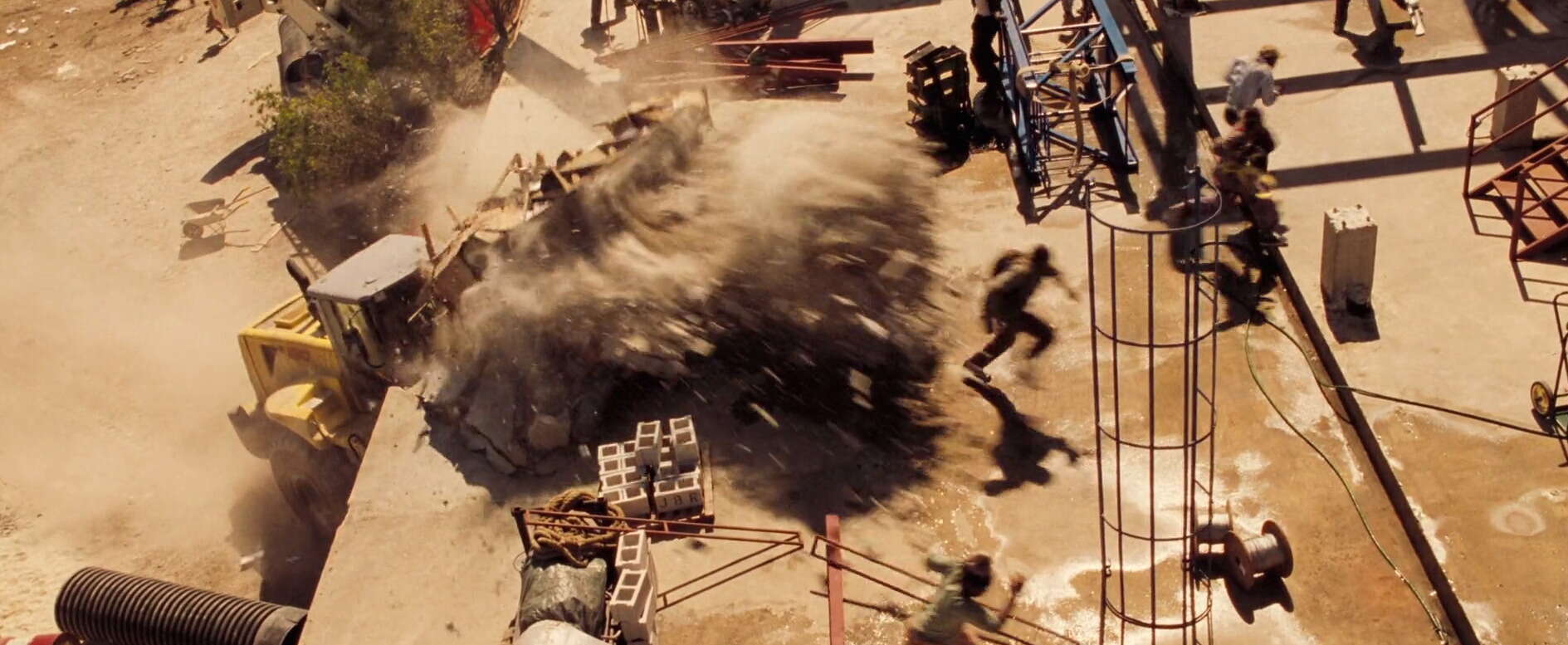 I hope I never learn how Campbell pulled off this moment, where Craig plows through concrete with a bulldozer. I believe it's real, and I plan to die believing it's real.
Ben Affleck's CrossFit training montage in Batman v Superman: Dawn of Justice can suck it.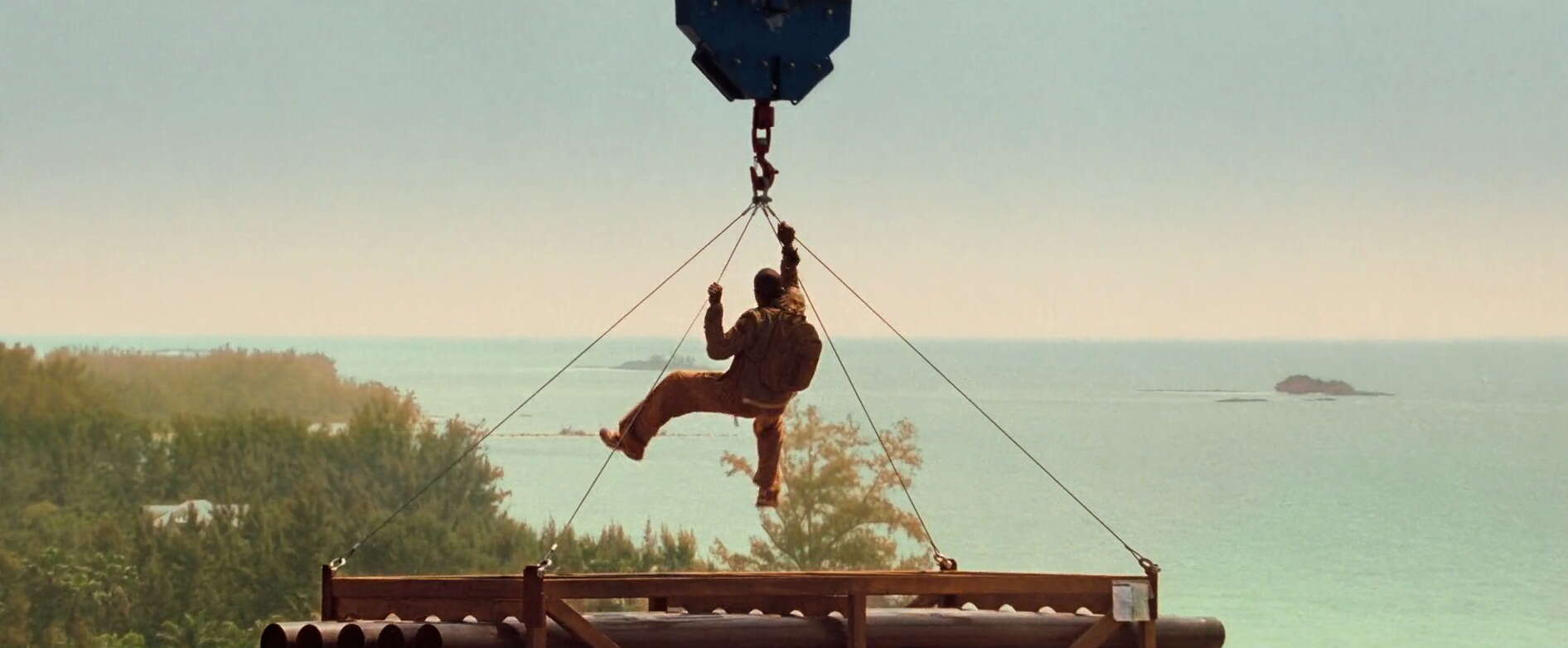 Casino Royale is a wide movie. If there is an opportunity to pull the camera back to admire the fact that, not only can freerunner Sébastien Foucan actually pull off all these crazy moves, but he's performing in a real place, one of the most beautiful backdrops imaginable, and at a height that would make Philippe Petit gulp. Like its version of Bond, Casino Royale is prone to gloating, and with the goods to get away with it.
The one-liner is dead. Long live the one-mover.
Bond's landing makes this absolutely thrilling. We know he's crazy enough to jump and follow Mollaka. We're confident he'll make it. His clumsy landing makes a half-century-old character fallible again.
Maybe it's because Planet Earth aired on BBC One earlier that year, but I detect notes of wildlife documentary in Casino Royale. Seen here is a homo sapien specimen summoning his hunter instincts, damn near lionesque as he chases his prey. Sorry, that video of a pack of snakes chasing an iguana is riveting, but it's not better than what Campbell taps into here.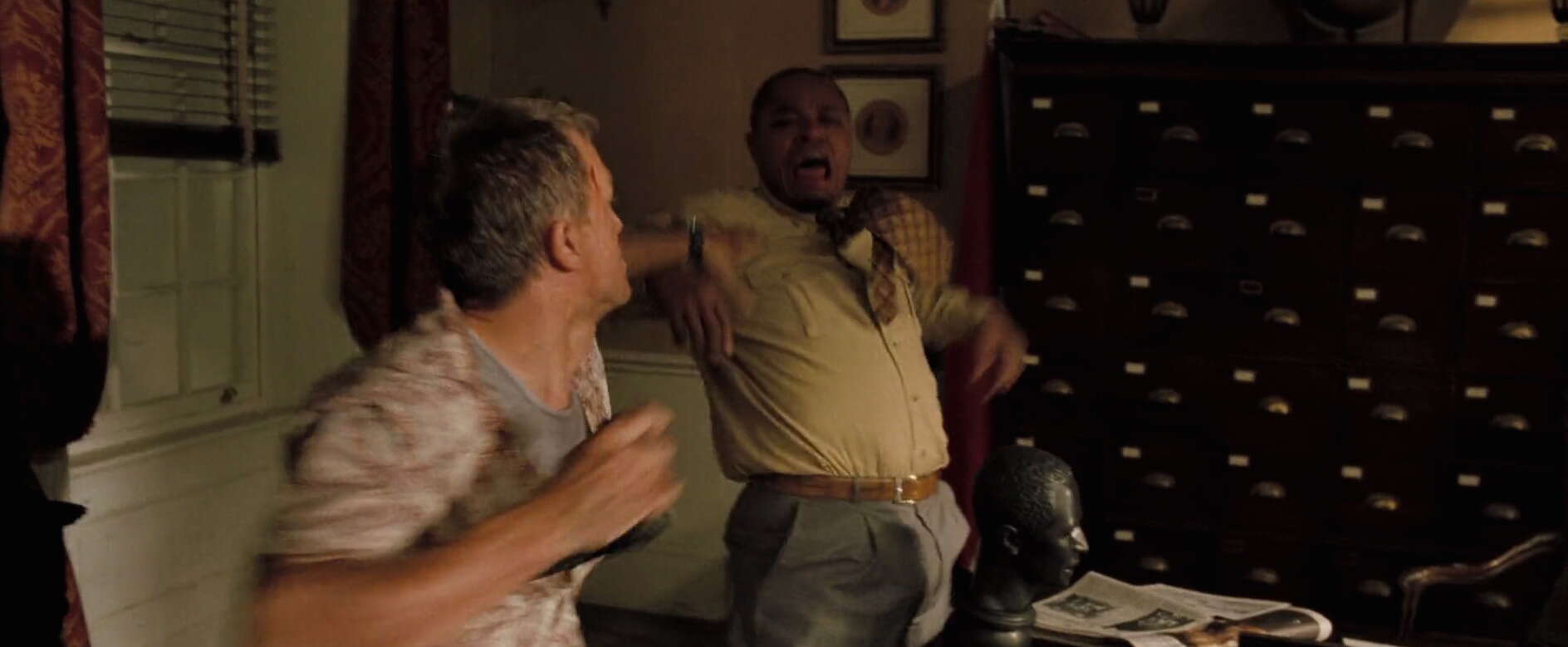 There's a political element to Bond, exacerbated by a fear of overreach during the Bush era, that Casino Royale tees up for movies like Skyfall and Spectre. We should raise an eyebrow when 007 blasts his way into the Nambutu Embassy. We should question his tactics, and shake our head at his methods. The outlaw streak also gets the job done. Hmm.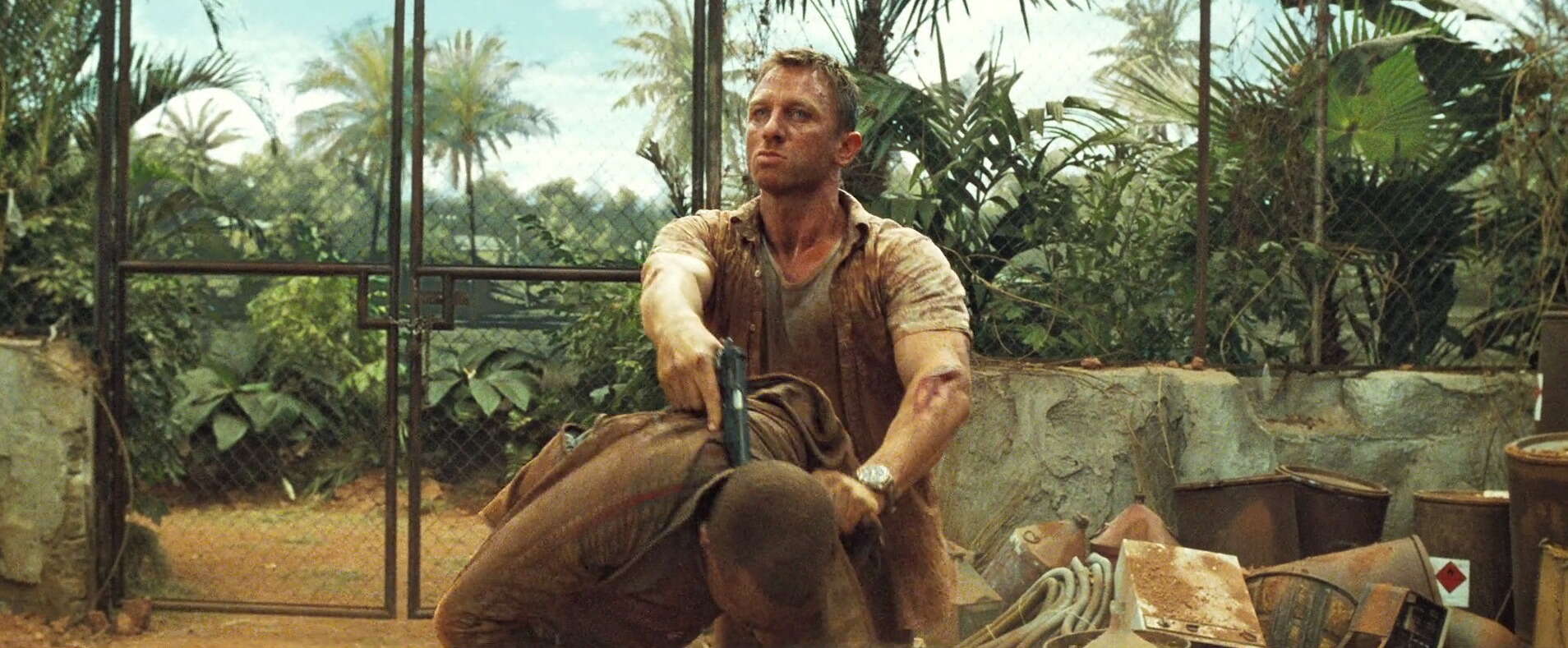 A Portrait of the Spy As a Young Man
The Spielberg Face is when a character witnesses the impossible (an alien spacecraft, the horrors of WWII, a resurrected dinosaur) and his or her jaw drops out of sheer awe. The James Bond Face, original to Daniel Craig's movies, is when a character witnesses 007 do the impossible, and his or her jaw is blown open by the audacity/an actual explosion.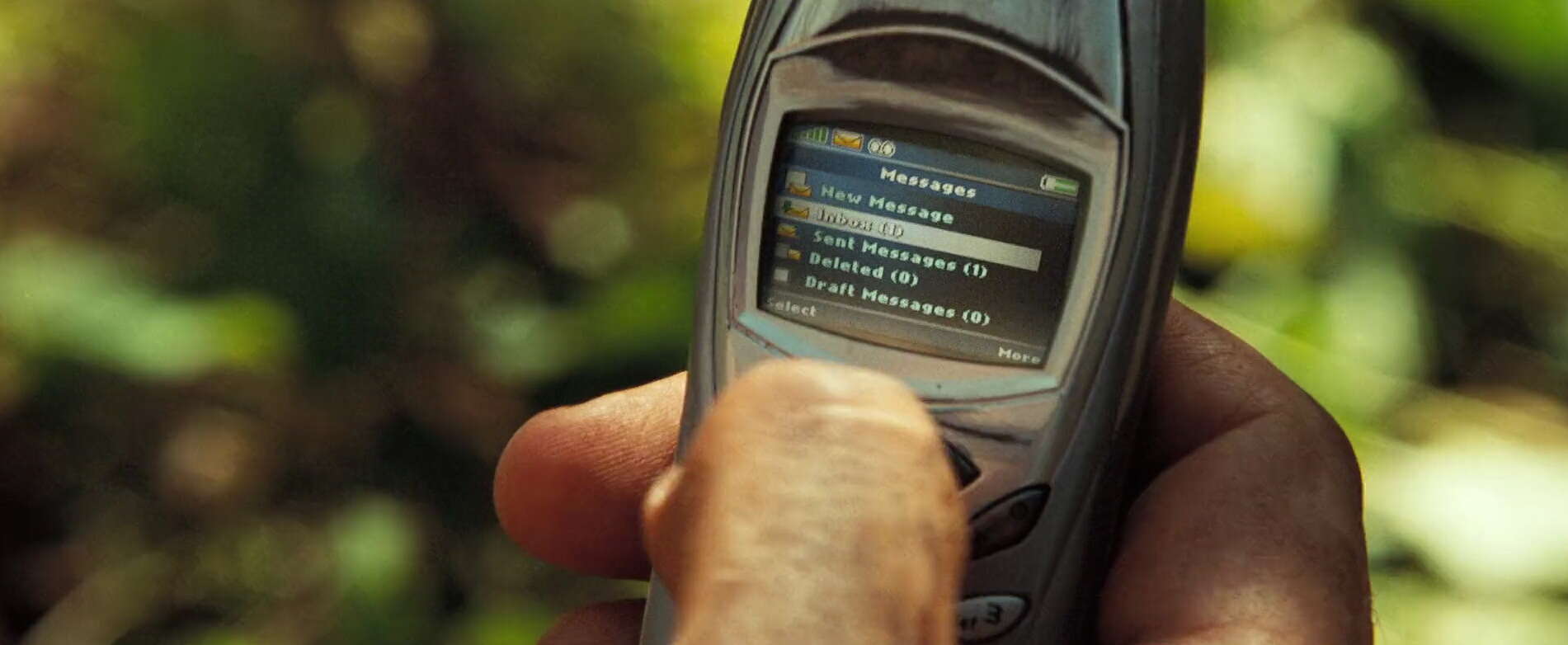 It's like watching Bond use a Marconi telegraph.
The James Bond franchise was not always an equal-opportunity gazer, and Casino Royale rewires tradition by finding beauty in every corner. This a classic shot -- gorgeous woman, paradise waters, sunset -- painted without any of the leering. Campbell balances his movie out by later cashing in on Craig's abs.
Le Chiffre's mathematical genius comes at the price of his damaged goods. Along with needing the inhaler, he also suffers from haemolacria, causing blood to drip out of his eye. The complication adds to Casino Royale's subtle inversion of what it means to be a man in the Bond world. A villain who funds terrorism can be a natural weeper. The badass who defeats him can be weakened by true love. Guys, it's OK to be emotional!
"Welcome to www.TheNews.com, the hottest spot for news on the world wide web! We've got your Science News, your Sports News, your World News, your Super Spy news -- we even have a chat room!"
Martin Campbell cast Judi Dench as M back in GoldenEye, and he wasn't letting go of the Oscar-winning Brit, reboot be damned. How could you? Casino Royale gives M even more agency. She's not a mum to Bond, she's a boss, a moral counter. There's more for her to chew on here, a strategist burdened and sturdied by political ethics. Campbell sharpened M for Casino Royale, and Dench happily swings the blade.
Want to feel old? This is what Google Maps looked like in 2006.
"Bond, this may be too much for a blunt instrument to understand, but arrogance and self-awareness seldom go hand-and-hand." Hot damn. In the hushed moments, Casino Royale manages a tempo and wit that can only be described as Pinteresque. In this scene, M and Bond jab at one another with pointed lines, and twist their knives with silence. That's chemistry.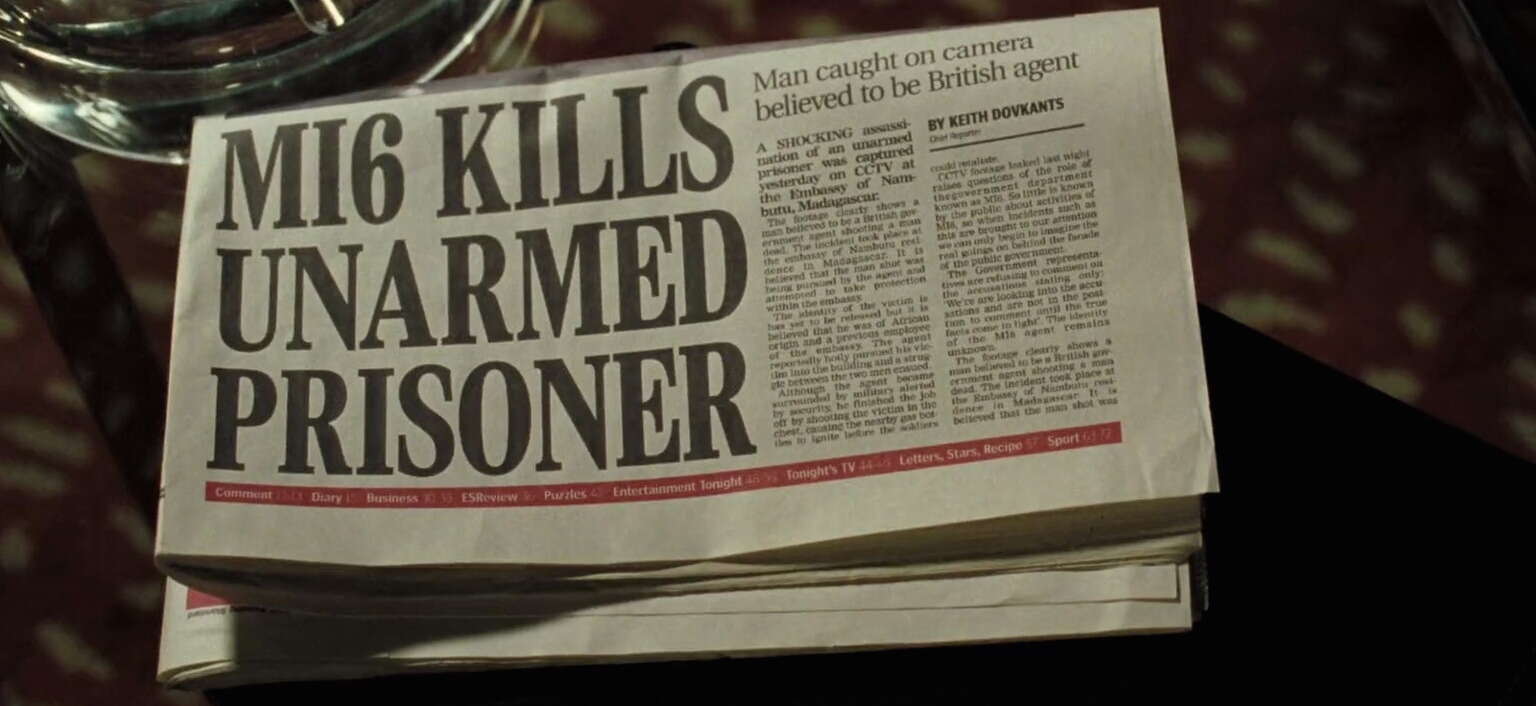 For a brief second, Casino Royale becomes a Coen brothers movie, where the moves are hyper-deliberate and cartoonishly legible. Look close enough and you'll see real-life journalist Keith Dovkants meeting his word count by repeating his lede paragraph. Journalism today! Sad!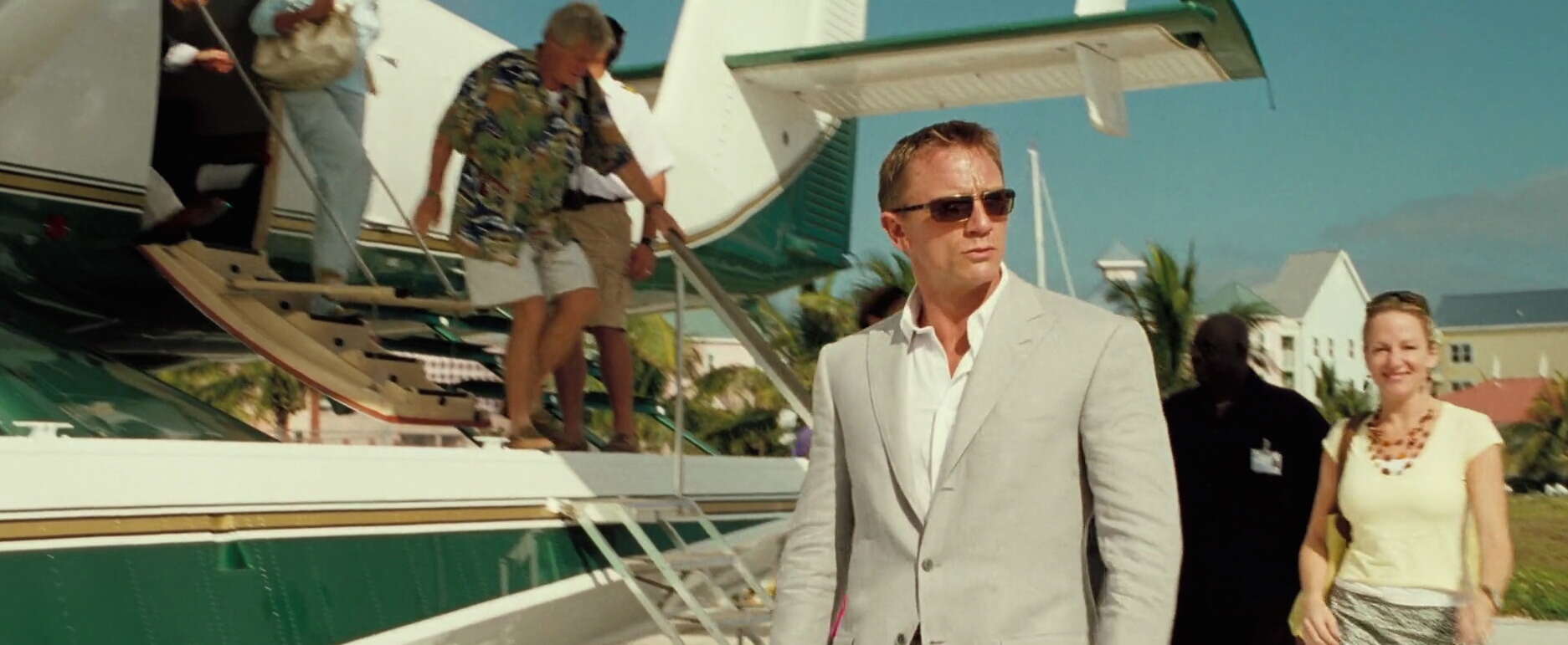 Look, Pierce Brosnan rocked the three-piece tuxedo and Soviet-ready navy overcoat, but Craig brought fashion back to Bond with Casino Royale. What separates the 007 franchise from every other action-spy thriller is its ability to freeze frame into a GQ spread. Flashes of glamour are bespoke to Casino Royale, a movie always ready to dazzle after fisticuffs.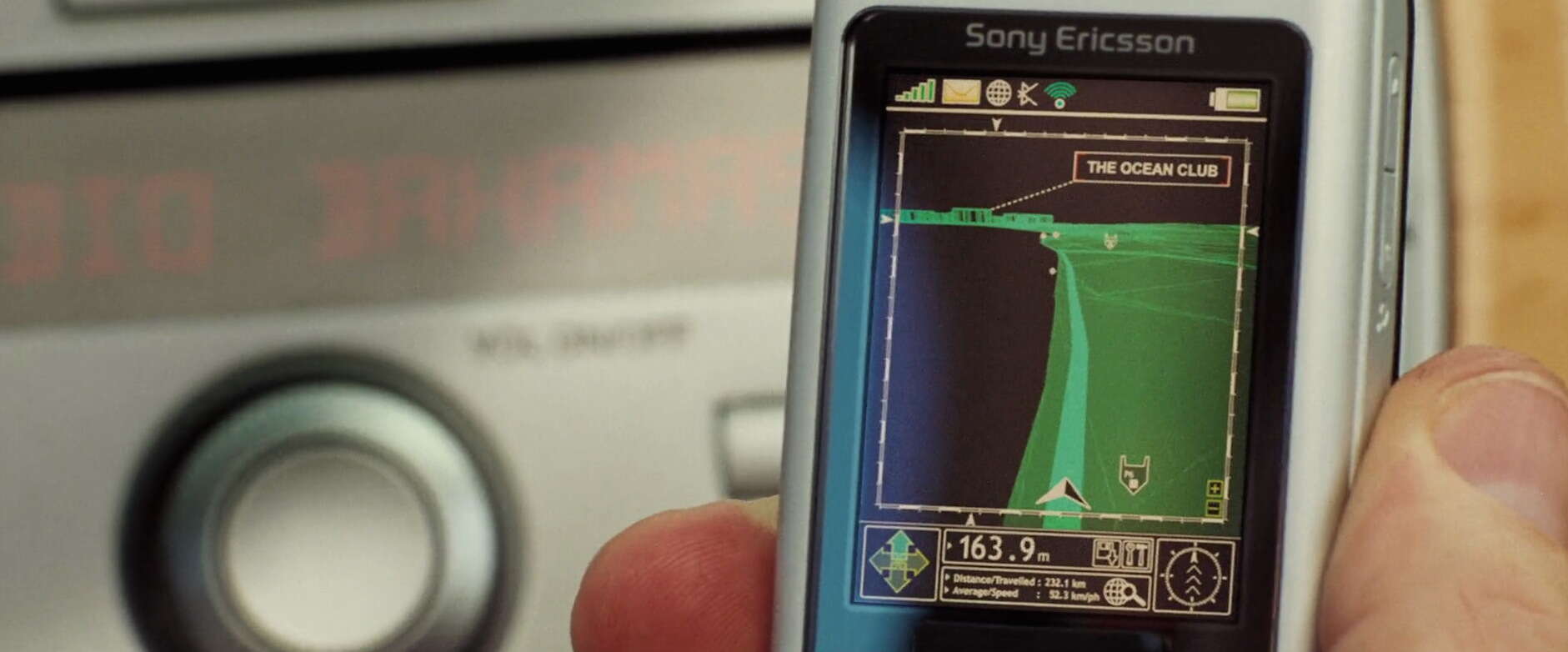 See, the Sony Ericcson was already a smartphone.
Bond nearly blows his cover in the Bahamas by crashing the car of two elderly vacationers who confuse him for a hotel employee. He's a true asshole fulfilling all of our fantasies.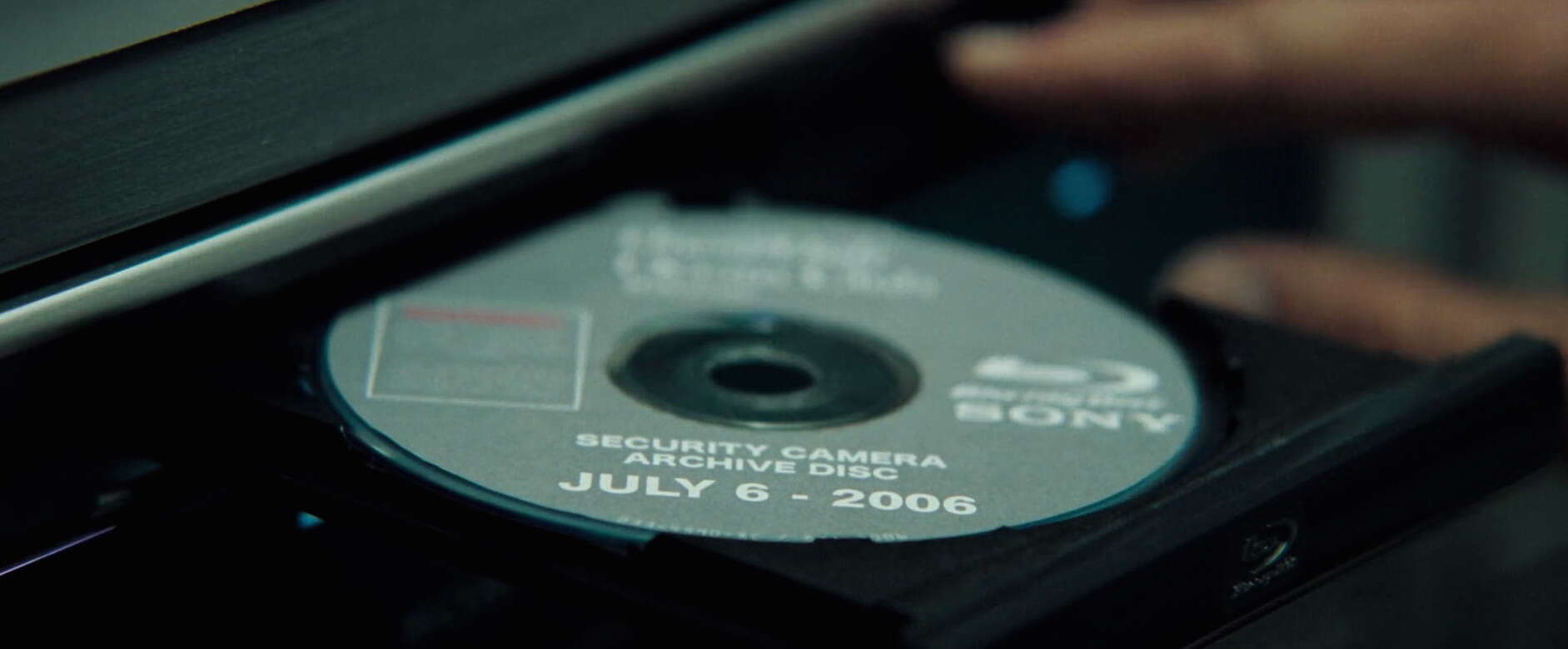 The Ocean Club records all of its security camera footage on Blu-ray. Fancy even behind closed doors!
Bond casually seducing a concierge into revealing his target's room number would seem far-fetched if not for Craig's objectively smooth operating. The Casino Royale had to insist Craig was a charmer, or more statuesque than he is in these some-charm-required moments, or the movie would be a flop (see: the final Roger Moore years).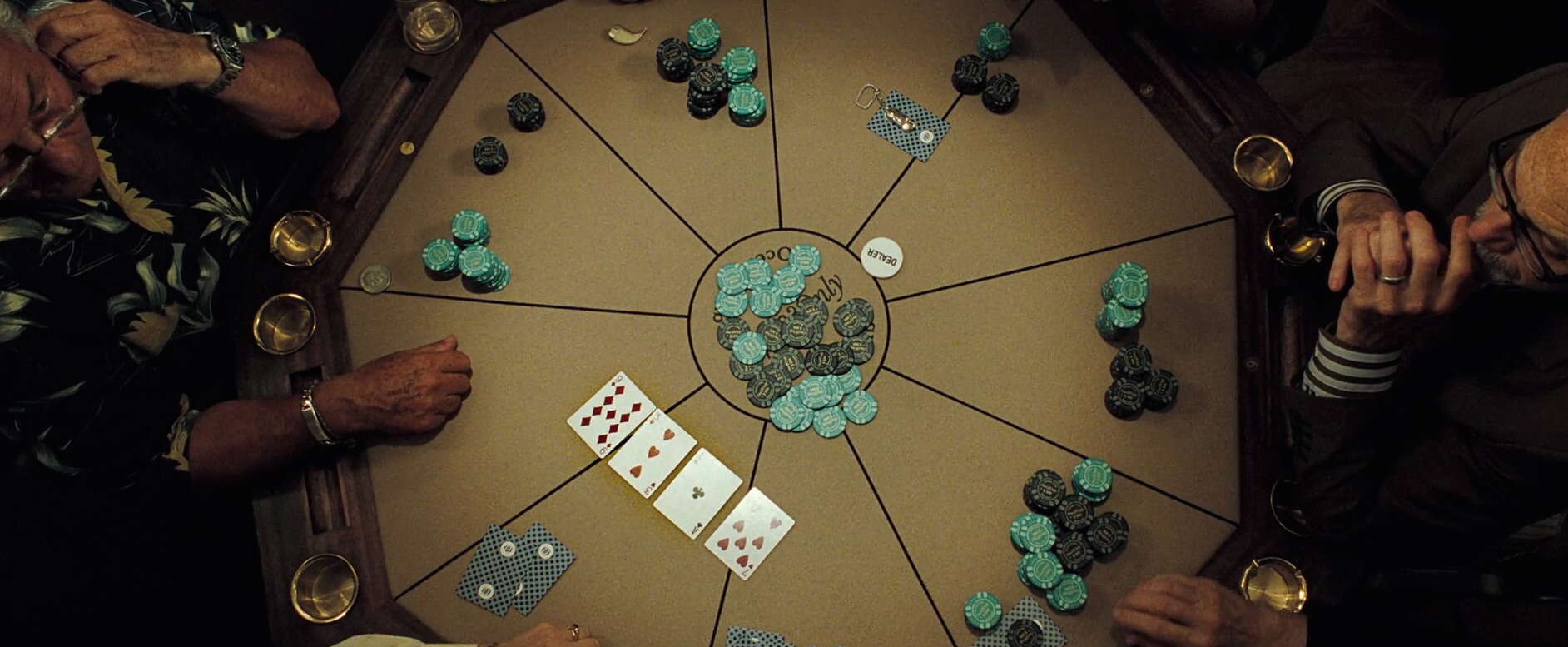 It's easy to forget just how much Texas Hold'em we see in Casino Royale -- and just how much a phenomenon it was in 2006. Campbell, fetishizing each bet, each card flip, each bead of sweat sliding down his players, brings more to the game than Celebrity Poker ever could.
The face Bond makes while aiming his silencer for a kill is the same one he shoots Greek official, Dimitrios, across the table at this high-stakes game. The smile reminds us: Bond's still only human.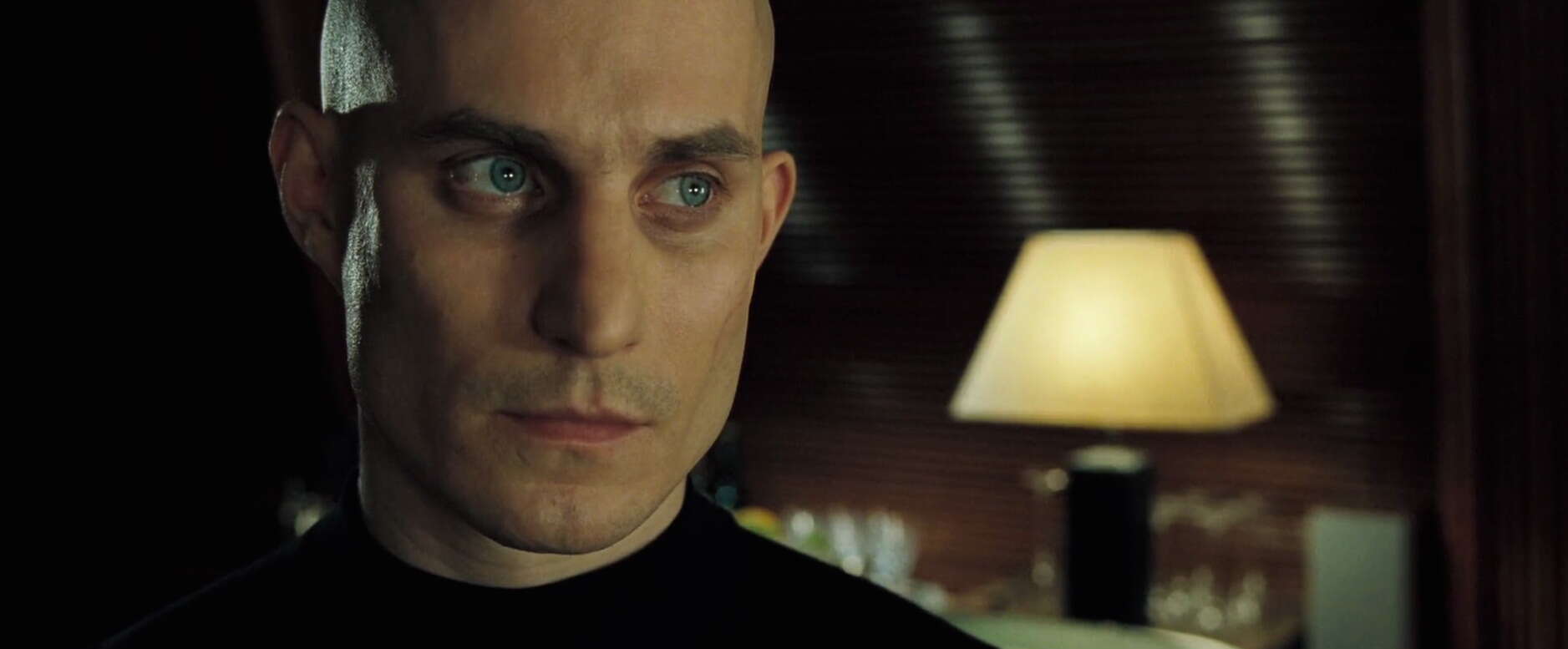 Le Chiffre's henchman does not need a bladed hat to feel like a threat. In fact, this guy doesn't do squat over the course of Casino Royale. But with a single close-up, we're spooked.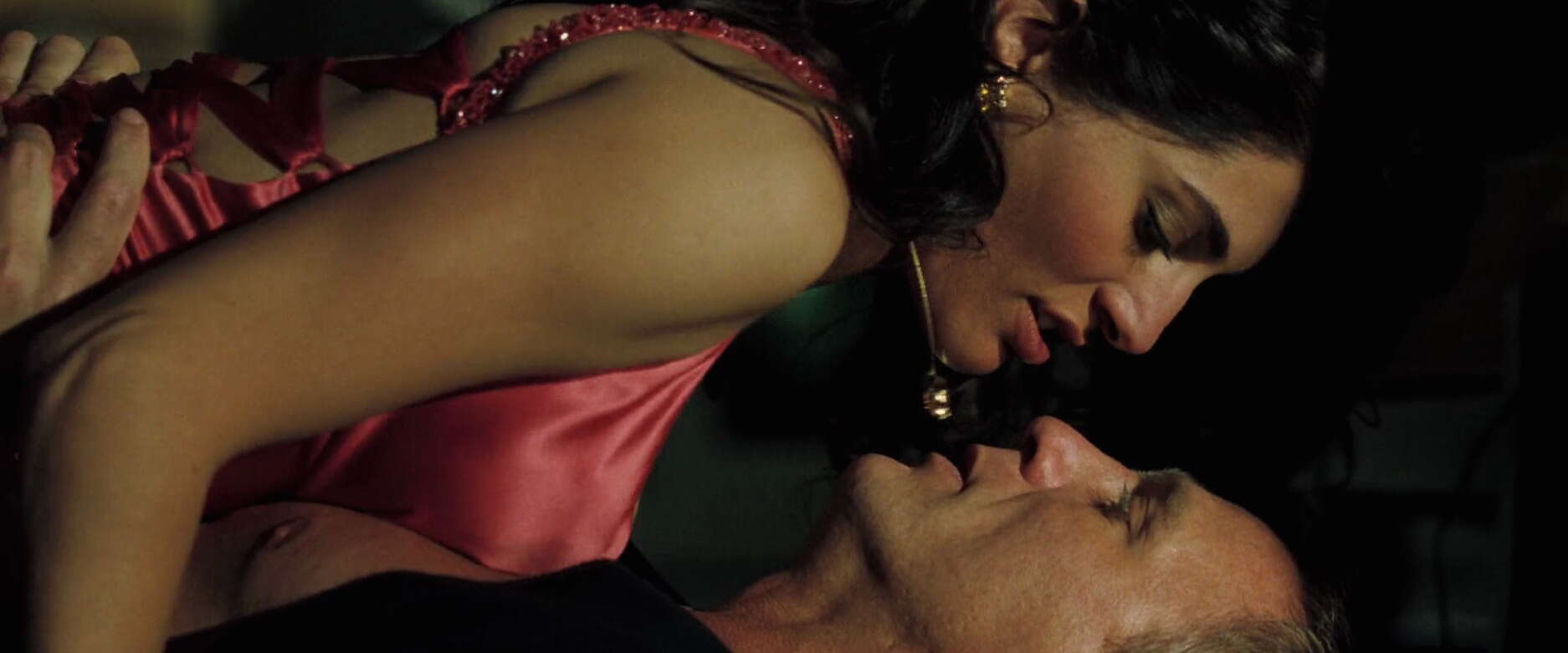 Bedding your enemy's wife is not a noble act, especially when she dies down the road (worth noting: Bond feels horrible about this). In the moment, it's a win-win for both parties. Bond gets the info he needs to save the world, the repressed Solange Dimitrios gets to exert some sexual energy. A truly erotic moment in a Bond timeline filled with awkward encounters.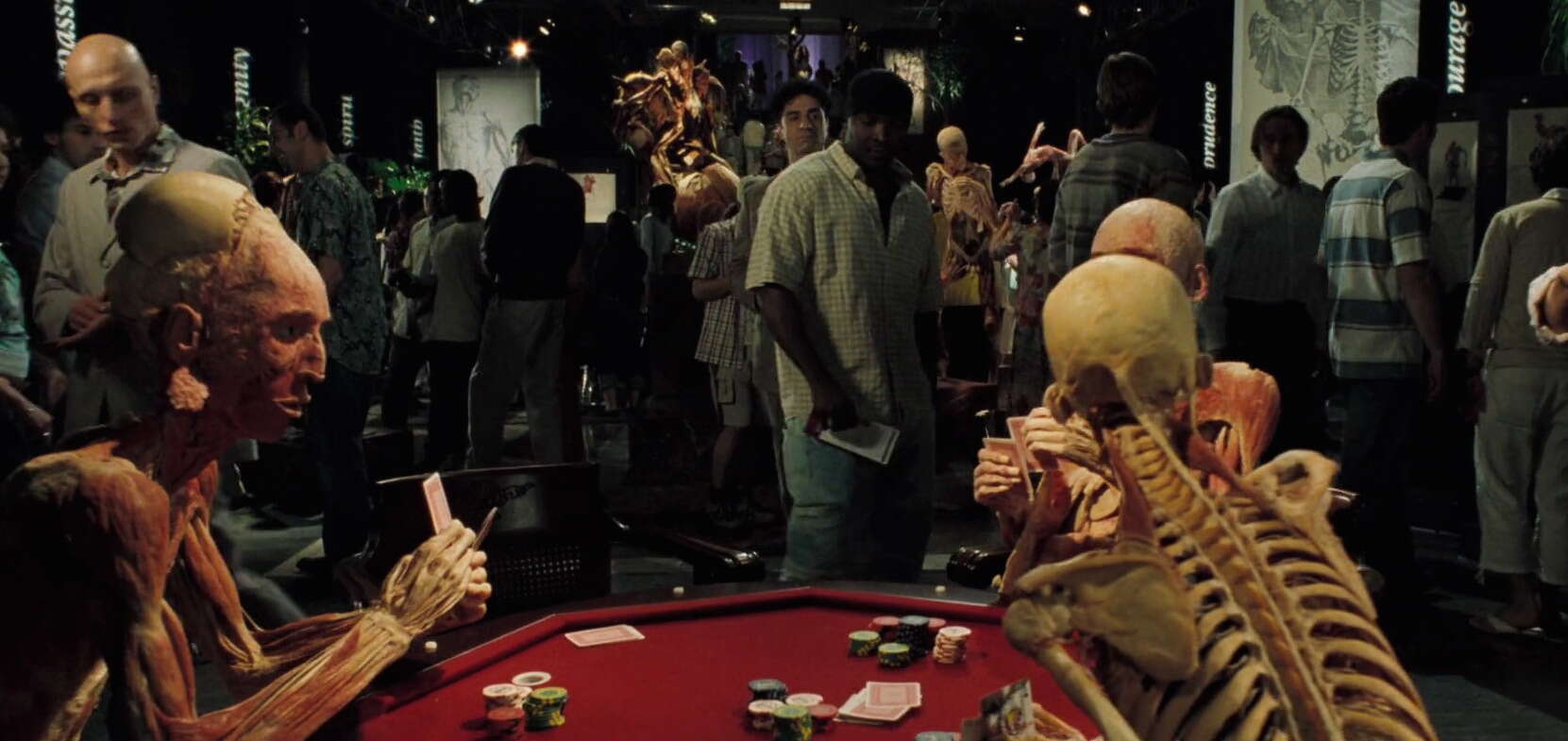 After the Bahamas, Casino Royale whisks us off to... the "Bodyworks" exhibit in Miami. And the petrified bodies are even playing poker! Even stranger than the time Bond visited M and Q in a base hidden inside the RMS Queen Elizabeth.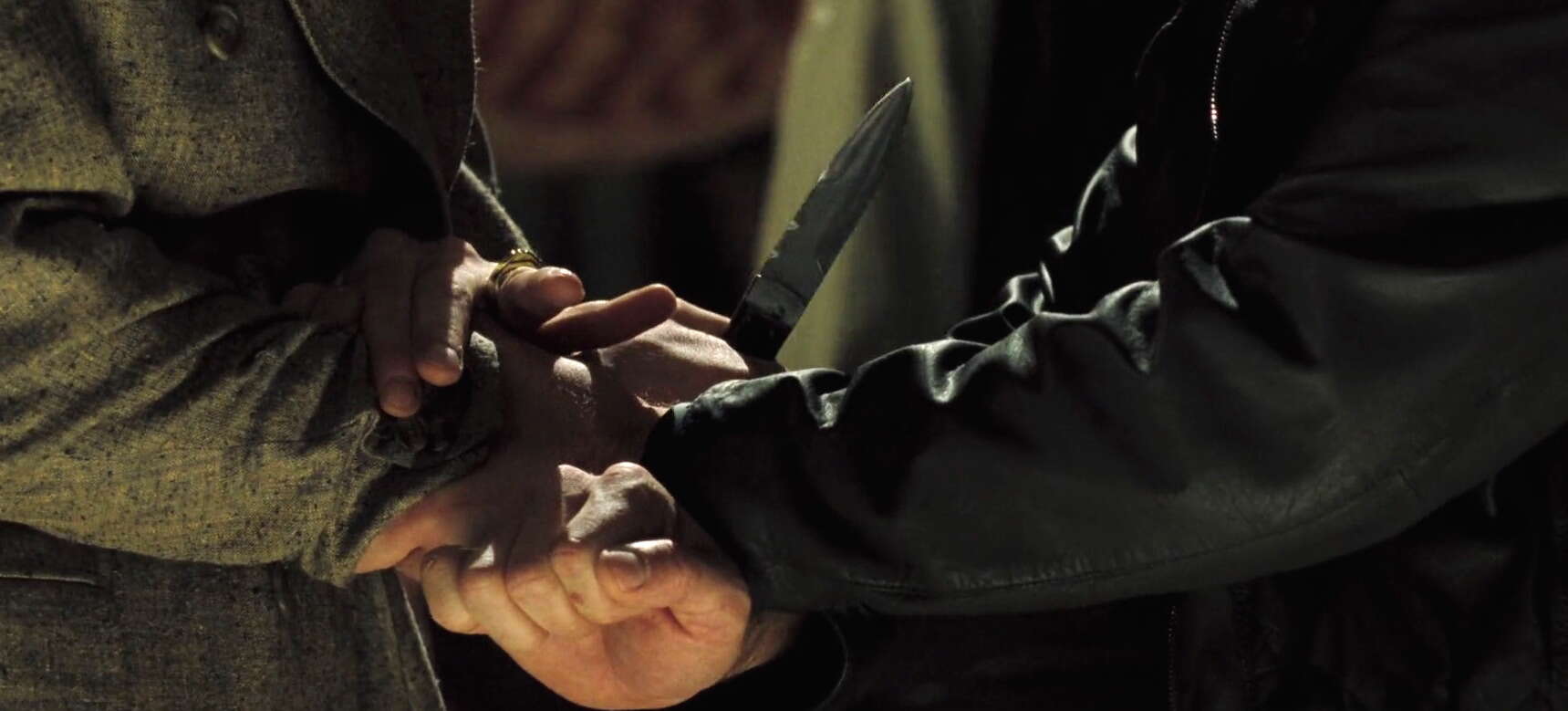 What Campbell can do in a extravagant chase sequence he can do with two men and a knife. The tension in this short scuffle feels like the kind of thing see in a Shakespeare-inspired samurai movie.
Albert Broccoli, the producer who first optioned Bond for the screen, admired Alfred Hitchcock, and even pursued him to adapt Ian Fleming's Thunderball. The master of suspense never accepted the challenge, but Broccoli would have been absolutely giddy about Casino Royale's time-bomb action sequence at the airport. Boarding in Group 4 was never this hectic; each tick of the clock presents Bond with a new danger, obstructing his path to solve his actual problem: The fuel truck is speeding towards the Skyfleet prototype plane. A few choices add to the precision direction...
This plane is huge, which signals to our imaginations: The explosion will be huger.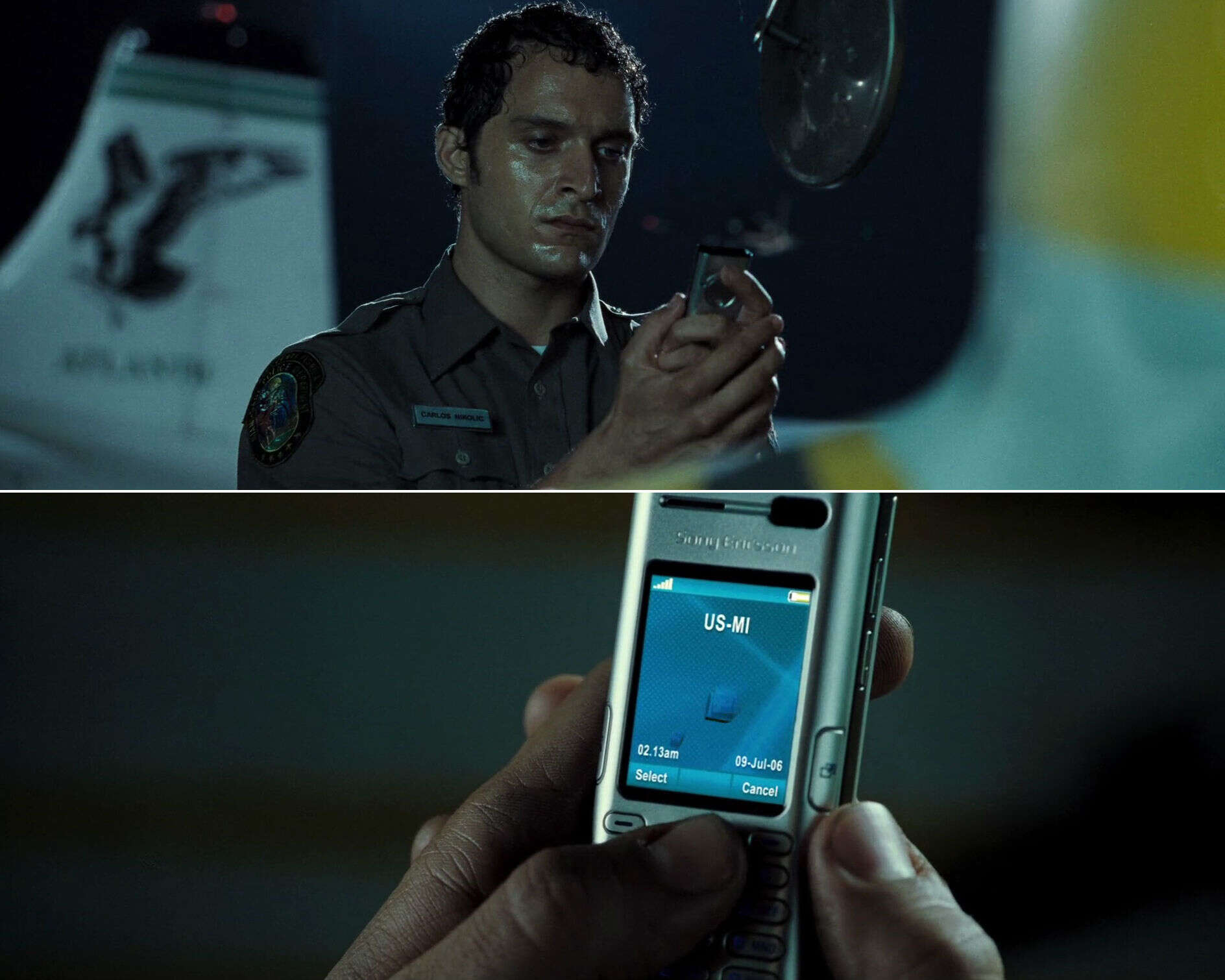 The Sony Ericsson can do anything!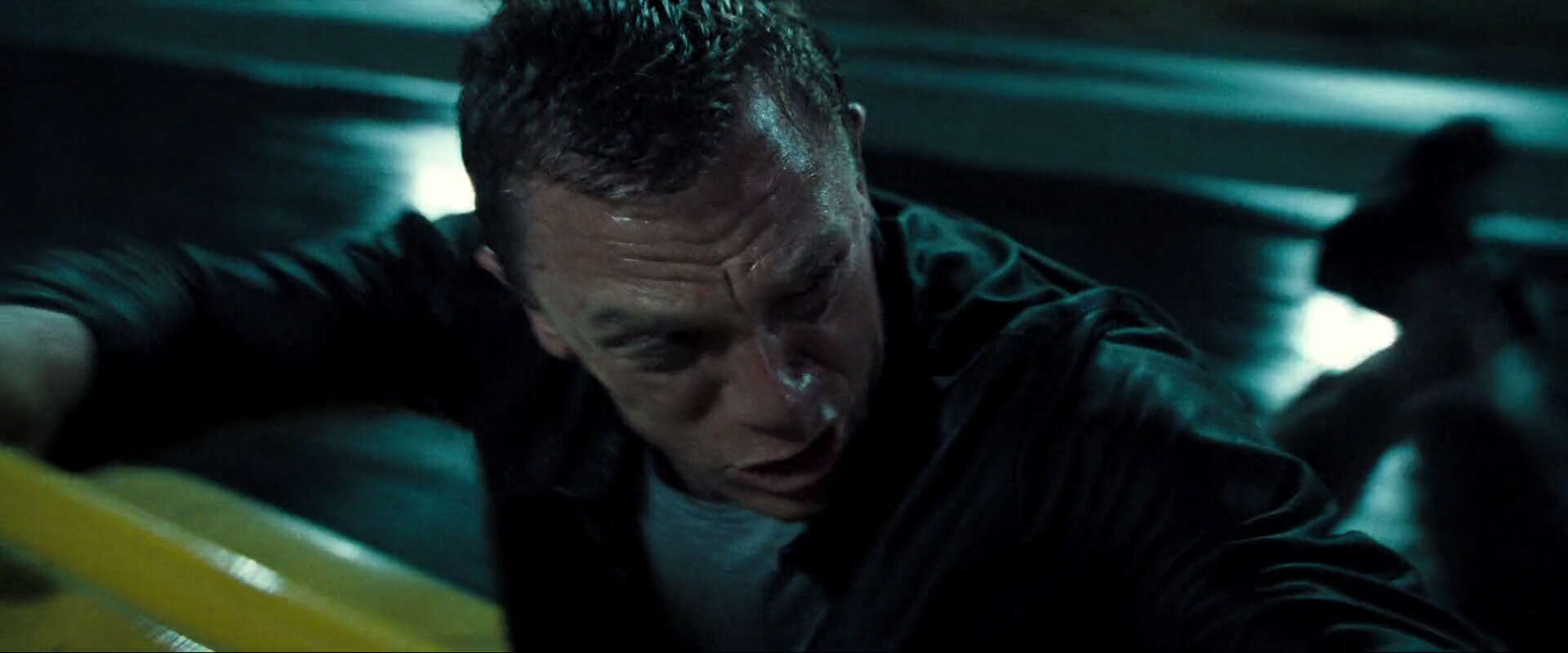 Craig goes through hell in this scene, taking blows and feeling the roaring side effect of hanging on to the side of a speeding truck. In the Africa chase he was a powerhouse. Here he's praying to Shiva that his hand doesn't slip.
For all the espionage and hidden identities, the sequence's final Hitchcockian twist is that the good guys think Bond's a bad guy. So he's dealing with a terrorist punching him in the face and police firing semi-automatic weapons across his nose.
The North by Northwest moment. Slightly bigger plane.
007 gets his own James Bond face. "I actually pulled that off?" You did.
Not since Pazuzu possessed Reagan has anyone made a face this devilish, which slides on to Bond's mug after his adversary accidentally triggers a bomb attached to his belt.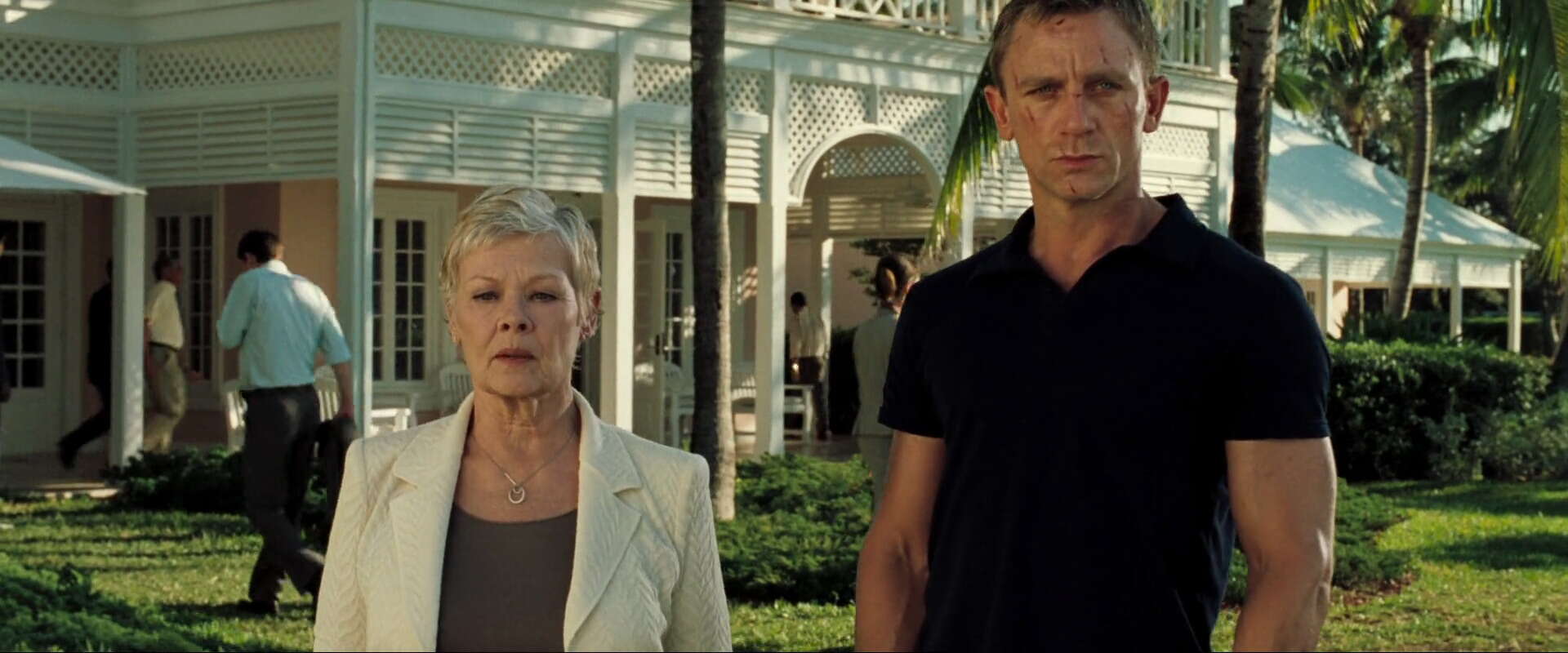 Bond's actions sink in on repeated viewings of Casino Royale. Who does this guy think he is? He wonders himself. A "license to kill" emboldens the spy as both judge and executioner. Occasionally, his actions cost the lives of civilians. He's a living drone, a chilling shell of a human, and this short dialogue scene with M, staged in front of Solange's dead body, questions his usefulness.
Die Another Day had an invisible car, Casino Royale has this employee-tracking device. This is gear that preys right on Britain's Big Brother fears.
In an alternate, utopian universe, the thriving Vesper Lynd franchise spent 2006 reintroducing James Bond to unfamiliar youngsters. We got it the other way around, of course, but Eva Green arrived blockbuster-ready, matching Craig in every attribute. Her Vesper is keen and cautious, an armchair psychologist who can go toe-to -oe with Bond's witticisms. Their first meeting feels ripped from the pages of Sherlock Holmes' bitterest mysteries.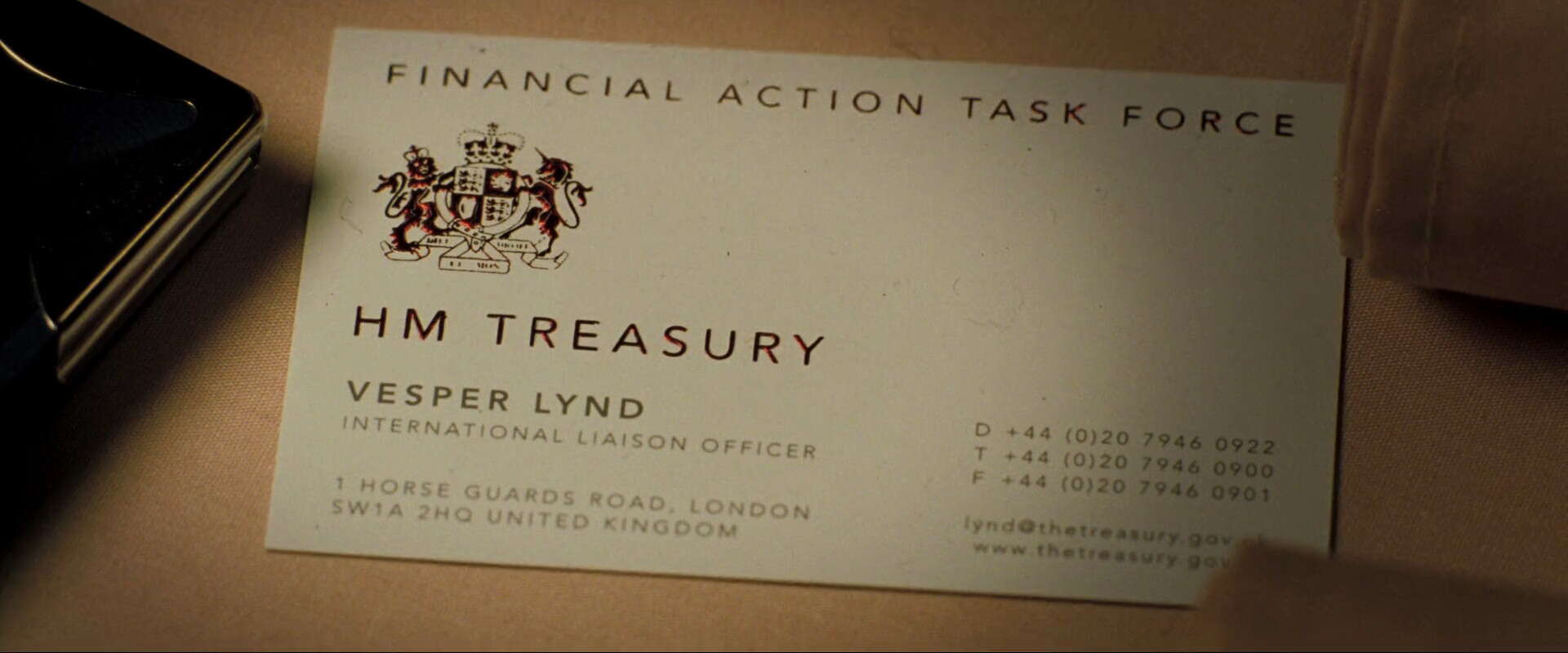 "Financial Action Task Force" -- hey, whatever makes you feel important!
Bond isn't so dead inside after all. Whether he can still be an efficient 00-spy while harboring human feelings is a quagmire that Casino Royale doesn't have to answer by the time the credits roll.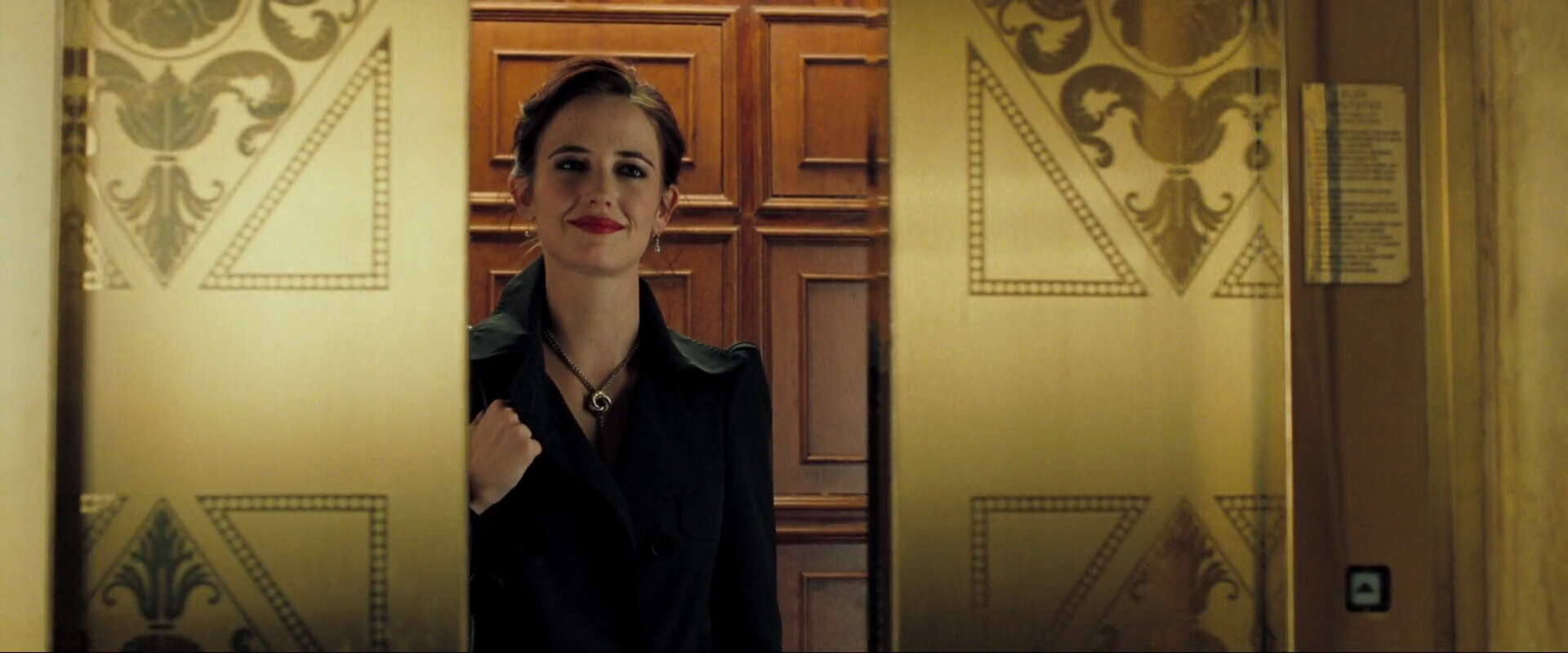 Bond, professional jackass, checks himself and Vesper into their Montenegro hotel under his own name. Vesper begs him to follow protocol. Together they forge the cutest love-hate relationship since Indiana Jones and Marion Ravenwood. "There isn't room enough for me and your ego," she says, entering the elevator and firing a deadly diss-bomb directly at Bond's heart.
No movie is perfect. See: this scene where Matthias discusses Le Chiffre's corruption of the local police.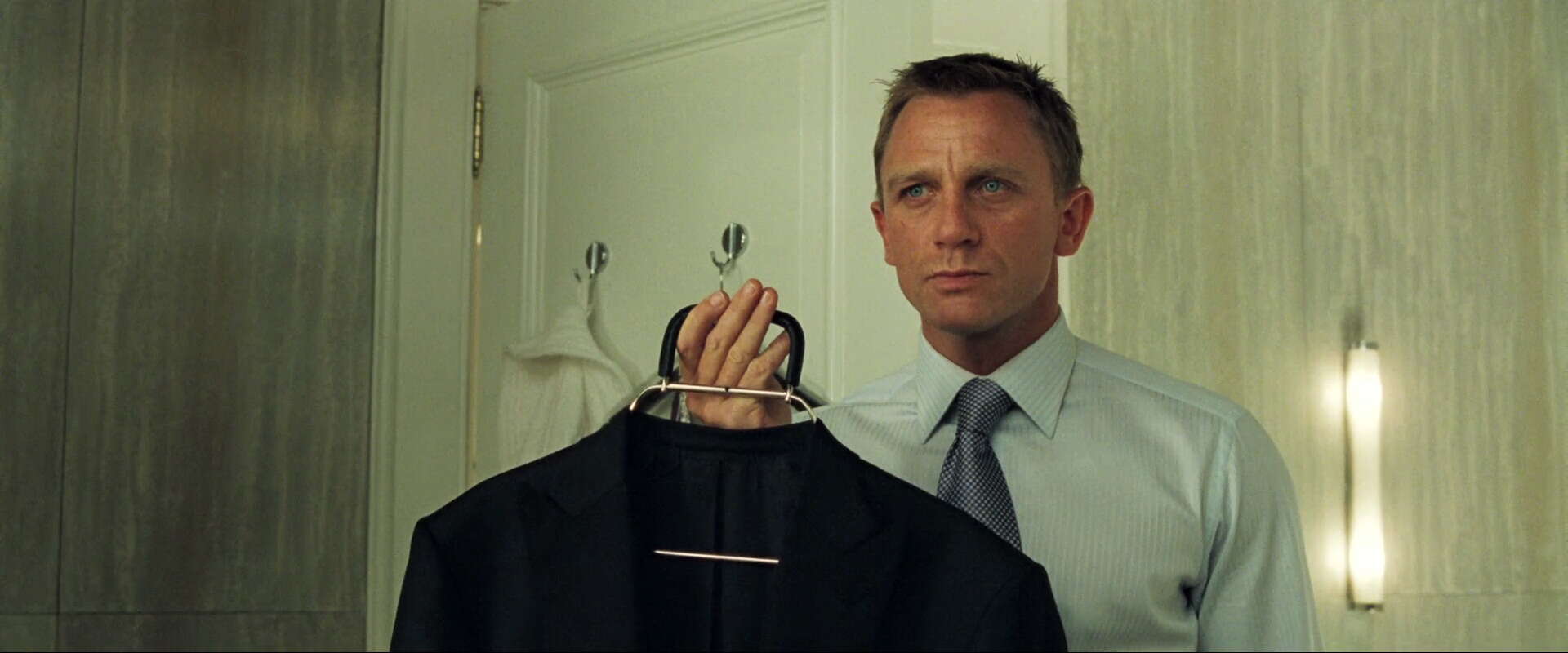 Vesper: "I need you looking like a man who belongs at that table."
Bond: "... It's tailored."
Vesper: "Oh, I sized you up the moment we met."
Casino Royale is one of the best romantic comedies that no one in their right mind would categorize as a romantic comedy.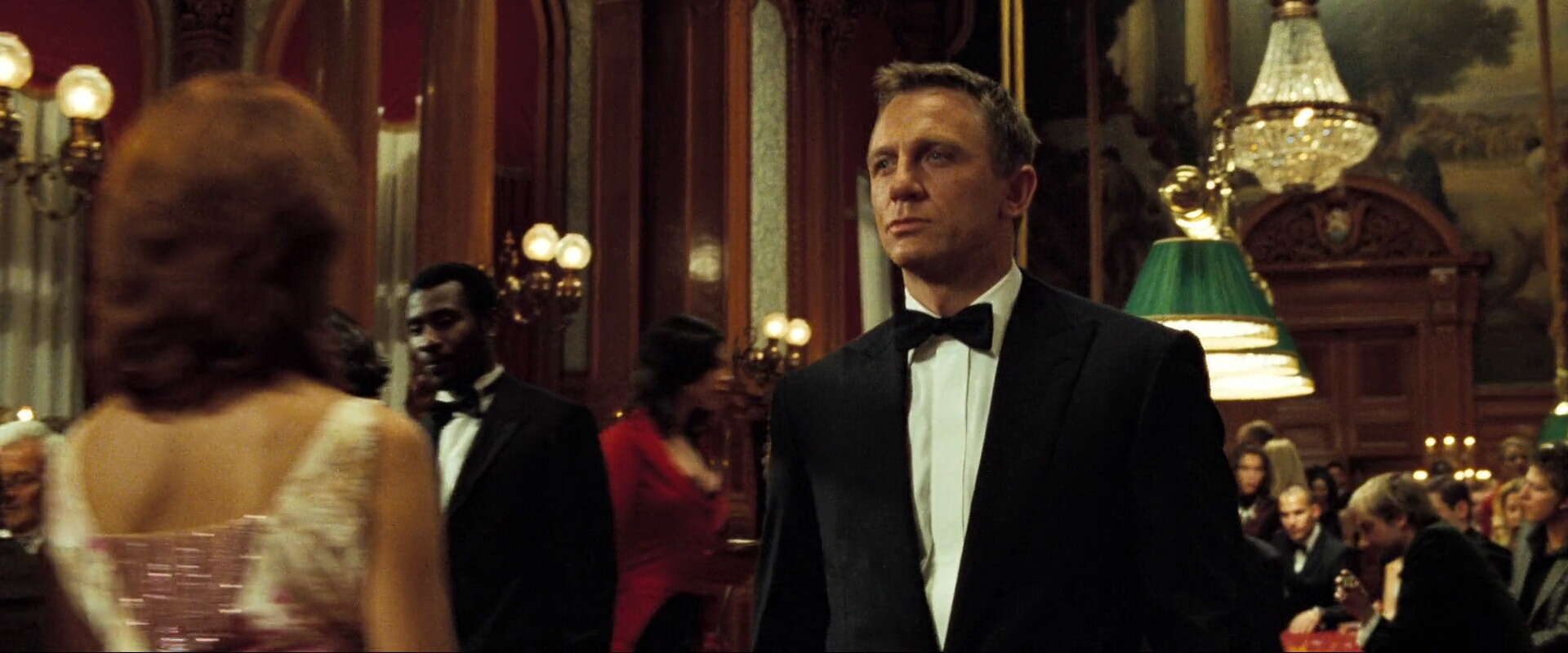 A simple shot can take your breath away. This is Bond. James Bond. In a flash, particles from the beginning of time assemble on screen to form this legendary image. Bond walking a casino in a tux is like Batman slipping on his cowl for the first time or Luke Skywalker firing up his lightsaber. Casino Royale's revisionist attitude can't resist indulging in these classic moments. Campbell knows just when to take his taste.
Casino Royale's spurts of poker are pistol-less shootouts at dawn. Craig and Mikkelsen scowl and stun, waiting for the other to falter with a "tell." Le Chiffre's Blofeldian eye scar keeps the James Bond theatrics intact.
Fact: A person who can specify the exact proportions of their perfect drink is the coolest person in any given room. Daniel Craig reinvents the Vesper by ordering it like an Aaron Sorkin character.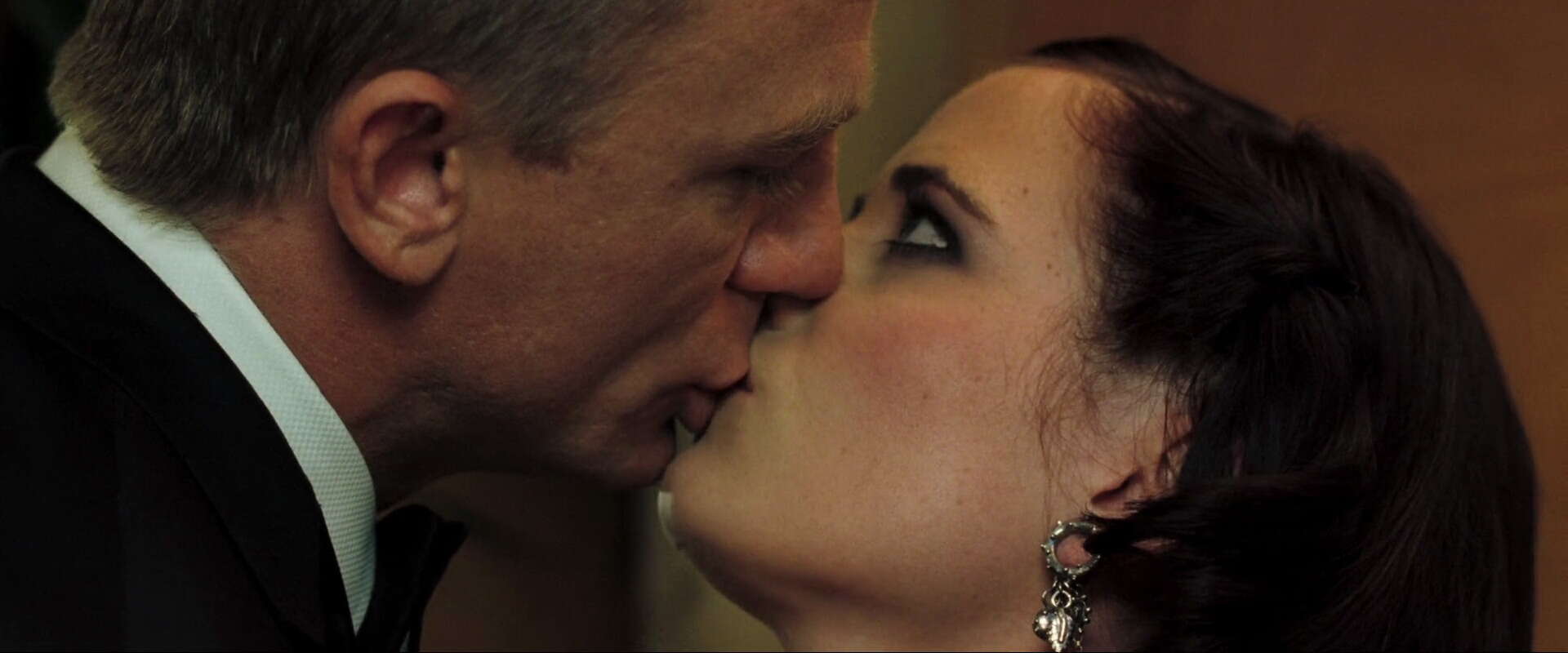 Ten years haven't been kind to Bond's reputation. In the wake of Spectre, critics tore into the character's misogynistic sexual conduct. The characterizations aren't wrong -- shockingly, '60s era Bond wasn't too concerned about 21st-century gender equality -- but reducing Craig's portrayal because the past haunts his character doesn't feel quite right either. Bond is an asshole to everyone. He's broken. He's stubborn. He uses everyone in his path. HIs flirtatious relationship with Vesper gives him the credence to land this smooch, but if he had to do it to a horse to reap the same reward, I think he would. Bond goes there, for better or worse. He just so happens to love this woman.
Oh right, the Ugandan warlord! Casino Royale pulls the carpet from under our feet by endangering our villain. A shocking twist of fate, which twists again as Le Chiffre escapes.
Vesper Lynd is all of us.
How many fight scenes does one movie need? Science has yet to determine the answer, but Casino Royale makes a strong case for "never enough if they take your breath away." Bond's stairwell encounter is an even messier affair than his bathroom fight, with David Arnold's score tapping John Williams' veins for one of the more propulsive music cues in Bond history.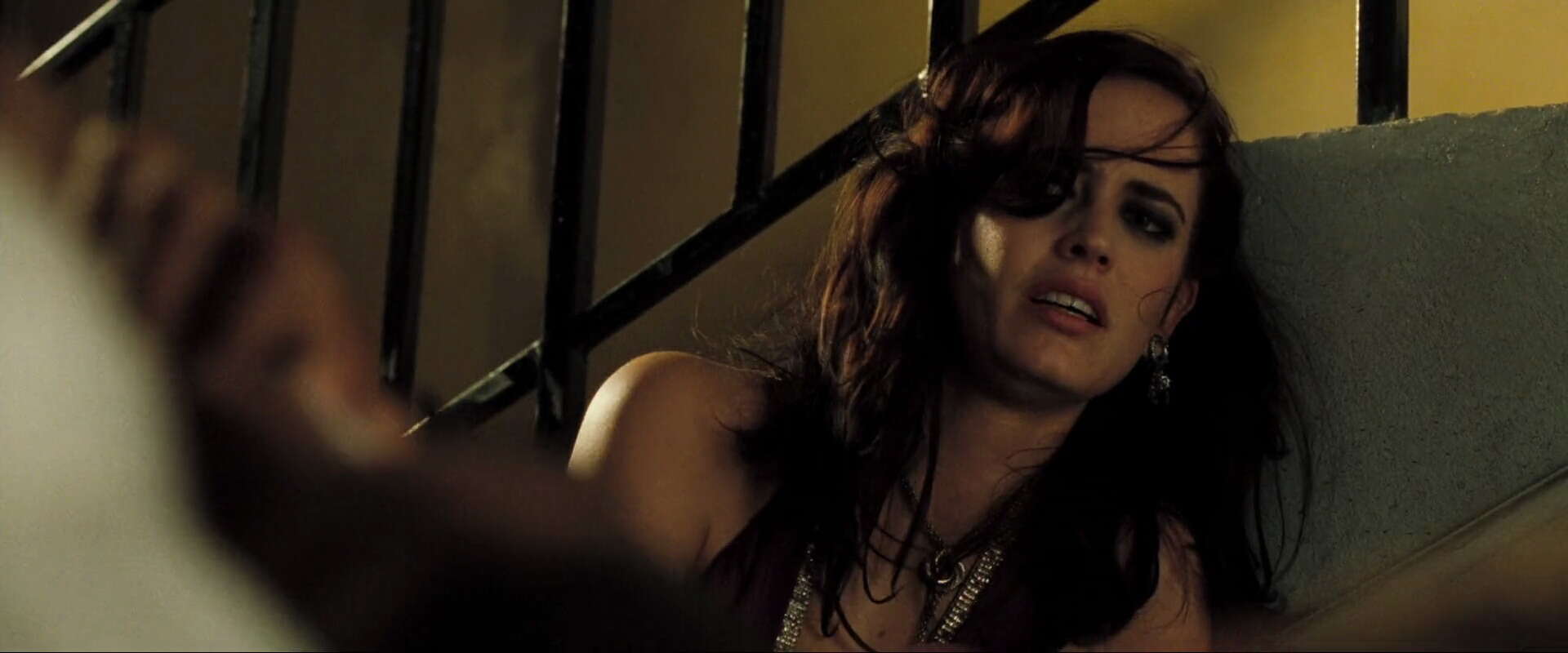 Vesper Lynd is still all of us. If Casino Royale is "dark and gritty," as so many labeled it in the wake of Christopher Nolan's Batman Begins, it's not because of docu-action, but shots like this, where real people process Bond's killer nature from within the cage. The events of past Bond movies would be traumatic for any accessory players. In Casino Royale, they are traumatic.
Oh, so that's what happens when you wrestle with a knife-wielding militant in the stairwell of a fancy hotel. That makes sense.
That this the first of two times that Bond resumes his poker game after life beats the living daylights out of him which makes this shake of the tuxedo sleeves double delicious upon a rewatch.
A director willing to swing like Babe Ruth can make melodrama work. Vesper and Bond have only shared a handful of scenes by the time the two wash the murder off their bodies in a morose hotel shower. Vulnerable, intimate, and exhaling, the moment lasts a lifetime, and does all the heavy lifting when, eventually, we're supposed to buy them as madly in love.
Meme culture deserved Le Chiffre.
After losing millions and feeling the wrath of Vesper, Bond channels his angry into a drink order. The drink order. Kind of. Talk about gambling: Screenwriters Neal Purvis, Robert Wade, and Paul Haggis choose this flare-up to invert the classic "shaken or stirred" line, by then the material of parody. In Craig they trust -- we actually understand Bond's complicated fury more because he doesn't have a martini preference.
The worst mistake the Bond franchise ever made was letting Jeffrey Wright's Felix Leiter slip through its fingers. To bring it back to Sherlock Holmes, the American intelligence agent is like Watson to Bond's Sherlock, funneling instant rapport into the heated moment of buying back in to the game. Bond is also a bit like Saturday Night Live producer Lorne Michaels: If you can make him laugh, you're in for life.
Bond's ego, often a handicap, saves his ass in the eyes of the CIA. He returns to the table with a big head, and Campbell shoots him with... a big head.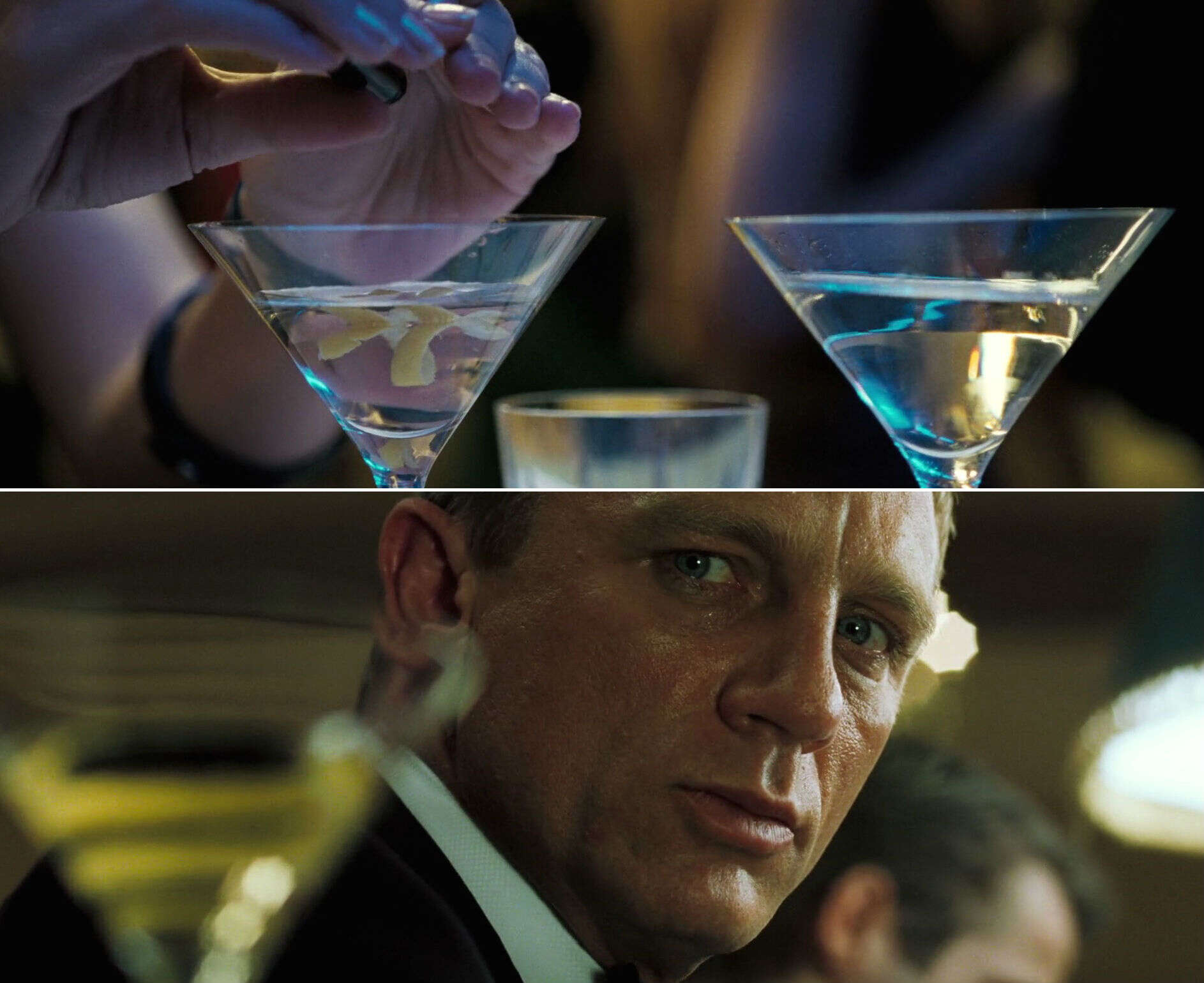 A classic spy movie maneuver sends Bond into overdrive, where everyday objects are enormous mountains to climb.
Casino Royale embarks into the psychotropic to put us into Bond's poisoned, perspiring body. Salt cocktail shaken or stirred? He does not give a damn on that either.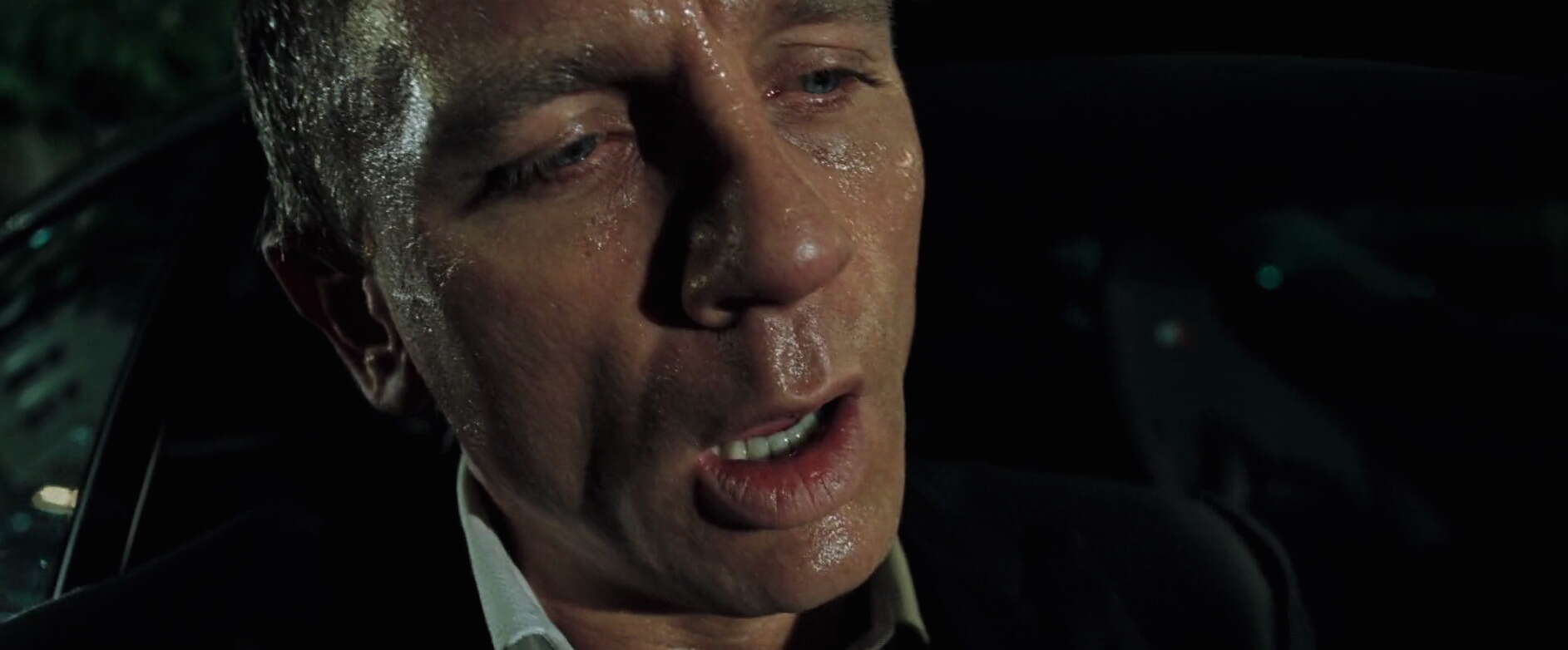 Even with all the crazy shit preceding it, Bond's moment of self-defibrillation is heart-pounding (for us... not him). We may never see the uber-dark Bond addiction story, so we'll have to settle for on-the-brink-of-death Bond, shot like a mini-version of Trainspotting.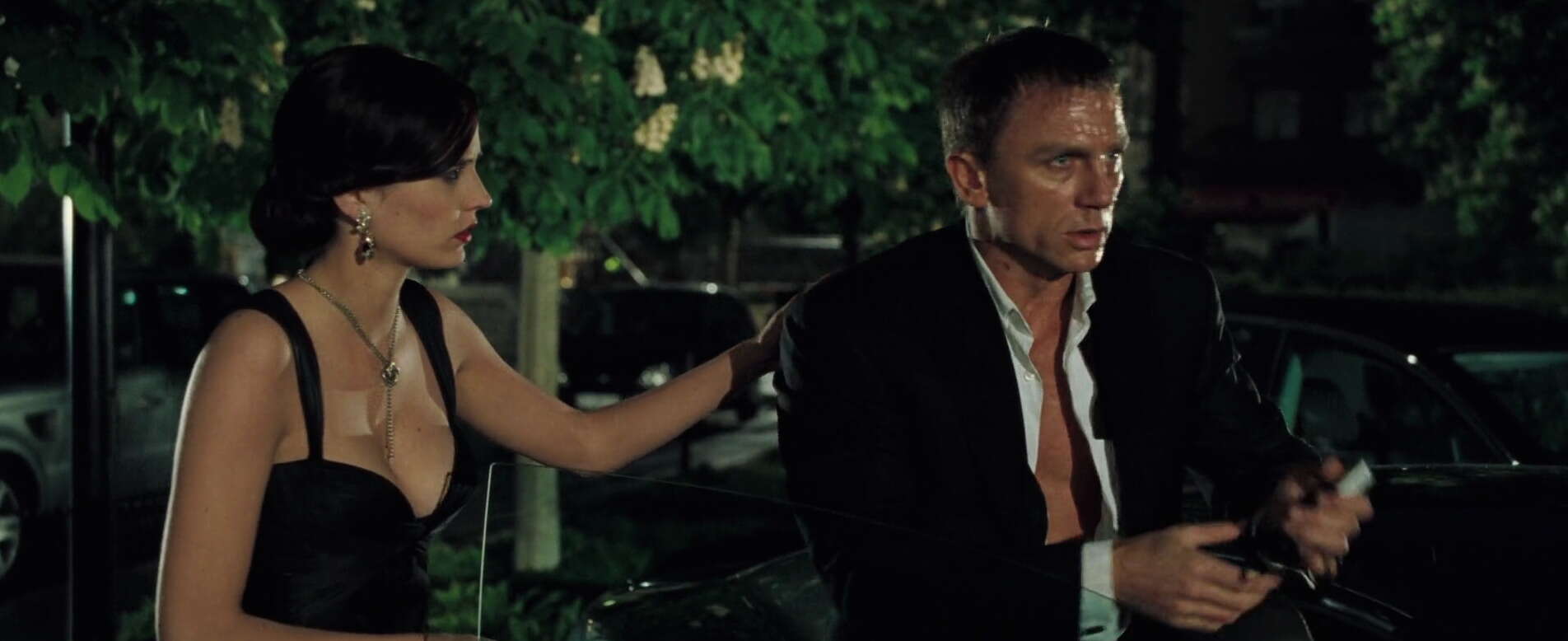 Can't stop. Won't stop. May not stop when he actually succeeds. The Bond character is obsessed, and one day, which we'll never see, it'll probably kill him.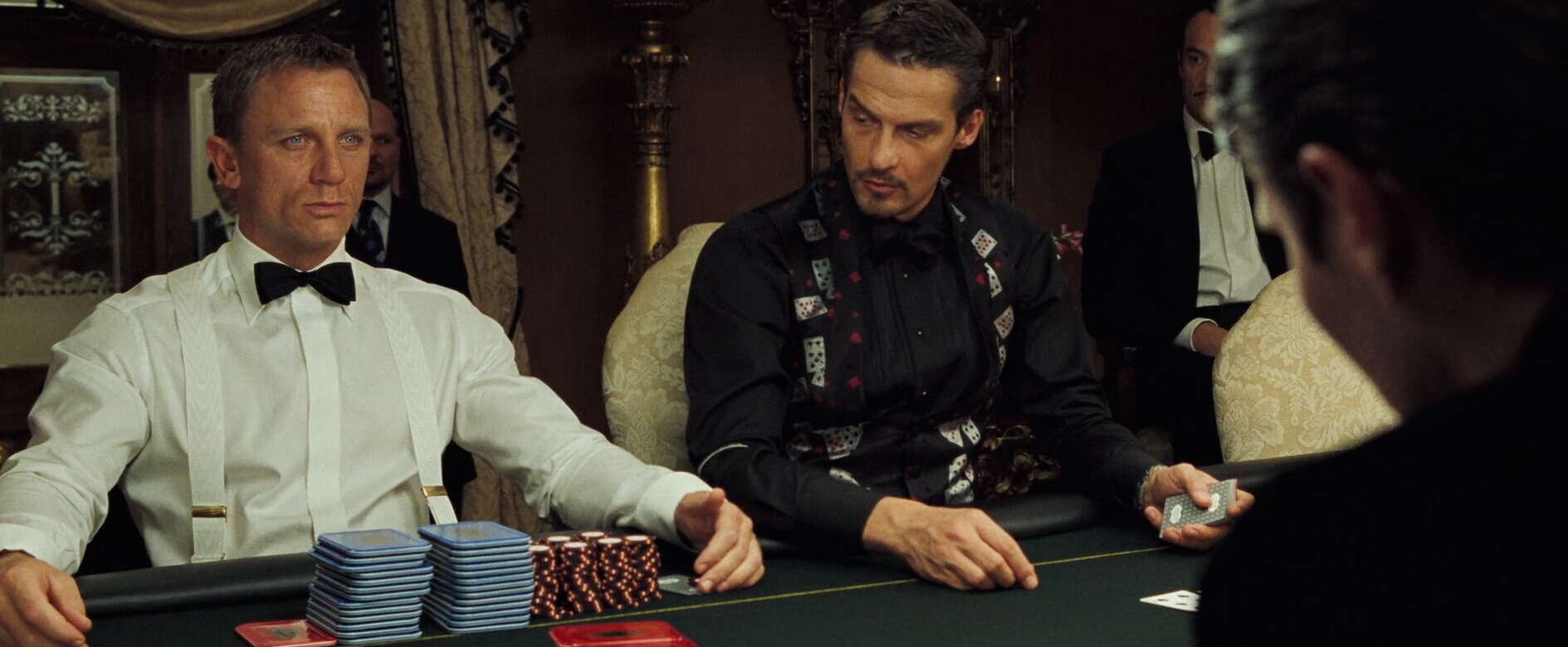 Campbell mounts Bond's final return to the Casino Royale poker table, his final face-off against Le Chiffre, like a martial arts battle. This stance is more The 36th Chamber of Shaolin than anything you'd see in Rounders.
Scariest lines, ranked:
3. "It's coming."
2. "It's inside the house."
1. "All in."
Watch this match. Admire every turn. And every flop and river, while we're at it.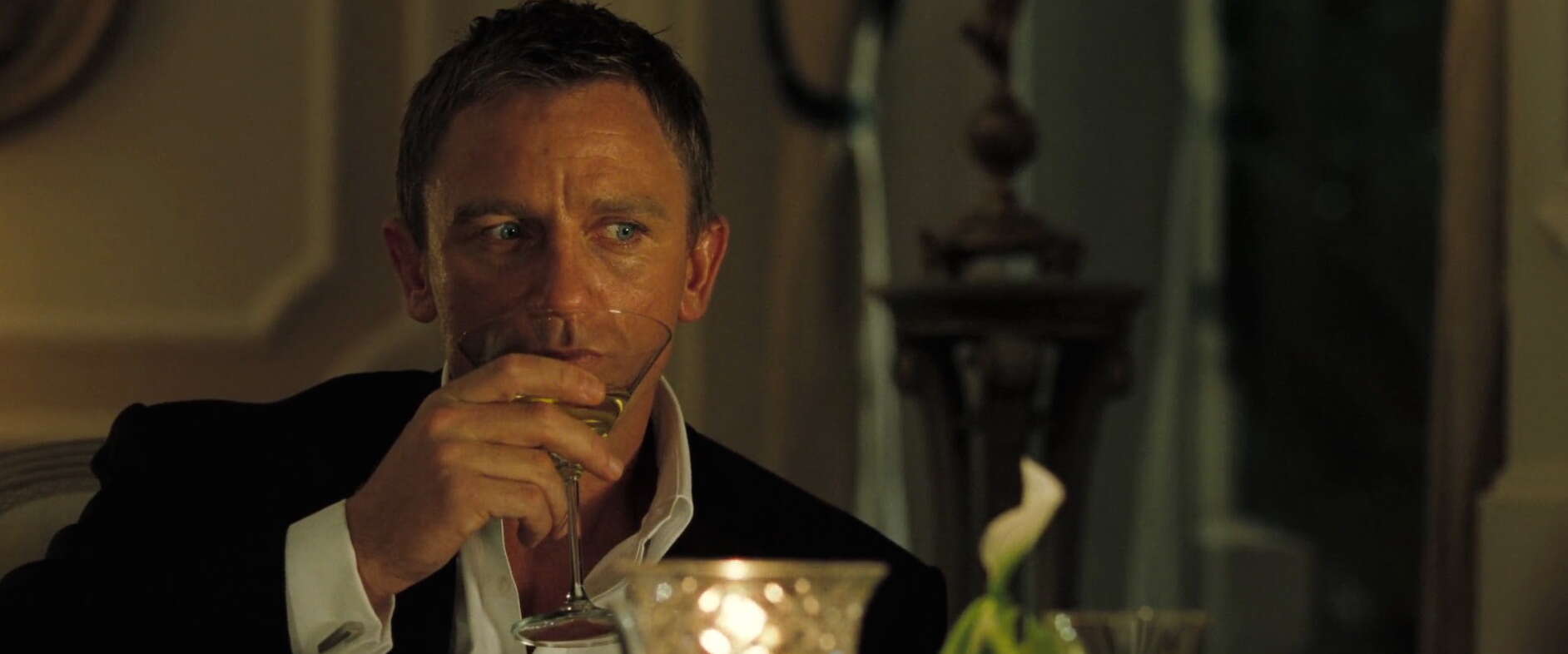 Bond turns a win for the Queen into a fight with Vesper. He can't quit sparring. If he's not driving a dagger into a villain's throat he's digging into the person sitting across from him. It's Hollywood orphan syndrome: disconnected from the world because he can't identify with the concept of home, constantly hustling so as to never go home empty-handed, distrusting of everyone -- even himself. In the Connery and Moore days, audiences looked up to Bond, a definition of masculinity and cool. In Casino Royale, we pity our hero, a victim of his proficiency. Even in this scene he seems to wonder, Why am I drinking alone?
This car flip, sucking more and more air out of our lungs with each revolution, is that perfect balance of engineering and art that proves stuntmen deserve Oscars.
Casino Royale's emotional emasculating of James Bond has a scene where the villain literally bashes the spy's testicles with a carpet-beater. Wrenching in pain, 007 laughs. The constantly compensating Le Chiffre can take his manhood -- Bond will outlast him either way. "Now you can tell your friends you died scratching my balls!" This is an evolution, considering a half-century of James Bond.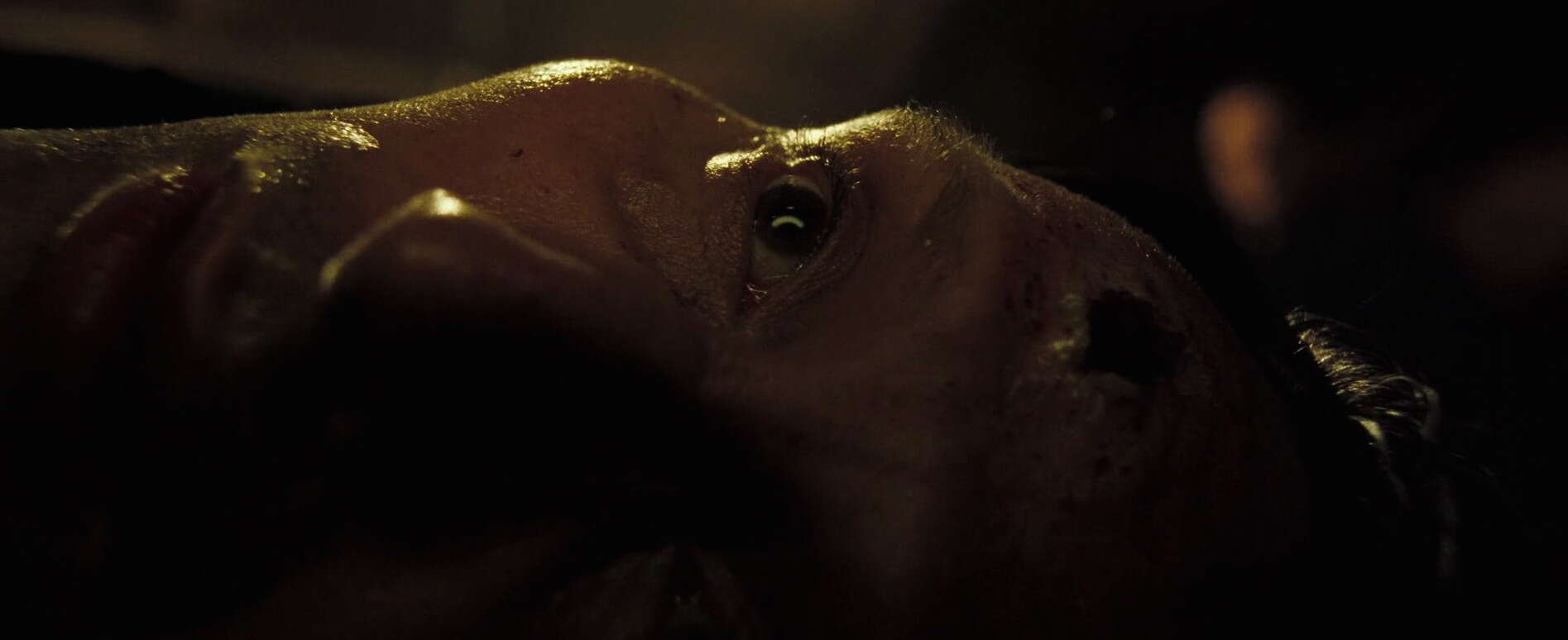 Surprise! Le Chiffre does die scratching Bond's balls. Just as our villain was unexpectedly roughed up by Ugandan warlords halfway through the poker tournament, a shocker for anyone attuned to the conventions of blockbusters, Casino Royale once again upends expectations by killing off Le Chiffre with a single bullet. There are more threatening forces in this world, ones that murder Bond's foes in cold blood, ones that Bond will inevitably face. The years after Casino Royale saw a gluttony of sequels and franchise-long arcs, but the introduction of a shadow organization both recalled (while eventually manifesting) Ian Fleming's Spectre and kept audiences in the dark until the very last seconds -- even beyond. We always know "James Bond Will Return." Casino Royale gave the promise purpose.
Bond in Heaven, for just a moment.
Casino Royale is a tease. This could be a real happy ending for these Vesper and Bond. They've fought their way to rest and relaxation, they're about to spend government money to treat themselves, and these two, previously shattered by their own insecurities, are glued back together by passion. "Would you say you're warming to me?" Bond asks. "Yes, that's how I would describe it," Vesper replies through a laugh. Campbell plays these scenes like Casablanca just so he can break us in the grand finale.
Bond's tryst with Solange was erotic and disengaged -- Bond let her go at it while waiting for his real cue. Fueled by true romance, Vesper and Bond's consummation is, for lack of a better phrase, hot as hell. A sex scene can be phoned in out of obligation. Green and Craig bring exactly what they do in the tense bar of the Casino Royale to this hookup.
At this point, if you're watching Casino Royale for the first time, you're really wondering where the hell this movie is going. How many more happy scenes are 007-obsessives expected to endure??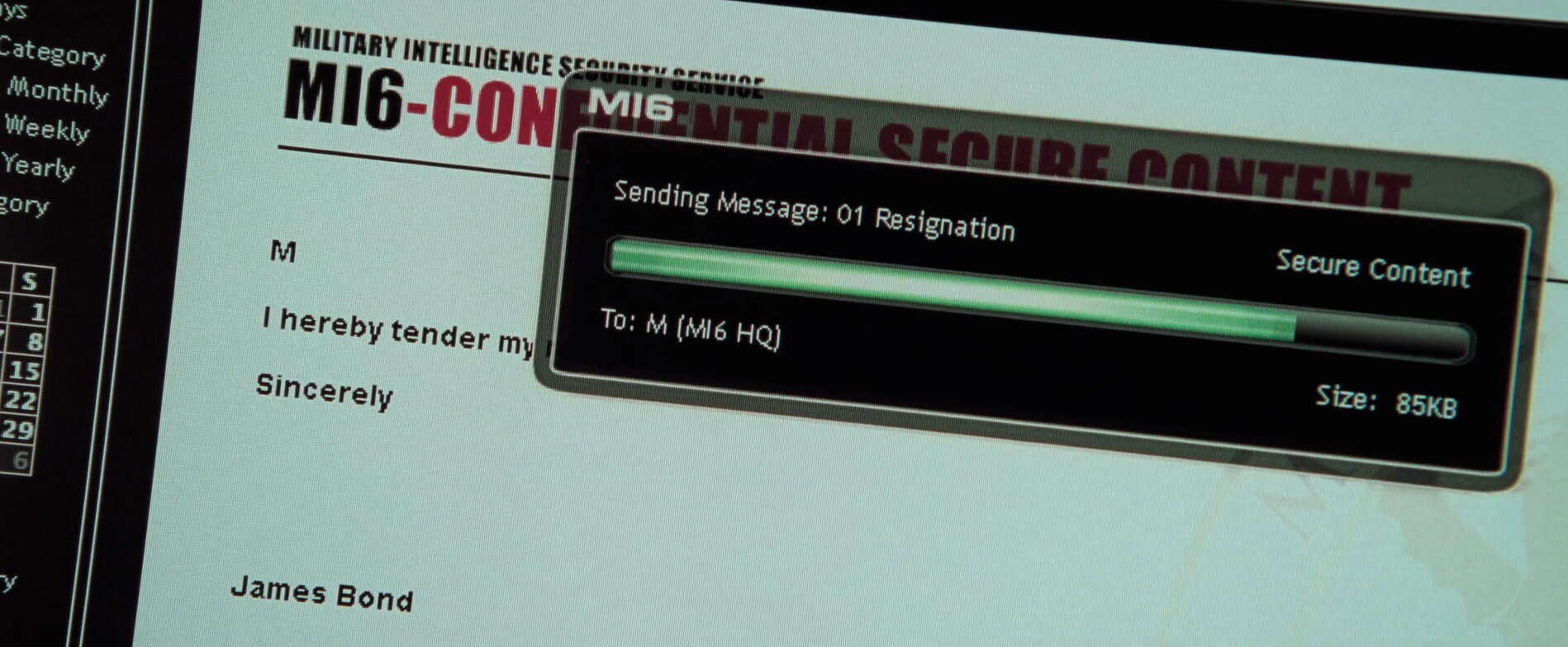 Bond, you're a very literal emailer. Wikileaks will have a field day with you.
This image will haunt Daniel Craig's James Bond until his rebooted run ends.
Reality bites. M phones Bond from MI-6 headquarters to inform him that she never received his winnings from the poker tournament. The news slaps Bond across the face. Vesper is not who she seems. Their love, in theory, is a lie. And in an instant, the entire emotional arc of Casino Royale is undone. Bond sheds his emotion like Neo tossing off his overcoat in The Matrix's big shootout. He is out for blood.
But first a clue on a Sony Ericcson.
For his final act, Campbell turns a Roland Emmerich-worthy capsizing into a metaphor for Bond's entire life. Our hero is falling apart. So is an entire villa on Venice's Grand Canal.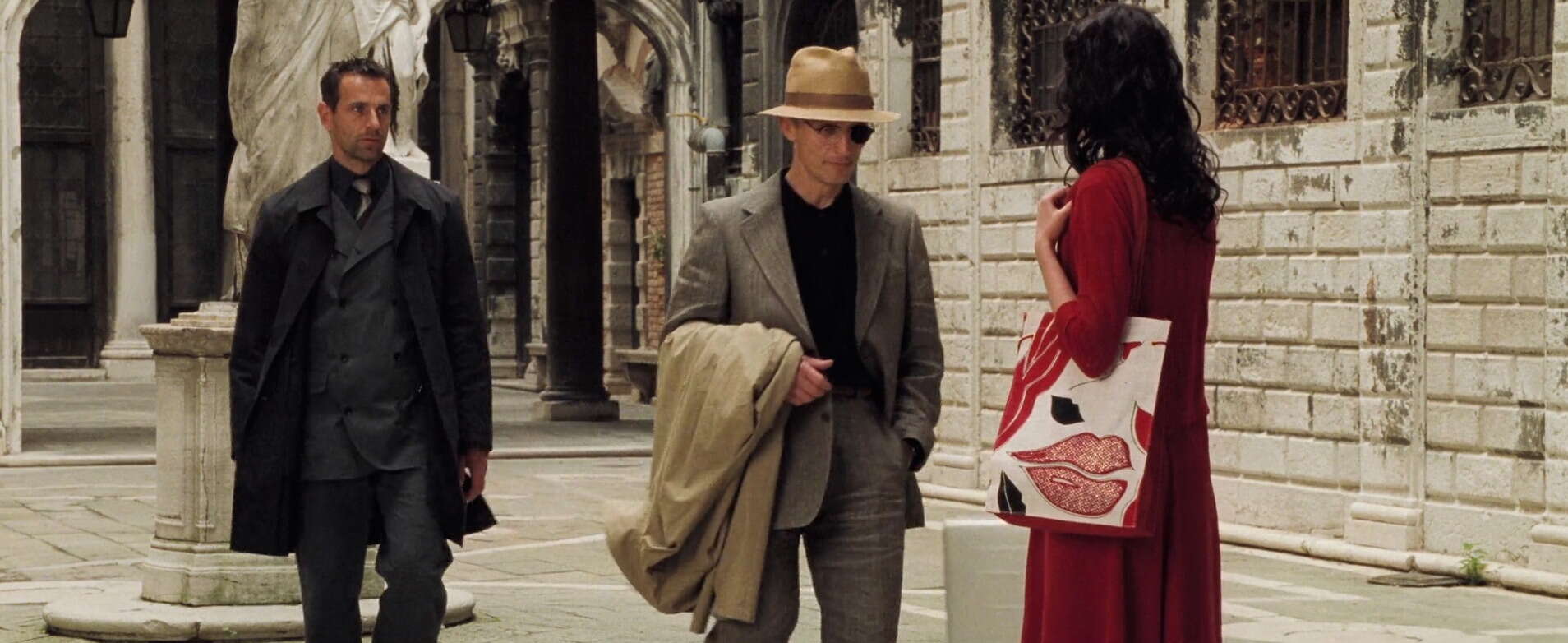 With minutes left, Casino Royale introduces a one-eyed racketeer and a primped assassin. This movie is brilliant.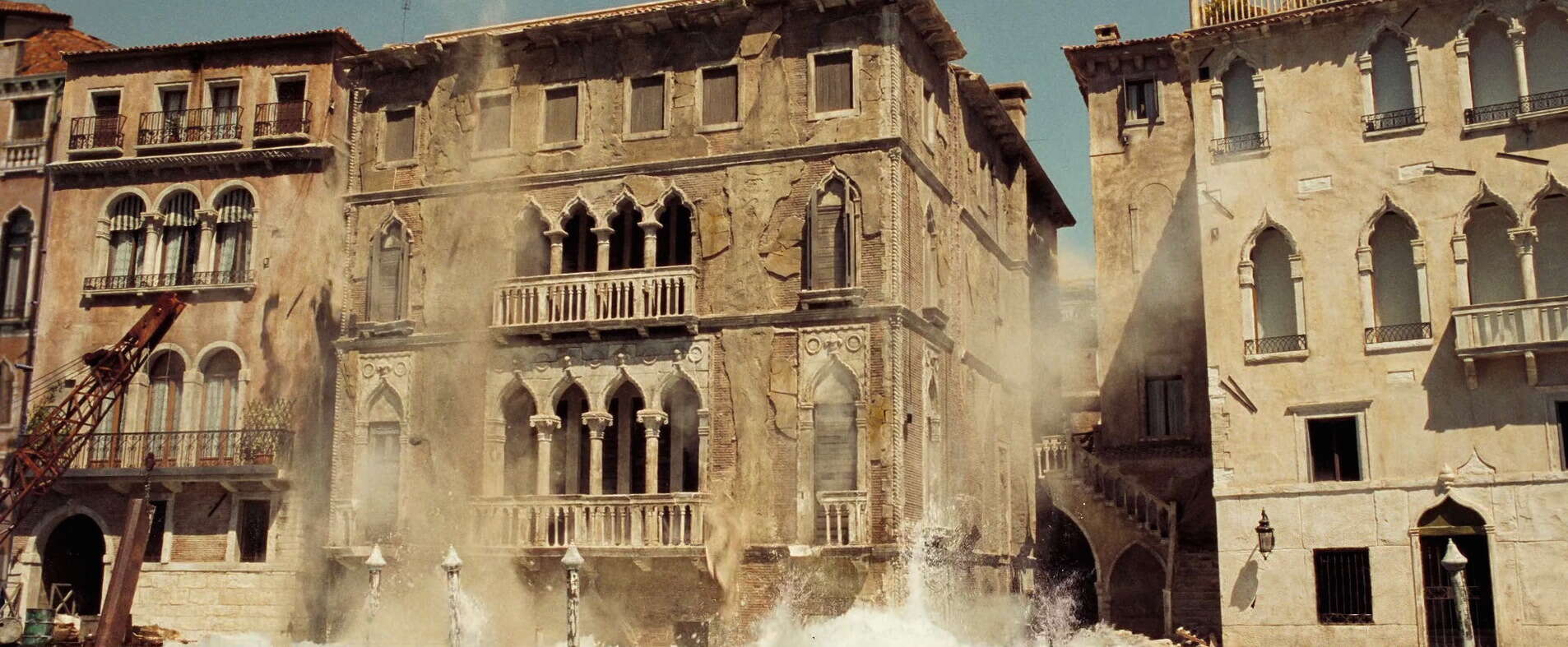 Miniatures, CGI, practical locations -- of all the previous sequences, this one is a confluence of Campbell's many design teams.
Vesper has secrets and they rattle the all-knowing Bond. "If you see him," she says, trapped in the elevator. "Tell him I'm sorry. I fell in love." Bond will later learn that Vesper was working for the other team only to save the life of her boyfriend. In this moment, he's driven to save the thing that made him feel like a human being.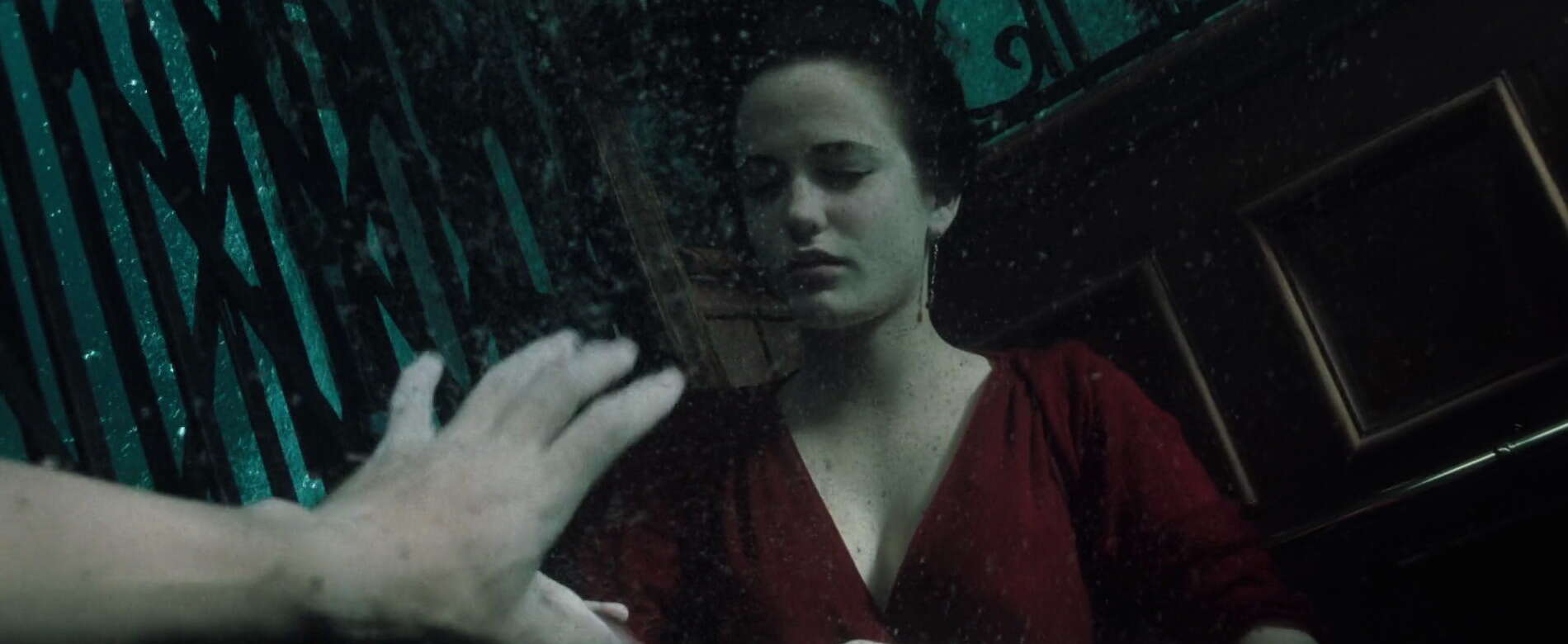 He can't. Add another image to Bond's torturing memory bank. The man who doesn't fail does.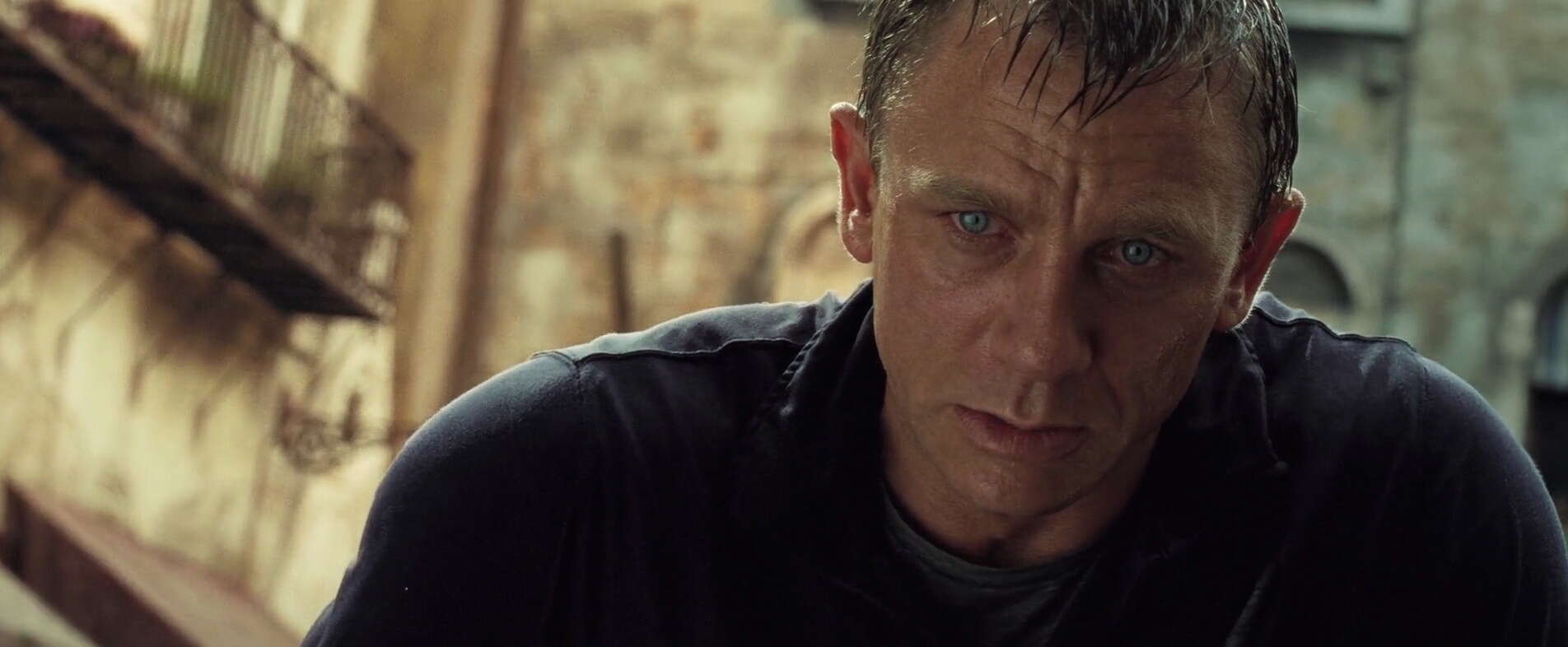 Not since George Lazenby's Bond saw his new wife murdered in cold blood have we seen this much heartbreak in a 007 movie.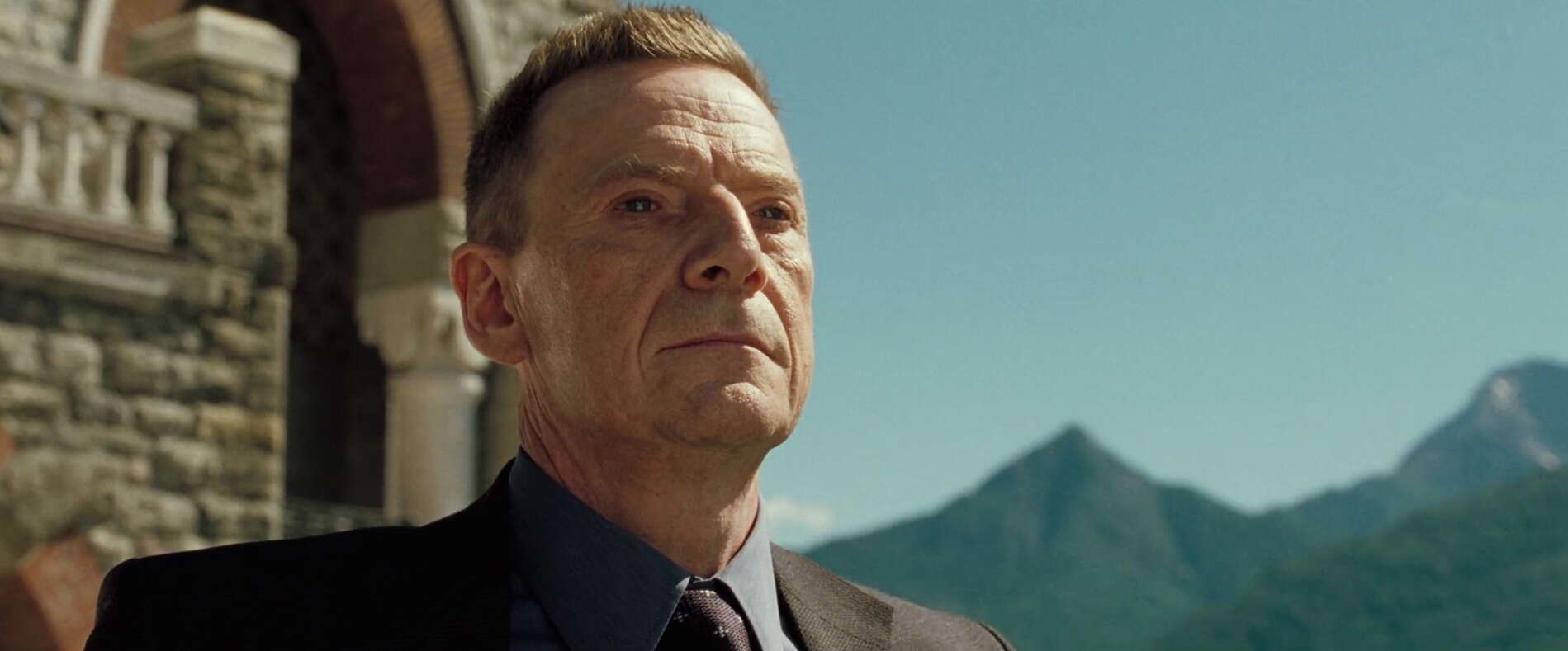 The face you make when you got away with murder and funneled millions of dollars into terrorism.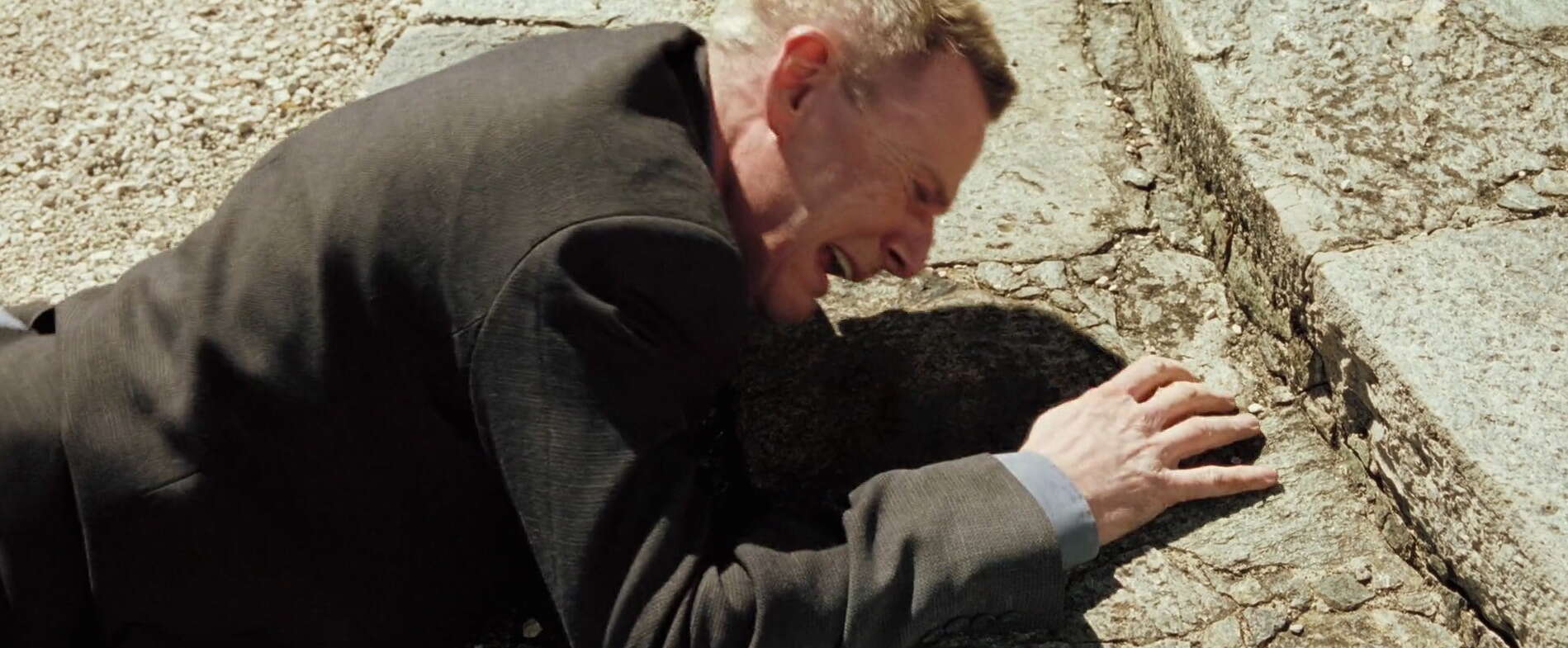 The face you make when James Bond totally owns you. Mr. White became central to the Daniel Craig run, but here, he's the embodiment of a merciless world. Revenge time.
Casino Royale is an origin story of a different breed. In this final beat, as Monty Norman's original James Bond theme kicks in, 007 lords over his victim and assumes his role as a spy icon. But it's not a Tony Stark declaring, "I'm Iron Man" moment. Nor is it Harry Potter accepting his quest to defeat Voldemort. This is retreat. Bond began his journey in darkness, and escaped for mere seconds to a bright, cheery world he never knew. He could be happy! But after Vesper's death, the spy sees happiness as an act of deception, and it's his destiny to expose the world's failures. He is an anti-hero energized by revenge. It's possible nothing will save him. The final seconds of Casino Royale are a victory tableau tinged with terror, an Empire Strikes Back-like cliffhanger at the end of a series' first episode. In that way, Campbell's action-heavy tragedy fulfills the first rule of show business: Always leave them wanting more.
Sign up here for our daily Thrillist email, and get your fix of the best in food/drink/fun.
Matt Patches is Thrillist's Entertainment editor. He previously wrote for Grantland, Esquire.com, and Vulture. Find him on Twitter @misterpatches.