Netflix's 'Casting JonBenet' Is Unlike Any Other True Crime Documentary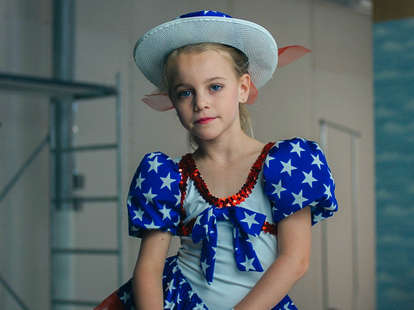 Netflix
Netflix
Who killed JonBenet Ramsey?
Casting JonBenet, Netflix's latest true crime documentary, doesn't intend to answer that question. At least not directly. While the 1996 murder of the 6-year-old pageant queen, an incident that dominates tabloids even today, has been the subject of countless documentaries and dramatized films, the latest investigation subverts expectations by investigating the mythology that surrounds the tragic case. Casting JonBenet is barely a film about the case, offering instead a unique perspective on the legacy of a 20-year-old mystery and how onlookers perceive murders.
With Casting JonBenet, director Kitty Green, whose credits include the similar, meta-documentary The Face of Ukraine: Casting Oksana Baiul, is interested in the way the murder is remembered by locals in Boulder, Colorado, where the shocking incident occurred. Any details of who, what, when, where, and why are spouted by individuals who aren't completely certain of the facts. Green also leads these people to believe that they are auditioning for parts in a movie that would dramatize the murder. But there is no other such movie. The making of the "movie" is also the finished product.
First we see girls up for the role of JonBenet, but the casting of the title figure is not the focus. It's the adults, amateur actors and wannabes trying out for the parts of the parents, Patsy and John Ramsey, as well as the police chief and a Santa Claus, who provide Green with recollections, hearsay, rumors, theories, and judgments on the case and the people they're hoping to portray. Many of them offer up their own personal stories and subjective thoughts on the murder, all of it to stress how we filter tragedies and often make them about ourselves.
Although quite original and clever, Casting JonBenet follows a tradition of true crime documentaries that play with ways of seeing, particularly through the use of unreliable or limited testimonials and speculative "reenactments." At best, the variations of scenes recall director Errol Morris's masterpiece The Thin Blue Line (also on Netflix), which illustrates discrepancies in actual first-person accounts by showing, say, an officer outside a police car, as she'd initially claimed, then inside the vehicle, as she later confessed. In Casting, however, we see moments like JonBenet's bedtime the night of her murder reworked to represent different imagined situations, from her being innocently tucked in as normal to her being victim of a heinously arranged sex crime.
At worst, though, these reenactments are more exploitative in using the events, whether substantiated or hypothetical, for abstract points that aren't necessarily about getting to any truth or understanding of this particular case. A girl died. Her family still grieves and still continues to face misinformation, accusations, and conjecture from the media and general public. In the case of this film, it's media perpetuating general presumptions of guilt directed at JonBenet's family, all of whom have since been absolved of suspicion.
Any insensitivity to the unsolved real killing of a real little girl two decades ago aside, Green achieves something phenomenal in her mix of uncomfortable interviews and unconventional stagings. The final moments are as mesmerizing as they are disturbing. It's some problematic pageantry not unlike the dazzling yet disgusting beauty contests that JonBenet competed in while alive. The same ideas about our reactions to sensational crimes could have been communicated through another case, though perhaps not one so notorious and alluring as this.
Casting JonBenet is now available on Netflix
Sign up here for our daily Thrillist email, and get your fix of the best in food/drink/fun.