Who Is Annie Wilkes In Hulu's Stephen King Series 'Castle Rock'?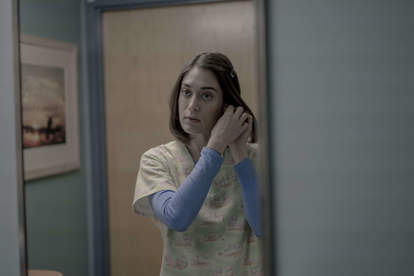 Hulu's Stephen King-inspired anthology series Castle Rock premiered its second season on October 23, diverting its attention from the first installment's ominous events. Instead of answering the lingering questions sparked by the Season 1 finale, the program pivoted entirely to a whole new set of characters and conflicts. And at the center of it all is a troubled young nurse named Annie Wilkes. 
Masters of Sex star Lizzy Caplan -- who's also been in Mean Girls, Cloverfield, Freaks and Geeks, Party Down, and a bunch more movies and TV series -- plays Wilkes who, in the opening episode, is shown on-the-run with her daughter Joy (Elsie Fisher). They are constantly on the road, cycling through license plates and stealing meds from each town's hospital in order to keep Annie's mental troubles at bay. As the program progresses, Wilkes -- who goes by Annie Ingalls here -- gets sucked into a complicated conflict between Pop Merrill's (Tim Robbins) crime family and the Somali community in neighboring Jerusalem's Lot. And if you're at all familiar with Stephen King's works, you'll know that both of those components are inherently bad.
Truth be told, those other story details are interesting and all. But it's Annie Wilkes' inclusion in the Castle Rock canon that holds the most weight. The fictional nurse, based loosely on real-life killer nurse Genene Jones -- who, in 1985, was convicted in the state of Texas for murdering infants in her care -- is one of Stephen King's most iconic characters, her big-screen representation in Rob Reiner's 1990 film adaptation of King's book, Misery, won Kathy Bates her first and only Academy Award.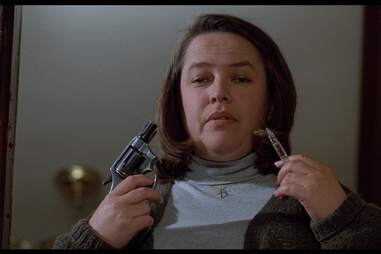 Kathy Bates as Annie Wilkes in 'Misery' (1990)

| Columbia Pictures
King's 1987 novel, and Reiner's movie, follow author Paul Sheldon (James Caan) as he works to put his renowned Misery Chastain romance book series behind him. After Sheldon finishes a new manuscript titled "Fast Cars," he gets stuck in a nasty snowstorm and drives off the road, crashing in a desolate part of Silver Creek, Colorado.
He wakes up in an unfamiliar cabin with bright-eyed Annie Wilkes tending to his injuries. It doesn't take long for Sheldon to discover that there's more to Wilkes than the seemingly kind-hearted passerby she initially makes herself out to be. And as her psychotic tendencies begin to seep through her hokey Midwestern exterior, Paul finds himself being tortured -- in case you forgot, he gets hobbled -- and held hostage while his "number one fan" forces him to resurrect Misery Chastain for one more novel.
According to King's book, Wilkes moved to this remote cabin, in the middle of Colorado, to escape her past. And while we don't get too much of her backstory here, the novel does say she's been murdering people since the ripe age of 11. She killed her father, neighbors, college roommates, a hitchhiker. She also put babies and old people down, providing a literary connection to Genene Jones.
The story hits a violent climax as Paul finishes Misery's Return only to set the manuscript on fire in front of Annie and then murder her. He makes it back to New York safely. And in the movie's final moments, Wilkes pays the author a visit, in the guise of a waitress at a restaurant, alluding to the lingering effects of such a trauma. At least, that's one meaning the audience can take away from it. 
For King, however, Annie Wilkes represented something much more personal: his decades-long drug addiction. "Misery is a book about cocaine," the author told Rolling Stone in 2014. "Annie Wilkes is cocaine. She was my number-one fan." Knowing the dual-layered inspiration behind the killer nurse adds a whole lot of context to the character, as she was both written in King's book and portrayed in Reiner's movie. 
Daughter and mother Wilkes, Joy (Elsie Fisher) and Annie (Lizzy Caplan)

| Hulu
This brings us to Lizzy Caplan's version of the author's iconic killer. How exactly does one differentiate their take on such a famous character, especially after someone like Kathy Bates wins the Oscar, forever connecting her face to that of Annie Wilkes? As Caplan explained to Variety, it was all about incorporating shades of Bates' performance with her own. 
"I wanted to have our Annie feasibly be able to become that Annie in the future," the actress said. "So there were different shades of how to attack that, and I thought a lot about how, if I was just a viewer of the show, I wasn't going to be particularly interested in seeing a brand new, completely start-from-scratch version of Annie Wilkes -- because what Kathy Bates did was so beloved; it certainly was for me. I wanted to have a few shades to quite a few shades of her performance in my own just so it felt like our Annie Wilkes could grow into hers."
These efforts come to fruition in Season 2 of Castle Rock, which pays attention to the unexplored details of Wilkes' life -- the ones that are mentioned in mere passing in Stephen King's book. In turn, Caplan takes on a specific gait, mannerisms, and vernacular that feels believably fluid. As she struggles to make sense of the supernatural goings-on in Jerusalem's Lot, and run from her bloody past, we see an Annie trying to do good. But her grasp of reality isn't strong, and something tells us she won't be continuing her role of parent to young Joy for long. 
After all, the Annie Wilkes we know is a murderous loner. And what really matters here is how she becomes the monster we all know and fear. This season will hopefully answer those questions as we follow Wilkes on her journey from Castle Rock, Maine, to that cockadoodie cabin in the Colorado woods.