Hulu's new Stephen King-inspired series, Castle Rock, tells the story of Henry Deaver (Andre Holland), a lawyer who returns to his childhood home after a mysterious prisoner, named "The Kid" (Bill Skarsgård), is found trapped in a cage underground. His return to the city sets off a chain of events, unleashing clues to the town's sordid past, which also brings Deaver's own personal demons to the surface.
For those unfamiliar with King's vast slate of work, there is actually a substantial number of tales -- from short stories to expansive novels -- that either take place in the fictional city of Castle Rock, or make reference to the locale in some way. If we're keeping count (and we are) that'd be 13 tales in Castle Rock, and 24 that mention its existence. In short, the quintessential Master of Horror created this universe before cinematic universes were a thing, and way before Hulu was a glimmer in your grandpappy's eye.  
This brings us back to the 10-episode first season, which debuted its first three episodes on Wednesday, July 25. Aside from the show's cast, which features a plethora of Stephen King alumni -- Sissy Spacek (Carrie), Terry O'Quinn (Silver Bullet), Bill Skarsgård (IT), Melanie Lynskey (Rose Red), Anne Cusack (Mr. Mercedes), Frances Conroy (The Mist), and Chosen Jacobs (IT), to be specific -- other Easter Eggs and references are scattered throughout the series. Some are more obvious than others, but they all seem to be achieving the end-goal of further building out Stephen King's world. In case you aren't keeping track, here are the most important references featured throughout the first three episodes of Castle Rock.
Recommended Video
'Are You Afraid of the Dark' Is Coming Back as a Movie
A Shawshank warden's curse
It's been about two-and-a-half decades since audiences last saw the Shawshank State Penitentiary. As a quick refresher, the climax to The Shawshank Redemption, which was adapted from Stephen King's 1982 novella "Rita Hayworth and Shawshank Redemption," found prisoners Andy Dufresne (Tim Robbins) and Ellis Boyd "Red" Redding (Morgan Freeman) succeeding at their escape while the abusive Warden Norton (Bob Gunton) chose to voluntarily eat a bullet instead of paying for his crimes.
This is a history worth remembering. The opening moments of Castle Rock's premiere episode introduce Terry O'Quinn as Dale Lacey, the present-day warden of the iconic stone structure. It seems the pressures of the job were too much to bear, though, and it's not long before we watch Warden Lacey, with his neck tethered to a nearby tree, drive his car off a cliff.
Talk about a jarring way to end one's life. Yet, as the episode progressed, revealing Lacey's secret prisoner hiding in an underground cage, the assumption began to present itself that the wardens of Shawshank are cursed. We're already seeing this play out with Anne Cusack, whose warden shares an office with Norton's suicide bullet, which is apparently still embedded in the wall. When all is said and done, we can't help but wonder if will she leave the prison alive. Or will Shawshank send her to her own unfortunate end? The history of Castle Rock is a truly unfortunate thing, and you know what they say about history: It tends to repeat itself.
The legend of Alan Pangborn
Revisiting the life of Castle Rock's embattled Sheriff is an intriguing move for the show to make. Not only are we getting a postscript look at the hero -- previously played by Michael Rooker and Ed Harris in The Dark Half and Needful Things, respectively -- Scott Glenn's (The Leftovers) performance adds a sense of grounded bravado to the series as a whole. Pangborn, who rescued young Henry Deaver from a yet-to-be revealed childhood trauma that had the boy missing for three days, has shacked up with Deaver's adopted mom Ruth (played by King icon, Sissy Spacek). As Henry returns to his old home to investigate the odd mystery unfolding at the prison, it's a safe assumption that Pangborn has at least a piece or two to add to the puzzle.
Let's remember here that Pangborn is battle-tested. He fought Leland Gaunt, the sinister satanic shop owner in Needful Things (which is referenced quickly in Episode 2, as Deaver flips through news clips at Warden Lacey's widow's house), and George Stark, the evil doppelganger to successful author Thad Beaumont in The Dark Half. If only the former sheriff -- who comes off a bit washed up, if we're being honest -- was taken as seriously now as in his formative hero years. Something tells us, as time goes on, Deaver and the rest of the town will once again lean on Pangborn for help.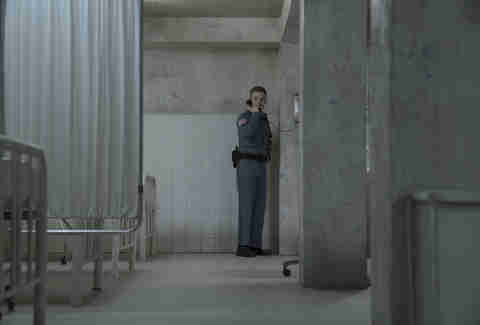 F is for Frank?
When the new warden takes over after Lacey's suicide, a question is raised regarding Shawshank's abandoned Block F. It's not long before the closed off section of the building is explored, leading to the discovery of the mysterious prisoner in that cage.
One thing that caught our attention, though, is the mention of "the Christmas fire of 1987" as the ultimate cause for Block F's closing. While this doesn't necessarily impact the series story as a whole, we did a little research and found that 1987 was the same year Frank Darabont bought the rights to King's novella, "Rita Hayworth and Shawshank Redemption." Could this be a shout-out to the Oscar-nominated writer/director, and former Walking Dead showrunner? Weirder things have happened.
The boy by the tracks
Episode 2 opens up with a voiceover narration by Warden Lacey, giving the audience a closer look at Castle Rock's tortured backstory. As the camera closes in on a high school football game, before the school's mascot jumps from the building's roof, Lacey references the body of a boy found on train tracks. It's a brief statement, but one that references Stephen King's "The Body," the novella that Rob Reiner turned into the much beloved coming-of-age movie, Stand By Me.
Throughout the years, people have pointed out the narrative similarities between IT and Stand By Me. They are both stories that follow the themes of adults returning to the places of childhood trauma. And as we've seen play out, so far, childhood trauma is at the center of both Henry Deaver's and Molly Strand's (Linskey) stories.
Redrum and a rabid dog
The other article Henry Deaver flips through in Episode 2 references a rabid dog that tears through town. It's an obvious shout out to Cujo, King's tale about a ravenous Saint Bernard. We're uncertain if that Easter Egg will come back as a bigger story detail as the series progresses, but it's an intriguing callback to King's earlier work and showcases just how far-reaching and seemingly random the horrors that have plagued this town are.
It's all connected, though, in some way. And that's a point that is really driven home in the same episode, when Jane Levy's character is introduced as Jackie Torrance. One mention of her name, and it is almost impossible to not believe there will be some sort of connection to The Shining in the series. While King's original story about a father who goes mad in a snowed-in hotel doesn't make mention of Castle Rock, "Dr. Sleep," the story's literary sequel, does. Could Jackie be related to Danny Torrance in some way? It's not a far-off possibility. And if she is indeed related to Danny, that may mean she, too, has the telepathic abilities both he and his father suffered from.
Sign up here for our daily Thrillist email and subscribe here for our YouTube channel to get your fix of the best in food/drink/fun.