Netflix's 'Castlevania' Is Dark, Bloody, and Set Up for Season 2
Given the storied yet calamitous history of video games being adapted for television and film, Castlevania is a smart property for a giant company like Netflix to gamble on. The 30-year-old franchise built its name on being a gothic horror saga that perfected the side-scroller platformer by investigating Dracula's weird fascination with dying and being reborn again. The story was ripe, but you could see an eager Hollywood executive kickstarting a live-action interpretation that is inherently doomed or churning out a Thursday night CW drama that kinks out on 15th century abs and sexual awakenings involving holy water.
Netflix's take is a best case scenario. From producer Adi Shankar (Dredd, The Grey) and legendary comic book writer Warren Ellis (Red, Dead Space), Castlevania is a 2D hand-drawn animated series that re-upholsters the source material. The duo's retelling is loosely based on the 1990 NES title Castlevania III: Dracula's Curse -- a minimal narrative that follows vampire hunter Trevor Belmont and his quest to save Europe from being swallowed by an army of darkness. But during the show's opening moments, Ellis flips the POV.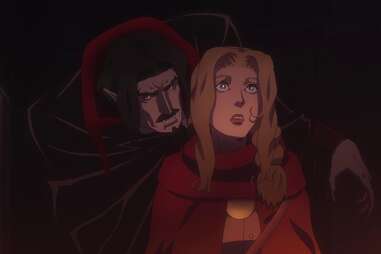 The focus is on Vlad Dracula Tepes, who isn't living effigy of pure evil that's enamored by the idea of decimating humanity for sport, but a victim of tragedy. In the pilot, Dracula (voiced by Graham McTavish) encounters a scientist named Lisa (Emily Swallow) whose assertiveness and passion for knowledge charms him to a greater extent. Their relationship flourishes and he eventually travels abroad to gain an appreciation for mankind. But while gallivanting, the local church declares Lisa Tepes a witch and burns her alive during his absence. Dracula returns, unaware of his wife's cries for him to "be better than them", and he immediately vows to destroy everything in his path in a year's time.
The tense and somewhat far-fetched introduction eases us into the hellish landscape that follows. Dracula's demon army ultimately descends on Wallachia and his cartoonish villainy transitions into graphic depictions of townspeople being torn apart. There's nothing PG about seeing the camera pivot to a child's severed head or a pool of blood leaking into a sewer grate, but it adds a considerable amount of weight to the story. In Warren Ellis' universe, Wallachia is doomed and there is no end in sight.
For Ellis, the super violent nature of the show serves as a tool to help establish the series' main protagonists. Trevor Belmont (Richard Armitage) is the weary descendent of a monster-hunting family who only cares about placing his next drink order. He's burned out on the idea of being a hero for others but a run-in with an order of clerics leads him to Sypha (Alejandra Reynoso), a mage who has her own disdain for the Church, and Alucard (James Callis), a fabled "sleeping soldier" who happens to be Dracula's half-breed son. Their team up feels rushed as it's only fully realized in the season's final moments, but Ellis's wit makes it work through fight scene quips and debates about personal beliefs. One minute Trevor is in an arc of resurrecting his family's honor, and the next he's mocking Alucard and chastising him for being a "floating vampire Jesus".
For what it's worth, Ellis' script work is Castlevania's greatest strength. The show's four-episode run is lined with gorgeous Symphony Of The Night imagery and stylish fight scenes that contend with One-Punch Man and Ajin: Demi-Human, but its viewpoint on religion amplifies every gothic undertone. In Wallachia, the Church is the authority. It prioritizes faith above all else and with the help of an unnamed Bishop, it eradicates those that pose a threat to its policies and devotion to maintain control. The Church's role was short-lived but its values contributed to one of the most memorable dialogue exchanges of the season, in which the leader of Dracula's demon army confronts the Bishop about his hypocrisies and devours him in his own place of worship.
Demon: Your God knows that we wouldn't be here without you. This is all your fault, isn't it?
Bishop: She was a witch!
Demon: Lies? In your house of God? No wonder He has abandoned you. But we love you.
Bishop: What?!
Demon: We love you. We couldn't be here without you. Let me… kiss you.
Although Castlevania suffers from being a decade-old, 80-minute project that was split into four parts, it's inevitably set up for success. Netflix has already greenlit a second season of the show -- doubling its episodes to a total of eight while giving Shankar and Ellis the creative freedom to expand on a universe that was limited to exploration and non-linear level design. It also gives them an opportunity to address the series' loose ends and provide answers to a few questions.
Where is Grant Danasty?
Trevor Belmont's favourite pirate thief was noticeably absent in the first season and it remains to be seen if he will affect the show's narrative moving forward. In Dracula's Curse, Grant fails to lead a rebellion against Tepes and is subsequently turned into a demon until Trevor defeats him and returns him to his human form. His story didn't fit the series' initial focus but watching him dagger his way through a horde would add some variety to Castlevania's stylized violence.
Will we see more of Dracula's army?
From the NES original to the Lords Of Shadow series, Castlevania dug into an unholy army that featured cursed wargs, zombies, shapeshifters, minotaurs, headless skeletons, vampire maids, and demonic marionettes. In other words, the series' bestiary has depth, and there's room for the show to take what it did with platforming and deliver boss fights that latch onto fear and anxiety. After all, they should be presented as another chance to admire the beauty of whip physics.
With Netflix set to premiere another four-plus hours of hellfire in 2018, the sky's the limit for the second season of Castlevania. The series is a modern example of compelling adult-orientated TV and with its satisfyingly gothic tones and appreciation for dialogue, it comes as no surprise that it's already drummed up interest in "dark anime" versions of Metroid and Assassin's Creed. There's no telling how those projects will play out under the guise of Shankar and his team, but there is a lot to be grateful for. It's 2017 and we finally have a video game adaption that isn't afraid to test the conventions of television while getting a little bit of blood on its sleeve.
Sign up here for our daily Thrillist email and subscribe here for our YouTube channel to get your fix of the best in food/drink/fun.
Joshua Khan is a Toronto-based writer who wishes he had a quarter for every time he's died during a playthrough of a Castlevania game. Find him on Twitter over at @blaremag