Cedric the Entertainer's Netflix Special Was Now or Never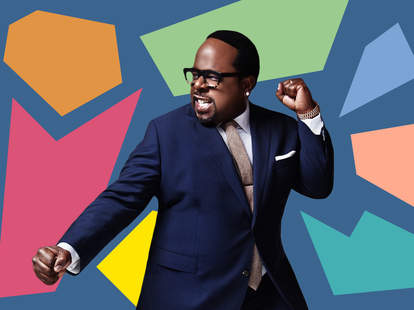 Elton Anderson/Thrillist (Edited)
"Netflix is the new place to do your special now," Cedric the Entertainer tells me, mere hours before taping his very first special for the streaming service at Nashville's Ryman Auditorium. "That's where it all goes down now."
He would know. Cedric melted my innocent teenage brain back in 2000 when he brought the house down alongside Steve Harvey, D. L. Hughley, and the late Bernie Mac in Spike Lee's raucous stand-up film, The Original Kings of Comedy. Today he's working harder than ever, having wrapped his five-season sitcom The Soul Man, revived the Barbershop franchise with The Next Cut (and it's, no joke, one of the best movies of the year), and clocked more than a year of stand-up with Hughley, George Lopez, Charlie Murphy, and Eddie Griffin on the "Get Down Tour," with all proceeds going to children affected by the Flint, MI water crisis.
Now he's squeezing in Live from the Ville, his first special since 2010's Take You Higher for HBO. How did it compare to Kings of Comedy 16 years ago? I had to ask.
Why was this leg of the tour the right time for the Netflix special?
This year I've been performing this big tour and I only do 30 minutes a set. I just kind of felt like, with it being six years or so, it is time for that stuff to either be [filmed] so the people could see it and that I could move on. I wanted to capture it where the rest of the world, those who don't get to come to my shows, they have an opportunity to see this. Especially soldiers and people like that, who end up getting a lot of this product while they're away. This is how they stay close to home.
It's really hard for comedians to have material that is sustainable for long periods of time, and in the way that I do it, where you really craft, develop, and turn [a joke] into a great joke. There is a limited shelf life for those kinds of things. Once you have some really great pieces, you recognize that, OK, it might be time... comedians call it "giving it away." Like when you shoot your special, you know I'm about to give all of this away.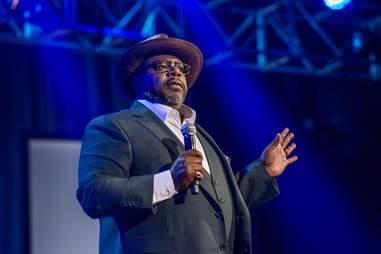 Netflix
Have any of your great jokes timed out?
I used to do this great joke about President Bush, how George W. didn't know anything, and that he would always blame Al-Qaeda or Taliban for everything that's going on. You're on Jeopardy! and you don't know an answer: guess what, that's Al-Qaeda. They're coming to get us. They're gonna kill us all. I would run on with anything. I would just make up reasons. Yeah, your mom was at home. She was making biscuits and gravy. She forgets to do the gravy. Guess what? You know what that is? That's Al-Qaeda. They're coming over here and they want to kill us. You're like, she didn't forget the gravy. You know who that is. That's Al-Qaeda. Once he was out of office, it was one of those jokes you can't do anymore. I never did it on TV, just on stage.
You hosted the White House Correspondents' Dinner in 2005 and met Bush -- awkward?
You know, he's one of those people up there that you see them on television, and you kind of believe it's one thing, and then he comes in and he's just totally personable, and amenable, disarming, and that Southern charm. All that comes on to work right in your face. "Hey man!" He knew my mom's name. He was talking about, "Hey, Rosetta, how you doing?" Anybody make your mama happy, you forgive them automatically. You like, alright never mind about the two wars.
Have you found a Bush replacement?
Well, he's such an easy target, but of course you know Trump is that guy right now. Everybody does Trump material. You're a comedian, on a show with more comedians. I found myself not really doing a lot of Trump stuff. It's constantly with this guy. Through day to day he writes you 10 more new jokes. You could go to sleep without having one Trump joke and wake up with a half-hour Trump series. Just turn on the news. This guy here is something else, man.
Does the current political climate force you to be more political?
You know, to be in comedy is definitely a place and the platform to express any kind of social ills, and those kind of things you see in society that concern you to a degree. I'm not like a true political comedian that soapboxes. But I will talk about those kinds of things on stage. Usually I've looked for an opportunity to not necessarily find the joke in the subject matter, but somewhere where you can make it make some sense in the reality. I say that junk on my stage about the cops that will kill a black kid, will jump in a river to save a dog. They'll save an animal, but they'll kill a person. Anytime my son leaves the house, I tell him take the puppy with you.
Live from the Ville arrives 16 years after one of my favorite taped comedy concerts, The Original Kings of Comedy. What's changed since then?
My boots are a lot shorter, my jackets aren't as long, my pants aren't as wide. The charisma doesn't go away, but you look at some of those fashion choices, you're like OK, what was going on there? Were they just giving away fabric?
Kings of Comedy was such an event, in kind of a new kind of spacing at the time. Nobody had really saw. Like the supergroups where you had all these big brands who tried to be on one show. It was kind of extremely magical at the time. Nowadays people kind of seen it all. You do have your arena comics out there, your Kevin Harts.
What was one night of that tour that you'll never forget?
I remember being in Oakland one night and I had a lot of celebrities in my room, like rappers like E-40, and a couple of basketball players, like Gary Payton. Everybody was kind of hanging around in my dressing room. Then Bernie Mac came in and did a show for the people that was in my dressing room. How amazing was Bernie -- he just stopped the room. He did a Redd Foxx gig, and then he did like some other jokes he's took. He probably did like a five-, seven-minute set and just walked out the room. Everybody was clapping, went crazy. It was just like man, how awesome was that. It was like you would imagine how the Rat Pack would be.
What did the world lose when it lost Bernie?
Bernie Mac is one of those guys. He had this unique way of removing the bullshit, if you will. He's just get it out of the way. His ability to cut to the truth, or to say the truth in a way you wanted to say it, but you never could get it that clean, to-the-point was one of his go-to things. Bernie would be lighting up everybody right about now. All the Instagram pictures. Everybody on there telling everybody what they ate today. I can just imagine. Now, I don't want to see what you ate. Don't put no picture of your food up there. I don't want to see it. You ate it. Did I get to taste it? Did I get a bite? If it tastes so good, don't put that shit up!
It's impossible to Google the answer to this question, so I'll just end with it: how does one become "Cedric the Entertainer"?
It's one of those things where I was popular in St. Louis. I was the guy doing comedy. I stumbled by several different names -- I'd do Cedric, I'd do Cheerio, and what not. But I didn't have a lot of material. So I would sing, I would dance, I would do these poems. I would come up with all these things to fill up the time, because comedians get paid in time. Like if you go up and you do 15 minutes, you get this amount of money. If you do 30 minutes, you get this amount. If you do an hour, you could get this amount. I wanted the 30 minutes money.
Now the guy who introduced, he was doing everybody else as "next comedian... this next comedian." I didn't have enough jokes. I said, "Don't call me a comedian, call me an entertainer." When he went on stage he called me Cedric the Entertainer. I went up, I had a killer show, I had a standing ovation. When I walked off he called me Cedric the Entertainer again. I just took the name.
Sign up here for our daily Thrillist email, and get your fix of the best in food/drink/fun.
Matt Patches is a senior editor at Thrillist. He previously wrote for Grantland, Esquire.com, and Vulture. Find him on Twitter @misterpatches.