Celebrity Bodyguards Tell Their Most Scandalous Stories
Your bodyguard has sworn to take a bullet for you, keep drooling tweens off your Bugatti, and stop your ex from launching truth bombs that might smash your designer glasses.
But there are times when even a shining knight gets fed up and goes public with lawsuits, tell-all tomes, and front-page TMZ stories. Here are the most shocking claims from the protectors of Elvis, Kimye, and more high-profile celebs -- because there comes a time when even the strongest-armed star guard can't contain himself.
<a href="http://www.shutterstock.com/gallery-2914948p1.html?cr=00&pl=edit-00">Tinseltown</a> / shutterstock
Britney Spears
Oops, she did it again:
According to a 2010 lawsuit filed by Fernando Flores, Britney Spears' former personal bodyguard, she was a "
naked menace
" who repeatedly flashed him, regularly dropping her lighter to bend over and expose herself. Flores reported one of the flashing incidents to his supervisor, who allegedly responded, "You know you liked it." On another occasion, Britney allegedly asked Flores up to her bedroom, where he found her naked.
According to the legal complaint
, Flores asked if she needed anything, and "After some hesitation, Spears asked [Flores] to get her two bottles of 7UP." Flores also made several allegations of child abuse and claimed that Britney told her children numerous times, "Mommy is white trash!" TMZ reported that Flores contacted the LA County Department of Children and Family Services; representatives investigated the claims and found them to have no merit.
Juicy details: During a trip to LA's ArcLight Cinema, Britney "demanded" Flores get her a Slurpee. The concession stand told him it would take 15 minutes to make the Slurpee. When he relayed this info to Britney, she reportedly yelled, "I want a f*cking drink! God! I'm gonna fire your ass!" The plaintiff walked away "humiliated and traumatized."
Outcome: Britney strongly denied the claims, but reportedly settled the lawsuit "amicably" with a modest payment that didn't even cover Flores' legal costs. The settlement occurred while she was still under conservatorship for her irrational behavior, so the payment needed to be approved by her father and fiancé.
Believability score: 4.7. What kind of Slurpee takes 15 minutes to make?
Kim Kardashian
Kimye gonna kut ya:
The night of the 2016 Met Gala, bodyguard Steve Stanulis was part of a security team guarding the Kimye family at the Waldorf Astoria hotel in New York City when he volunteered to take a package up to Kim's room. Kanye, who was next door at the time, wanted to know why he overheard Stanulis chatting up Kim, and reportedly said, "This isn't right!" A few minutes later, Stanulis was informed that he wouldn't be needed to drive the family to the airport the next day, and that the couple had already left for the gala. Most likely there was a large cloud of burnt rubber and a Hendrix guitar riff during the exit. When the incident was reported
in the New York Daily News
, Stanulis said, "I'm a happily married man with three children and I have no comment."
Apparently, the former police officer and onetime Chippendales dancer doesn't understand the meaning of "no comment." In a sit-down interview with the Daily Mail, Stanulis continued not commenting, saying, "I never hit on Kim" and that Kanye's "the most self-absorbed person he's ever met" and needs to "chill the f*ck out." In a follow-up interview with The Sun, Stanulis avoided commenting again, claiming that Kanye refuses to press his own elevator buttons, and when another bodyguard put his hand on the rapper's shoulder, the rapper warned, "Don't you ever touch me."
Kimye responded by threatening a $30 million lawsuit and reminded Stanulis, via TMZ, that he signed a confidentiality agreement that comes with a $10 million penalty clause -- but a Kimye lawyer thought the bodyguard could get out of it by apologizing and recanting.
Juicy details: Stanulis told the Daily Mail that when Kim and Kanye dined out, they didn't even offer him a glass of water. Wait, why were Kanye and Kim staying in separate rooms at the Waldorf Astoria?
Outcome: After Kimye's TMZ threat, Stanulis said he'd shut up when he got paid for the days he worked during the Met Gala visit. Then the story evaporated. Stanulis' LinkedIn page now lists him as the director of a play about Elvis Presley and the head of his own management company. Even his tweets are protected.
Believability score: 6.29. Why wasn't Anna Wintour brought in to arbitrate? This could have been an excellent launch for the reality series Wintour's Court, which would be shot in the Met Museum's dungeon.
<a href="http://www.shutterstock.com/gallery-673594p1.html?cr=00&pl=edit-00">DFree</a> / shutterstock
Justin Bieber
Bieber goes Bieserk:
Former Israeli soldier Moshe Benabou sued Canadian elf Justin Bieber for physical abuse. That's right, a man who could probably slice the Biebs in two like a bagel alleged that Bieber hurt him by repeatedly punching him in the chest. What brought on this
Baldwin-esque behavior
? Apparently
Moshe tried to keep the wrong posse member away from Bieber
, and the singer had a snit. Isn't keeping people away from the star literally a bodyguard's job? Justin, after being egged on by his friends,
beat up Moshe
and fired him. As a part of the lawsuit,
Benabou sued for overtime, expenses, and vacation pay
.
Juicy details: Moshe sued for $421,261, of which $3,758.34 was for cellphone charges. Even if that amount were for the entire 20-month gig, Benabou should probably shop for a better contract.
Outcome: Given that this suit was about to go to trial shortly after Justin was arrested for drag racing and a DUI, there's little chance a judge would have been sympathetic. Did Moshe need to tack on $120.79 for the "balance of the meal allowance"? That's probably the most accurate amount in the whole complaint. The suit was settled out of court, leaving both sides "very satisfied."
Beliebability score: 8.27. Did Bieber have a hissy fit? Probably. Was Moshe bruised? Mostly in his wallet.
<a href="http://www.shutterstock.com/gallery-303412p1.html?cr=00&pl=edit-00">Drop of Light</a> / shutterstock
Elton John
Elton sued for grabbing Tiny Dancer:
In early 2016, former LAPD officer Jeffrey Wenninger filed a lawsuit stating that Elton John sexually harassed him while he was working as John's bodyguard. According to the complaint, the Rocket Man launched gropes, nipple twists, and buttock pokes
while dropping lines like
"Get your todger out" and "Say hello to Uncle Elton." As a result, Wenninger sustained "severe and ongoing physical and emotional damage." That must have been some purple nurple.
Wenninger worked with Elton from 2002 to 2014 and claimed that similar events occurred throughout his tenure, with an increase in intensity after 2010. That's a lot of todger-dodging.
In 2007, Wenninger was awarded the Medal of Honor from the LAPD for rescuing senior citizens from a burning building. He easily could have gotten Elton arrested, but filed a civil lawsuit instead. As an attorney for Elton's record company put it, "This baseless lawsuit is brought by a disgruntled former security officer seeking to extract an undeserved payment."
Juicy details: Several members of a legal team were involved in documenting and reviewing this sentence: "Defendant would make statements to Plaintiff including but not limited to 'You gorgeous thing you,' and then while attempting to stick his finger in Plaintiff's ear, Defendant made statements to Plaintiff 'You have so many gay genes in you, they just haven't met up yet.'"
Outcome: The lawsuit has yet to come to trial, but what are the odds that Elton wants to square off with a celebrated cop in the LA courts? If a check makes this all go away, will anyone be surprised?
Believability score: 7.1. If Elton John tried to grab your todger while wearing bulbous pink sunglasses and a frilly yellow jacket, would that be more or less creepy? Probably more.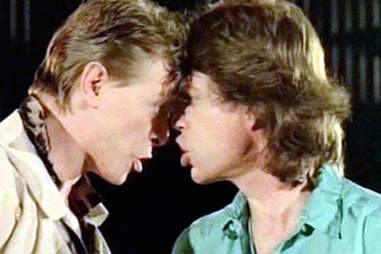 EMI/YouTube
Mick Jagger and David Bowie
A Jagger-Bowie cookie with a tasty filling:
The rumor that
Mick Jagger and David Bowie had sex together
has bounced around for decades. Not long after the Thin White Duke's death, former Bowie bodyguard Stuart George revealed that he'd blocked a closet door while his boss and the Stones' frontman had a threesome with an unknown famous female singer. Given that Ziggy Stardust had
sex with underage groupies
and was addicted to cocaine for years, a ménage-à-rock between three consenting adults seems like a quaint moment of post-hippie bacchanalia. But why is it that George is willing to out a man whose death made him bawl like a baby, yet he won't name the third ingredient in a Jagger-Bowie sandwich? The mystery woman would be crowned the queen of rock Camelot.
Juicy details: By far the best part of this story is that Russian ballet superstar Rudolf Nureyev supposedly saw the three go into the closet, begged to get in, and George -- "under orders" not to let anyone in -- refused him. This is like Captain Kirk and Spock going at it with Uhura in the shuttle craft when Chekov happens by, whines about wanting in, and is ordered back to the bridge by the Captain.
Outcome: Around the same time that George was sharing his story, former Bowie backup singer Ava Cherry said she was the "tasty filling" in a David Bowie and Mick Jagger cookie. No word on whether a walk-in closet was marred during the baking of said cookie.
Believability score: 8.8. Really, the only part that's a question is where the hangers would have gone in the closet.
Eminem
Slim Shady was scared of his ex-wife:
According to Byron Williams, who worked as Marshall Mathers' bodyguard and wrote the book
Shady Bizzness
, while Slim Shady is known for slicing and dicing his ex-wife Kim with his lyrics, the rapper is actually afraid of her.
"I saw her throw a lamp at Eminem on a tour bus, knocking him down," said Williams. "Man, he is terrified of her. She is one tough lady and bigger than him." Why did Eminem try to keep the marriage together? Because he was afraid Kim would take their daughter away from him, figures Williams. While on tour, Eminem also slept with plenty of fans, and Williams and other members of Mathers' posse had to create grandiose lies to convince Kim that the women were just groupies and stalkers. Kim eventually demanded that all women be kept out of Marshall's dressing room, which he honored for at least a little while.
Juicy details: Eminem needed prescription drugs to deal with his newfound fame and, according to Williams, took as many as 14 a day, including Vicodin, ecstasy, mushrooms, and Tylenol 3. You would too if Suge Knight wanted you dead: according to Williams' fellow ex-bodyguard Big Naz, Em was accosted by Suge's "henchmen" on multiple occasions, from at the Source Awards all the way to Honolulu.
Outcome: After reading about all of the women Eminem slept with on tour in Shady Bizness, Kim reportedly tried to kill herself. She also admitted to People magazine that she tried to slash her wrists after seeing Marshall pound an effigy of her on stage.
Believability score: 5.6. While much of Eminem's erratic and irresponsible behavior has been well-documented by several sources, Byron Williams makes it clear in his book that he's still pissed about being underpaid and underappreciated, and will rant to anyone who plunks down the $3 for a used copy.
<a href="http://www.shutterstock.com/gallery-667657p1.html?cr=00&pl=edit-00">Christian Bertrand</a> / shutterstock
Morrissey
Meat is murder. Also, fans should be murdered:
Former Smiths singer Morrissey reportedly had a conversation with his bodyguard Bradley Steyn about putting the muscle on fan-site operator David Tseng. In the 2014 lawsuit, Morrissey refers to Tseng as "the bane of my existence" and asks Steyn to track down Tseng's home address. "Later that night, Morrissey directly asked Steyn if Tseng 'could get hurt.' Steyn did not answer and refused further participation in the conversation. The next day, at a poolside conversation at Morrissey's hotel, [Morrissey's tour manager Donald] Knutson fired Steyn." Steyn sued for over $250,000 in compensation and damages; Morrissey described the lawsuit as a "
vexatious lie
."
Juicy details: A "vexatious lawsuit," according to Merriam-Webster, means "intended to harass."
Outcome: In 2015, Steyn filed to have the lawsuit dismissed, stating the "matter is settled." Sounds like Don Morrissey got to him.
Believability score: 3.45: Does anyone else want to see Morrissey as the head of the mopiest crime syndicate on Earth? Instead of breaking kneecaps, he just emotes dirges until the marks guiltily pay up.
Michael Jackson
Sex, drugs, and a blanket:
For being a "close friend" and former bodyguard to Michael Jackson, Matt Fiddes has shared quite a few personal anecdotes about the formerly effervescent King of Pop and the Jackson family. Most of Fiddes' newspaper interviews mention that he now runs
a chain of martial arts studios
in the UK. In no particular order, his revelations:
1. Fiddes donated sperm toward Jacko's efforts to conceive and is convinced Blanket is his son.
2. After the Jackson family went on vacation in Devon, England, Fiddes said he paid for Tito's airline tickets and Tito never repaid him. So Fiddes sued Tito. In response to the lawsuit, the Jackson 5 guitarist said, "Matt's a very nice guy and I'm not mad at him. I'm disappointed and that's worse. I shared a lot with him and thought he was my friend, but I could see it was all to promote Matt Fiddes."
3. According to Fiddes, not long before she started dating Bobby Brown, Michael had a two-week love affair with Whitney Houston, wanted to marry her, and never got over the passionate relationship.
4. Later in life, Jacko had a years-long secret girlfriend whom he didn't want to name.
5. Michael was "one of the best martial artists" Fiddes had ever seen.
Juicy details: In 1999, Fiddes reportedly organized a martial arts demonstration that included a Michael Jackson impersonator because the Off the Wall impresario was a huge karate fan. Kung Fu Jackson could have been an amazing movie.
Outcome: When the 2008 Channel 4 documentary The Jacksons Are Coming, about Tito's move to Devon, suggested that Fiddes "betrayed" the family, the bodyguard sued the British television network for libel. Two years of squabbling ensued, and Fiddes withdrew his claim just as the case was about to go to trial, leaving Channel 4 with a reported £1.7 million legal bill.
Believability score: 2.1. There is definitely footage of Tito visiting Devon.
Elvis Presley
Nobody says no to the King:
Elvis was reportedly first introduced to the prescription drug Dexedrine while stationed at a German army base in the late '50s, which started his long appreciation of the powers of uppers and downers. He went on to perform in many of his films while heavily medicated. By the mid-'70s, three of Elvis' bodyguards started voicing their concerns about Elvis' health and self-destructive behavior, but that only got them into trouble. Onetime bodyguard Dave Hebler recalls the King once telling him to take 16 pills. "All right, I'll do it later," Hebler responded, and put them aside. When he later showed the stash of pills to Elvis' physician, he said the dose would have killed Hebler.
Eventually, the bodyguards were let go as a "cost-cutting measure," and their response was to work together to write the book Elvis: What Happened? as a message to their deluded King. Elvis heard about the book and hired a private detective to buy off the bodyguards before they could finish the memoir. Mr. "Love Me Tender" also concocted a plot about luring those former friends to Graceland for a trip to the hereafter. When Elvis: What Happened? was published, the book was filled with tales of Elvis believing he could move clouds with his mind and firing bullets at TV screens and other machines that displeased him. Unfortunately, Elvis never got the message the bodyguards intended. About a month after its US publication, he was dead of an overdose.
Juicy details: When Elvis first visited Dave Hebler's karate studio, he was wearing a white turban because he thought his celebrated 'do looked terrible. And, yes, footage exists of this moment and is on YouTube.
Outcome: In a story from Elvis: My Best Man, former King confidant George Klein recalls running into onetime bodyguard Red West, who also contributed to the book, on a golf course. With tears in his eyes, West apologizes to Klein for the sensationalist stories in Elvis: What Happened?, and asks if Klein can reach out to the inner circle to ask for his forgiveness.
Believability score: 9.1. Is it hard to think the soldier who serenaded a pigtailed puppet in the movie G.I. Blues was heavily influenced by prescription medications?
Tupac Shakur
Tupac missed a career as a porn star:
When
Playboy
produced an X-rated shoot of the video for "How Do U Want It," Tupac had dozens of women flown in specifically for the shoot, including porn stars Nina Hartley, Angel Kelly, and Heather Hunter. The video is a combination of frilly Wild West clothing, strip-club cages, and, since this was the '90s, the requisite mechanical bull.
According to former Tupac bodyguard Frank Alexander, the R-rated video is an angelic romp compared to his boss' offscreen XXX-rated antics. In his book Got Your Back, Alexander describes Tupac's routine: shoot a couple of scenes, have sex with a dancer in his trailer, eat something off the craft services tables, and begin again. At one point he'd had so much sex he passed out and Alexander couldn't wake him up. Why did women love Tupac so much? According to the bodyguard, part of it was the rapper's chiseled looks, part of it was his verbal dexterity, and a lot of it was that he was hung like a Trojan horse.
Juicy details: When Tupac was too tired to have any more sex, he tried to "impress" women with his manual dexterity, which led to Nina Hartley tutoring him on the way to properly rake a woman's secret garden. Tupac then used his knowledge on every lady-garden he could find.
Outcome: In a 2012 interview, Nina Hartley said the best part of the production was a private party that she, Angel Kelly, and Heather Hunter had with the late Tupac after the shoot wrapped. According to her, "Tupac had what it took to be a porn stud, no problem!"
Believability score: 9.9. When a legendary porn star signs off on your prowess, print the legend.
Sign up here for our daily Thrillist email, and get your fix of the best in food/drink/fun.
Neil Gladstone is a contributor to Thrillist and enjoys impersonating a bodyguard at weddings, depositions, and Suge Knight hearings. Be one of the first to follow him on Twitter @nsgladstone.