This 23-Year-Old Instagrammed His Way to Traveling the World With Music's Biggest Duo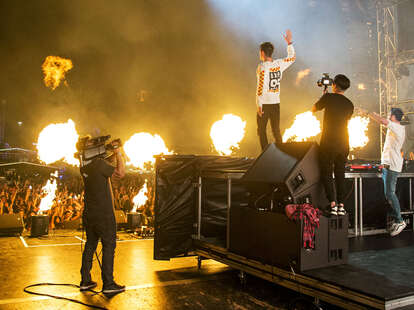 To steal a few moments of Jeremiah Davis' time, you need to jump in his airport-bound Uber. I catch him en route to Miami International, but just a few days earlier, the 23-year-old photographer and videographer was in Tokyo to work on an unannounced MTV project with videographer Rory Kramer, the cast members of The Buried Life, and pop star Shawn Mendes. It's the sort of gig most people would put on their resume... except Davis hasn't ever needed a resume.
Since graduating from California's Azusa Pacific University in May 2016, Davis has yet to fill out a single job application. But he did tour Europe with The Chainsmokers (and will accompany the duo on their upcoming arena tour). All it took was a DM and persistence.
What being "great at Instagram" really means
Davis, also known as ThatOneBlondKid, picked up photography in high school from his older brother. After his freshman year at Azusa, he studied abroad, and wound up walking the famous Camino de Santiago trail across Spain. For the walk, he brought a GoPro and challenged himself to learn how to edit the footage he captured.
After that, he jumped to South Africa for four months with a "crappy camera." Then Fiji. As he traveled, he learned that selfies and duck-face shots showing how #blessed he was wouldn't help him stand out. He needed production value that screamed "I am the shit."
Throughout his time at Azusa, Davis also learned how to pilot and shoot with a drone. At first, he filmed for the nonprofit Be Perfect Foundation, which raises awareness for spinal cord injury victims. According to the budding Instagram star, everything "took off when my girlfriend bought me a drone for my 22nd birthday." With an advanced quadcopter in his arsenal, capable of shooting 4K video, Davis threw himself into figuring out the best techniques for making his Instagram feed look like Hollywood blockbuster B-roll. The likes came pouring in. Suddenly he had something more important than photo skills: the confidence to message complete strangers.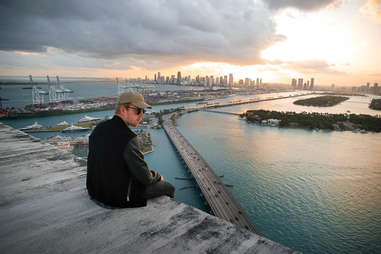 Being "that guy" on Instagram can actually pay off
"Pounding pavement" no longer exists in a digital world. Instead, it's the much less formal "hitting up a bunch of people." Which is why Davis found himself sliding into some key DMs.
"Direct messaging people, emailing people, just like, 'Hey, this is who I am. This is what I do,'" Davis says of his strategy. "That took off… I feel like a lot of people think they can direct message anybody, and everybody can say that they're a kid chasing a dream. That's not really what works. It's bringing value to people through a direct message. And that's different. It's not a copy-and-pasted direct message, it's not a copy-and-pasted email, but it's seeing an individual for what they do, seeing what your skill level is and applying it to that person's world and saying, 'This is what I can do for what you're doing now.'"
How he almost f*cked everything up
Davis' first crack at using social media to get a job came in January 2016, when he messaged Kramer. He botched the pitch. Davis had stumbled across Justin Bieber's "I'll Show You" music video and saw Kramer's name as the director. So he sent a message saying, "Hey man, congrats on working with Justin Bieber. I'm a creative as well and would love to work with you."
Davis adds now, "That was pretty much it. Now, being on the back end of that, having people reach out to me, you get that so much, and a message like that means nothing to you. It's so unoriginal." Kramer didn't respond.
"It hit me, like, three days later: I'm going to follow up and actually add what I can do." In a situation where others would take DM silence as the courteous cold shoulder, Davis sent the above video, which was shot exclusively on a drone, and offered to shoot footage for one of Kramer's videos, free of charge. "Next thing you know, he was like, 'What's your availability this week?'"
Kramer began recommending him as a drone shooter for other projects, such as G-Eazy's The Endless Summer Tour trailer, around this time last year. "I skipped, like, three classes to go do it," he remembers. He met up with a small production team in the middle of a desert just north of the Wrightwood area in California and produced footage that G-Eazy used during live performances, in addition to the trailer.
Just before shooting with G-Eazy's team, Davis caught another break through Kramer and wound up shooting the wedding video for Jason "Poo Bear" Boyd, a prominent songwriter and producer. "That was the first wedding I ever shot," he says. "Poo Bear's wedding! Which is terrifying. What a powerful, elaborate, extravagant thing. He didn't come back with one revision. He paraded the video around through all of his friends.
"I meet up with him every now and then, and he always introduces me as the person who shot his wedding video. And every person I've met through him has seen the video, and they absolutely love it. If you were to ask him, he basically says I made a music video out of his wedding." The seemingly unglamorous role of wedding videographer proved key to launching Davis into the next phase of his career. He began working more regularly with paying customers -- and Instagram onlookers.
The Chainsmokers gave Davis his biggest break
After working on one-off projects throughout his final semester in college, in spring 2016 Davis took a job as a videographer and producer for Snapchat's "Yes Theory" after he was put in contact with the team by The Buried Life's Dave Lingwood (with whom Davis also connected via Instagram) -- one Skype call, no formal application necessary, and the job was his. The show follows four young men from four different countries who challenge themselves to say yes to experiences outside their comfort zones, which is exactly what Davis did after working with them for about two and a half months.
"The day I left that job, Rory asked me to shoot the drone footage for [The Chainsmokers'] "Closer" music lyric video, which is like the most watched lyric video in the music industry." The video currently has over 1.3 billion views on YouTube.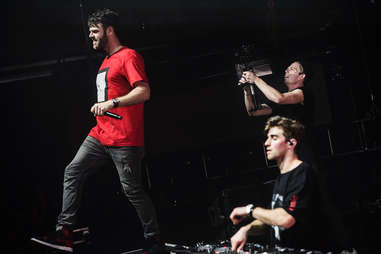 After he worked on the "Closer" video, things began snowballing quickly for Davis. Kramer usually accompanies The Chainsmokers on tour to shoot videos, but because of an increasingly cluttered schedule and Kramer's top-secret-but-promised-to-be-amazing MTV project, The Chainsmokers asked for referrals. Kramer gave them Davis' name, and now he's part of The Chainsmokers' photographer-videographer rotation, a gig that's taken him around the world to shows in places like London and Paris, not to mention a New Year's celebration on a private jet with the group. If you've got a sharp eye, you might be able to pick him out behind the band during a show, shooting video.
He's living the dream, but existing in reality
This time last year, Davis was wrapping up college. Then he was touring with one of the world's most popular bands. In 2017, at the age of 23, Davis is already sizing up next steps. His goal, in a sign of the times, involves corporate partnerships; Davis says his hope is to "take a trip to the Philippines and start incorporating brands into my content. Brands that I believe in and brands that also believe in me and let me do whatever I want with the videos." You see versions of this monetization strategy all over the place on social media, from extreme athletes chugging energy drinks to wellness gurus sipping green juice as part of new-age ad campaigns.
"There's not a lot of money in the music scene," explains Davis. "Anyone who's done a fair amount of projects in the music scene for video just knows that it is hard to come by a proper budget, and typically the amount of work and stuff that you have to deliver is not worth what you're getting paid... you get to travel, you get to go to festivals for free, but it's just like, at the end of the day, are you trying to make money and have cool experiences or just have cool experiences?"
Which is why Davis' reasons for pursuing his career are much bigger than a camera.
"You walk away with a new friend, with a whole new network, and a new way of living life. I've invited them into my world and my network, and they've done the same. To me, that's the biggest reward."
Sign up here for our daily Thrillist email, and get your fix of the best in food/drink/fun.
Megan Armstrong is a freelance creative who's worked with individuals like New York Giants wide receiver Brandon Marshall and outlets like
Men's Health
magazine, MTV,
The Kansas City Star
, and
Sports Illustrated
. She has the lofty and perhaps unattainable goal of living in a music video. Follow her @meganKarmstrong.