How 'Channel Zero' Became the Most Legitimately Terrifying Series on TV
Riding the current resurgence of the anthology programming trend, SYFY's horror seriesChannel Zero has done things differently from the get-go. Inspired by the creepypastas of the Internet, the show, now on its fourth season, bypasses the over-the-top flashiness of American Horror Story and skips the soapy (and waning) drama of The Walking Dead. With its style and subject matter, SYFY's project has quietly become the scariest show on TV -- and if you haven't already, it's time to dig in.
Existing in six-episode installments, Channel Zero first hit the small screen with its first season in 2016, subtitled Candle Cove, a creepy nugget of a story about a haunted puppet show that appears only to children, slowly and methodically turning them into killing machines. Since then, audiences have explored the subconscious horrors of the second season's No-End House and proceeded to lose themselves in a landscape of bloodthirsty American nostalgia in Butcher's Block. Now, with Season 4's The Dream Door, Channel Zero ups the ante on the suburban scares, shifting away from murderous puppets and cannibal butchers to focus on something closer to home: human relationships and the secret traumas they can dig up.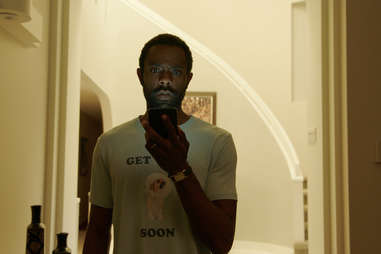 As audiences have seen with Hereditary and Netflix's The Haunting of Hill House, some of the most jarring horrors come from within. How do these terrors manifest themselves in the confines of a house? What happens when Tom (Brandon Scott) and Jill (Maria Sten), old friends-turned-newly married couple, move back to their childhood town only to discover and inevitably bust open a mysterious door in the basement of their home? A whole lot of trouble. Secrets and lies eventually reveal themselves and a long-forgotten -- and quite terrifying -- manifestation of a childhood trauma Jill thought she locked away for good makes his bloody return.
"When you marry somebody, you also marry their demons," Nick Antosca explained to Thrillist during a recent chat about the new season. "You have to be prepared for that and willing to take that on. The demons don't want you to be together! And you have to be ready to join forces against each other's demons. When you find a partner, you're looking for someone who's willing to take it all on, and you have to be willing to do the same. Joining your life to someone else's can be very scary."
Themes of infidelity and distrust are on full display in The Dream Door. But, as Antosca points out, the story explored here is relatable on another level, as well. "The issues in Tom and Jill's marriage are issues from childhood and whether people watching the show are in a relationship or not, everyone can relate, I think, to that feeling of the unhealed stuff from the past coming back to haunt you as an adult."
Without the foundation of Tom and Jill's relationship, The Dream Door would surely not work. To that end, Antosca brought together a worthwhile duo with the on-screen partnership of actors Sten (Swamp Thing) and Scott (Channel Zero: Butcher's Block). Aside from the notable, unfortunate, detail that a horror series with two black leads is basically still considered a storytelling unicorn in this day-and-age, the bond, and subsequent conflict that grows between Jill, with her deeply ingrained trust issues, and Tom, with his questionable secret life, give the season the emotional weight it needs to make just the right impact.
"Jill and Tom need to have this balance of strength and vulnerability," Antosca explains. "You have to distrust Tom and kind of like him at the same time. And you have to believe Jill can survive all this crazy shit, that she has inner strength, but also all this turmoil under the surface and an extreme emotional sensitivity. When we were casting these roles, in particular, we really looked for the chemistry that would sell Tom and Jill as a couple: the more invested the audience is in their relationship, the more devastating the rift between them [becomes] while Pretzel Jack does his thing."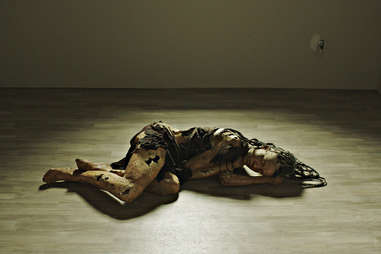 As with every season of Channel Zero, The Dream Door has a twisted monster, this time coming in the form of Pretzel Jack, Jill's forgotten childhood imaginary friend: a mute contortionist clown who murders people in order to keep her safe. Troy James is the actor who brings the monster to life -- Antosca previously worked with him on Butcher's Block, where he took on a much smaller role, but the actor left an impression. Unlike other on-screen monsters of a similar ilk, Antosca tells EW he ended up using zero CGI in bringing Pretzel Jack to life. Each and every clumsy step, impossible looking contortionist position and off-kilter facial expression was all Troy's doing. Nick further confirmed this to us by praising Troy's abilities, saying, "[He] brings such a deranged playfulness to it. It's so nightmarish."
Keeping with the tradition Antosca began with the first installment of the series, each season of the anthology has been helmed by an up-and-coming genre filmmaker. Names like Craig William Macneill (Lizzie, The Chilling Adventures of Sabrina) and Arkasha Stevenson (Pineapple) were given room to flex their creative chops on the small screen -- for Candle Cove and Butcher's Block, respectively. For the show's latest installment, Antosca has tapped indie director E.L. Katz (Cheap Thrills) to conjure up an atmosphere Nick refers to as "really bizarre, playful horror."
"It's all grounded in character," Antosca says. "We knew Evan would be great at that stuff, based on the balance he struck between comedy and horror on Cheap Thrills. And our themes this season, around intimacy and the burdens of the past, also really spoke to Evan -- you can see mirrors of the same issues in his own work."
One of the recurring themes that pop up throughout the entirety of Channel Zero comes in the form of every story's environment. Shooting in a suburban setting seems to be the series' thing, each locale helping to maintain the show's indie feel. With that domestic familiarity comes a whole bevy of unsettling goodies for Antosca to explore. "It's the world most of us know," Antosca explains. "Normal life. To make horror really work, you have to show normalcy first, so the horror is a disruptive force. I think that's part of Pretzel Jack's appeal as a killer -- he's not always waiting for the cover of darkness, he's not all that strategic -- and that makes him more horrifying. Because there's no time of day when everyone's safe or relaxed. Anything can happen at any time."
There's a steadily increasing claustrophobia that comes through in The Dream Door, and it's not just in the conflict between characters on-screen, but also in the set dressing and camera work itself. That is no happy accident. "It's a really conscious decision, the way you feel the spaces this season," Antosca says. "In The Dream Door, your house is your psyche."
The entire season of Channel Zero: The Dream Door airs this week, ending with the finale on Halloween.
Sign up here for our daily Thrillist email and subscribe here for our YouTube channel to get your fix of the best in food/drink/fun.
Aaron Pruner is a writer and actor in Los Angeles. His words have appeared in THR, Playboy, Rotten Tomatoes, IGN, and Thrillist, of course. True story: He once played Charlize Theron's boyfriend in a Japanese car commercial.