Netflix's Docuseries 'Cheer' Will Totally Change the Way You Think About Cheerleading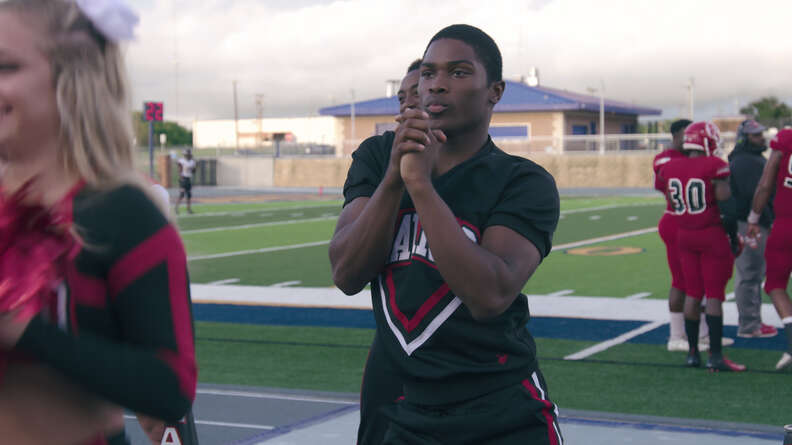 "Cheerleading sucks," one cheerleader says to another in the fifth episode of Netflix's six-part documentary series, Cheer, which follows the elite Navarro College team as it preps for another national championship competition in Daytona Beach. Watching the show, it's hard to disagree with that statement. Cheerleading sucks, but not in the way that you think it does -- not because it's quote-unquote lame or because it's filled, as the stereotype goes, with bitchy popular girls. It sucks because of the frequent concussions and the dislocated bones and the fractured ribs. Just after being told "cheerleading sucks," cheerleader Morgan Simianer goes to the emergency room. She's told that she needs to stop cheering or she could potentially crack her ribs and puncture her organs. She refuses.
But cheerleading, according to Cheer, is also beautiful. It's a miraculous athletic achievement, in which bodies are pushed to an extreme in order to literally fly through the air. It's also a source of solace for the young men and women of Navarro on screen, a chosen family ruled over by their coach Monica Aldama, an intense den mother, who works her kids hard but loves them deeply.
Cheer puts you through the ringer. I spent half the time watching in a tense full-body cringe, anticipating disaster as the Navarro cheerleaders practiced their ridiculously hard pyramid, yelping when someone hit the ground. (And a lot of people hit the ground.) Watching Cheer is also a multi-platform experience. As the countless "where to find the cast on social media" posts indicate: Finding and following the stars of the series on Instagram is half the fun. (It also means you can very well spoil yourself for the grand finale, as I did.)
Nearly 20 years after Bring It On's debut, cheerleading is having something of a moment on TV. Over on basic cable, you can watch USA's Dare Me, based on the Megan Abbott book, which acknowledges the athletic rigor of the sport, but couches it in a sexy mystery. Executive produced and directed by Greg Whiteley -- who was behind Netflix's highly lauded football docuseries Last Chance U -- Cheer doesn't really have time for that sort of drama. In fact, it largely aims to desexualize the sport.
Though Cheer aims to highlight the sport's athleticism above all else, it doesn't lack an emotional pull. Cheer succeeds mostly on the strength of the characters it chooses to highlight. At the center of all of this is Monica, who stomps around Corsicana, Texas in little boots like she owns the town. (And she sort of does.) Monica is Coach and Tami Taylor rolled up all into one. She's a born-and-bred Corsicana who had dreams of going to New York and working in business, but found herself tied to her hometown after starting a family with her high school sweetheart. She runs the Navarro team like a small empire, molding the members into the best of the best. She's deadpan and highly critical, but a softie when she needs to be. I also genuinely feared her pyramid might be too hard, given how many injuries it spawned.
Then there are the cheerleaders themselves. Far and away the breakout star is Jerry Harris. It feels weird to say that someone who is quite literally a cheerleader is also a figurative cheerleader, but that's who Jerry is. He's a supportive sweetheart rooting hard for every member of his team even through internal strife. (While the team consists of 40 people, only 20 get to "make mat," meaning get to compete at Daytona.) He quickly emerged as a fan favorite online along with the other athletes Whiteley and his team chose to highlight.
It's hard not to root for Morgan Simianer, who doesn't have the training of some of her peers due to an absent father and unmoored upbringing. Lexi Brumback is a remarkable tumbler with a history of bad behavior, and her early disillusionment with the rah-rah Navarro spirit is relatable but it makes her ultimate dedication all the more exciting. It also means that the epilogue, in which she's kicked out of school for being in possession of illegal substances, is all the more heartbreaking. La'Darius Marshall is a great performer with a highly critical attitude that we eventually learn was born as a defense mechanism. Gabi Butler comes in as the pre-appointed influencer of the group, a "cheerlebrity" who has been famous in these circles for years with a pair of stage parents who have seemingly little regard for her mounting exhaustion. Gabi, meanwhile, is a trooper even despite being constantly pressured. It's easy to develop affection for people who aren't as prominently featured: Sherbs! Jade! Austin!
Gabi's presence is also a reminder that there's a narrative beyond what Whiteley's cameras capture happening on Instagram where there are endorsement deals and loving tributes to fellow teammates, glamor shots, and more cool stunts. Following the Navarro team on their adventures post-series is part of the fun. How else would you know that Lexi is back on the squad? Or that Jerry is seemingly thriving?
But the social media fandom that's grown out of Cheer also feels at odds with the tone of the show which is both celebratory and deeply melancholy. There are beats that Whiteley and his crew leave dangling, and I'm not just talking about "FIOFMU," the mysterious acronym adorning the uniforms of the Navarro teams. There's an acknowledgement of how the conservative values (read: biases) of Corsicana are in conflict with the ethos of the Navarro team and the diversity of its members, but it's a matter that feels largely unexplored. Monica is staunchly supportive of the gay members of her team, but it's clear other members of this tiny community are not.
Fundamentally, Cheer is about how impressive and futile it all is. Navarro's not exactly the end of the road for its cheerleaders' careers, but there's not much farther to go after it. (Cheering for the NFL is not the same thing.) It's a sport that has no professional equivalent, but leaves its players with broken bodies and few opportunities. Cheerleading is awesome. Cheerleading also sucks.
Need help finding something to watch? Sign up here for our weekly Streamail newsletter to get streaming recommendations delivered straight to your inbox.