Because it's much tougher to capture the grueling repetition of the restaurant world and easier to show Scarlett Johansson eating gourmet post-shift pasta in bed, few movies ever seem to accurately portray the restaurant industry. But despite the moments of over-glamorizing and under-gritting, there are some movies (Chef included!) that manage to capture the balance of chaos and passion that keeps chefs in the kitchen. Which movies best represent life in a busy kitchen? We polled a group of chefs across the country to tell us their favorites. Turns out Vin Diesel might make a hell of a chef.
Recommended Video
Top 5 Best Netflix Original Movies to Watch in 2019
Big Night (1996)
"It's hard for me to watch a movie about restaurants or cooking because I find myself yelling at the screen like it's game day, but to this day, the most accurate movie from both a professional and emotional level is Big Night with Tony Shaloub and Stanley Tucci." - Zach Meloy, cook at Better Half (Atlanta, GA)
"This movie shows the struggles of opening a new restaurant and the harsh competition with larger well-established ones. The brothers, manager, and chef put everything they have emotionally, physically, and monetarily into the business in hopes that it will be successful." - Nathan Lemley, chef at parkside (Austin, TX)
"It showcases the competition and challenges that the small business owner and chefs face to make it in this crazy business. I also think it's a terrific depiction of how we love to throw great elaborate feasts for amazing people -- even if they don't even show up." -Jeff Usinowicz, corporate chef of Deschutes Brewery (Portland, OR)
"It has one of my favorite parts in any movie. It's the last scene, where everything has fallen apart and they are left beat down and emotionally drained the next morning. There is no dialog, Secondo just gets down a pan, cooks breakfast for Primo, and they are brothers again. It is not unlike after rough nights on the line when things don't go well. After it all, you are still sharing a special connection with someone you have been in the trenches with." - Todd Duplechan, chef/owner at Lenoir (Austin, TX)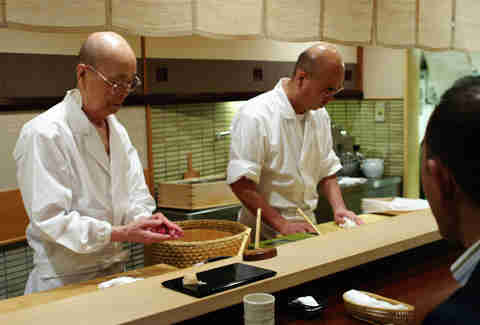 Jiro Dreams of Sushi (2011)
The most beautiful movie which displays the dedication that a chef must have to be truly great is Jiro Dreams of Sushi. It's a beautiful documentary of the dedication of Jiro, his staff, and his family to their artistic trade." - Cathy Whims, owner of Nostrana, Oven & Shaker, and Hamlet (Portland, OR)
Like Water for Chocolate (1992)
"This movie takes you back to a more complex time of cooking when there wasn't technology to make things easier. It shows us how food relates to everything we do and how the preparation influences the diner with feelings of love, passion, and sadness. It really speaks to my style of passionate cooking and the very real reasons that I made this my career." - Katsuji Tanabe, executive chef at Mexikosher (Los Angeles, CA)
 
Into the Wild (2007)
"The movie that most represents the way that I think of the modern world and how I fit in it is Into The Wild. It could be my favorite movie because it represents not adhering to the norm or agreeing with the populace, but going your own way and escaping mediocrity, even if that means failing." - Sean Lowenthal, chef at Little Beast Restaurant (Los Angeles, CA)
Chef (2014)
"It's about the classic conflict of being a passionate cook while also running a business." - Hector Santiago, chef at El Super Pan (Atlanta, GA)
"More and more each day my chef friends take the jump, like me, from the structured formal kitchen environment to a more gratifying approach. They want to grab creativity and be more free-spirited, hence all the more casual restaurants or pop-ups happening. I see a lot of parallels with that in the movie Chef. Being able to step out of the kitchen to engage with your guests -- whether at a counter-service restaurant or in a food truck -- gives such satisfaction and can be a real source of inspiration." - David Guas, chef/owner at Bayou Bakery, Coffee Bar & Eatery (Arlington, VA & Washington D.C.)
 
The Fast and the Furious (2001)
"I find restaurant life most closely resembles The Fast and the Furious. It's forever competitive, fast-paced, and requires the utmost precision and accuracy. And keeping up with the tickets on a Saturday night? That is a race in itself!" - Lydia Shire, chef/owner at Scampo (Boston, MA)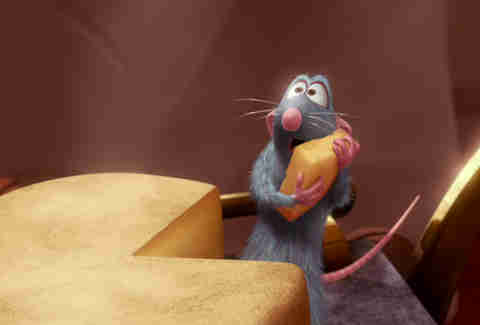 Ratatouille (2007)
"Of the movies I've seen, and I know a few of my fellow chefs feel similarly, Ratatouille has the best reproduction of the feel of a restaurant. It clearly depicts the receiving of product in the morning, prep, setup, and service at night, with an expo and everything, but obviously some of the more rat-centric details are quite silly. Conversely, I was always bothered by the character Monica on the TV show Friends." - ​Ryan Shelton, executive chef at Reverb (San Francisco, CA)
"I've been thinking long and hard about this. Fact of the matter is that no one has yet to harness the energy and controlled chaos of a kitchen on the silver screen. The most realistic portrayal that I have seen on the kitchen end has been Ratatouille. It shows what a real kitchen looks like, the insanity of the chef and sous chef when it comes to working clean, how hard it is for a woman in the kitchen, and the true chaotic nature of a high end kitchen environment." - Peter A. Vauthy, vice president and executive chef at Red, the Steakhouse (Miami, FL)
 
Whiplash (2014)
"Whiplash really embodied the organized chaos, passion, hard work, and perseverance of my career. The constant search for perfection, working as one team with the same drive and goals, and consistently pushing boundaries. You have to love what you do more then anything and never be satisfied. - Cameron Slaugh, chef at Osteria La Buca (Los Angeles, CA)
Modern Times (1936)
"It's Charlie Chaplin's film on the industrialization of society. Things fall apart for him during the entire movie, and every time he dusts himself off, tips his hat, and carries on. There's a good restaurant scene where he becomes a singing waiter and improvises all the lyrics he forgot. It ends with the words 'never say die'. Seems fitting to me!" - Kevin Schuder, executive chef at Citizen Fox (San Francisco, CA)
 
Spinning Plates (2012)
"There's a movie called Spinning Plates that's not funny, not cute. It does not have a happy ending, and it does not glorify the screaming sexy male or female chef. It covers most every extreme that can happen in a restaurant, from the top-tier molecular restaurant Alinea in Chicago -- where the chef brings his kids in to play with liquid nitrogen after surviving cancer and receiving 'Best Restaurant in the Nation' awards -- to the small-town, super-busy restaurant that caught fire and burned to the ground twice (the neighbors helped rebuild it), to the American dream of immigrants opening an authentic restaurant (that unfortunately never really takes off). The movie digs deeper into some of the non-glamorous worlds of restaurants, chefs, and owners." - Brian Poe, chef/owner at Poe's Kitchen at the Rattlesnake, Bukowski Tavern, and The Tip Tap Room (Boston and Cambridge, MA)
Mystic Pizza (1988)
"My name is Tony...  not Soprano, but I'm 200% Italian and the movie Mystic Pizza perfectly depicts the old-world work ethic that you often see in mom-and-pop, family-run restaurants. These are the kinds of spots where you have no choice but to grow up in the business starting at age 10, when you're tall enough to reach the stove." - Tony Conte, chef/owner at Inferno Pizzeria Napoletana (Gaithersburg, MD)
 
The Hundred-Foot Journey (2014)
"I'm a product of the generation of chefs that busted their asses in European kitchens and did what they were told, peeling that carrot over and over until it's perfect and not thinking about TV competitions. The Hundred-Foot Journey highlights the dedication involved in working in the kitchen. Every chef starting out should watch and learn and stop being such pansies." - Robert Wiedmaier, chef/owner at Marcel's (Washington D.C.)
 
Waiting... (2005)
"The morally twisted, close-knit relationships it portrays between the front of house and back of house staff are very real." - Cameron Thompsom, chef at Farm Burger (five locations in Georgia, North Carolina, and California)
Sign up here for our daily Thrillist email, and get your fix of the best in food/drink/fun.
Dan Gentile is a staff writer at Thrillist. He suggests everyone add Spinning Plates to their Netflix queue. Follow him to figuring out what "Netflix and chill" means at @Dannosphere.