Cher's 'Believe' Still Rips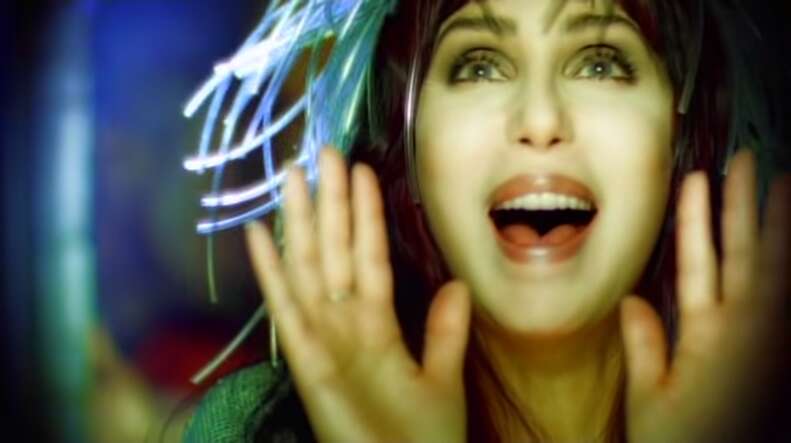 Twenty years ago, a new world record was set: At 52, Cher became the oldest woman ever to top the Billboard charts with the single "Believe," off her twenty-second record, also called Believe. It was a breakout hit, a wildly successful renaissance for a woman who first became a star with a sugary husband-wife singing duo in the '60s. It was a watershed moment if there ever was one in pop radio, which tends toward misogyny and ageism, and it transformed Cher from simply famous to basically immortal. Two decades later, "Believe" continues to slap.
It remains among the biggest singles of all time, having sold more than 11 million copies worldwide, but it's the irony-free longevity of "Believe" that truly stands out. Just shy of four minutes, the trancelike house beat bangs under the soaring melody and lyrics about not needing any garbage man after a rough breakup. Do you believe?? In life??? After love???? For as many times as the chorus repeats itself, it only gets catchier, leading up to the repeating "I don't need you anymore" bridge line, exploding into a full-on fist-pumping empowerment anthem before gently fading out, providing the perfect template to listen to "Believe" over and over and over again without a hitch. (Here is a playlist of "Believe" 100 times for all the Believers out there.) "Believe" was the first song I remember having a strong enough opinion about to cause an argument with my mom (I said it was good; she said it was bad). We'd have had none of this if not for Cher's "Believe," which, once again, absolutely smacks, no offense, Mom. Only a few songs over time can literally change the way music sounds going forward, and "Believe" did it.
Its origin story is fairly standard in its collaborative nature -- the vast majority of radio-ready songs have at least a handful of people working on them to achieve pop perfection -- except that "Believe" took a braintrust of six songwriters over 10 years to make. It began life as a demo with a "great chorus" (but was a "terrible song"), which got shopped around to major female pop artists, who all passed.
The shelved version eventually landed in Cher's lap. Warner Bros. was pushing her to follow in the dance-pop footsteps of Madonna's 1998 hit Ray of Light after Cher's 1995 record, It's a Man's World, failed with critics and barely cracked the pop charts. The demo was ripped away from its original writer, who, as Warner Music UK's then-president Rob Dickins said, had "done no justice to [his] own song," and given to new producers who, by an inspired mistake, introduced Auto-Tune to Cher's voice. Only after several beers did the new songwriters have the guts to show Cher, notoriously a taker of no bullshit, her synthetic vocal track; she was immediately convinced of the song's strength. "Don't let anyone touch this track, or I'm going to rip your throat out," she told one of the producers when the label was trying to negotiate toning down the robotically smoothing artificiality of the Auto-Tune.
Within a few years, Auto-Tune went from a brand-new, somewhat embarrassing pitch-correcting technology producers wanted to keep under wraps to a common proper noun that any kid can use as a preset effect on GarageBand. The signature pitch-perfect slide from one note to another on "Believe" became known as "the Cher effect." Kanye West has thanked her for Auto-Tune. T-Pain's love-hate relationship with it gave him his signature style that, years later, inspired him to go Auto-Tune free to be crowned winner of The Masked Singer. At one point, purists came out to decry its pervasiveness in pop music as "Auto-Tune abuse." It's pervaded nearly every popular song since "Believe," whether you know it or not.
Then there's the video, which features Cher switching between roles as a clubgoer and bewitching stage singer, a spirit guide of sorts to a woman who's being cheated on by a white boy in dreads. The production isn't a feat, but it is unforgettable: The green lights ricocheting off of whatever Cher's giftbag plasticine headpiece is; the undeniably millenium-y, Matrix-y vibe; the tight crop to her elated singing face shaded as modern chiaroscuro caught on camera to impeccable beats. In the way that Cher's perfect Twitter account and unearthed archival interviews about not needing men at all, watching "Believe" makes you want to sidle up to Cher's dance circle in hopes she'll extend an arm that invites you to join in dancing off whatever hurts.
The legacy of "Believe" is more than Auto-Tune, which was merely the perfect vehicle for Cher's voice to demonstrate the burgeoning engineering technology's possibilities, and a memorable video. As a woman whose career has many inflections -- she's three-quarters of the way to an EGOT (just needs that Tony), on top of being a fashion and pop culture icon -- the breakout of Believe was hugely important for her current status in the public consciousness. But it also tragically aligned with the death of her ex-husband and stage partner, Sonny Bono, who died in January of 1998 as the result of a skiing accident. (Believe was released in October of the same year; in March 1999, "Believe," hit Number 1 on the Billboard charts.)
Unfortunate timing be damned, "Believe" revitalized a career that had been treading water. Cher reached a new generation of fans and, as it became a club staple, turned her into a gay icon back when Lady Gaga was still doing high school musicals. In the same year, she performed the "Star Spangled Banner" at the Super Bowl, got a greatest hits record that went certified gold, and sold out every American date of The Do You Believe? Tour, which ran for 121 shows in total (40 were abroad). Just last year, she made a surprise performance in Mama Mia! Here We Go Again, and released a companion record of ABBA cover songs. She even has a freaking self-titled Broadway musical that spans her entire career.
But this isn't about everything that's followed; it's about "Believe." Go ahead, put it on right now. Put it on a hundred times!! I personally guarantee you will be sucked into the vortex, arms as wide as Cher's in the music video for "Believe," unable to avoid singing along, powerless to free yourself from its earworminess. There aren't many pop songs that command you to submit fully without eventually wanting to tear your own head off, but "Believe" does. Maybe "Believe" is the only one. And, as I've already said, "Believe" still rips.
Leanne Butkovic (@leanbutk) is an entertainment editor at Thrillist.