Chelsea Handler's New Netflix Show Reinvents the Meaning of 'Late Night'
Chelsea Handler has a late-night talk show again, but there's no need to watch it at night. You can watch it during breakfast, on your lunch break, or at prime time, if you're feeling especially rebellious. Thanks to the streaming magic of Netflix, Chelsea is a talk show that is freed from the temporal constraints of a time slot, and that's not the only way the show is attempting to reinvent the creaky late-night wheel.
After watching the first two episodes of the show, which debuted on Wednesday at midnight PST and will drop new episodes weekly on Wednesdays, Thursdays, and Fridays, it's clear that Handler has large ambitions for her self-titled gabfest. While not all of her jokes land and some of the more heady concepts might fall away as it settles into a groove, there are still ways this show stands out in the late-night crowd.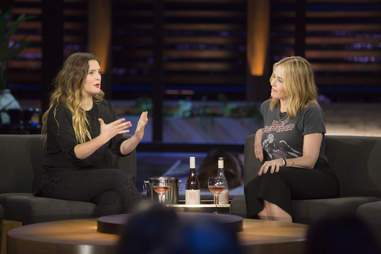 Patrick Wymore/Netflix
It's on Netflix!
Duh, right? If you use the streaming service, you've probably seen the promos for Chelsea at the top of your homepage, and you likely saw similar ads for her documentary series Chelsea Does, which saw the comedian take on topics like drugs, racism, and marriage. Handler signed a reportedly $10 million deal with the company back in June of 2014, so it's pretty invested in convincing you that this is a show you need to watch instead of just bingeing episodes of Undercover Boss like a delinquent.
What does that mean for the show? Besides eliminating the commercials and language restrictions she had back on her E! show, the streaming status lets her do something other comedy shows might be nervous to do: make fun of Netflix. The first episode especially is packed with playful jabs at the company's expense, including a commercial parody for "Netflix University" and a bit about Netflix math. Neither of these sketches is especially biting, but they do suggest that in the future, Handler could develop a funny adversarial relationship with her corporate overlords.
 
It's focused around the idea of education
"Think of me as the cool professor you can get high with after class, before class, or during class," says Handler early in the first episode. And she's not kidding: the first couple episodes are big on learning and lessons, particularly the type of explainer-y insights one finds in Morgan Spurlock movies, Vox articles, and TED Talks. Fittingly, TED founder Chris Anderson is a guest in the second episode, and Secretary of Education John King shows up in the first.
 
It's got a dog!
Chunk Handler, a dog with his own Twitter account, might be the breakout star of the show. He wanders around the stage at various points, interrupting guests and resembling those great dogs from that Weezer video.
 
The celebrity interviews have some meat to them
Handler has expressed an interest in making the show feel more like 60 Minutes than the more pop-culture-focused Chelsea Lately, but that doesn't mean that she's doing away with celebrity guests. Instead, the interviews with guests like Drew Barrymore, Pitbull, and Veep star Tony Hale take on a more freewheeling tone than your typical promo-friendly, "now let's watch a clip" celebrity interview.
This show aspires to be about issues, whether that means Pitbull talking about a teacher he remembers or Hale discussing his activism. Of course, not all these conversations are particularly insightful, so, like an episode of a podcast, you can always fast-forward and skip ahead to the segment you're interested in.
 
It's hosted by Chelsea Handler
Obviously, Handler is still the primary appeal of a personality-driven show like this. Along with Samantha Bee, she's one of the only female hosts on late night, and her perspective is a necessary corrective to the dude-heavy vibes of the Jimmys and the Cordens of the world. If you loved her on E!, you will probably love her here. If you were turned off by her occasionally labored sex gags and unfunny jokes about race, there are unfortunately still plenty of those! 
So, feel free to check it out later tonight -- or wait 10 years and binge-watch all the episodes in one crazed Chelsea Handler bender. It's on Netflix, so it's not going anywhere. 
 
Sign up here for our daily Thrillist email, and get your fix of the best in food/drink/fun.
Dan Jackson is a staff writer at Thrillist Entertainment. He's on Twitter: @danielvjackson.