Recommended Video
Acquired Taste: Blood Rice Cakes With Timothy DeLaGhetto and Justina Valentine
The Chris Gethard Show, which returned to truTV on March 20, has gone through many iterations over the years as it's moved from the comedy theater stage to public access TV to basic cable. But there are constants: the unpredictable segments (e.g., throwing paint at a man in his underwear), an inclusive ethos (celebrating audience members' body oddities), and its genial, low-status, self-doubting host. "The guy who the show is named after is the guy who's most often living in fear and shame," Gethard said in a phone interview. "That to me is funny. I like that as an art piece."
Gethard and I met nearly 20 years ago when we improvised together at the UCB Theatre in New York. Since then, he's developed into one of that theater's star improvisers on the flagship team the Stepfathers, and, in addition to his show, has gone on to write a book of essays, A Bad Idea I'm About to Do, and perform his emotionally raw standup in the Judd Apatow-produced HBO special Career Suicide, in which he speaks honestly about his struggles with depression.
Gethard says his career path really took shape when he learned to embrace his nontraditional impulses. One could argue that it all started with a boxing match.
Thrillist: Can we talk about that fight club you used to do?
Chris Gethard: Zach Woods came up to me -- out of the blue, he was 16 at the time -- and said, "Me and my friends box each other. If you'd ever like to come to Yardley, Pennsylvania, and box me I would love that." I was like, "Zach, I am into this." And then we did the show.
There was a show? I don't remember that part.
Gethard: I was this shit stirrer and I'd go around in the UCB community, like, "If Rob Huebel and Rob Riggle fought, who'd win?" And everyone was like, "I wanna fight too." Six or seven pairs of comedians fist fought in a warehouse in Brooklyn. We didn't have a ring so we set up police caution tape. We recorded it and showed it at UCB at midnight, and hundreds of people packed in. Paul Scheer was taking bets. He kept all the results secret. People were flipping out. It was one of the first things that gave me a reputation.
Another was the bus show, I'm guessing.
Gethard: Yeah. I rented a bus, drove through NJ, and told stories in the locations where they happened. I told the audience about losing my virginity while standing in the basement where I lost my virginity, in a home my parents had not owned in 10 years. Then, when I told [former UCB artistic director] Anthony King that I wanted to do a talk show, he was like, "Do you know that people use your name as an adjective? When people pitch me a show that's strange, they say, 'It's a Gethard show.'" He was like, "I'll give you a talk show, but I don't want you in a shirt and tie telling political jokes. At some point, you gotta embrace the fact that you're a weirdo." I've thanked him many times for it.
You use the word weirdo a lot. But sometimes it feels more like vulnerability.
Gethard: I've always found a lot of joy and humor in failing. It's very productive.
You trade on failure. But now that you're an adult, with a spouse, mortgage, and TV crew, there are bigger and more profound ways to fail. Would it be as joyful?
Gethard: It would be just as beautiful and just as productive. The moments of success I've had did not lead to as much growth as the moments where I was a failure. When you strike out, if you can remove your ego from the process, you learn who you are, what you have to offer, and what you wanna say. As an artist, being resilient is a better skill than talent. I went to public access 8 months after I'd been the lead on a Comedy Central sitcom. That's a downfall by anyone's definition. But it was me saying, I don't even watch sitcoms, so why do I want a job like this? I grew up watching completely bizarre stuff -- why am I not making that? Success is a very nice thing, but failure is where the truth lies.
So how do you hope for failure, as an artist?
Gethard: I've just learned to coexist with it. And our fans cheer the loudest when they see us take a swing and miss. The public-access days will always be special because it felt like a weekly exercise in surviving -- and in calling the entertainment industry's bluff, like, "I'm not going away."
I wouldn't say you have a chip on your shoulder, but you are definitely motivated by your underdog status.
Gethard: I think about it a lot as I get older and calmer. There are times when I can't catch the spark and I'll have to ask myself, "What was I mad about six years ago?" I think I do have a chip on my shoulder -- it's served me well.
How'd you develop it?
Gethard: I don't wanna be a guy who's on TV now complaining about his childhood. But I tell you: It just wasn't easy. Teachers didn't care. It took me some time to see it all as a scam. My mom tells a story about when my brother got bullied at school. She went in and the principal was like, "Actually, that happened on the other side of the fence. It wasn't on school property. We're not going to get involved." The people in charge are just a bunch of fucking scam artists. I don't like authority. I don't like arbitrary rules.
I'm the same way -- except I was very much part of the establishment, growing up. Maybe that's the reason for my crippling self-doubt.
Gethard: Yeah, but feeling frustrated and forgotten doesn't have a demographic. Part of the fact that I've found underground popularity is that there's a lot of people who don't feel listened to. That crosses boundaries.
How do you feel about using depression as fodder for art?
Gethard: Conflicted. I never wanna glorify it. I was wary of even talking about it. But I was like, If I speak about this and it means some 17-year-old, who thinks he's losing it, feels a little less alone, then I'm going to do it. It wasn't easy and it has led to a lot of pain. But if you can help a person and you choose not to, what's that say about you?
By industry standards, doing Career Suicide on HBO is your biggest success. Artists are often defined by their biggest success, and sometimes the press casts you as Depressed Guy. Which is not how I think of you at all. Do you worry about reductive labels?
Gethard: It's a major concern. I don't want to be the depression guy forever. I think the whole point of my show is to say, Actually, I'm totally fine with stuff, and it's not the whole me. Opportunities have been offered to me, based on Career Suicide, that would have meant a lot of exposure and money. As a rule, I have passed. I'm like, I gotta do something that reminds people that my goal is to be funny.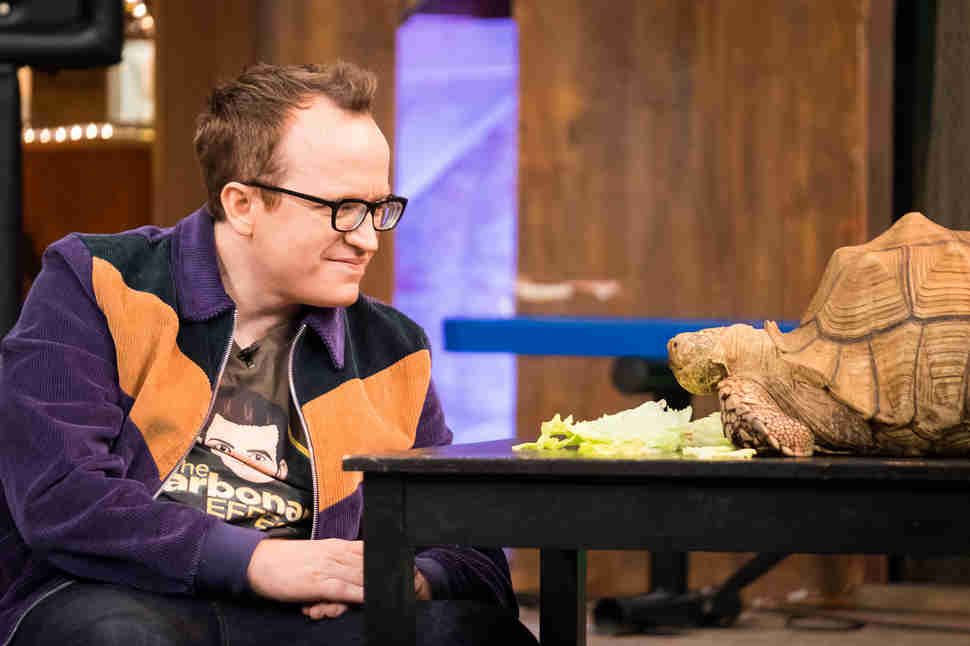 How did your improv days inform The Chris Gethard Show?
Gethard: It makes me happy when Scheer or [Rob] Corddry comes on my show and says, "This feels like a Del Close Marathon show you'd see in the middle of the night -- and you got it on TV." UCB, as it's gained success and muscle, by definition can't be as underground as it once was. It's not in an old abandoned strip club anymore. I remember walking into that place and thinking, This is fucked up and these people are nuts, and it's hilarious every night. I think The Chris Gethard Show in many ways has always been an effort to recreate that theater that saved me.
You've said before that you created the show to have somewhere to hide. That's certainly how I felt about the original 22nd Street UCB space, that it was this incredible world we had all to ourselves, and when I walked in the door, I felt safe. You're right, that doesn't exist anymore. Things grow and change. There's an analogy there with your show: When Jon Hamm and Ellie Kemper are coming on, it's not a place where anyone is hiding.
Gethard: Not by a long shot. But my job is not to put that celebrity on a pedestal so the kid sitting on the ground can look up at them. I wanna make my show one of the only places on TV where celebrities get dragged into the world of the kid sitting on the ground. There's no pre-interview or witty anecdotes; it's "come hang out." I think of myself as the intermediary between regular people and fancy people.
You've made a career out of making yourself available to fans and viewers. What does that take out of you? How do you handle it?
Gethard: People know that they have direct access to me. I'm proud they feel comfortable reaching out. But since Career Suicide, there's been a tidal wave of people telling me the absolute saddest things about their experiences with mental health. It's made me put my guard up again. One of the great things about a healthy marriage is it makes our house sacred. She can say, "Hey, you've given enough of yourself today. Let's watch The Great British Baking Show."
A pop-culture reference seems an appropriate time to segue into your past job writing about ghosts for Weird NJ.
Gethard: The best job I ever had. It started as a zine and it really struck me, because it was celebrating NJ. Nobody celebrates NJ. And I knew a lot of strange stuff too, all the local legends, so I started sending them emails like, "There's this guy who lives in the woods near the bowling alley and we all call him Beercan Billie." And I'd talk about breaking into abandoned places to torment the hermit who lives in the woods. And they published them. They didn't know I was 16 years old. I met them at a book signing one day, and they were like, "What the hell, you're a child!"
Because when you were 16, you looked 12.
Gethard: You know that I didn't go through puberty till I was 17. My voice didn't change until junior year of high school.  
We used to try to guess how old you would be when you finally looked your age. I think you've reached it!
Gethard: I think I have. I now have the exhaustion and haggard tone of someone who -- now people assume I'm a few years older than I am. I never thought I'd see the day. I got hired by Weird NJ when I was 19 years old. It's the most unlikely idea -- a zine about ghosts in NJ that comes out twice year -- and it's become an institution. To be in a room, at 19, where people made something very unlikely work: that's always been a source of strength for me.
I remember you taking me to places you wrote about in Weird NJ.
Gethard: Didn't we go to Midgetville where all the houses were little and they said only dwarves lived there? We might have gone to Annie's Road too, where there's blood on the road.
I remember being really scared of Annie's Road. I also remember stepping into a creek, and your mom had to give me a change of clothes.
Gethard: What the fuck was going in the early days of UCB, where you would be like, That person is visibly crazy, that person has a job that's a crime, this person is a pornographer, and maybe today I'll hang out with this teenager who will drive me to his parents house in NJ? It was a weird place. Remember the class we were in where the guy threatened to burn down the theater?
What?
Gethard: Then you went up and did a scene with him! [Michael] Delaney was teaching, and this guy was doing some space work that none of us understood. No one joined him and he was like, "How come nobody wants to do a scene with me? What do I gotta do to get some respect around here, set this fuckin' place on fire?" You were like, "Whoa, I'll do the scene!" Jane saved all our lives.
OK, I do remember that. In retrospect, I pulled a Gethard.
Gethard: That's the thing about back in the day that people don't realize. There were people there who were dangerous, who might snap and kill us, and we'd all hang out with them anyway. It was really beautiful and so ill-advised.
That's what made it beautiful!
Gethard: That and that nothing really mattered.
Why does it make it better if it doesn't matter?
Gethard: Those early days at UCB taught me that sometimes you have to do stuff just because the stuff is worth doing. You get older, you need to pay your bills, you need to up your game. I never wanna forget that feeling of walking into a fire trap strip club and there being 17 people in the audience watching stuff, and thinking, I have to be a part of this because this has to exist.
Sign up here for our daily NYC email and be the first to get all the food/drink/fun New York has to offer.