Chris Rock Stuck It to Hollywood in a Scathing Oscars Monologue
Kevin Winter/Getty Images
For many people watching the Oscars at home, the main reason to tune in tonight was to see what Chris Rock would do with his opening monologue. And the legendary stand-up comedian did not disappoint.
"I'm here at the Academy Awards, otherwise known as the White People's Choice Awards," joked Rock early on in his scathing monologue, in front of the crowd assembled at the Dolby Theatre. "You realize if they nominated hosts, I wouldn't get this job. You'd be watching Neil Patrick Harris right now."

And he didn't stop there, putting this year's diversity controversy into a larger context of Hollywood racism. "You're damn right Hollywood is racist," he said. "Hollywood is sorority racist. It's like, 'We like you Rhonda, but you're not a Kappa.'"
Rock's monologue was a hilarious, cathartic moment for anyone who has followed the ongoing #OscarsSoWhite controversy over the last couple of years. To put his iconic monologue in context, here's a bit of history that lead up to this scorching speech.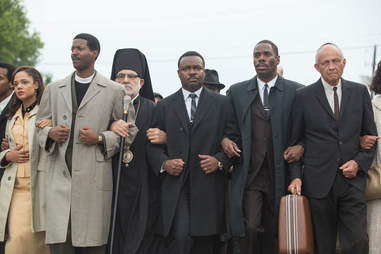 <strong>Selma |</strong> Paramount Pictures
This is bigger than just this year
As Rock acknowledged in his monologue, the Academy's diversity issue is reflective of larger structural problems that have plagued Hollywood -- and American society -- for ages.
However, the criticism became a particularly common point of the conversation about the Oscars in 2015 when the nominees for last years awards were announced and favorites like Selma director Ava Duvernay and star David Oyelowo were not included. Writer April Reign created the #OscarsSoWhite hashtag to express her criticisms of the Academy and quickly the hashtag quickly became a rallying cry for anyone frustrated by the lack of minority performers and filmmakers being honored.
"There was no way for me to know that a single tweet that I made from my family room in January of 2015 would have the impact that it has," said Reign in an interview with NPR earlier this year. "And I'm not sure that anyone ever really knows what hashtag is going to become viral until it does."

Then this year's nominees carried on the trend
After the criticisms of last year's awards, many hoped that this year's nominees would provide a different narrative, but that wasn't the case. Though director Alejandro González Iñárritu was again nominated for Best Director, the acting categories were once again filled with all white actors, leaving acclaimed performances from Idris Elba, Michael B. Jordan, Benico Del Torro, Samuel L. Jackson, Mya Taylor, Tessa Thompson, and Teyonah Parris off the ballots this year.
Similarly, two commercially successful and well-reviewed films from African-American directors with primarily African-American casts, Creed and Straight Outta Compton, were passed over for Best Picture nominations and instead only received nods for white performers and writers. Clearly, something was wrong.
Boycotts were announced
Once the nominees were out, the reactions came quickly. On January 18,
Magic Mike XXL
star Jada Pinkett Smith, who Rock roasted in his monologue, announced in a Facebook video that she would be boycotting the ceremony this year. Her husband Will Smith also said he would not be attending, while director Spike Lee supported the boycott in an
Instragram
post. British singer Anohni, who is nominated for her Best Original Song for "Manta Ray" from the documentary
Racing Extinction,
also announced that she
would not be attending
the ceremony.
At the same time, Selma director and Creed director Ryan Coogler announced they would be hosting a benefit in Flint, Michigan, the night of the Oscars. The event will also feature performances from Hannibal Buress, Janelle Monae and Jesse Williams.
Rock touched on these boycotts in his monologue, putting the boycotts in a larger historical contest. "Black people didn't protest, because we had real things to protest at the time," he said about the earlier eras. "We were too busy being raped and lynched to care about who won best cinematographer. When you're hanging from a tree, it's really hard to care about best documentary short."

The Academy has made moves to correct the problem
In an effort to correct the problem, the Academy has attempted to make the voting body that chooses the nominees more diverse. There were
emergency meetings
to deal with the problem.
They soon revealed dramatic some changes, increasing the amount of young and diverse voters. "The Academy is going to lead and not wait for the industry to catch up," said Cheryl Boone Isaacs, president of the Academy of Motion Picture Arts and Sciences in a statement. "These new measures regarding governance and voting will have an immediate impact and begin the process of significantly changing our membership composition."
As Rock noted in his monologue, the whole conversation is actually pretty simple in its goals. "We want opportunity," Rock concluded. "We want black actors to get the same opportunities."

Sign up here for our daily Thrillist email, and get your fix of the best in food/drink/fun.
Dan Jackson is a staff writer at Thrillist Entertainment and thinks Chris Rock did a great job last time too. He's on Twitter: @danielvjackson.