'CODA' Is a Must-See Movie That Will Melt Your Heart
Apple paid a record-breaking $25 million at this year's Sundance Film Festival for the sob-inducing family dramedy.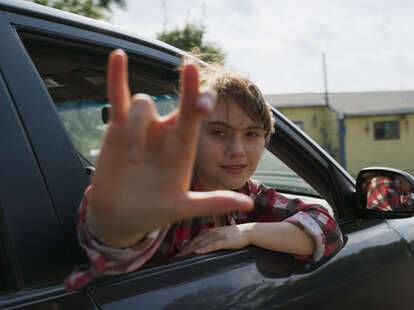 Emilia Jones in 'CODA'

| Apple TV
Emilia Jones in 'CODA'

| Apple TV
I don't want to actually describe the moment when I first saw CODA, now streaming on Apple TV+, at the 2021 Sundance Film Festival that made me start to heave cathartic sobs because that would be a spoiler, but it's a doozy. In that one instance, writer-director Sian Heder uses a cinematic technique to take the audience inside the world of her characters during a climatic school concert. From there through the end of her film, I couldn't stop sobbing.
Since then, it has earned rave reviews and some critical backlash. The title CODA stands for Child of Deaf Adults, a label that belongs to protagonist Ruby Rossi, played by Emilia Jones. Ruby is the only hearing member of her coastal Massachusetts-based family, and has acted for most of her life as their interpreter—at home, in public, and on the fishing boat staffed by her father Frank (Troy Kotsur) and brother Leo (Daniel Durant). The Rossis are an irreverent, loving bunch. Frank and Ruby's mother Jackie (Marlee Matlin) are still horny for one another after all these years, much to Ruby's embarrassment.
At school, Ruby has been an outcast, teased for how she spoke as a child or for smelling like fish when coming straight from working on the boat. But she loves to sing and signs up for choir where the music teacher Bernardo (Eugenio Derbez) finds she has a gorgeous voice and pushes her to audition for Berklee College of Music. This coincides with a business crisis for her family, to whom her newfound passion is foreign. Jackie is almost insulted that Ruby would choose to pursue something that her mother cannot experience, while worrying at the same time that Ruby could very well be an untalented musician and she would never know the difference.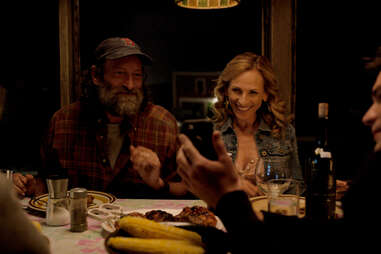 CODA, based on the 2014 French comedy-drama La Famille Bélier, is a heartwarming, quirky family dramedy, but that's not a knock on it. Heder's screenplay, while aiming for big bursts of emotion, takes care to tie its sweetest moments to honest character moments. There's a fear of the unknown in Jackie's criticism of Ruby's singing; it's not just that her daughter is skipping out on family responsibilities, though that does play a part.
Heder is aided by her phenomenal cast, including Jones (one of the stars of Netflix's Locke & Key) and Oscar-winner Matlin. Derbez, one of Mexico's biggest comedy stars, deftly avoids falling into the cliché of the tough-but-tender mentor, while the real revelation is Kotsur, who plays Frank as bawdy, hilarious, and proud. Few roles have been made available for deaf actors that allow this kind of range.
Though its unabashed sentimentality has brought out naysayers to deride the film as overly saccharine, for me, all the tears were earned. I'll admit: Despite having been watching movies nearly nonstop during the pandemic, it's been a while since one hit me like this, and I felt relieved to be depleting a box of tissues as I watched. CODA is a feel-good story, yes, but a lot of people are craving cathartic entertainment right now, which likely explains why Apple TV+ bought the film for a record $25 million. Still, it's hard not to see that $25 million price tag as something of a curse for a low-key film like CODA. Now a surprise hit has an insurmountable amount of expectations attached. Just sit back, watch, and let the waterworks begin.