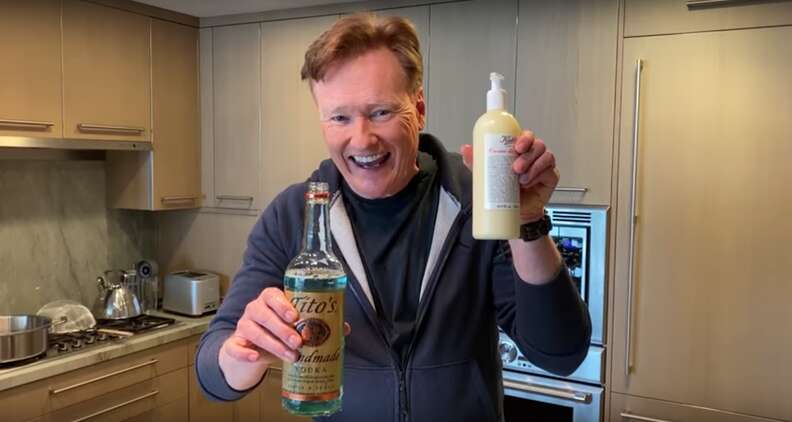 Conan O'Brien about to make hand sanitizer.

| Team Coco/YouTube
Conan O'Brien about to make hand sanitizer.

| Team Coco/YouTube
All the Ways Comedians Are Still Making Us Laugh During the Coronavirus
Obviously, there are not many reasons or occasions to laugh at the moment. With the coronavirus spreading across the globe, it can be difficult to find humor in anything, particularly the random attempts at diversion and hack topical jokes that might pop on your social media feed. Don't these people know there's a pandemic going on? And yet: Sometimes you need to laugh. That's just how this stuff works.
So, we've done our best to wrangle together examples of how a number of comedians, ranging from well-known professionals to suddenly viral amateurs, have been dealing with the emotional, psychological, and physical challenges of the ongoing crisis. That means stand-ups, late-night hosts, sketch writers, podcast hosts, random people on Twitter, and various goofballs on TikTok. There's a lot out there right now.
Also, it's worth noting: Most of what could generously be called comedy online in "normal" times is terrible! Even the "good" stuff tends to be not for everyone, and relies on a set of assumed connections, niche reference points, and varying degrees of irony. Will you find all of these memes, gags, and performances funny? Of course not. But hopefully there's something here you haven't seen yet and might feel the need to send to a friend or family member who needs some cheering up.
Norm Macdonald performed a COVID-19 stand-up set
Remember comedy clubs? Right before many of the nation's most prominent stand-up venues closed their doors, Norm Macdonald performed a set at the Irvine Improv that encapsulated the bleak, nervous mood of the country back in early and mid-March. Wearing a baseball cap, jeans, and a windbreaker, the former SNL Weekend Update host started his set with a typically deadpan observation: "I wasn't going to talk about the coronavirus. But on the way here, I got really ill." From there he joked about the media coverage, the search for a cure, and the audience, who he playfully chastises for even going out to see him. "I don't want to alarm anybody at all," he said. "But I could sneeze on you and it would be the equivalent of a nine-millimeter."
Patton Oswalt did stand-up from home
In one of the first viral stand-up bits of the social distancing era, Patton Oswalt was inspired by the viral videos of quarantined people singing from their windows in Italy and decided to do a stand-up set from his yard in Los Angeles. "This COVID-19, I tell you," he said. "I didn't see COVID 1-18 so I don't really know what this is all about." The pleasantly dry clip ends with him attempting some light crowd-work with his neighbors, providing a great example of how to become the most annoying person in your community.
Stephen Colbert did a monologue from his bathtub
"You're watching a very special social distancing edition of The Late Show," says Stephen Colbert at the start of this clip. "Or as I now call it: The Lather Show with Scrubbin' Colbath." Between jokes about "binge-watching toilet paper" and "avoiding human contact before it was cool," the host provided a quick history lesson about the spread of infectious diseases and encouraged his loyal viewers to stay home during this dark time. Is it a little weird to hear some of these jokes without accompanying audience laughter? Yes, for sure, but Colbert -- and his silly bathtub set -- offer a degree of levity and reassurance in a stressful time.
Conan O'Brien made his own hand sanitizer
As most of the late-night hosts have retreated back into their homes, they've needed to discover new ways to keep their audiences entertained. For Jimmy Fallon, that means singing songs on his guitar, and for Jimmy Kimmel, that means filming "mini-logues" from his kitchen, but Conan O'Brien has them beat by jumping on the tutorial bandwagon, offering advice on how to make your own hand sanitizer from Tito's Vodka, Listerine, hand lotion, garlic, and a Windex bottle. It goes about as well as you'd imagine.
Lots of people made fun of Gal Gadot's "Imagine" video
With most of the nation's attention-starved celebrities currently quarantining at home, it's safe to say we're going to be seeing some truly bleak content in the coming days. Gal Gadot's "Imagine" video, a saccharine attempt at uplift featuring a bunch of actors and musicians each singing a line from the annoying John Lennon song, is the perfect example of how bad things might get. You might've seen it pop up in your feed over the last week. Luckily, a bunch of comedians have responded by poking fun at the video, including the above group-sing of Three 6 Mafia's "Slob On My Knob," orchestrated by comedian Zack Fox, and a sing-along to Blink 182's "I Miss You" featuring a number of musicians and comedians, including Danny Brown, Mac DeMarco, and Demi Adejuyigbe.
Improv groups are performing on live streams
Theaters have been hit particularly hard in the wake of the coronavirus, with many comedy venues closing their doors and laying off staff. (In New York and Los Angeles, the closures of the UCB Theaters have been particularly contentious, and you can donate to the relief funds for laid-off staff of both venues here and here.) Still, as The New York Timesreported last week, theaters like The Magnet in New York are hosting some of their weekly shows on Twitch, selling tickets to performances viewers can watch on their laptops. The Chicago Tribunenoted this week that the Second City Training Center will also be offering classes to students online if you're looking to kickstart your comedy career. Check with your local theater and see if they're offering something similar.
Kumail Nanjiani and Emily V. Gordon launched a new podcast
Given the wide availability of home recording equipment, it shouldn't be too hard to record a podcast while quarantining. So if you have a favorite comedy podcast, it's probably still producing new episodes. If you're looking for a new one to check out, stand-up Kumail Nanjiani and writer Emily V. Gordon have launched Staying In With Emily and Kumail, a chat show where the married couple talks about isolation, staying active, and anything else that comes up. Expect to see similar podcasts pop up in the coming weeks.
TikTok has all the tips you need to survive
There will be memes. It's almost impossible to sift through all the bizarre and surreal videos posted to TikTok in a given day, but this "IMPORTANT PSA" from Cameron Hoang might be the best one we've seen so far. If you've been putting off downloading TikTok, now might be the time to give it a shot. How else will you stay safe with out these essential tips?
Everyone is still tweeting through it
The spread of coronavirus cannot stop people from writing tweets and filming front-facing character videos. (Even Tool cover bands can't be stopped from rehearsing.) The above clip from comedian Meg Stalter is a great example of the genre, a hilarious parody of an aunt rambling her way through for her realization that it might not be a good idea to go see "the belugas." Take her advice and "stay at home."
Need help finding something to watch? Sign up here for our weekly Streamail newsletter to get streaming recommendations delivered straight to your inbox.