What is comfort? In English, the word takes on various connotations, traveling back and forth from active to passive: You comfort a loved one, or you're comforted by a bit of good news. How, then, does a television show become "comfort television?"
We're after something closer to the zeitgeisty Danish word, hygge, which describes an overall feeling of well-being, coziness, and comfort, all rolled into one. The shows below may not share a genre, subject matter, or much of anything besides a place on Netflix's streaming platform, but they all help create a sense of hygge; you can curl up on the couch under a warm blanket, steep some tea, and drop into any of the following comfort TV shows on Netflix.
Recommended Video
The Most Relaxing Shows on Netflix (That Aren't 'Marie Kondo')
Arrested Development (2003-present)
There's always money in the banana stand, and there are always laughs to be found in Arrested Development, Mitchell Hurwitz's sly, self-aware family sitcom. While the most recent Netflix-produced season occasionally devolved into discursive, indulgent meta-humor, the show's original three seasons established a freewheeling comic sensibility that many of your favorite sitcoms -- Parks and Recreation, 30 Rock, Community, Archer, Kroll Show -- were influenced by. Don't hold the show's obnoxious fans against it. After watching a few episodes, you'll feel right at home in the dysfunctional Bluth family, and you might find yourself quoting Tobias Fünke, too.
BoJack Horseman (2014-present)
It's a goofy animated comedy unlike those that came before it -- a middle-aged man (read: horse) consistently struggles to stay out of trouble while dealing with the downside of fame. Though you'd be hard-pressed to come across any moment in the series that isn't a side-splitting one, Bojack Horseman also boasts some surprisingly dark and emotionally ambitious moments that'll hook you from beginning to end.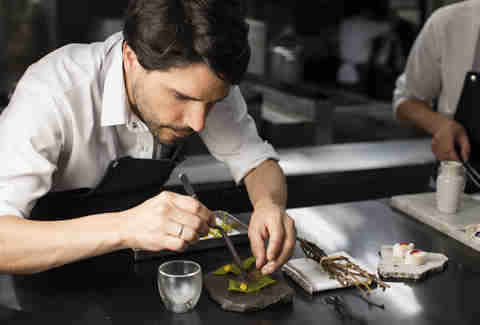 Chef's Table (2015-present)
With an explosion of food television comes elevated standards; Netflix's Chef's Table forages for those standards, brings them to the restaurant for dinner service, treats them with respect, turns them into a whimsical play on a dish remembered from childhood, and earns a couple Michelin stars and the admiration of its peers in the process. The point is that Chef's Table, from creator David Gelb (Jiro Dreams of Sushi), is an exceptional food show that manages to make humans the centerpiece.
The Crown (2016- )
The Crown is quintessential comfort viewing, designed to cloister you off from the horrors of the real world and instead reside in the petty dramas of British royalty. The costumes and sets are designed with careful attention to detail, recreating the lush extravagance of monarchical life and its freedom from all worldly troubles. As a critical work, that can be to its detriment; it's remarkably disengaged with the macro geopolitical shifts that characterize Elizabeth II's long reign as Queen of England. Ultimately, though, The Crown is confident in its soapiness, opulent in every respect, and quite possibly Netflix's best escapism (using a subject that should probably be anything but). If you love royalist porn, this will be like a long, slow massage.
Gilmore Girls (2000-2007; 2016)
In case you haven't heard, Netflix revived Gilmore Girls -- so you can catch up with this wisecracking mother-daughter duo before watching the four-episode follow-up. The show takes place in the quirky small town of Stars Hollow and features a dynamic supporting cast so fully fleshed, you'll feel like a local after your first hour. When Loreley and Rory slip into their rapid-fire banter, it's like slipping on your favorite robe, familiar and exciting all at once. For extra credit, the Gilmore Guys podcast dissects the series episode by episode, providing a more contemporary watercooler for your thoughts on a 17-year-old show.
Grace and Frankie (2015-present)
The lives of Grace and Frankie are both turned upside down when the longtime frenemies learn that their husbands are leaving them...for each other. Soon after learning of their husbands' infidelities, the two women form an unexpected bond with each other that's an absolute joy to watch on screen.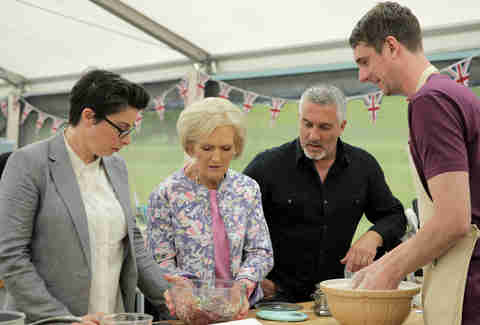 The Great British Baking Show (2010-present)
Of the culinary competition shows out there, GBBS (known as The Great British Bake Off across the pond) is the least cutthroat, most low-key you will ever have the pleasure of watching. Between the banter of hosts Mel and Sue (literally the name of their comedy duo) and interplay of the delightful Mary Berry and the notoriously hard-to-impress Paul Hollywood, contestants are put through the ringer of three bakes that, aside from the secret technical challenge, they have plenty of time to prepare for. The bakers develop such camaraderie over the season that when one of their pals leaves, everyone else cries for that person. Imagine that!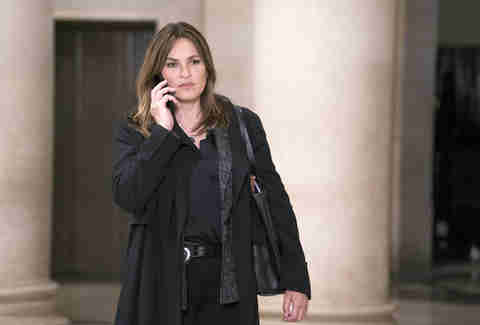 Law & Order: SVU (1999-present)
While a show about violent sexual offenders doesn't seem like comfort viewing, you might be surprised to discover how many people use SVU as an insomnia treatment. It's a lot! The rhythms of the police procedural are nothing if not familiar and comforting, especially on binge mode, when the patterns of each episode reveal themselves more fully and you can settle in for hour after hour of hoping scumbags get what's coming to them. With SVU on Netflix, you don't have to surf cable for a late-night insomnia salve or a hungover Sunday time-killer. You can drop in on Detectives Elliot Stabler and Olivia Benson whenever you desire the simple satisfaction of fighting for justice in an unjust world.
Nailed It (2018-present)
If you've ever attempted to bake a Disney princess cake that ended up looking more like a blob than anything else, then this one's for you, as it's quite possibly the only television show that actually celebrates your subpar baking skills. Hosted by Girl Code's Nicole Byer, Nailed It is about as light-hearted as The Great British Baking Show, and it sees amateur bakers facing off against each other to recreate elaborate Pinterest desserts despite the fact that they can't even properly ice a cake. It's a wild and hilarious ride, and you can probably marathon through the first six episodes in one couch session.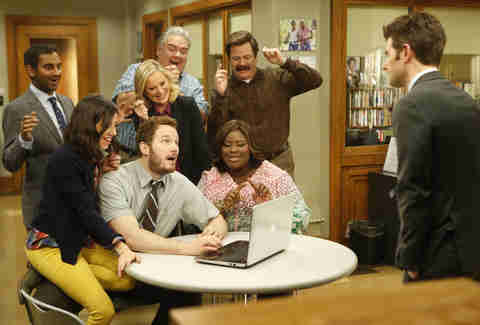 Parks and Recreation (2009-2015)
In the vein of workplace "reality" comedies like The Office, creator Michael Schur's take on a local parks and rec department finds humor in the mundane -- like bosses who take themselves way too seriously. Watching this show now is like being treated to a buffet of comedic royalty; there's Amy Poehler! Adam Scott! Chris Pratt! Aubrey Plaza! Aziz Ansari! And more! Their performances cemented Parks and Rec's place in network comedy lore.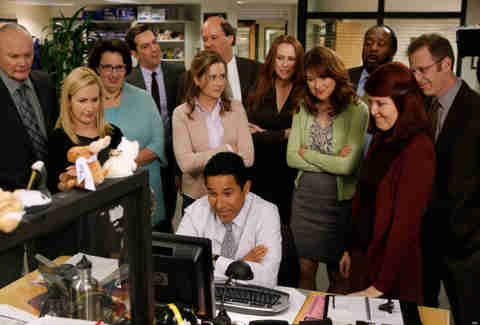 The Office (2005-2013)
Go ahead and try to prevent your brain from firing off loads of oxytocin as soon as those opening piano notes hit your eardrums. As scenes from Scranton and the Dunder Mifflin office play across the screen, you'll find it difficult to resist falling into a wormhole of nostalgia, knowing all along that (SPOILER) Jim and Pam get together in the end. If you're watching for the first time, you'll understand why so many people fell for Michael Scott and the soft-bellied, straight-faced humor that reinvented network television. 
One Day at a Time (2016- )
Like The Ranch, its red state cousin, One Day at a Time is a throwback family sitcom in a world that can be unkind to audience laughter, big comedic performances, and that stage-bound multi-camera look. But single-camera purists should get over their hang-ups. This clever remake of Norman Lear's '70s hit about a single mother raising two teenage daughters is more charming and funny than many of its seemingly "edgier" peers. Anchored by a lived-in performance from Justina Machado (Six Feet Under), the show finds familiar laughs in the way generations clash and families wage war, but it's also culturally specific, socially engaged, and leisurely paced in a way that makes it stand out from your average CBS family show -- or Netflix's own dire Fuller House.
Samurai Gourmet (2017)
Samurai Gourmet is a show about eating, but in no way that you might expect. Hazy around the edges, the fictional series follows the culinary adventures of the newly retired businessman Takashi Kasumi, who often falls into daydreams motivated by the premise: What Would A Great Samurai Do? Often, that boils down to drinking a beer in the middle of the day or saying yes to another serving of rice. There's tranquil food porn aplenty in this mostly solitary journey inside the head of our guy Takashi.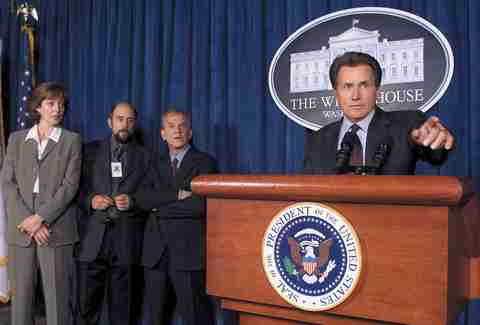 The West Wing (1999-2006)
Don't hold The Newsroom against him: Aaron Sorkin's political fable is smarter, funnier, and less bombastic than some of the Oscar-winning screenwriter's later television work. In telling the story of President Jed Bartlet (Martin Sheen) and his workaholic senior staff, Sorkin found the perfect subject matter for his farcical, monologue-heavy, walk-and-talk style. Though the show lost some of its charm when Sorkin left after the fourth season, the later episodes -- complete with an Obama-like presidential candidate played by Jimmy Smits -- work as a liberal wish-fulfillment fantasy in these very, uh, un-Bartlet-ey times.
Sign up here for our daily Thrillist email and subscribe here for our YouTube channel to get your fix of the best in food/drink/fun.