The Biggest Surprises From This Year's Comic-Con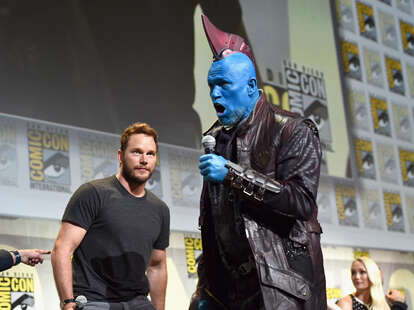 Alberto E. Rodriguez/Getty Images
Comic-Con descended yet again upon San Diego this weekend to titillate hundreds of thousands of rabid movie, TV, comic-book, and video-game fans with high-profile reveals and meme-worthy moments. You might have been there! But if you chose to spend your Heat Dome weekend basking in sunshine and ignoring the news that came out of this year's convention, we've got you covered. Here's a quick rundown of the important stuff that went down at SDCC over the weekend.
Wonder Woman wowed
DC Comics and Warner Bros. Pictures switched gears after this year's poorly received Batman v Superman, by way of some bold, colorful updates. Henry Cavill's brooding Superman and Ben Affleck's brooding-er Batman gave way this year to Gal Gadot's Wonder Woman, whose prequel film arrives next June. First came the radiant poster seen above and then a trailer that accentuated brutal action and whip-crack (er, lasso-crack?) dialogue, courtesy of Gadot and costar Chris Pine. Even after premiering some cheeky footage from November 2017's team-up Justice League, Comic-Con's Hall H kept buzzing about Wonder Woman. Thankfully, you can watch the first trailer right now.
Kong: Skull Island revealed as... Apocalypse Now with a gigantic ape?
A reboot of King Kong: expected (and it'll debut next March 2017). A reboot of King Kong with an even bigger ape: sure, that makes sense (and we're really looking forward to it). A reboot of King Kong with an even bigger ape starring Tom Hiddleston, Brie Larson, and Samuel L. Jackson: OK, we're listening (and liking). A reboot of King Kong with an even bigger ape starring Tom Hiddleston, Brie Larson, and Samuel L. Jackson that feels like a 1970s Vietnam war movie and recruits most of the Straight Out of Compton cast to play soldiers: WHAAAAT (we're dead).
Bates Motel snagged Rihanna for series finale
Showrunner Carlton Cuse (of Lost and Nash Bridges fame) disclosed that the fifth season of A&E's self-effacing Hitchcock adaptation will be its last. But he's ending it with a bang. After mapping out the relationship between Norma Bates (Vera Farmiga) and her creepy son, Norman (Freddie Highmore), Bates Motel will finally delve into the events depicted in Psycho, and fans can expect direct parallels and twists on the 1960 classic. Marion Crane, the motel resident played by Janet Leigh whose shower takes a stabby and iconic turn, will appear, and will be portrayed by Rihanna. The pop star couldn't attend the panel, but she did record the above announcement.

Brie Larson joined the Marvel Universe
The company behind Captain America, Thor, Iron Man, and the Avengers routinely owns Comic-Con, so Marvel Studio's Saturday night panel was very crowded affair. The 6,000-plus fans who turned up watched teasers of Doctor Strange, introductions to the cast of 2017's Black Panther and Thor: Ragnarok, and this long-awaited announcement: Brie Larson, Academy Award-winning star of Room, will play Captain Marvel in a self-titled blockbuster as well as the next two Avengers movies. Captain Marvel flies, punches, and shoots energy blasts from her hands, and Marvel Studios president Kevin Feige hired the in-demand 26-year-old actress (she'll also co-star in Kong: Skull Island) to fill the role. You don't need to know much more than that to understand the excitement.
Game of Thrones teased Season 7 in the most cryptic way possible
Thrones showrunners D.B. Weiss and David Benioff cleaned house at this year's Comic-Con. With only a few cast members on hand (and little Season 7 info to satiate the salivating audience) the panel split time between Season 6 anecdotes, the perfect blooper reel, and an explanation for why next year's episodes will arrive a little late. "Winter is here," Benioff told the crowd. "[And] we're shooting in places where there are trees." Basically, they need winter to look like actual winter, forcing production to push and wrap in February. Worth the wait? A released look at pre-production certainly has us pumped. Already spotted in the video above: shields from House Whent and Baratheon -- catnip to anyone who knows the books.
The new Star Trek series got a name
Credits like Pushing Daisies, Hannibal, and Heroes made writer-producer Bryan Fuller a geek king. His involvement the first Star Trek TV show in more than a decade may push him into Joss Whedon territory. On Saturday, Fuller hosted a panel for Star Trek's 50th anniversary that also featured William Shatner (Star Trek: The Original Series), Brent Spiner (Star Trek: The Next Generation), Jeri Ryan (Star Trek: Voyager), and Scott Bakula (Enterprise), and he still found time to debut a first look of his new series, which they're calling Star Trek: Discovery. Above is a glimpse of his hip new ship, the U.S.S. Discovery.
American Gods said hello
Trek wasn't the only series Bryan Fuller brought to Comic-Con; he also showed off his adaptation of Neil Gaiman's popular novel American Gods, which he took on following the swift and sudden death of Hannibal. The 2017 Starz series, about a brewing war between old mythological gods and a set of new deities who reflect society's modern vices (money, technology, media, celebrity, drugs), centers on an ex-con (played by The 100's Ricky Whittle) who gets caught up in the epic feud, and features the likes of Ian McShane, Gillian Anderson, and Crispin Glover in supporting roles. The first trailer for the series (above) looks like a mash-up of Pushing Daisies, Hannibal, and Stephen King's bibliography.
Sonic the Hedgehog returned in a big way
SEGA's blue hedgehog returns -- this year and next! With a new Sonic game set for this holiday season, SEGA took time at a 25th-anniversary panel devoted to the franchise to unveil a second, and perhaps more ambitious, take on the character. A trailer for Project Sonic, due in late 2017, will find him teaming up with the Sonic from the 1992 game. Time-traveling crossovers are all the rage in movies and TV, so why not video games?
A steamy Batman-Batgirl scene made fans furious
Never has an animated Batman movie caused such a stir -- and for all the wrong reasons. The Killing Joke, an adaptation of the 1988 Alan Moore graphic novel known for its lurid acts of violence and existential blisters, was always a risky move, but what riled up Comic-Con-goers was the addition of a controversial Batman-Batgirl sex scene. Vocal unrest caused The Killing Joke panel to devolve into name-calling. For more insight into the meltdown, read io9's on-location take.
The X-Men universe expanded to basic cable
Before we see showrunner Noah Hawley's third season of Fargo, we'll get his take on the X-Men universe via Legion, a story about a man diagnosed with schizophrenia who might actually be a mutant capable of phasing in and out of various realities. We'll see! The first trailer for the early-2017 FX series is cryptic and explosive, boasting blockbuster-level special effects and the unhinged acting talent of Dan Stevens (Downton Abbey, The Guest).
The Fifth Element director's new sci-fi movie earned a standing ovation
"Twenty years ago I was [considered] weird," said Luc Besson in front of a wild Comic-Con crowd. "And 20 years later, the world has gotten as weird as me." This was Besson's introduction to Valerian and the City of a Thousand Planets, a new sci-fi epic chock-full of spaceship designs, stylish creatures, and swashbuckling action. Few watching the first clips seemed to be able to describe what they were watching -- but it sounds weird, and thousands of picky Con-goers got on their feet and screamed for more.
Luke Cage solidified himself as streaming TV's resident badass
Jessica Jones introduced us to actor Mike Colter's superhuman defender, so how would the character's own Netflix series shake things up? By taking cues from an entirely different version of New York City. "It's kind of what I'd call the Wu Tang-ification of the Marvel universe," said Luke Cage showrunner Cheo Coker, during Marvel's TV panel. "It's got an attitude, a flavor, a grit, but it's elegant at the same time." According to the Coker, each episode will be named after a different Gang Starr song. A trailer for Luke Cage (above) did the hype justice.
The Woods became Blair Witch 3
Crowds went into a fan screening of The Woods under the impression that they were about to see a stylish new found-footage horror movie. They walked out having witnessed the movie equivalent of a surprise album. Director Aaron Wingard and writer Simon Barett (The Guest, You're Next) pulled a Beyoncé by shrouding a Blair Witch reboot with a fake title. The movie, coming to theaters in September, scared and blew minds. You can get a taste of that by watching the first official trailer for Blair Witch.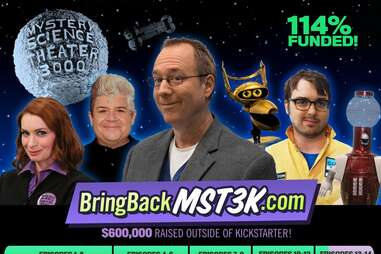 The Mystery Science Theater 3000 reboot landed at Netflix
After being crowd-funded with $5.7 million for more episodes of his beloved movie-talkback series, Joel Hodgson put together 14 new episodes with the help of his famous friends in the comedy world. And now we know where we'll be watching it: Netflix. The release date remains a mystery, but we promise to be patient.
Ghost Rider joined The Agents of S.H.I.E.L.D.
After Nic Cage's second Ghost Rider vehicle, Spirit of Vengeance, smoldered at the box office, the movie studio Sony Pictures allowed the rights to the character to revert back to Marvel and Disney, which paved the way for an eventual return. Well, here's that return! The fourth season of Marvel's ABC procedural will sport a new version of Robbie Reyes and will see the character driving a muscle car instead of his signature bike. In theory, Ghost Rider's head will remain inflamed.
Snowden showed up for Snowden
Oliver Stone's Snowden was an odd fit for Comic-Con. Even with sturdy rhetoric, painting Edward Snowden, a man who leaked classified NSA information to the press and exposed the American government's homeland surveillance programs -- as a superhero is difficult. That didn't stop Stone from holding court in front of movie geeks prior to a fan screening of the drama. And it didn't stop the real Edward Snowden from Skype-ing in from Russia. "I don't think anybody looks forward to having a movie made about themselves," the exiled whistleblower told the Comic-Con crowd. "Particularly someone who's a privacy expert." The most shocking revelation in Snowden, which stars Joseph Gordon-Levitt: the real-life fugitive makes a cameo, which Oliver traveled to Russia to film. OK, maybe this is a comic-book movie.
Weirdest announcement of the weekend: Kurt Russell's role in Guardians of the Galaxy, Vol. 2
Just when you think Comic-Con is too mainstream to call itself a comic-book convention, Marvel reveals that an action-movie icon will play a sentient planet. We knew Kurt Russell had been tapped to join Chris Pratt in Guardians 2, possibly as the father of Pratt's character, Peter Quill. When the true identity of Russell's character was revealed -- he's both a sentient planet and Quill's dad -- the news tore through the fabric of nerd-ass spacetime like Thanos's farts. Director James Gunn told fans that Russell will play Ego, known in the comics as Ego the Living Planet, a celestial body... with a beard. It's unclear if we'll see Russell as the talking planet, but Gunn confirmed there's an explanation for why he'll appear in humanoid form, giving hope to this radical revelation. FAR OUT SHIT, MAN.
Sign up here for our daily Thrillist email, and get your fix of the best in food/drink/fun.
Matt Patches is Thrillist's Entertainment Editor. He previously wrote for Grantland, Esquire.com, Vulture, The Hollywood Reporter, and The Guardian. Find him on Twitter @misterpatches.